Critical Illness Insurance
Critical illness insurance is a type of health insurance, which provides a lump sum amount to the insured if he is diagnosed with critical illnesses like cancer, major burns, coma, among others (as listed under the chosen policy). Not only can the insured use the amount to pay for medical expenses, but also look to meet other financial obligations.
In our current lifestyle, where we constantly come face to face with junk food, stressful work conditions and family responsibilities, it's pretty easy to succumb to critical illnesses. And when that happens, having critical illness insurance in your back pocket can be a lifesaver.
Types of illnesses covered under Critical Illness Insurance
Here's a list of some common critical diseases against which a critical illness policy usually provides coverage:
Cancer (up to a specified stage)
Heart attack
Kidney failure
Coma
Stroke
Organ transplant
Bone marrow transplant
Loss of speech
Deafness
Paralysis
Major burns
Brain surgery
Blindness
Apallic syndrome
Goodpasture's syndrome
Open heart replacement or repair of heart valve
Benign brain tumour
Open chest CABG
Alzheimer's disease
Primary Parkinson's disease
Who Should Take Critical Illness Insurance?
Given the busy modern-day lifestyle, nobody is safe from critical illnesses like cancer, stroke, etc. Therefore, most of us should go for a critical illness plan. However, to be precise, we've listed below certain categories who can majorly benefit from this insurance. Let's learn about them.
Family History Of Critical Illnesses

Generally, critical illnesses are genetic. This means that the people who have a history of critical illness in their family are at a higher risk of suffering from it. For example, if your mother suffers from Alzheimer's disease, there are higher chances of you catching the same. And if that happens, coverage from critical illness insurance can come handy, don't you think?

Sole Earner Of The Family

Being the only earning member in your family, what happens if you are diagnosed with paralysis? Who will pay your monthly expenses? With critical illness insurance in your pocket, you don't have to worry about it.

High-pressure Jobs

It has been observed that people who work in high pressure and stressful job environments have higher chances of developing some sort of a critical illness. So, if you can relate with this statement, a critical illness plan is a necessity.
How's Critical Illness Insurance Different From Standard Health Insurance?
People often think that critical illness insurance and health insurance are the same. However, this is not true. Critical illness insurance plans and standard health insurance plans are different. The table given below highlights the major differences between a critical illness and a standard health insurance policy.
| | | |
| --- | --- | --- |
| Parameters | Critical Illness Insurance | Standard Health Insurance |
| Expenses covered | It offers a lump sum amount to help the insured in making-up with all the expenses incurred while treating any critical disease such as heart attack, cancer, etc. | It covers actual medical and surgical expenses incurred by the insured during hospitalization. |
| Benefits offered | The claim benefits from a critical illness plan can be used to pay the hospitalization bills as well as cover any financial loss that arises due to critical diseases. | The claim benefits of this policy are used to pay the actual treatment and hospitalization expenses only. |
| Survival period | It requires the insured person to survive for a period (let's say 30 days) after the first diagnosis of illness to enjoy the coverage claim. The timeframe may vary from one insurer to another. | There is no survival period for the claim to be received. |
| Waiting period | The waiting period varies as per the insurance provider. For example, HDFC critical illness plan comes with a 90-day waiting period. Post that, all claims will be entertained. | Apart from the case of an accident, standard health insurance plans have a waiting period, starting from 30 days. |
| Cost | Cost for critical illness plans are very low as they cover only named diseases | Since a normal health plan covers all types of hospitalization, the costs are usually higher |
I have a health insurance plan. Do I still need critical illness insurance?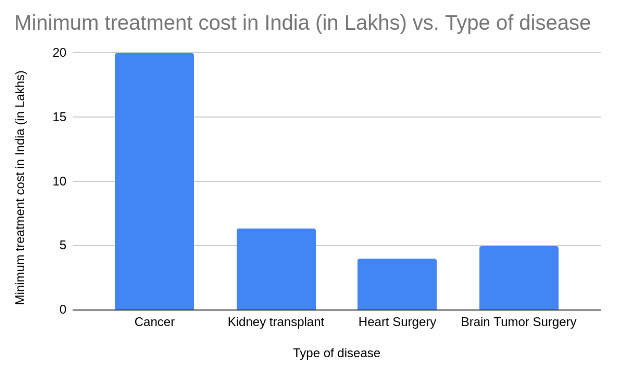 *Sources for the data are taken from-
By looking at this graph, you can notice that treating critical illnesses such as cancer, kidney transplant, brain tumour and heart attack is a very costly affair in India. It can put a huge financial burden, something which not everyone can afford. Although a standard health insurance plan will provide coverage, it won't be enough to pay all the bills. That's why you need a critical illness policy, which comes with a big sum insured at a reasonable cost.
Benefits Of Critical Illness Insurance
Critical illness health insurance provides a variety of benefits to the insured. Some of these are discussed below:

Lower Premiums
The critical illness insurance plans provide coverage against some specific life-threatening diseases. Due to this reason, the premium of such plans is significantly lower in comparison to the regular health plans. For example, you can buy Care critical illness policy for Rs.1667/year (SI Rs.10 Lakhs) as compared to its Care comprehensive policy for Rs.9546/year (SI Rs.10 Lakhs).

Income Replacement
The policyholder of a critical illness plan has a free hand to use the coverage amount in whatever way he likes. This serves as a big advantage here as the insurance amount can be used as an income replacement option and help the insured to cover his financial burdens.

Tax Benefits
Thanks to Section 80D under Income Tax Act, 1961, the owner of a critical illness policy can enjoy tax benefits up to Rs.25,000 on paying regular premiums. If you are a senior citizen, you can get up to Rs.50,000 as tax deductions. If your parents are senior citizens, you can grab tax deductions up to Rs.50,000 for premiums paid for them.
What's Not Included In Critical Illness Insurance?
There are a few situations, where critical illness insurance doesn't provide any support. Let's learn about them.
How To Determine The Right Coverage Amount In Critical Illness Insurance?
There are some vital parameters, which determine the right coverage amount for a person applying for critical illness insurance. These include-
Location- The hospitalization expenses of any critical illness often vary significantly upon location where the person is taking the treatment. For example, if you reside in a relatively smaller city like Haridwar, then an insurance coverage of Rs.15-20 Lakhs would be enough to cover your medical expenses. But if you reside in a big city like Bangalore, you would need a coverage amount of more than Rs.30 Lakhs to cover your treatment and hospital bills. The cost of medical treatment varies by upto 100% in some cases from location to location. Accordingly, you should decide your coverage amount.
Age of the insured- Suffering from critical illness in the old age can make things worse. You are at a greater risk of catching more illnesses, along with the present illness. To tackle them effectively, you need the support of a higher coverage amount.
Lifestyle- The lifestyle of a person is also an important factor, which helps in determining the right coverage amount for a critical illness plan. People having unhealthy lifestyle practises like smoking or drinking are more likely to get diagnosed with critical illnesses like cancer or kidney failure. That is why such people should go for plans offering greater sum insured so when the illness arrives, you are financially prepared for it.
How To Choose The Best Critical Illness Insurance Policy?
Wait a minute, there is nothing called the 'Best critical illness insurance policy'. A person needs to go through all the policies available in the market and decide the best one for himself. To help with that, you can take a look at the below factors-
Premium Amount

Based on the plan you select, you will have to pay a premium amount to the insurer after specified intervals. The duration and benefits of the policy are directly linked with the premium payment. So, make sure to choose a policy whose premium you can afford to pay.

Waiting Period

It refers to a specific period after which the policy benefits are payable. Meaning, if your insurance plan has a waiting period of 4 months, then you can file your claim only after 4 months. The time frame can vary depending on the chosen insurance company. Therefore, it is advisable to go for a plan that offers a low waiting period.

Diseases Covered

Not all insurance companies provide coverage against the same type of critical illnesses in their plans. For example, ManipalCigna Health Insurance company provides coverage for permanent paralysis of limbs. Whereas Reliance General Health Insurance does not. So, choose a plan that covers the specific critical illness you expect yourself to get diagnosed with/are diagnosed with. Ideally, you should go with a plan that covers maximum diseases.
Critical Illness Insurance Companies And Plans In India
Given the wide range of critical illness plans available in the insurance market nowadays, it is natural to feel confused about which one you should select. To make things a bit easy for you, we've first selected 15 top health insurance companies in the market and from them, we have listed 5 critical illness plans. Let's learn about them.
Please note- The premium amount mentioned in the table is for a sum assured amount of Rs 10 Lakhs.
| | | | |
| --- | --- | --- | --- |
| Insurance Company | Plan Name | Annual Premium) | Maximum Sum Insured |
| Care Health Insurance Company (formerly known as Religare Health Insurance Company Limited) | Critical Health Insurance Plan | 1198 | 2 crore |
| SBI General Insurance Company | Critical illness insurance policy | 1685 | 50 lakh |
| Max Bupa Health Insurance Company | Criticare health insurance plan | 2368 | 2 crore |
| Manipal Cigna Health Insurance Company | Lifestyle protection- Critical care health plan | 2915 | 25 crore |
| Reliance General Insurance Company | Critical illness plan | 3231 | 10 lakh |
**Last Updated on 31-03-2021
Care Health Insurance Critical Illness Plan

The plan provides treatment cover for 20 critical illnesses that are pre-defined in the policy. There are a variety of features covered in the policy such as in-patient hospitalization cover, pre and post hospitalization, organ donor cover, annual health check-up and OPD Cover. This critical illness policy has an initial waiting period of 90 days.

Here is a list of illnesses covered under the plan:

Cancer
End stage renal failure
Multiple Sclerosis
Benign Brain tumour
Total blindness
Motor neuron disorder
End stage lung disease
Major organ transplant
Heart valve replacement
Coronary artery bypass Graft

Stroke
Paralysis
myocardial infarction
Major burns
Coma
Parkinson's disease
Alzheimer's disease
End stage liver disease
Bacterial meningitis
Aplastic anaemia

SBI General Insurance Critical Illness Plan

This critical illness cover plan by SBI is available within two options- 1 year plan and 3 year plan. The plan covers 13 listed critical illnesses and has a maximum sum assured amount of Rs. 50 Lakhs. People below the age of 45 are not required to undergo any medical tests while taking this plan.

The critical illnesses covered under this plan are-

Cancer of Specified Severity
Open Chest CABG
Aorta Graft Surgery
Open Heart Replacement or Repair of Heart Valves
Stroke Resulting in Permanent Symptoms
First Heart Attack of Specified Severity
Kidney Failure Requiring Regular Dialysis

Primary Pulmonary Arterial Hypertension
Major Organ/ Bone Marrow Transplant
Multiple Sclerosis with Persisting Symptoms
Coma of Specified Severity
Total Blindness
Permanent Paralysis of Limbs

This critical illness plan is launched by Max Bupa and offers lifetime renewability and tax benefits to the policyholder. There is an initial waiting period of 90 days from the commencement of the policy. After which, the plan is liable to pay benefits.

The plan provides coverage against these following 20 critical illnesses-

Cancer of specified severity
Open chest CABG
First Heart Attack
Open heart replacement/repair of heart valves
Stroke
Permanent paralysis of limbs
End stage liver disease
End stage lung disease
Comatose
Dialysis

Major Organ/Bone Marrow Transplant
Third degree burns
Loss of speech
Deafness
Aplastic Anemia
Bacterial meningitis
Fulminant Viral Hepatitis
Muscular dystrophy
Multiple sclerosis
Motor Neuron Disease

ManipalCigna Critical Care Plan

This critical illness plan by ManipalCigna comes within two variants. The base cover provides coverage for 15 critical illnesses and the enhanced cover provides coverage for 30 critical illnesses as listed in the policy. The initial waiting period of the plan is 90 days and in case you are diagnosed with a listed illness, you can grab the benefits via two means- lump sum or staggered payouts (25% as a lump sum and 75+10% in 60 equated monthly instalments).

Here is a list of critical illnesses covered under the plan:

Basic plan:

Cancer of Specified Severity
Myocardial Infarction (First Heart Attack - of Specific Severity)
Open Chest CABG
Open Heart Replacement or Repair of Heart Valves
Coma of Specified Severity
Kidney Failure Requiring Regular Dialysis
Stroke Resulting in Permanent Symptoms
Major Organ / Bone Marrow Transplant

Permanent Paralysis of Limbs
Motor Neuron Disease with Permanent Symptoms
Multiple Sclerosis with Persisting Symptoms
Primary (Idiopathic) Pulmonary Hypertension
Aorta Graft Surgery
Deafness
Loss of Sight

Enhanced plan

In addition to the 15 critical illness covered under the basic plan, it covers these other 15 critical illnesses:

Coronary Artery Disease
Aplastic Anaemia
End Stage Lung Failure
End Stage Liver Failure
Third Degree Burns
Fulminant Hepatitis
Alzheimer's Disease
Bacterial Meningitis

Benign Brain Tumor
Apallic Syndrome
Parkinson's Disease
Medullary Cystic Disease
Muscular Dystrophy
Loss of Speech
Systemic Lupus Erythematous

Reliance General Insurance Critical Illness Plan

This plan is available for two policy periods- 1 year and 3 years. It provides coverage against 10 critical illnesses and has a waiting period of 30 days after which the insurer can claim the insurance. The plan has three types of maximum sum assured options which vary according to the age of the policyholder. The maximum entry age to buy a 5-lakh sum insured policy is 65 years, for a 7 lakh sum assured policy is 60 years and for a 10 lakhs sum insured is 55 years.

The critical illness covered under this plan are:

Cancer
Major Organ Transplant
Multiple Sclerosis
Third Degree Burns
Aorta Graft Surgery

Heart Valve Replacement or repair
Coma of Specified Severity
Coma Quadriplegia (persisting more than 90 days post-diagnosis without any significant recovery)
Total Blindness
End-Stage Renal Disease requiring regular dialysis.
Why Should You Buy Critical Illness Cover From PolicyX.com?
Critical illnesses often bring with them critical times. If you're diagnosed with a critical illness, your savings are most likely to be drained out quickly. If you want to protect them, it is important to have a backup plan against such uncertainties.
PolicyX.com helps you to find the suitable critical illness policy within few minutes. You can instantly compare different critical illness plans, evaluate their features according to your needs and find the best one for yourself. As a customer of PolicyX.com, you can enjoy the following benefits:
1
Free Quotes
Instantly find free quotes from top insurers.
2
Premium Calculator
Calculate the premium amount of different critical illness policies.
3
Easy to Buy
Buy critical illness policy online in just a few minutes.
4
Complete Assistance
Trained professionals to guide you throughout the process.
What Is The Claim Process Of A Critical Illness Insurance?
The claim process of critical illness insurance is not so different from standard health insurance. For your convenience, we have briefly jotted down two ways of applying claim- cashless and reimbursement. Let's check them out.
Cashless Claim Process:
This is only applicable if you take treatment in a network hospital.
Inform the insurance company about the hospitalisation and submit your health card and photo id proof at the hospital insurance desk.
Fill-up the pre-authorization form and the hospital will share the same with the insurance company.
On approval from the company, you can avail of cashless treatment.
Reimbursement Claim Process
Here, the insured should meet all the treatment expenses himself and then apply for reimbursement (if a cashless request is rejected or hospitalization is at a non-network hospital).
Intimate the insurance provider.
Fill up the claim form and submit it along with the discharge certificate and other necessary documents to the insurance provider.
The insurer will verify the details of the claim and the claim amount will be transferred to the registered account as soon as everything is checked and sorted.
Note- The above-listed steps may vary depending on the chosen insurer.
Documents Required
Photocopy of the policy document
Hospitalisation and medicine bills
Others requested by the company