Star Cardiac Care Insurance Policy
Star Cardiac Care Health Insurance plan is specifically designed to cover your cardiac ailments and is one of the best health plans for individuals with pre-existing heart ailments.
This disease-specific health insurance plan is a custom-made solution that caters to your specific ailment needs. Furthermore, the plan comes in two variants- Gold & Silver, which allows the policyholder to choose the most suitable one as per their needs & requirements.
Eligibility Criteria Of Star Cardiac Care:
Any individual aged between 10 and 65 years are eligible to buy this plan.
Those who have undergone any of the following heart ailments:

Percutaneous Transluminal Coronary Angioplasty (PTCA) (Stenting) or Coronary Artery Bypass Graft Surgery (CABG) (By-pass), etc. within 7 years period before proposal
Atrial Septal Defect (ASD) or Ventricular Septal Defect (VSD) that has been corrected
Patent Ductus Arteriosus (PDA) that has been treated
RF Ablation or RF Ablation done to correct the underlying cardiac condition
Had an Angiogram done but no intervention was medically found necessary.
Key Features & Benefits Of Star Cardiac Care Health Insurance Plan
Sum Insured
Rs. 3 Lakhs to Rs. 4 Lakhs
Policy Tenure
1 Year/2 Years/3 Years
Renewability
Lifelong
Variants Available
Silver & Gold
Pre-Acceptance Medical Screening
Not Required
Hospitalization Expenses
1. Covers hospitalization charges incurred due to illness or accidental injury
2. Covers hospitalization charges for surgery due to cardiac complications
3. Only the Gold plan covers Cardiac Medical Management
Day Care Expenses
All Day-care treatments are covered
Pre-Hospitalization Expenses
Covered up to 30 days
Post-Hospitalization Expenses
Covered up to 60 days
Co-Payment
10% of every claim made by an insured person
**Applicable to those whose age at the time of entry is 61 years and above
Cataract Sublimit
Payable up to Rs. 20,000/- per hospitalization and Rs. 30,000/- for the entire policy period
Tax Benefits
Available
Free-look Period
15 days
Grace Period For Renewal
30 days from the date of expiry of the policy
Waiting Period
1. Expenses incurred to treat an illness within 30 days from the policy inception date are excluded (Not applicable for Accidents)
2. Expenses related to the treatment of the listed Conditions, surgeries/treatments are excluded till the completion of 24 months of continuous coverage
3. 48 months for treatment of Pre-existing diseases
4. 90 Days for availing treatments for cardiac ailments
**Last Updated on 01-04-2021
What Is Not Covered Under Star Cardiac Care Insurance Policy?
Intentional self-injury such as suicide attempts, overconsumption of alcohol, drugs, etc.
Cosmetic or plastic treatment.
Mental and behavioral disorders.
War injuries or any other injury while indulging in any adventurous activity.
Unconventional and untrusted therapies.
To go through the complete list of exclusions, refer to the policy brochure of Star Cardiac Care.
Star Cardiac Care Insurance Policy Premium
Refer to the below table and graph to get an idea of the premium amount you need to pay under this policy with both the sum insured options for 1 year:
For 3 Lakhs:
Age Band
Plan Variants
Silver
Gold
10-60 years
16,632
22,172
60-65 years
19,128
25,500
**Last Updated on 01-04-2021
Premium Chart of Star Cardiac Care With The Sum Insured of Rs. 3 Lakhs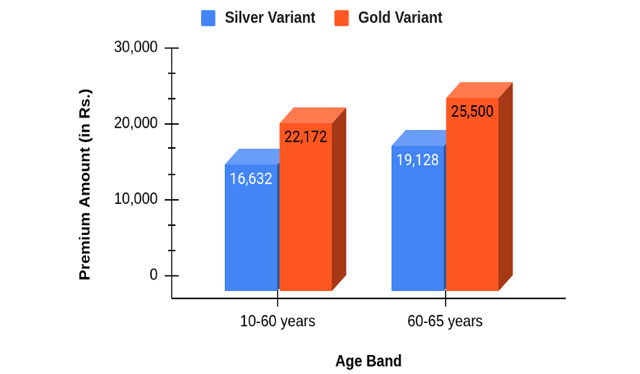 For 4 Lakhs:

Age Band
Plan Variants
Silver
Gold
10-60 years
19,010
25,341
60-65 years
21,860
29,140
**Last Updated on 01-04-2021
Premium Chart of Star Cardiac Care With The Sum Insured of Rs. 4 Lakhs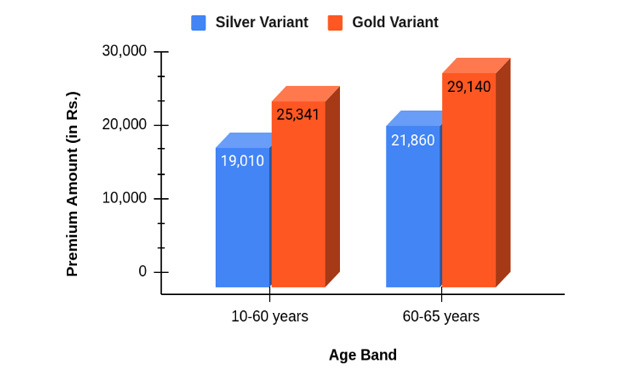 How To Buy Star Cardiac Care?
Follow the steps below and buy your policy the right away:
Step 1: Visit the official website of Star Health Insurance company and click on the 'Plans'.
Step 2: Select 'View All Plans' from the drop-down menu.
Step 3: Scroll down and find 'Star Cardiac Care' and click on Buy Now option.
Step 4: Fill in all the necessary details such as your name, date of birth, contact information, policy tenure, and variant you want to buy.
Step 5: Choose the coverage amount, and the page will show you the payable premium amount including all the taxes.
Step 6: Pay the premium online and the policy will be mailed to your registered email address.
You can also buy this plan from PolicyX.com. Just connect with our experts via call (1800-4200-269) and they will guide you through the buying process.
What Is The Claim Process Of Star Cardiac Care Insurance Plan?
The company offers a hassle-free and customer-friendly claim settlement process to avoid any further tensions at the time of a medical emergency. Have a look at the below steps to get an idea of how you can file a claim:
For Cashless Claims:
Get admitted to one of the network hospitals of Star Health and inform the company (1800 425 2255/1800 102 4477 or e-mail us at support@starhealth.in).
Reach out to the hospital reception and show your Star Health ID card for identification.
Download and submit the pre-authorization form.
The form will then be processed further for verification by the company's assigned doctors. If required, an assigned field doctor may visit the patient at the hospital.
After discharge, the claim document will be sent to the company by the hospital and the amount will be settled (on approval).
Reimbursement Claim Settlement Process
All claims need to be intimated within 24 hours of hospitalization. Treatment can be taken at a non-network or network hospital of the company.
Avail treatment, settle all the bills, and file a claim for reimbursement.
Submit all the required documents like hospital bills, pharmacy bills, together with all the original documents of treatment and the claim form to the company within 15 days of the discharge.
After successful verification, the company will process the claim, and you will receive the amount in your registered bank account.