Young Star Health Insurance
Young Star Insurance Policy offered by Star Health is a Health Insurance Plan that offers coverage against Road Traffic Accidents (RTA), Health Checkups and Hospitalization, among other benefits. It comes in two different plan options, viz. Gold and Silver. If an individual avails of this policy prior to turning 36 years, and continues to renew the policy till the age of 40, the insured is liable to receive a discount of 10%* on the premiums applicable on subsequent renewals.
* Please note that the discount will not be applicable if the insured decides to shift to a different policy
The plan can be availed by individuals aged 18-40 years. Moreover, policyholders can ensure their family members and dependent children are under the same plan on a Floater basis. The following sections highlight details about the key features, eligibility criteria and other important aspects related to Young Star Insurance Policy.
Eligibility Criteria
| | |
| --- | --- |
| Entry Age | Minimum: 18 Years, Maximum: 40 Years |
| Age of Dependent Child | Minimum: 91 Days, Maximum: 25 Years |
| Renewal | Lifelong Renewability |
| Policy Type | Individual/Floater |
| Policy Term | 1 year/2 years/3 years |
| Premium Payment Frequency | Quarterly, Half-yearly, Annually, Biennial, Triennial |
| Sum Insured | Individual: Rs. 3,00,000, Both Individual and Floater: Minimum: Rs. 5,00,000; Maximum: Rs. 1,00,00,000 |
Key Features of Young Star Insurance Policy
Availability of Mid-Term Inclusion

On paying a commensurate premium amount, the life insured can include additional family members such as a newly wedded spouse, a newborn child or a legally adopted kid. The Insurance Provider should be intimated about the same within 45 days (90 days in case of a newborn child) from the date of occurrence.

Coverage against Pre- and Post- Hospitalization

Medical expenses incurred 60 days prior to hospitalization and 90 days post hospitalization are covered under the Young Star Insurance Policy.

Hospital Facilities and Diagnostics Cover

Under this plan, the life insured can avail of expenses incurred towards the following:
Room (Single Private AC room), Boarding and Nursing Fees
Cost of consultants, surgeons, anaesthetists, medical practitioners and specialists
Anesthesia, Blood, Oxygen, Operation Theatre charges, ICU charges, Surgical Appliances, Medicines and Drugs, X-ray, diagnostic imaging modalities, Dialysis, Chemotherapy, Radiotherapy, Cost of Pacemaker and coronary stent among others.
Emergency road ambulance fees

Expense allowance for Modern Treatments and Health Check-ups

Costs incurred as a result of check-ups and modern treatments are subject to limits. The table below highlights the limit to costs covered for health check-ups that are done in a network hospitals.
| | | | | |
| --- | --- | --- | --- | --- |
| Sum Insured | Rs. 3 Lakh | Rs. 5 Lakh | Rs. 10 Lakh | Rs. 15 Lakh and above |
| Individual | Rs. 1,500 | Rs. 2,000 | Rs. 3,000 | Rs. 3,500 |
| Floater | - | Rs. 3,000 | Rs. 4,000 | Rs. 5,000 |
* Benefits are paid on renewal of the policy, ** Visit policy brochure for T&C
The benefit of Automatic Restoration of Sum Insured

100% of the Basic Sum Insured will be restored automatically on complete or partial use of the existing limit of cover. Please note that the benefit does not apply to Modern Treatments and cannot be carried forward if the restored Sum Insured remains unutilized.

Eligibility for Cumulative Bonus

Policyholders of Young Star Insurance Policy are eligible to receive a Cumulative Bonus, which is calculated at 20% of the Sum Insured at policy inception against each claim-free year.

Increase in Sum Insured in case of RTA

If in case the life insured falls victim to a road traffic accident, leading to in-patient hospitalization, (s)he will receive a 25% increase in their basic Sum Insured. The increase in the amount is capped at Rs. 10,00,000.

Star Wellness Program

Under this program, policyholders are rewarded for leading a healthy lifestyle with discounted premiums against the wellness points earned by them. The table below highlights the discount on premiums applicable.
| | | | | |
| --- | --- | --- | --- | --- |
| Wellness Points | 200-350 | 351-600 | 601-750 | 751-1000 |
| Discounts | 2% | 5% | 7% | 10% |
Premium Illustration
In order to give you an estimate on the number of premiums you'd have to pay under the two plan options available, we have presented a premium illustration for a sample policyholder. We have assumed the policyholder to be a 25-year-old individual who has opted for a policy term of 3 years.
Premium Illustration under the Silver Option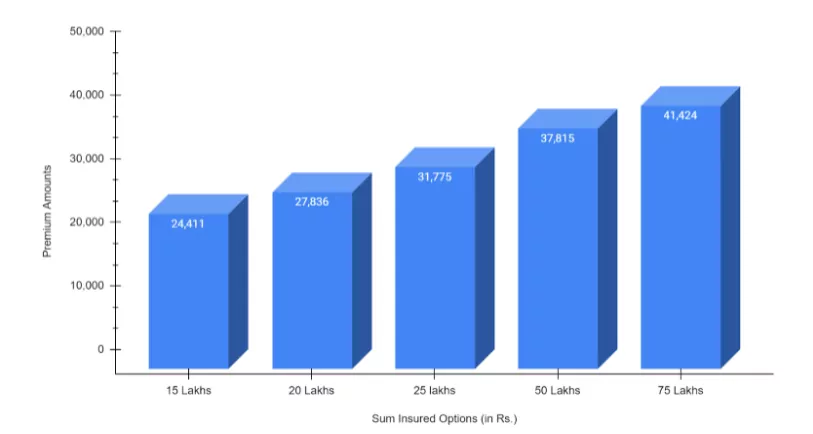 Premium Illustration under the Gold Option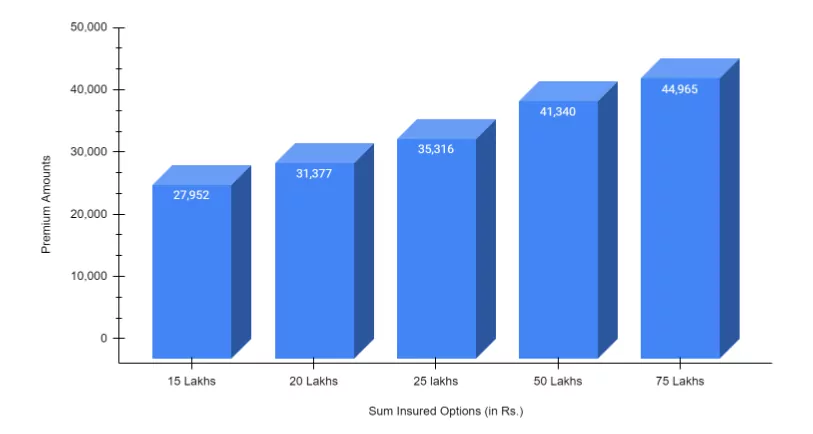 Exclusions under Young Star Insurance Policy
Pre-existing diseases
Costs incurred in the treatment of diseases related to ENT, thyroid, hydrocele, hernia, varicocele, piles, fistula and fissure in ano, diseases of the female reproductive system, calculus diseases of the gall bladder, kidney and urinary tract
Expenses related to the treatment of any illness within 30 days from the inception of the policy
Expenses related to any admission primarily for diagnostics and evaluation purposes
Costs towards custodial care either at home or in a nursing facility for personal care
Expenses related to the surgical treatment of obesity
Expenses related to change-in-gender related treatment
Expenses for cosmetic or plastic surgery, unless the need arises as a result of an accident, burn or cancer
Expenses arising as a result of being involved in hazardous/adventurous sports, or while breaching a law, or being under the influence of alcohol and/or narcotics
How to buy Star Health Insurance Plans?
Ideally, there are two ways to buy- from the company itself and a trusted web aggregator (PolicyX.com). Let's learn more about them.
Star Health Insurance Buying Process
Visit the official website of the company and click on the 'Buy Now' tab.
Fill in all the necessary details.
Once you have selected the plan of your choice, make the premium payment.
Your policy document will be mailed to you at your registered email address.
If you want a dedicated agent by your side during the claim settlement process, then you should consider choosing PolicyX.com for buying Star Health insurance. Below is its buying process.
Fill in the details in the 'Calculate Premium' form.
The next page will show all the available plans. Choose the best Star health plan and click on 'Buy Now'.
Pay the premium and your policy document will be shared with you on your registered email.
What is the claim process of Star Health Insurance Plans?
The company grants two simple ways to file claims. Here they are-
Cashless Claim Settlement Process
The cashless facility is only available at the network hospitals of Star Health.
Reach the insurance desk of the hospital, inform the company and show your health identity card.
You can download the pre-authorization form from the company's website. Fill in the details and submit the form.
The form will be submitted to the company and will be processed further for verification.
The company's assigned field doctor may visit you (if required).
On successful verification and acceptance of the claim, the insured can enjoy a cashless treatment facility. All the bills will be looked after by the company.
Reimbursement Claim Settlement Process
The reimbursement claim is applicable if the treatment is taken at a non-network hospital or if the cashless claim has been rejected.
Contact the company within 24 hours of hospitalization.
Avail treatment, settle all the bills, and file a claim for reimbursement.
Submit the required documents like hospital bills, pharmacy bills, together with all the original documents of treatment and the claim form to the company within 15 days of the discharge.
The company will verify all the information and process the claim. The confirmation of the same will be communicated to you over call or email.
If approved, you will receive the reimbursement amount in your registered bank account.
Documents Required:
Completed claim form with necessary details like present address, contact number, and e-mail ID.
Original bills, receipts, and discharge certificates/cards from the hospital.
Original bills from chemists are supported by proper original prescriptions.
Receipt and investigation test reports from a pathologist supported by the note from the attending medical practitioner/surgeon prescribing the test.
Nature of operation performed and surgeon's bill and receipt.
Self-declaration/MLC/FIR in case of accident cases.
Treating doctor's certificate.
NEFT and KYC details.
Others as requested by the company.