Star Comprehensive Insurance Policy
Star Comprehensive is a health insurance plan that looks after all healthcare needs of you and your family. The plan offers the necessary financial protection at a time of medical emergency so that you or your family doesn't have to worry about the expenses.
With a range of benefits, and a coverage of up to Rs. 1 Crore, Star Health Comprehensive Plan ensures that all your medical needs are looked after.
Eligibility Criteria Of Star Comprehensive Insurance Policy
Entry Age
Minimum: 3 Months
Maximum: 65 Years
Renewal
Lifetime Renewability
Policy Type
Individual/Floater (Family Size: Maximum 2 Adults + 3 Dependent Children)
Policy Term
1 year/2 years/3 years
Sum Insured
Rs.5,00,000; Rs.7,50,000; Rs.10,00,000; Rs.15,00,000; Rs.20,00,000; Rs.25,00,000; Rs.50,00,000; Rs.75,00,000 ; Rs.1,00,00,000
**Last Updated on July, 2021
Key Features of Star Comprehensive Insurance Policy
Midterm Inclusion Available

When you enter a new phase in your life, be it marriage or parenthood, you will need a good insurance plan to secure your happiness. It will also allow you to provide a security blanket for your newly wedded spouse or newborn baby. The plan comes with a feature of midterm inclusion on paying an additional premium.

Maternity Coverage

The plan covers expenses related to pregnancy such as delivery (normal and Caesarean delivery) charges, vaccination of your newborn baby, or coverage of the newborn baby. However, coverage under this section is subject to a waiting period of 24 months and payable only while the policy is in force.

Health Check-up

For every claim-free year, the company offers you a health check free of cost.

Bariatric Surgery

The expenses incurred on hospitalization for bariatric surgical procedure and its complications are payable under the plan up to the maximum limit of Rs.2,50,000 and Rs.5,00,000.

No Pre-Medical Screening

To avail the benefits of the plan, you don't have to go through a pre-acceptance medical screening.

Second Medical Opinion Available

If the policyholder is unsatisfied with the present doctor or their treatments, then they have the option to avail second medical opinion in electronic mode from a Doctor in the Company's network of Medical Practitioners.

Covers Accidental Death and Permanent Total Disablement

In an unfortunate event of Accidental Death or Permanent Total Disability following an accident, the plan offers the coverage up to Rs. 1,00,00,000.

Star Wellness Programme

With this feature of the Star Comprehensive Plan, the plan intends to promote and reward the insured person's healthy lifestyle through various wellness activities. One can avail discount in the renewal premium with their earned wellness points. The following table shows the discount on premium available under the Wellness Program:

| | |
| --- | --- |
| Wellness Points | Discount in Premiums |
| 200 to 350 | 2% |
| 351 to 600 | 5% |
| 601 to 750 | 7% |
| 751 to 1000 | 10% |

Buy Back Pre-Existing Disease

By paying the additional premium, the policyholder has the option to reduce their waiting period for Pre-Existing Diseases from 36 months to12 months.

Coverage For Modern Treatments

Modern Treatments such as Deep Brain Stimulation, Oral Chemotherapy, Immunotherapy-Monoclonal Antibody to be given as an injection, intra vitreal injections, etc. are covered under the plan.

AYUSH Treatments

Expenses incurred on treatment under AYUSH (Ayurveda, Unani, Sidha, and Homeopathy) are also covered under the plan, up to the limits specified by the company.

Tax Benefits

Amount paid towards the premium of this plan is eligible for tax relief under Section 80D of the Income Tax Act, 1961.
Sample Illustration of Star Comprehensive Plan:
For a better understanding of how much premium you need to pay, we at PolicyX.com have calculated the premium amount for different age groups with different sum insured options. We have assumed coverage for 1 adult against the indicated sum insured for a policy term of 3 years, paid in full. In the below-given table and chart, you will get an idea and can choose according to your needs and budget.
Sum Insured Options (in Rs.)
Age (in years)
30
40
50
7,50,000
19,659
21,771
34,598
10,00,000
22,550
25,382
41,194
15,00,000
28,037
31,282
47,094
25,00,000
34,527
37,772
53,584
50,00,000
37,984
41,554
58,947
1,00,00,000
44108
48,244
68,440
**Last Updated on July, 2021
Premium Illustration of Star Comprehensive Plan With Different Sum Insured Options and Different Age groups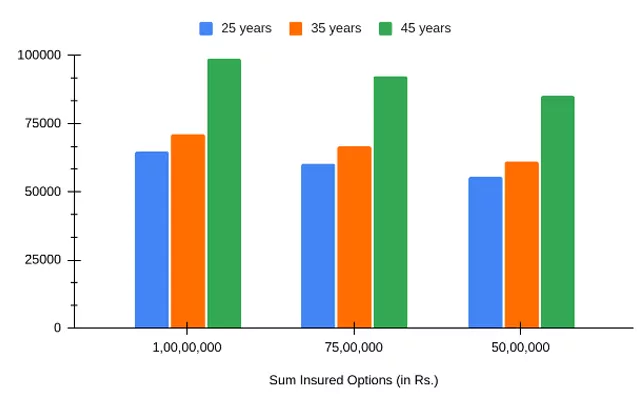 What Does Star Comprehensive Insurance Plan Offer?
To ensure that all your medical needs are looked after, Star Comprehensive Plan offers a pool of coverage to its policyholders. From the below table, you can get an insight into the coverage offered by the plan. Have a look:
Coverage Table of Star Health Comprehensive Plan
Sum Insured (In Lakhs)
5
7.5
10
15
20
25
50
75
100
Room, Boarding and Nursing charges
Private Single A/C
ICU/Operation Theatre Charge
Actual
Road Ambulance Charges (per policy period)
Actual
Air Ambulance (per policy period)
Up to Rs. 2,50,000 per hospitalization, not exceeding Rs. 5,00,000/- per policy period
Pre-Hospitalization
Covered up to 60 days
Post-Hospitalization
Covered up to 90 days
Outpatient Dental/Ophthal Coverage - Once in a block of every 3 years of continuous renewal
Up to Rs. 5,000
Up to Rs. 5,000
Up to Rs. 10,000
Up to Rs. 10,000
Up to Rs. 10,000
Up to Rs. 10,000
Up to Rs. 15,000
Up to Rs. 15,000
Up to Rs. 15,000
Hospital Cash
Rs. 500 per day
Rs. 750 per day
Rs. 750 per day
Rs. 1,000 per day
Rs. 1,000 per day
Rs. 1,500 per day
Rs. 2,500 per day
Rs. 2,500 per day
Rs. 2,500 per day
Delivery Charges - Normal Delivery
Rs. 15,000
Rs. 25,000
Rs. 30,000
Rs. 30,000
Rs. 30,000
Rs. 30,000
Rs. 50,000
Rs. 50,000
Rs. 50,000
Delivery Charges - Caesarean Section
Rs. 20,000
Rs. 40,000
Rs. 50,000
Rs. 50,000
Rs. 50,000
Rs. 50,000
Rs. 1,00,000
Rs. 1,00,000
Rs. 1,00,000
Coverage for Newborn Child
Upto Rs. 1,00,000
Upto Rs. 2,00,000
Vaccination Expenses for Newborn
Rs. 5,000
Rs. 10,000
Health Check-up
Up to Rs. 2,000
Up to Rs. 2,500
Up to Rs. 3,000
Up to Rs. 4,000
Up to Rs. 4,500
Up to Rs. 4,500
Up to Rs. 5,000
Up to Rs. 5,000
Up to Rs. 5,000
Restoration benefit after exhaustion of sum insured (Applicable for Section 1 only)
100% (once during the policy period)
AYUSH Treatment
Upto Rs 15,000
Upto Rs. 20,000
Upto Rs. 30,000
Wellness Program
Available
**Last Updated on July, 2021
What's Not Covered Under The Star Comprehensive Insurance Policy?
There is a list of conditions that the plan doesn't cover. A few of them are listed below-
Intentional self-injury
Mental illness
Cosmetic & aesthetic treatment
Dental surgery
AIDS
Pregnancy, childbirth, miscarriage, and abortion
Congenital disease
Infertility and in vitro fertilization
Hospitalization out of war, riot, strike, and nuclear weapons
For a complete list of exclusions, refer to the star comprehensive insurance policy brochure.
Buying Process
Star Health Insurance Buying Process
Visit the official website of the company and click on the 'Buy Now' tab.
Fill in all the necessary details.
Once you have selected the plan of your choice, make the premium payment.
Your policy document will be mailed to you at your registered email address.
We, at PolicyX.com can provide a dedicated agent by your side during the claim settlement process. Below is its buying process.
Fill in the details in the 'Calculate Premium' form.
The next page will show all the available plans. Choose the best Star health plan and click on 'Buy Now'.
Pay the premium and your policy document will be shared with you on your registered email.
How To File A Claim Under Star Comprehensive Plan?
To file a claim under Star Comprehensive Plan, one can opt for either Cashless Facility or Reimbursement. Read below to understand the whole process:
For Cashless Claims:
Get admitted to one of the network hospitals of Star Health and inform the company (1800 425 2255/1800 102 4477 or e-mail them at support@starhealth.in).
Reach out to the hospital reception and show your Star Health ID card for identification.
Download and submit the pre-authorization form.
The form will then be processed further for verification by the company's assigned doctors. If required, an assigned field doctor may visit the patient at the hospital.
After discharge, the claim document will be sent to the company by the hospital and the amount will be settled (on approval).
Documents required for cashless claim submission by Hospital
Health card
Doctor's consultation papers
Discharge summary
Investigation reports (e.g. X-ray, scans, blood report, etc.)
Pharmacy invoices supported by respective prescriptions
In cases of accidents, Medico Legal Certificate (MLC) and/or FIR
KYC documents of the insured if the claimed amount exceed Rs.1, 00,000/-
For Reimbursement Claims:
All claims need to be intimated within 24 hours of hospitalization. Treatment can be taken at a non-network or network hospital of the company.
Avail treatment, settle all the bills, and file a claim for reimbursement.
Submit all the required documents like hospital bills, pharmacy bills, together with all the original documents of treatment and the claim form to the company within 15 days of the discharge.
After successful verification, the company will process the claim, and you will receive the amount in your registered bank account.
Documents required for reimbursement claim submission
Copy of Health card
Duly filled claim form
Pre-admission investigations and doctor's consultation papers
Discharge summary from the hospital in original.
Investigation reports (e.g. X-ray, scans, blood report, etc.)
Pharmacy invoices supported by respective prescriptions
Case receipts from the hospital, chemist
In cases of accidents, Medico Legal Certificate (MLC) and/or FIR
Copy of the KYC documents
NEFT details, Contact number, and E-mail ID