Child Plans
A Child Plan is a combination of savings and insurance plans that is designed to help parents in securing the financial future for their children. The plan allows parents to build a strong financial corpus that can be used to meet the child's future needs like education, marriage, etc.
How Does a Child Plan Work?
When you buy a child plan, you pay premiums for the selected time period. This specific time period becomes your 'policy term' and once the policy term ends, the insurer provides a lump sum amount of your plan in the form of maturity benefit. You can then use this amount to cover your child's education or marriage expenses. If in case any unfortunate event happens with you during the policy term, the entire life cover amount of your plan will be given to your nominee who is responsible for taking care of your child in the future. The insurance provider will waive off all future premium payments for the remaining policy term to ensure that your children's future is always secure.
For better understanding, let's take the help of the example given below.
Mr. Kumar has a 6-year old child, and he wants to invest in a child plan for the higher education of his ward. He decides to invest in a child plan for 14 years with a sum assured of 10 lakhs. He pays the premium every year.
If he dies during the 8th year of the policy, the insurer pays a death benefit to the claimant, and all future premiums are waived off. The plan stays active for the rest of the years. At the time of maturity, the plan will provide a maturity benefit of Rs.10 lakhs to Mr.Kumar's child/claimant.
Why Is A Child Plan Important For You And Your Child?
Parents take care of everything related to the child and want to make sure that their child's every want is looked after with zero compromises. This is where child plans come into the picture. By investing in a child education plan, you will collect enough funds in the times ahead to take care of future expenses related to your child. This is because a child education plan offers comprehensive life insurance coverage along with the maturity benefits to secure a child's future.
So, by buying a child education plan you can rest assured about the fact that even if something unfortunate happens to you and you're no longer around with your family, the needs of your children will be well taken care of.
Benefits of Child Plans
To understand the importance of Child Plans, let's dig deeper into their benefits. The list of benefits derived from a child education plan can be quite long. Here we've jotted down some of the basic benefits offered by such plans.
Build A Corpus

It helps you to build a corpus for your child's education and assists you to save enough for the future. On paying premium timely, the plan will provide a lump sum that will help the child to meet the educational expenses without any financial burden.
Medical Treatment

These plans offer the convenience of withdrawals during the policy tenure. You can use this money for medical treatment in case your child falls ill.
Support The Child In The Absence of Parents

The death of the parent can cause severe trauma to the child and can keep his/her future hanging. The plan offers a lump sum amount as promised at the time of purchase. Apart from this, if the insured opts for a premium waiver rider, the company will provide a premium waiver in case the parent passes away during the policy tenure.
Income Benefit

A few of the child plans provide regular income to children that is equal to 1% of the sum assured.
Best Child Plans In India
Given the wide range of child education and savings plans available in the insurance market nowadays, it is natural to feel confused about which one you should select for your child. To make things a bit easy for you, our team at PolicyX.com did extensive research on the life insurance providers available in the market and compared them on the basis of their claim settlement ratio and market share. From the results of our evaluation, we've selected the top life insurance companies in the market and listed the best 5 child plans in the table below. Let's learn about them.
| | | | |
| --- | --- | --- | --- |
| Insurance Company | Plan Name | Minimum Annual Premium | Maximum Sum Assured |
| Life Insurance Corporation of India | LIC New Children's Money Back Plan | Rs. 4,327 | No Limit |
| HDFC Life Insurance | HDFC Life YoungStar Udaan | Rs. 24,000 | Depends on premium chosen, age, policy term and premium payment term. |
| SBI Life Insurance | Smart Champ Insurance | Rs. 6,085 | Rs. 1,00,00,000 |
| ICICI Prudential | Smart Kid Solution | Rs. 48,000 (for one pay option) | 10 times of Single Premium |
| Max Life Insurance | Future Genius Education Plan | Rs. 40,000 | No limit |
*Note: Premiums in this table are calculated for a fixed sum assured of Rs. 1,00,000.
Premium Comparison of Different Child Plans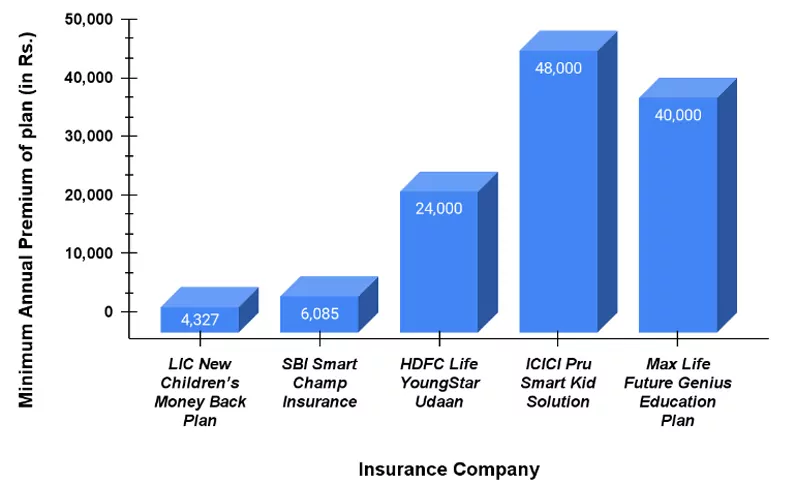 Types Of Child Plans
Different insurance companies offer different types of Child Plans in India. However, for your reference, we've listed below some of the common child plans available in the insurance market nowadays. Let's take a look.
1

Single-Premium Insurance Plan

Single-Premium Child Plan requires a one-time investment, which is also subjected to discounts and other benefits.
2

Regular Premium Insurance Plan

Regular-Premium Plan requires you to pay the premium at prefixed intervals. The frequency of premium payments may be monthly, quarterly, half-yearly, or annually (as agreed upon).
3

Child Endowment Plan

In choosing a Child Endowment Plan, you authorise your insurance provider to invest in the instruments of debt. Endowments Plans provide capital appreciation, while steadily adding to the growth of the fund with returns from investments.
4

Unit-Linked Insurance Plan (ULIP)

ULIP plan is a combination of investment plans and life coverage. They invest the premium paid in equity instruments and debt instruments. Although the plan carries some amount of risk, it yields more returns than endowment plans in the long-term. The policyholder also has the option to switch between funds after a certain waiting period.
Key Features Of Child Plan
Child plans are one of the best investment options, as they are loaded with multiple features like the generation of additional wealth, tax-savings, and more.
Listed below are some of the significant features of child plans:

Waiver of Premium
The child plan has an in-built premium waiver, which is applicable when the parent dies. This feature may vary from insurer to insurer.
---

Sum Assured
The sum assured for a child plan is usually 10x the gross earnings of the policyholder, which is paid out in the event of the demise of the parent or at maturity.
---

Partial Withdrawal
Plans offered by various insurance providers come with the option of partial withdrawals (as and when the child turns 18).
---

Choice of Funds
Child plans allow you to choose between different fund options such as equity, debt, money-market, and hybrid. You also have the option of switching between funds after a certain period.
---

High Returns
The return of child plans goes as high as 12%, which is well above the rate of inflation in the long-term. Therefore, it not only protects your investments from getting eroded (as a result of inflation) but also contributes towards the steady growth of the fund.
---

Tax Benefits
Child plans are characterised by the triple exempt benefit (EEE exemption), which implies that the investment (premium) is eligible for the tax deduction, the interest earned is exempted from tax, and income generated is also exempted from tax.
Types of Riders Available in Child Plan
Child plan riders are additional benefits that you can add to your existing policy by paying a small premium.
Here is a list for the same:
Child Term Rider

Child term rider provides death benefits in case of the demise of the child (before a particular age). However, after the child attains maturity, the term plan can be converted to a permanent insurance cover up to five times the original amount without the need for medical exams.

Accidental Death & Disability Benefit

This rider provides an extra sum assured in case of an unfortunate event that leads to the death or disability of the insured.

Critical Illness Rider

Critical illness rider offers coverage for a predefined set of critical illnesses.

Premium Waiver Rider

In case of the demise of the policyholder, the outstanding premium gets waived off, and the beneficiary will get the benefits at maturity.

Income Benefit Rider

This rider makes the child eligible to receive 1% of the rider sum assured every month in the following occurrences:

Death of the parent
Permanent disability of the parent due to an accident
Parents being diagnosed with any of the critical illnesses specified in the policy
Things To Consider Before Buying A Child Plan
Buying a child plan is not an easy decision. You may have to take into account several factors while deciding the best plan for your child. To help you in making a good decision, we've jotted down a few important points that you should consider while buying a child plan.

Look for Essential Features
Search for all the essential features and rider benefits to secure the financial future of your child.
---

Claim Settlement Ratio
Always make a point to check the CSR of the insurance provider. With a high claim settlement ratio, there is a significant probability for the company to pass your future claims.
---

Plan Tenure
Decide the tenure of the policy carefully, ensuring that your child gets all the benefits at the right age. For instance, if your child is below 10 years, (s)he has a lot of time to decide his/her education and career goals. So, the plan tenure should be around 10-15 years.
---

Fund Allocation
Wisely choose the fund allocation based on your child's age and needs like healthcare, education, wedding, and so on. Many policies offer different fund options with diverse risk factors. You can invest in equity and debt funds to get better returns for your child.
How Much Should You Invest In A Child Plan?
One of the biggest confusion that every customer faces while buying a child plan is deciding the ideal coverage amount for the selected plan. If you're facing this confusion too, read this section thoroughly to understand how much you should invest in a child plan.
In order to decide the right coverage, it is vital to understand the growing expenses of the education industry. The cost of higher education is rising at 10-12% a year. Normally, a four-year engineering course can cost around 7-8 lakhs. In the coming six years, the cost is likely to touch 14 to 25 lakh. By 2027, it would cost around 28 lakhs.
You need adequate investment to counter such expenses. Normally, building a corpus of 1 crore may seem difficult, but it's not impossible to save this amount. You can make it with the help of an SIP of Rs. 9,000 for 18 years in an equity fund at the rate of 15% per year. As the rate of inflation in the education industry is so high, you need compounding to work for you over a longer tenure.
Buy The Best Child Plans from PolicyX.com
As a parent, your first and foremost duty lies in securing your child's future. To ensure that your child has a bright future and lives the life of his dreams, it is important to start investing in a child plan at an early stage.
The team of PolicyX.com is ready to assist you with the same. We help customers in finding the ideal plan for their child by instantly comparing different child plans, evaluating their features according to the customer's needs, and finding the best plan for them. In addition to this, we have a team of insurance experts who are available 24*7 to address customers' queries.
If you, too, want to save time and need a smooth buying experience, trust no one else than PolicyX.com.
Here is a step-by-step guide that explains how you can buy child plans from PolicyX.com.
Enter details in 'Free Quotes From Top Companies' given at the top-right corner of this page.

The next page will show all the available quotes from the top insurance companies in India. Choose the desired plan and tap on 'Invest' at the right corner of the chosen plan.

Check your details and click on the tab 'Proceed to Buy'.

Enter your 'Email ID' and click on the tab 'Submit'.

You will be redirected to the company's official website. Make the payment using available payment options.
After making the payment, you will receive a confirmation along with the policy documents on your registered email address.
Note: In case of any query, feel free to connect on our toll-free number (1800-4200-269). You can also email us at helpdesk@policyx.com.
How To File A Child Plan Claim?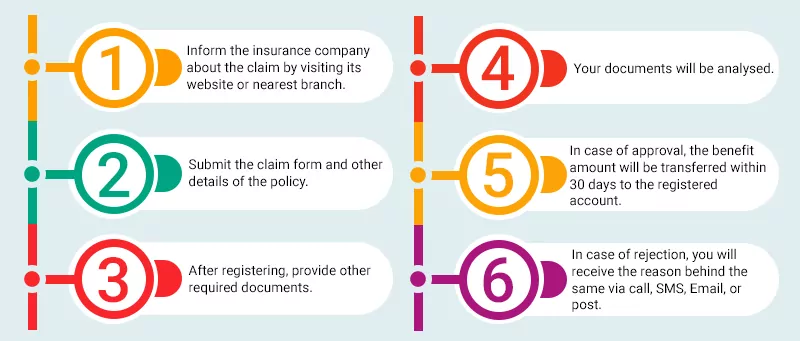 Documents Required To Buy A Child Plan