About Life Insurance Corporation of India
LIC is one of the oldest life insurance companies in India. The company was founded in 1956 to secure millions of lives through life insurance. The company caters to almost all life insurance needs of customers. It has plans for different stages of life starting from child insurance, savings plans, and LIC pension plans among others. Currently, it has 2048 fully computerized branch offices, 113 divisional offices, 8 zonal offices, 1381 satellite offices, and the Corporate office. The best thing about the company is trust among people and the best claim settlement ratio in the market.
Claim Ratio: The company offers a good claim ratio of 98.04 percent in the market which is considered as the best one.
Branches: 2048 + branches at this moment in almost every corner of India to reach people on a wider scale.
Customer Assistance: To assist customers with all their requirements, the company has expert agents and you can connect with them 24*7.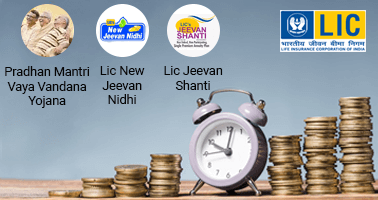 Fast Facts (2017)
| | |
| --- | --- |
| Headquarters | Mumbai |
| Business Line | Life Insurance |
| Claim Ratio | 98.04% |
| Branches | 2048 |
LIC Retirement Plans
To secure your old age life and to offer stable and enjoyable post-retirement years, LIC has come out with multiple pension plans which will assist you with all your requirements.
1. LIC Pension Plan: Pradhan Mantri Vaya Vandana Yojana
This LIC pension plan designed for senior citizens that offer assured a return of 8% per annum payable monthly (equivalent to 8.3% per annum) for 10 years. This plan allows opting monthly/quarterly/ half-yearly or yearly payment of the pension. Recently, the government has increased the limit under Pradhan Mantri Vaya Vandana Yojana to Rs. 15 lakhs per senior citizen.
Key Features of Pradhan Mantri Vaya Vandana Yojana
Pension Payment: In case of survival of the pensioner during the policy tenure of 10 years, you will get the pension in arrears.
Death Benefits: In case of death of the pensioner, during the policy tenure of 10 years, the purchase price will be refunded.
Maturity Benefit: On survival of the pensioner during policy tenure of 10 years, Purchase price along with final pension installment will be payable.
Eligibility of Pradhan Mantri Vaya Vandana Yojana
| | |
| --- | --- |
| Entry Age | 60 years (completed) - No limit |
| Policy Term | 10 years |
| Minimum Pension | Rs. 1,000/- per month |
| Maximum Pension | Rs. 1,20,000/- per year |
2. LIC Pension Plan: New Jeevan Nidhi
LIC's New Jeevan Nidhi Plan is a conventional with-profits pension plan. It is a combination of protection and saving features. This plan offers death cover during the deferment period and annuity on survival to the date of vesting.
Key Features of LIC's New Jeevan Nidhi
Vesting Benefit: At the time of vesting, an amount that will be equal to the Basic Sum Assured along with accrued Guaranteed Additions, vested Simple Reversionary Bonuses, and Final Additional bonus shall be payable.
Death Benefits: In case of death during the policy tenure, the basic sum assured along with accrued Guaranteed Addition will be paid as a lump sum or in the form of an annuity or partly in a lump sum and balance in the form of an annuity to the nominee.
Guaranteed Additions: The policy offers Guaranteed Additions @ Rs.50/- per thousand Basic Sum Assured for each completed year, for the first five years.
Eligibility of LIC's New Jeevan Nidhi
| | |
| --- | --- |
| Eligibility | 20 years - 60 years |
| Vesting age | 55-65 years |
| Minimum Sum Assured | Rs. 1,00,000 |
| Maximum Sum assured | No limit |
3. LIC Pension Plan: Jeevan Shanti
This LIC pension plan is a single premium pension plan under which the insured has the option to choose an Immediate or Deferred annuity. In this plan, the annuity rates guaranteed at the inception of the policy for both Immediate and Deferred Annuity and annuities are payable for the lifetime. It can be purchased offline as well as online.
Key Features of LIC Jeevan Shanti
Lifetime Income: This plan will offer Guaranteed life long income in return for a one-time investment.
Multiple Annuity Options: Under this plan, you will get 9 different annuity options to choose from to go well with different needs of customers.
Option To Select: This plan allows you to choose either Immediate Annuity or postpone it to a future date as Deferred Annuity.
Guaranteed Additions: This plan will provide guaranteed additions during the deferment period.
Eligibility of LIC Jeevan Shanti
| | |
| --- | --- |
| Minimum Entry Age | 30 years |
| Deferred Period | 1 - 20 years |
| Vesting Age | 31 - 80 years |
| Mode of annuity | yearly, half-yearly, quarterly, and monthly |
Why LIC Pension Plans?
The pension plan has become the need of today's world. It gives complete freedom to have a stable and enjoyable retirement. Pension plans are effective for senior citizens to secure their future easily. With an effective pension plan, they do not have to compromise with future needs during post-retirement life. By taking pension plans, you can enjoy your life even after your retirement with your family. By taking the LIC pension plan, the invested amount in the pension will help you in old age while to cater to the changing and evolving needs of its customers. Currently, it has pension plans to offer economic stability during the post-retirement life with various financial benefits.
Benefits of Choosing LIC Pension Plans
The plan offers Death benefit which is payable to the beneficiary when the insured or annuitant passes away. Alternatively, a death benefit may be a large lump-sum payment from a life insurance policy.
Charges paid to the insurer for any of the LIC pension plans are exempted from tax.
The insured can construct a good retirement portfolio by choosing a policy term that can offer great returns.
Loyalty additions can be used to enhance the insured's retirement portfolio. Greater lump sums may be added as top to grow the insured's retirement fund.
The insured also can select to increase his retirement age if required. Moreover, the insured will acquire a steady income depending on the annuity he chooses. Tax-free withdrawals of 1/3rd of the accrued price range upon retirement give the insured the liberty to fulfill wishes.
It protects the insured's family by giving the minimum assured amount based on a number of premiums paid in case of the demise of the insured.
Moreover, tax benefits may be availed on investment in addition to returns according to the income tax policies.