ICICI Prudential Life Insurance Login and Registration
ICICI Prudential Life Insurance is one of the top players in the Indian life insurance market. It started operations in 2001 as a joint venture between ICICI Bank Limited and Prudential Corporation Holdings Limited.
ICICI Pru policies are designed to provide all-round benefits to customers who are looking for cost-effective products, good customer service support, and easy claim process. In 2017, it became the first insurance company to list itself on the National Stock Exchange (NSE) and the Bombay Stock Exchange (BSE).
ICICI Prudential Life offers a wide range of plans that can be summed up into the following categories:
ICICI Term InsuranceICICI Pru Cancer InsuranceICICI Unit Linked Insurance PlansICICI Prudential Savings Plans ICICI Pru Retirement Plans
Apart from its policies, it also provides an extensive user-friendly dashboard that can be accessed through its online login system. Let's understand the complete process of logging in to the system.
ICICI Prudential Life Customer Portal
The ICICI Prudential website has a Customer Services portal that provides a host of services that acts as the one-stop-shop for all of your needs. The portal allows you to view the following services for our policies:
Pay Renewal Premium & Check term insurance premiums
View and Download tax and premium receipts
Set auto-debit instructions
View and download e-welcome kit, Policy and Unit Statements
View Portfolio Statements
Update your contact details
View and download Insurance Certificates
You need to follow the following steps to login into the system:
Step 1: Accessing the ICICI Pru login portal

On the home page of the ICICI website, click on the LOGIN button on the top of the page, as shown in the image below:

Upon clicking, a drop-down will appear from which an appropriate role will have to be selected. Apart from customers, companies, employees, former employees, etc. use the same login page. Select 'Customer' from the drop-down as shown in the image below:

You will be taken to the next page "Login as Customer".

Step 2(A): Registering your details (If you are a new user)

If you have recently purchased a policy offline and want to register on the website, then you need to click on the "New User" link as seen in the image below:

It will take you to the next page where you will have to register yourself. For registering you will have to enter your registered email ID and your Date of Birth along with your registered mobile number, or Policy number. The mobile number needs to be the standard Indian mobile number that you submitted in your application form. Hence if you are an NRI, you will have to put your email ID only.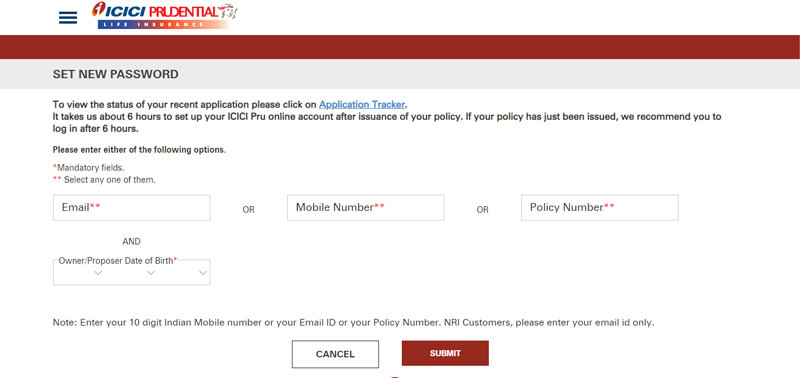 After clicking on 'Submit', a new page "Generate OTP" will come up where you will have to click on "Send OTP (ONE TIME PASSWORD)". This action will generate an OTP which will be sent to your registered Email ID and your mobile number. After entering the OTP, you will be able to create a password, which you can use to log in to the portal (through the website and the mobile app).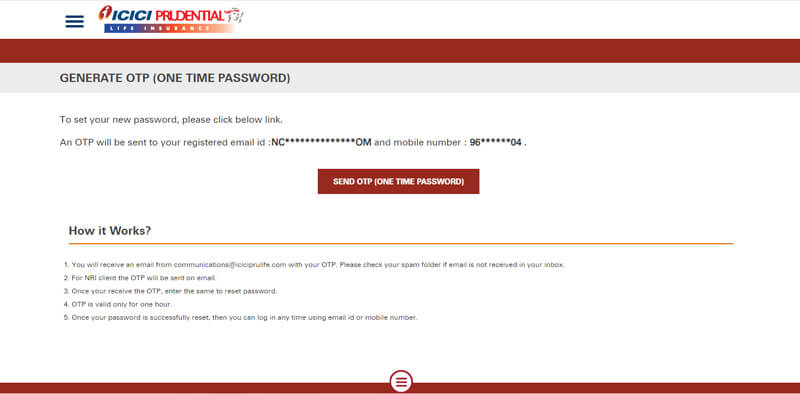 The online account will get activated after 6 hours of the issuance of your policy. After submitting your details, if you get a message as "number/e-mail ID not registered", then you will have to go the "Application Tracker" link to check if your insurance application has been approved and registered or not.
Step 2(B): Registering your details (If you are a new user)

If you are an existing user, then on the page "Login as Customer", you will need to enter your Mobile Number or your Email ID, your password.

Below the password, you will get an option that will let you directly enter the page where you want to go. Unlike other websites where you are automatically taken to your dashboard from which you need to go to the desired page, at ICICI, you will be taken to your desired page directly when you enter your credentials and submit.

Following are the pages which can be accessed directly from the Login page:
DashboardView Policy DetailsCheck Fund ValueUpdate Personal DetailsPay Premium Statements
Life Insurance Companies
Compare and buy the most suitable Life Insurance Plan from the below-mentioned IRDAI-approved Life Insurance companies.
ICICI Pru Login (In Case of Forgotten Password)
If you still use a password but have forgotten it, you can click on "Change/Forgot Password" and it will lead you to the "Set Password Page" where you can set your new password.
ICICI Prudential Login Through OTP
However, If you do not want to set a password and enter it every time, you have the option to Login via OTP. Click on the "Login via OTP". It will take you to the next page where you can enter your Mobile number or your Email ID, and it will generate an OTP which you can use to enter the system.
Login Through The ICICI Prudential Life Insurance Mobile App
ICICI Prudential has designed an easy way to navigate via a user-friendly app (ICICI Prudential Life Insurance App) that lets you track your applications and documents, check different plans, view and download your policy statements, check and update your policy details and pay your premiums. In short, it performs all the functions that the online website login provides.
Following are the steps to login through the mobile app:
Download the ICICI Prudential Life Insurance App from Play/App Store. This new app has replaced the older ICICI PruLife App. There are many apps designed by ICICI for its various products, hence be careful to download the accurate one as shown in the image below:

Once downloaded, you will get the home screen where you will be asked to enter your mobile number or your email id and your password. The password will be the same that you have set for your online website login.

Like the website login, if you don't want to generate a password, you can log in via OTP. Also, as the below image shows, it has a scroll up feature where you can directly access a number of important features of your policies.

Once you successfully login to the system, you will get a host of services that ICICI provides. The system and the dashboard are designed to provide a seamless experience to customers so that less time is spent in figuring out the different sections and more time is utilized to conduct digital transactions.