Key Features of HDFC Life Insurance
There are several Life insurance plans available in the market but one must choose an Insurer & Insurance policy as per the needs & requirements. Therefore, it is crucial to compare different plans from different companies to make an informed and beneficial decision.
We at PolicyX.com have listed key features of the company for your clearer understanding.
1

Solvency Ratio

The solvency ratio is one of the important criteria that should be taken into consideration while selecting an insurer to buy a policy.

The solvency ratio measures the ability of an insurer to meet its prolonged debt obligations and other financial commitments. In other words, it determines whether the cash flow is meeting the company's short and long-term liabilities or not. IRDAI has made it mandatory for all the insurers to have a healthy solvency ratio of at least 1.5 (Solvency margin - 150%). The solvency ratio of HDFC Life Insurance is 1.91 that fulfills the IRDAI's set standards.

Let's take a look at the graph below for a better understanding.

Solvency Ratio of HDFC Life Insurance as per IRDAI for FY 2016-20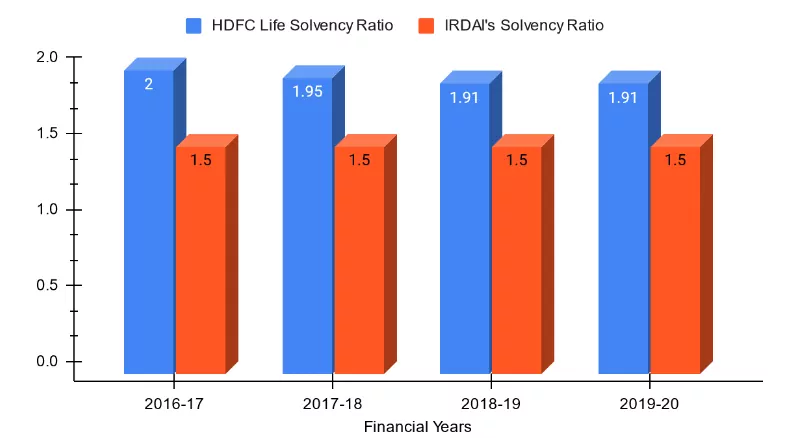 Let's understand this with an example.
When you buy a life insurance policy, you are required to pay regular premiums so that in any kind of unfortunate event, you can file a claim to receive the financial coverage from the company. To do so, the insurer must be in a good financial position. This is where the solvency ratio comes into play. The company's solvency ratio helps you assess the settling of insurance claims.
The below mentioned graph represents the Quarterly Solvency Ratio of HDFC Life Insurance FY 2019-20.
Quarterly Solvency Ratio of HDFC Life Insurance FY 2019-20
If you want to check the solvency ratio of life insurers, refer to the IRDAI Annual Reports.
2

Market Share

Market share provides information about the business volume and helps you to analyse company's growth in terms of its annual gross premium collected in a year.

As per the IRDAI Annual Reports, in the financial year 2016-17, the annual premium of the company was Rs. 8,696.36 Crores that increased to Rs. 17,238.45 Crores in FY 2019-20.

Annual Gross Premium of HDFC Life Insurance 2016-20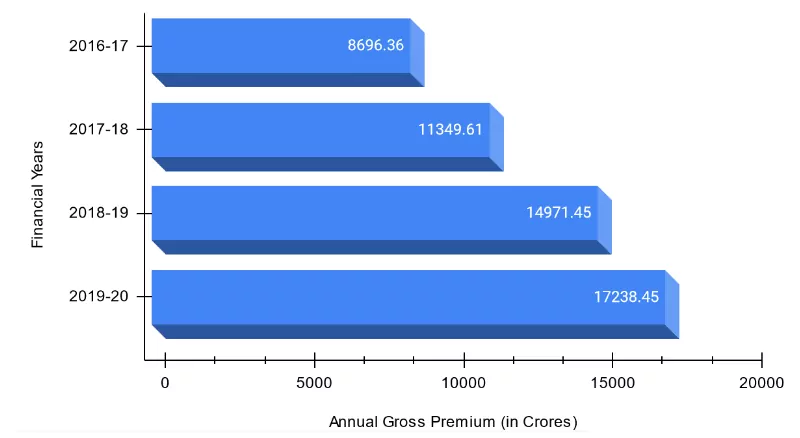 For your better understanding, we have compared the HDFC Life insurance company with other private-sector insurers.
3

Claim Settlement Ratio

This is the percentage of life insurance claims paid out of the total claims filed in a financial year. The higher the ratio, the better it is. HDFC Life Insurance's claim settlement ratio is at 99.07% for the financial year of 2019-20. While checking the claim settlement ratio, it is also important to check the total number of claims settled.

Given below is a graph that illustrates the increase in the CSR of HDFC Life Insurance company.

Claim Settlement Ratio (CSR) of HDFC Life Insurance 2016-20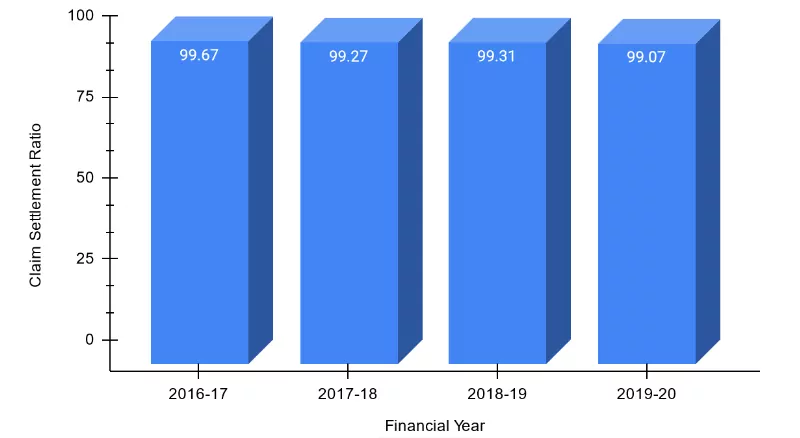 Given below is a graph that shows the comparison between HDFC Life Insurance and other top life insurers.
Claim Settlement Ratio of HDFC Life Insurance & other top Life Insurers (2019- 2020)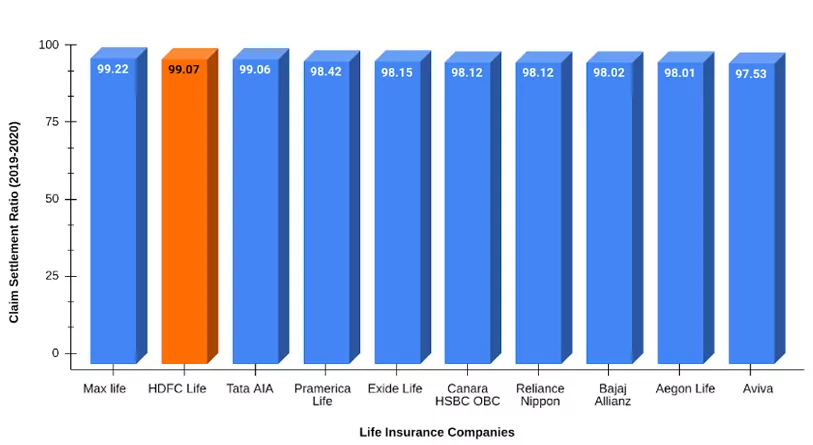 4

Operating Network

HDFC Life Insurance Company has 420 offices across India and additional distribution touch-points through several new tie-ups and partnerships. Apart from its PAN India presence, it has more than 300 partnerships, comprising traditional partners such as SFBs, MFIs, and NBFCs.

We have summarized the above information in a tabular form. Go through the table carefully before choosing a plan.
| | |
| --- | --- |
| Solvency Ratio | 1.91 |
| Annual Gross Premium 2019-20 | 17238.45 Crores |
| Market Share (in %) | 6.64% |
| Claim Settlement Ratio (CSR) | 99.07% |
How To File a Claim Under HDFC Life Insurance Policy?
HDFC Life allows you to make quicker claims by using their online platform. To do so, you must follow the following steps:

HDFC Life will contact you with acceptance or rejection of your claim settlement. Meanwhile, if you wish to track your claim, you can do so by clicking on the 'Track Claim' option available on the home page.
Additionally, you can choose to visit the branch by clicking on the branch option in the 'How to Make a Claim' section. It will redirect you to HDFC Life Branch Locator, using which you can find your nearest HDFC Life branch and file for settlement.
Documents Requirement for Smooth Claim Process