How To Check ICICI Prudential Life Insurance Policy Status?
ICICI Prudential is one of the pioneer private life insurance service providers to have crossed the benchmark of Rs. 1 trillion in Assets Under Management (AUM).
Popular among insurance service providers in India, ICICI Prudential Life Insurance offers term insurance, ULIP plans, pension plans, child plans, investment plans, group plans and rural plans. ICICI Prudential offers services backed by a robust technical infrastructure. It allows its customers to access services like paying premiums, checking the policy status, downloading statements and editing contact details through its online portal.
Let us take a look at how we can use the ICICI Prudential Portal to check the policy status.
Steps to Check ICICI Prudential Insurance Policy Status Online
ICICI Prudential, with its customer portal, makes it easier for policyholders to manage and check policy status, without any waiting period. Get access to your policy details and check your policy status 24/7 on the go via the ICICI Prudential customer portal.
To check the policy status of your ICICI Prudential Insurance Plan, follow the steps mentioned below:
1 Step 1:
Visit the homepage of the ICICI website and click on the Login button on the centre-top of the page. On clicking the Login button, the drop-down appears. Click on 'Customer' from the drop-down, following which you will be redirected to the customer login page.

2 Step 2:
If you are an existing ICICI Prudential customer, you can enter your mobile number/ email ID, and password to sign in to the customer portal. You can also choose an activity from the 'Start In' drop-down such as view policy details, check-fund value etc. and you will be redirected to the selected page.

For example, if you click on 'view policy details', you can scan through all the information related to your policy(s) such as status, total sum assured, etc.
In case you are not an existing ICICI Prudential Customer, click on the 'New User' button to register yourself as a user.

To register, you have the option of entering either your email ID/mobile number/policy number. You must also mandatorily enter your date of birth and click on 'Submit' to proceed with the registration. NRIs may sign up with their mail IDs only.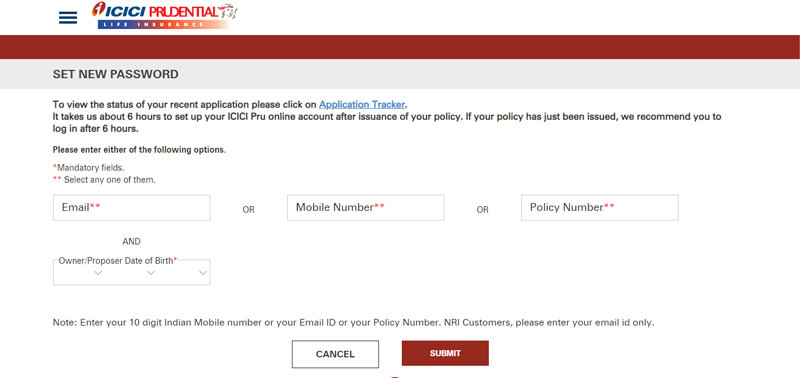 3 Step 3:
Having completed the previous step, you will have to generate one-time-password (OTP) for verification. Click on 'Generate OTP' on the new page and you will receive the OTP via SMS/ Email, depending on the information you provided in the previous step. Check your Email/ SMS and enter the OTP to be able to set a password. After you have selected the password, you may log in to the portal with your credentials.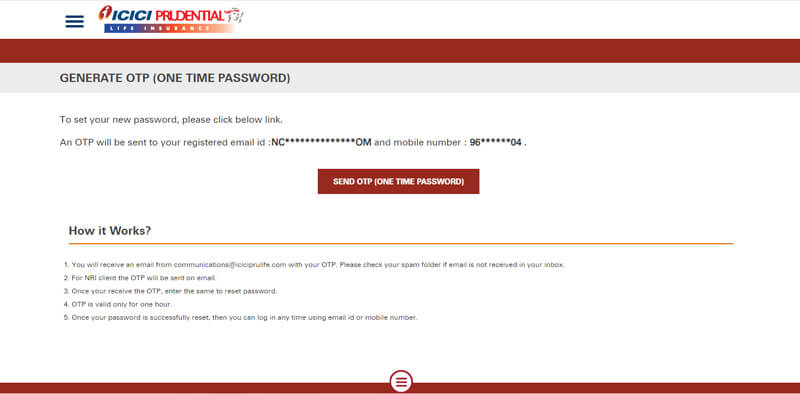 After successful registration, the account will be activated 6 hours after your policy has been issued. To check the status of your application, you may click on 'Application Tracker' on the same page.
Offline Process for Checking Policy Status for ICICI Prudential
ICICI Prudential Life Insurance customers can check policy status by using the SMS Helpline service. Get details on the due date for premium payment, policy status, portfolio fund value, policy Net Asset Value and more by sending a simple SMS to their helpline service.
The customer must register their mobile number with the company before availing the offline SMS service. You can do so by sending an SMS to 56767. Type REG <Space> the 8-digit policy number and your date of birth.
To get updates on your policy via SMS, type PST <Space> your policy number and send it to 56767.
You can also avail services over email and call. Mail your concerns and queries from your registered mail ID to lifeline[at]iciciprulife[dot]com. Customers in India can get policy-related information over a call. Dial 1860 266 7766 for calls within India. NRI can call at +91 22 6193 0777 for any policy-related information.
Life Insurance Companies
Compare and buy the most suitable Life Insurance Plan from the below-mentioned IRDAI-approved Life Insurance companies.
How To Check The Policy Status through ICICI Prudential Life Mobile App?
ICICI Prudential has come up with an easy way for customers to view and manage their life insurance plans via the ICICI Prudential Life Mobile App. The app allows all activities including checking the policy status, viewing various plans, tracking applications, claim status, uploading and editing documents, premium payment and more.
Access a gamut of online facilities for ICICI Prudential Life by following the steps listed below:
1 Step 1:
Download the ICICI Prudential Life Mobile App from the Play/App Store on your mobile.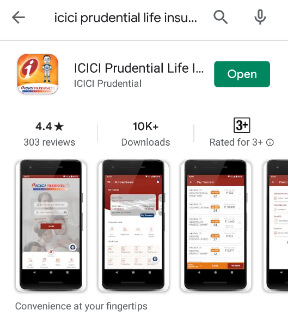 2 Step 2:
After the app has been downloaded, open the app and log in with your email ID/ mobile number and password. Use the same password that you have for the online ICICI customer portal. You can also log in via OTP. Enter your email ID/ mobile number and enter the OTP received to sign in successfully.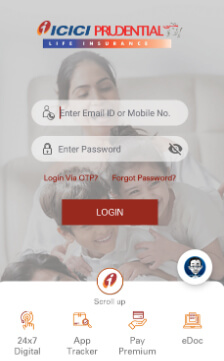 3 Step 3:
On successful login, you will be on the homepage, able to view a plethora of services. The users can easily navigate to what they are looking for and follow the instructions on the app to perform different functions like tracking your claims, generating e-statements, pay premiums, meet advisors and more.