Health insurance for diabetics is a health insurance cover that provides coverage to diabetes patients against all the symptoms and major risks arising due to diabetes. Diabetes, as a disease is capable of disrupting the family's finances if not properly planned.
The best planning one can do to avoid such situations, is to get insured early and keep renewing the policy irrespective of any claim. 
Diabetes is generally categorized as a pre-existing disease and is exempted from the scope of coverage for many years. In India,  approximately 70% of the population is suffering from the disease and wants to cover diabetes in their health insurance plans. Many health insurance providers have launched plans specifically for covering diabetes. These health plans include any medical emergency faced which arises due to diabetes and serve as a blessing to the diabetes suffering population of India. So it is sensible to buy a diabetes-specific plan which is a way more comprehensive than the other health plans and also covers various complexities.
Diabetes Safe Insurance Policy
Covers hospitalization expenses for both type 1 and type 2 complications of diabetes
Two types of plans are available-Plan A and Plan B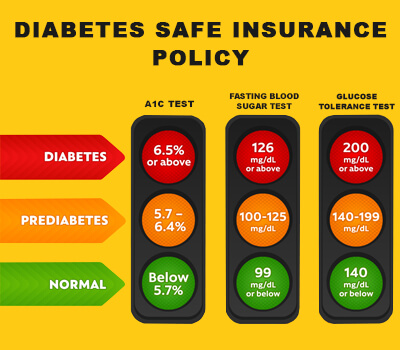 Plan A: Pre-acceptance medical examination is required for all persons opting for this plan
Plan B: There is no pre-acceptance medical screening
No waiting period for diabetes and its complications under Plan A
12 months waiting period under Plan B
Expenses for Medical consultations, Diagnostic tests, medicines, and drugs
Compensation for the accidental death of the insured person
Donor expenses for kidney transplant surgery
Dialysis expenses of Rs.1000/- per sitting up to 24 months
Automatic restoration of the entire sum insured
All daycare procedures covered
However, the health plans for diabetes warrant a detailed understanding before you go jumping with joy to invest in the plans without knowing the coverage and exclusions.
India currently represents 49 percent of the world's diabetes burden, but only a few insurers are providing the insurance needs for this fastest growing disease. The best planning to avoid such situations is to get insured early and keep renewing the policy irrespective of any claim. For people, who already are contracted with diabetes, there are not so many options because insurers are selective in offering coverage. Although insurance companies keen to provide term insurance to diabetics when it comes to health insurance they are not responsive to serve the diabetics with overall coverage including all the complications.
Symptoms of this disease include excessive thirst, frequent urination, fatigue, blurry vision, and certain weight loss. Over time the body takes much time to heal wounds and causes harm to the eyes, nervous system and kidneys. Diabetes patients must get insured earlier. A satisfactory and economical health cover is important for people with diabetes to help them access the doctors' consultation, medications, education, and health care to manage their diabetes and prevent, or treat, complications.
The waiting period after diagnosis is four years to claim for the insurance benefits and the policies having high premiums promises to provide coverage before four years. To reduce the financial stress on medical bills and treatment. People with diabetes need to find a better plan that offers full coverage with a shorter waiting period else to take a group health insurance policy given by the employer, but this is a temporary solution as this plan is active only when the person is working with the organization.
Insurers are very particular in offering coverage due to which there are very few choices available: 
S.No.

Health Plan

Eligibility

Entry-Exit Age

Sum Assured

Premium Starts from

Coverage

1

Star Health Diabetes Safe

Any person who is diagnosed with Diabetes Mellitus Type II

26-65 (Renewals can be made up to 70 years)

50,000 to 5,00,000

 

800

 

Plan A- Rs. 9765

 

Plan B- Rs. 13,190

 

(Service Tax excluded)

Eyes, Diabetic retinopathy

kidneys, Diabetic nephropathy

feet, Diabetic foot ulcer

 

2

National Insurance Varistha Mediclaim and Care Freedom from Religare Health Insurance

Any person aged between 60 to 80 years

60-80 (renewed up to the age of 90)

 

1,00,000 (plain cover)

or

2,00,000 (with critical illness cover added)

 

4100

Diabetes even if pre-existing is covered right from the inception of the policy (at a 10% additional premium). It is designed for senior citizens only

 
Star Health Insurance covers both type 1 & type 2 diabetes conditions. Most type 2 diabetes-related complications including heart disease, retinopathy, kidney diseases are covered in this plan. The policy follows the Plan A and Plan B structure.
            Newer players in the market include ICICI Prudential and Apollo Munich Health.
ICICI Prudential currently offers a five-year term plan named Diabetes Care for those diagnosed with Type 2 Diabetes and Pre-Diabetics (IFG/IGT) 
Apollo Munich Health Insurance's Plan 'Energy' is another plan for people with diabetes. It offers this plan with Gold and Silver variants. This is positioned by the insurer as a wellness management plan for diabetic patients. Hospitalization from day 1 is covered for any diabetes-related conditions. Another hospitalization, waiting period is applicable. The insurer has created an ecosystem to provide diabetic patients' health screening, online records, discounts on pharmacy, etc.
Also, the plan offers a renewal premium discount of up to 25 percent for the management of health conditions. If there is no claim and the insured manages his sugar to stay healthy, then he will get a discount. Further, reimbursement of up to 25 percent of the renewal premium towards consultation, medicines, and drugs, diagnostic, dental and other miscellaneous medical expenses not covered under any medical insurance will be applicable.
S.No.

Health Plan

Eligibility

Entry-Exit Age

Base Sum Assured

Premium Starts from

Coverage

1

ICICI Prudential Diabetes Care

 

Type 2 Diabetics or Pre-Diabetics

 

25-60 years (Fixed policy term of 5 years )

 

Options of 3 lakh, 5 lakh, and 10 lakh

 

Year 1: Rs. 12754. Year 2 (with deduction) Rs. 10,841.

Coronary Artery Bypass Graft, Cancer, End-Stage Renal Failure, Major organ transplant (as a recipient)

 

2

Apollo Munich Health Insurance's Plan 'Energy'

 

Gold: Includes wellness test cost.

Silver: Excludes the cost

 

Type 2 Diabetics

 

18-65 years (Policy term of 1 year no age limit on renewability)

 

Ranges from 2 lakhs to 10 lakhs

 

Rs 13,853 for Silver Plan and Rs 18,559 for Gold Plan (For Sum Insured of Rs 5 Lakh)

 

(Service Tax excluded)

Coverage for all hospitalization resulting from Diabetes and Hypertension (no sub-limits for inpatient pre and post-hospital coverage )

 
A complete health insurance plan covers various conditions and reduces the stress of managing multiple plans. There is no need for a specific cover when the treatment for diabetes and all other conditions is under a single policy.
If, however, the insured develops diabetes at a later stage after buying the regular insurance policy, even then it would be covered only if he informs the insurer. As it was not pre-existing, the insured would still be covered for diabetes. So diabetes cover would be suitable only in cases where the policy is bought after the disease gets detected.
For such a serious disease, diabetes plans provide much needed immediate and specialized covers. It is, therefore, worth investing in a specialized health insurance plan for diabetes as a supplementary cover to your regular health insurance plan. But even with insurance to get back the claims, it's always better to stay healthy, do regular exercises, eat a healthy diet, making lifestyle changes, and have regular health check-ups. Early diagnosis helps in limiting the damage, both physically and financially.