Health Insurance For Diabetics
Health insurance is a necessity in the time we are living in. There are a host of ailments that can cripple our lives in many ways. One disease that can have a big impact on your life is diabetes.
It is a chronic disease in which the body finds it difficult to metabolize the sugars and starch, leading to a build-up of sugar in the blood, which can have a detrimental impact on the patient's health.
There are two types of diabetes – Type 1 and Type 2. In Type 1, the pancreas is attacked by the immune system and renders it unable to produce insulin, and in type 2, the pancreas itself cannot produce insulin to metabolize the sugars in the body. Over 77 million people in India have diabetes and according to the International Diabetes Federation (IDF), the number may reach 123 million by 2040, thus suggesting the need for diabetes insurance.
Importance
While health insurance policies are preferable, it is always better to purchase insurance policies that are specially designed to cover specific illnesses.
One such type of policy is the health insurance policy for Diabetes. Let's understand why this policy is recommended.
1 High Treatment Costs
Managing diabetes can be expensive due to regular doctor's visits, medications, and sugar monitoring. Even a slight delay in taking medicine can lead to hospitalization, which may lead to high treatment costs.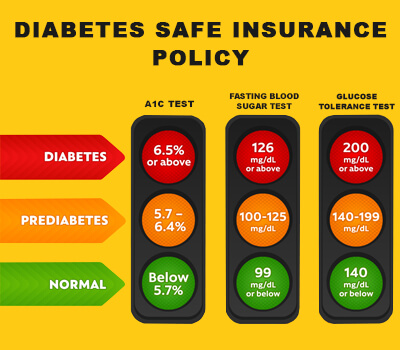 2 Specific Coverage
Regular health insurance policies have a waiting period under which diabetes is excluded for a particular period of time. Also, the waiting period may commence even during the policy renewals. Hence, to avoid such scenarios, a diabetes-specific policy will help you get the cover from the first day itself, thus avoiding the need for a waiting period.
Health Insurance Plans for Diabetics in India
The table mentioned below lists some of the diabetes insurance plans in India:
| | | | |
| --- | --- | --- | --- |
| Plan Name | Eligibility | Entry Age(Minimum) | Base Sum Insured |
| Religare Care Freedom Diabetes Plan | Patients dependent on insulin injections | Adult: 18 years and Child: 91 days | 3 lacs |
| Star Health Diabetes Safe | Patients diagnosed with Diabetes Mellitus Type II | 18 years | 3 lacs |
| Activ Health Enhanced (Diabetes) | Patients diagnosed with diabetes | 91 days | 2 lacs |
| National Varistha Mediclaim Policy | Senior citizens above 60 years of age* | 60 years | 1 Lac |
*Policyholders have to pay an extra premium for diabetes coverage.
Premium Calculation Diabetics Health Insurance Plans
The premium for any health insurance policy, including a diabetes-specific policy, is dependent on various factors. Each insurance company takes into consideration various factors while calculating the premium, and these calculations are approved by the IRDAI.
Some of the basic factors that are considered while calculating the insurance premium are:
The age of the insured person
The medical history of the individual and/or his family
Pre-existing diseases
A few other subsidiary factors are:
Marketing expenses by the insurance company
Policy underwriting
Mortality rate
Investments (in case of ULIPS)
Inclusions and Exclusions
Following are the common inclusions and exclusions in any diabetes-specific policy:
Inclusions:
Patients diagnosed with either Type 1 or Type 2 Diabetes Mellitus.
All complications arising out of diabetes.
Exclusions:
Mental and behavioural disorders.
Intentional self-injury by the insured that aggravates existing diabetes.
Cosmetic or aesthetic treatments.
Injuries caused by participating in professional sports like racing, scuba diving, aerial sports, or any other dangerous sports.
How To Buy an Insurance Policy For Diabetes?
PolicyX.com is an insurance portal that has been designed to allow you to search, compare, and buy an insurance policy in an easy and hassle-free manner. The portal has been approved by the IRDAI and is one of the best platforms to select insurance policies that suit your financial and physical needs. If you need to buy an insurance policy for diabetes, the following steps will help you in this regard:
Scroll down to the bottom of this page and click on 'Buy Now'.
You will get a list of all the different insurance plans and insurance companies.
Select the insurance plan that suits your needs and proceed with the instructions given.
You will be then taken to the insurance company's portal, where you can make the payment using the available payment options. Once the payment is verified, the soft copy of your policy document will be mailed to you.
Frequently Asked Questions (FAQ's)
1. What documents do I need to submit to purchase a diabetes-specific policy?
The following documents need to be submitted:
Age proof
Identity Proof
Residence proof
Passport-sized photographs
Any other health-related documents requested by the insurance company
2. Does the diabetes insurance policy also cover treatments like diabetic retinopathy, diabetic foot ulcer, and diabetic nephropathy?
Yes, these treatments are also covered under the policy. You need to refer to your policy document to know additional details about these treatments.
3. Do all insurance providers cover Type 1 and Type 2 diabetes in their policies?
Generally, most of the insurance companies provide cover for both the types, however, you need to thoroughly go through the plan details as some companies just cover type 2 diabetes, and not type 1.
4. I want to purchase a diabetes-specific insurance policy, however, I wanted to know if it also covers hypertension, IGF, or ITG too, as many diabetics suffer from these ailments too?
Yes. Many insurance policies have been designed to cover some other ailments like hypertension, IFG, ITG, etc. along with diabetes. You can get information about these additional covers in your plan details.