Domiciliary Hospitalization
Domiciliary Hospitalization is commonly known as Home Hospitalization. It is one of the important features of Health Insurance as it allows the policyholders to get treated at home if he/she is not able to reach the hospital or not able to find medical amenities for a particular treatment. It also helps the Insured in saving a lot of money that can be incurred on frequent visits to the hospital. The Insurance Company reimburses medical expenses to the policyholder during the policy term as per the advice of the doctor.
What is Domiciliary Hospitalization
Domiciliary hospitalization is the provision of medical treatment to patients in their own homes who would otherwise require hospitalization in a traditional healthcare facility. It is a form of healthcare service that allows patients to receive necessary medical attention and assistance while staying in the comfort of their own homes.
Eligibility Criteria
To get the benefit of Domiciliary Hospitalization, you must fulfill certain conditions:
The treatment should last equal to or more than 72 hours.
The treatment should be related to diseases, illnesses, or injuries which would normally require hospitalization.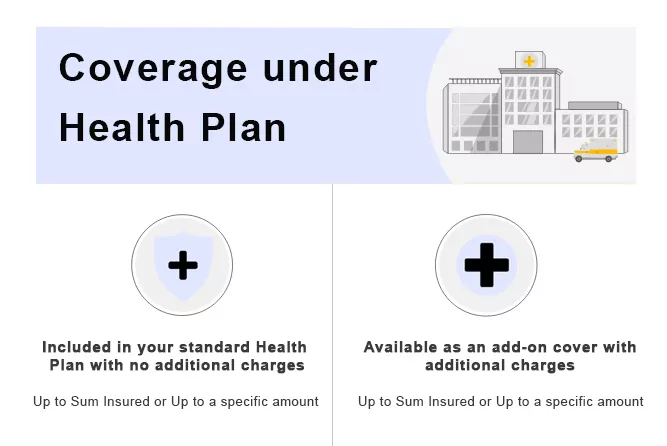 Why Domiciliary Hospitalization is Important
The availability and extent of domiciliary hospitalization may vary depending on healthcare systems, insurance policies, and specific medical conditions. Here are a few reasons for opting for domiciliary hospitalization:
Patient-Centered Care:

It recognizes the importance of personalized care and tailors treatment plans to meet individual needs, promoting a higher quality of care and patient satisfaction.

Addressing Bed Shortage:

It helps alleviate this issue by allowing patients who can be safely treated at home to free up hospital beds for those in critical need, ensuring better access to healthcare resources for all.

Chronic Disease Management:

It enables patients to receive timely interventions, regular monitoring, and disease management support, leading to improved outcomes and reduced hospital readmissions.

Speedy Recovery:

Domiciliary hospitalization facilitates a conducive environment for recovery and rehabilitation, leading to shorter recovery periods.

Enhanced Safety:

It reduces the risk of exposure to hospital-acquired infections, creating a safer environment for patients, especially those with compromised immune systems.

Cost Efficiency for Insurance Providers:

By enabling patients to receive care at home, insurance providers can avoid the expenses associated with prolonged hospital stays, leading to more cost-efficient healthcare delivery.

Preventive Care and Health Education:

It empowers patients to take charge of their well-being, and reduces the risk of complications or exacerbations of their condition.

Flexibility in Healthcare Delivery:

It provides healthcare professionals with the ability to customize treatment plans, schedule visits according to patient availability, and address specific requirements effectively, resulting in better overall patient outcomes.

Cost-effective:

Patients can avoid expenses such as room charges, nursing fees, and other hospital-related costs, which are very affordable for the policyholder.
Claims Settlement Process of Domiciliary Hospitalization
The claim process for domiciliary hospitalization is easy. Here is the step-by-step process of the claim process
Step 1: Notify the insurance company about the claim by contacting their customer service or claims department. Provide all the necessary details, such as the policy number, the insured person's information, and the date and nature of the incident
Step 2: Now attach relevant documents such as medical reports, bills, prescriptions, diagnostic test results, and any other supporting evidence required by the insurer.
Step 3: The insurance company will review the submitted documents and assess the validity of the claim and other information. If necessary, they may ask for more details or supporting paperwork.
Step 4: Once the investigation is complete, the insurance company will initiate the payment process. They will issue the settlement amount either directly to the insured person's bank account or to the healthcare provider.
Diseases not Covered under Domiciliary Hospitalization
Diseases Not Covered under Home Hospitalization
Hypertension
Bronchitis
Asthma
Epilepsy
Cough, cold, or influenza
Chronic Nephritis
Pyrexia of unknown origin
Diabetes Mellitus or Insipidus
Diarrhea, dysentery & gastro-enteritis
Arthritis, Gout, or Rheumatism
Tonsillitis and Upper Respiratory Tract Infection
Psychiatric or Psychosomatic Disorders
Laryngitis
Pharyngitis
How Domiciliary Hospitalisation In Health Insurance Works
A benefit offered by multiple health insurance plans is Domiciliary treatment. A benefit wherein insurance holders can avail of treatment and medical care in the comfort of their homes just like they would receive in a hospital. There are many comprehensive health insurance plans providing domiciliary treatment. Domiciliary hospitalization occurs in situations wherein the doctor advises the insurance holder to seek treatment at home or when a patient is suffering from any illness and is unable to be admitted to a hospital facility. Many individuals avail of domiciliary hospitalization in case of a lack of hospital beds, proper hospital facilities, or lack of medical equipment.
If you invest in a health insurance policy where Domiciliary hospitalization is included in the coverage provided, then you can claim a reimbursement for Domiciliary treatment just like the insurance providers reimburse or settle the claim with the cashless network hospital. Domiciliary treatment is however, not included in every health insurance plan in the market and individuals need to be careful to select a health insurance plan that includes the feature in order to avail the feature.
Things to Keep in Mind while Evaluating The Domiciliary Hospitalisation Benefit
If individuals want to purchase a health insurance plan with domiciliary treatment benefits then they must focus on a few things.
Look out for the waiting period, if any mentioned in the health insurance policy document. Since domiciliary treatment is a part of a health insurance plan and not a separate entity it is necessary for insurance holders to make sure they are aligned with the waiting periods to avail the facility.
Keep a check on the amount set aside for domiciliary treatment in the health insurance policy. There are sub-limits for various features included in a health insurance policy and domiciliary treatments will also be covered up to a certain amount. In order to get your preferred amount of coverage do your research on which health insurance plan offers a suitable coverage amount.
Read the policy documents to understand what kind of treatments fall under domiciliary treatments under the insurance plan. Most commonly either one of the AYUSH treatments, homeopathic treatments, or allopathic treatments is covered under domiciliary treatment. In some health insurance plans, all kinds of treatments are covered under Domiciliary treatment.
Understand the kind of documents needed by the insurance providers in order to avail of domiciliary treatment.
Look out for any additional premium cost charged by the insurance provider for domiciliary treatment. Most health insurance plans provide the feature within the plan with no additional premium cost and many might offer it as a value-added benefit with extra premium charges.
Claim Procedure for Domiciliary Hospitalization
Domiciliary Hospitalization claims can be done only on a reimbursement basis, which means that you have to primarily settle the bills on your own & then file a claim for the expenses incurred during the treatment.

You need to intimate the Health Insurance Company before opting for Domiciliary Hospitalization. Once the treatment is completed, you need to file the Reimbursement Claim within 7 to 14 days after the treatment.
After the treatment, you must collect all the original documents that the Insurer might require for approving the Reimbursement Claim. If the insurer ask for additional documents, you must submit them for smooth Claim Process.
Health Insurance Companies
Required Documents for Claim Settlement
Copy of PAN, and Aadhaar Card
Cash receipts and reports for tests done in original
Discharge Summary
Cash receipts from the hospital
Other documents specific to the treatment
Any other document, if asked for, by the company
Conclusion
Domiciliary Hospitalization is a great feature that can help the policyholder to receive the right medical treatment at home particularly during emergencies. Domiciliary Hospitalization is a very unique feature as it helps you get Reimbursement for the right medical aid, when there is a lack of basic medical facilities.