After the outbreak of COVID-19 worldwide, health insurance policies in India have witnessed a sharp growth in April and May 2020. This situation is a wakeup call for everyone, pinpointing vulnerability of humans to diseases and urgency of health insurance plans for best medical services without any strain on your budget. However, there are many who purchase health insurance plans without knowing certain exclusions like a waiting period.
Mr Batra was one of them who bought a health insurance plan because his pregnant wife was about to deliver a baby in the coming four months. He was happy with his investment as he was unaware of the waiting period in the health insurance plan. When his wife got admitted to a private maternity hospital, he was shocked to know that his claim was not accepted. The waiting period for getting maternity benefits under an insurance plan is 9-36 months. So, the insurance company would not bear his medical expenses. As a result, he had to pay a long bill including, hospitalization and surgery charges.
There are several people like Mr.Batra who just buy health insurance plans without even knowing the exact waiting period. In fact, if you are also interested in purchasing a health insurance plan for yourself and your family, then give a 2-min read to the following post to understand the concept of the waiting period in Health insurance plan.
What Is The Waiting Period in Health Insurance?
The waiting period in health insurance refers to a certain span of time during which you can't get any reimbursement or coverage from your insurance provider. Almost all health insurance plans come with a specific waiting period; however, the time span of the waiting period and its terms & conditions may vary from one insurer to another. Only after completion of this period, you can claim some or total benefits under your intended health insurance plan.
Types of Waiting Period in Health Insurance
If your health insurance policy is just 30 - 90 days old and you got hospitalized, then you cannot claim any reimbursement or coverage from the insurer. To get claim benefits, every policyholder of the health insurance plan needs to wait until the initial waiting period of the policy is over, except in accidental claims.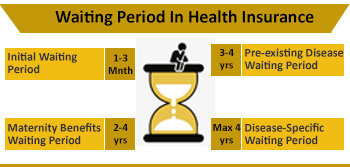 Disease-specific waiting Period:
In certain diseases like a tumor (swelling of a body part due to abnormal growth of tissue), osteoporosis (porous bone), hernia (bulging of tissue through an abnormal opening), ENT disorder (Ear, Nose, and throat infections), the waiting period in health insurance plan ranges between 12 to 24 months. The list of ailments or diseases that account for 1-2 year long waiting period may vary from one insurance provider to another.
Read: Does Standard Health Insurance Cover COVID-19? 
So, before purchasing your health insurance plan, carefully read the list of ailments along with the respective waiting period in policy. In fact, if you want to secure yourself and your family from the financial burden of diseases like cancer, cardiovascular diseases, hypertension, stroke, diabetes, kidney ailments, and dengue at all stages, then you should invest in a disease-specific plan. This plan gives insurance cover to you and your loved ones for any specific disease mentioned in the above list.
Pre-existing Disease Waiting Period
If you are going to purchase a health insurance policy, then your insurer would ask you about your pre-existing diseases like hypertension, diabetes, kidney stone, high blood pressure, or medical history. Based on your medical reports only, your insurer would decide to accept or reject your insurance proposal.
In case your proposal is selected, you need to pay an additional premium, and you need to bear all medical expenses related to the declared disease on your own until the waiting period is over. The waiting period in the health insurance policy for pre-existing diseases varies from 1 to 4 years depending on your selected insurer and medical status. So, it is always advised to purchase a health insurance policy early. 
While planning a family, don't forget to get maternity insurance. It offers coverage for the delivery of the child. To get maternity benefits under the health insurance policy, the waiting period is 9-36 months. 
Also Read: Top 5 Maternity Insurance Plans in India
Can The Waiting Period in Health Insurance Policy Be Reduced?
Yes, it is possible to enjoy minimized waiting period in your health insurance policy under certain conditions as follows –
Some insurance companies minimize the waiting period by charging an additional premium.
Sometimes, insurance companies offer medical benefits in group health schemes provided by employers to employees without paying extra attention to the waiting period.
As per IRDA guidelines, an employee can convert his/her group health coverage to an individual retail health plan after leaving that particular employer. In this case, the insurance company offers a policy without exclusion of the waiting period as his/her group health scheme has covered the specific waiting period.
Other Important Points Related To The Waiting Period in a Health Insurance Plan
If you are diagnosed with a specific disease during the waiting period, then it is not treated as a pre-existing disease.
With the progress of time, the co-pay clause has been introduced in the health insurance plan for senior citizens. This clause tends to remove the waiting period in the health insurance plan by receiving a certain percentage of the amount claimed by senior citizens. For example, for a co-pay of 20% in policy claim of Rs. 1,00,000, the policyholder is liable to pay Rs. 20,000. 
The waiting period in health insurance policy depends on certain parameters like age and medical status of policyholder, type of health insurance, and the insurance company. So, it is advisable to go through all the clauses under your policy before making a purchase.