Max Bupa ReAssure Plan
Health insurance is specifically designed to protect you and your family during hard times. Max Bupa ReAsssure plan is a comprehensive policy that offers a number of coverage options. This plan is tailored to secure your financial well-being with several features such as sum insured options up to Rs.1 Crore, unlimited reinstatement of sum insured, safeguards you against inflation, and provides cashless facilities at network hospitals. This plan motivates you to stay fit and active with its Live Healthy Benefit.
Key Features of Max Bupa ReAssure Plan
It is important to be aware of the Key features of your availed policy. Here, we are discussing the key features of the Max Bupa ReAssure Plan for your quick understanding:
1

InPatient Care

It covers all the medical expenses incurred during hospitalization. This includes the coverage for room rent (no capping), fees of medical practitioners, operation theatre charges, investigative tests, medicines, etc.
2

Day Care Treatment

This plan provides coverage for medical expenses one could generally incur during daycare treatments. The daycare treatments that require hospitalization of more than 2 hours such as angiography, dialysis, radiotherapies, and many more.
3

Modern Treatments

Max Bupa ReAssure plan offers coverage for modern treatments such as stem cell therapies, robotic surgeries, oral chemotherapy, cell therapy, etc.
4

Pre and Post Hospitalization

Get coverages up to the sum insured of the medical expenses incurred in pre and post-hospitalization, 60 days before and 180 days after the hospitalization.
5

AYUSH Treatments

Offers coverage for AYUSH/Alternative Treatments that allows you to go for Ayurveda, Unani, Siddha, and Homeopathy treatments.
6

Orhan Donor Transplant

You can get coverage of all the medical expenses incurred for inpatient treatment of organ donors.

As we have discussed above the Key Features of the Max Bupa ReAssure Plan. Here we have summarized the major highlights of this plan. Let's go through the table.
| | |
| --- | --- |
| Type | Individual/Family Floater |
| Sum Insured | Rs. 3 Lakhs to 1 Crore |
| Renewability | Lifelong |
| Health Check-up | Availability of Annual Health Check-up |
Eligibility Criteria of Max Bupa ReAssure Plan
Let's understand the Key Features of the Max Bupa health recharge super top up plan for a better understanding:
Minimum Entry Age
Children -90 Days
Adult - 18 years
Maximum Entry Age
Children -30 years
Adult - 65 years
Number of members covered
This plan involves a maximum of 6 members in several combinations
Benefits of Max Bupa ReAssure Plan
Shared Accommodations Cash Benefit

If you are hospitalized in a network hospital, then you are required to pay the daily amount of cash for 24 hours of hospitalization.

Booster Benefit

In this, the sum insured amount gets doubled within two claim-free years.

Discounts

This plan offers several benefits such as family discount, doctor discount, tenure discount. For example, If 2 or more members are covered under an individual plan, then you can get a discount of 10% on the premium. For more information about different discounts, go through the Max Bupa ReAssure Policy Brochure.

Freelook Period

This plan offers you a chance to change your decision of continuing with this policy within 15 days.

Domiciliary Hospitalization

This plan offers coverage of the expenses incurred in medical treatments in case of home treatment.

Live Healthy

Max Bupa Health App tracks and manages your health disorders. To avail of this benefit, you are required to collect the health points from Max Bupa App and get additional renewal discounts on premium.

ReAssure

This benefit offers unlimited reinstatement of the sum insured for any disease for anyone insured in a policy.

Tax Benefits

This plan offers tax benefits under Section 80 (D) of the Income Tax Act, 1961.
Discount Offerings under Max Bupa ReAssure Plan
Policy for Individuals (for 2 members)
We have summarized the details of coverages that come under Max Bupa Health Recharge Plan. Please go through the table carefully and choose your plan wisely.
At Beginning
Premium
100 each member
10% family discount
20
3 years Term discount (2nd year - 7.5% + 3rd year -15%)
40.5
5% Doctor's Discount
25
Final Premium
474.5
Premium without any discount
600
Total Saving
20.9%
At the time of Renewal
2.5% discount on additional Auto-debit
11.9
Additional Live Healthy discount maximum up to 30%
138.8
Final Premium
323.8
Premium without any discount
600
Total Saving
46%
Coverages of Max Bupa ReAssure Plan
Coverages under Max Bupa ReAssure Plan
Sum Insured Options
3 Lakhs, 4 Lakhs, 5 Lakhs, 7.5 Lakhs, 10 Lakhs, 12.5 Lakhs, 15 Lakhs, 20 Lakhs, 25 Lakhs, 50 Lakhs, 50 Lakhs, 75 Lakhs, 75 Lakhs, 1 Crore
Inpatient Treatment (no room rent capping)
Covered up to sum insured
Day Care and Homecare Treatment
AYUSH
Organ Donor Transplant
Domiciliary Hospitalization
Pre and Post Hospitalization
Covers expenses related to Pre and Post Hospitalization, 60 days and 180 days respectively
Air Ambulance
Coverage for Cashless Claims - Covered up to sum insured
Coverage for Claim Reimbursement - covered up to Rs 2.5 Lakhs
Emergency Ambulance
Rs. 2000/hospitalization
Hospital Cash Benefit
Up to 5 Lakhs- Rs. 1000/ day
Up to 7.5 Lakhs - Rs. 2000/day
Above 50 Lakhs - Rs. 4000/day
Modern Treatments
Covered up to sum insured such as for robotic surgeries
Sample Rates of Premium
This table illustrates the premium payable by individuals at different ages for a Sum Insured 10 Lakhs.
Premium Payable by Individuals at Different ages under Max Bupa Health ReAssure Plan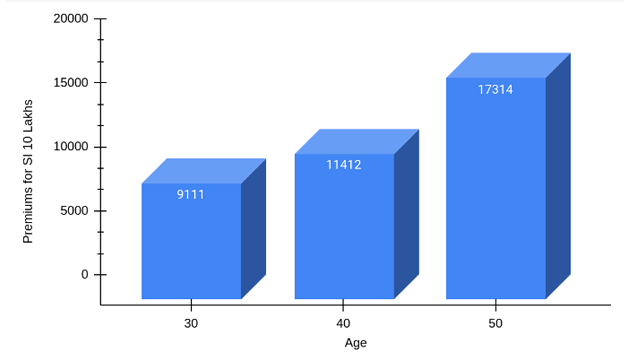 The premium for Health Insurance is increasing with age due to the rise in health problems, doctor fees, medicine charges, cost of medical treatments, etc. There are other factors as well that play an important role in the calculation of premiums which are pre-existing illnesses/diseases, medical history of the family, gender, professions, any substance abuse addictions, etc.
Now let's see the premiums of the Max Bupa Health ReAssure Family Floater plan assuming the age of the family - Self: 30 years, Spouse: 28 years, and Children: 10 & 5 Years. Let's explore this graph.
Premium Payable by Families at Different ages under Max Bupa Health ReAssure Plan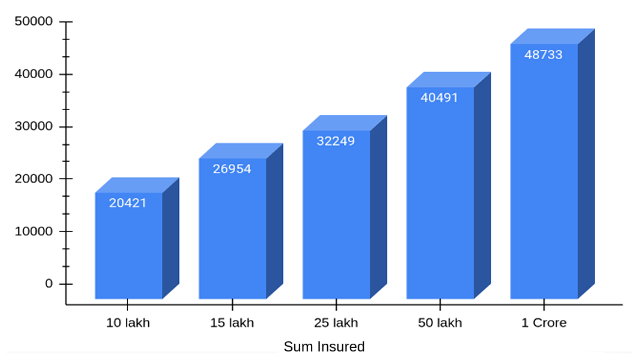 Let's understand this with the help of an example:
Rahul and his entire family (his wife and children) are covered under this Max Bupa ReAssure family floater Plan for a sum insured of Rs. 10 Lakhs. If one of the family members is required to be hospitalized for the treatment of Coronavirus or any other diseases which are covered under this plan, at that time they can claim an amount equivalent to Rs. 10 Lakh along with the activation of ReAssure benefit.
Now from the next time, a claim amount of Rs. 10 Lakhs will be available, and ReAssure benefit gets activated at the starting of the first claim
Waiting Periods and Exclusions of Max Bupa ReAssure Plan
If you have decided to buy this plan, inform yourself about their exclusions to raise smooth claims.
This plan will not cover the treatment done during the first 30 days of the plan unless the treatment is a result of an accident.
Note - This does not apply to renewable policies.
2 years of exclusion for certain diseases such as cataracts, hernias, internal congenital problems, etc.OPD treatmentsSex change treatment, Therapies related to Hormone replacement, cosmetic and plastic surgery. Dental/oral treatmentsSleep disordersAlcohol/drug or substance abuseSexually Transmitted Diseases such as HIVSelf-inflicted injuries or attempted suicide Adventurous or Hazardous Sports
How To Buy Max Bupa Health Recharge Plan?
You can either buy the plan from the company's website or PolicyX.com
Max Bupa Company's Website
Visit the official website of the company https://www.maxbupa.com/. On the top, click on the 'Buy' option.
Enter all the required details and click on 'Find My Plan'.
Among all the available plans, select the best-suited plan to meet your needs.
Pay the premium online.
Once done, a soft copy of the policy will be sent to your registered email address.
PolicyX.com
On the top right corner of this page, search for the 'Calculate Max Bupa Health Insurance Premium' form.
Fill in the necessary details to get the list of quotes.
Choose the desired Max Bupa health plan and pay the premium.
After the payment, the policy will be shared on your registered email address.
Renewal Process of Max Bupa ReAssure Plan
Follow the below steps to renew your policy easily:
Visit the website of Max Bupa Company.
Click on the "Renew" option.
Enter your 14 digit policy number and click submit.
After clicking on the submit button, you will get the renewal premium amount.
Then, click on the 'Pay Now' option to make the payment.
You will receive a transaction confirmation about your policy and a kit of policy will be emailed to you within 48 hours.
Claim Process at Max Bupa
Cashless Claims
Get admitted to any one of the network hospitals associated with Max Bupa. You can check the list of network hospitals on the company's website.
Use your Max Bupa Health Card and show them your identification proof.
After validating your identity, the network hospital will submit the pre-authorization request form to the company.
The company will review your request and provide the confirmation to the network hospital by fax or email and share the same with you via text or email.
The company will settle the claim with the hospital after the completion of all formalities.
For Reimbursement Claims
If admitted to a non-network hospital, notify Max Bupa within 48 hours of hospitalization. In emergency cases, inform them within 24 hours of hospitalization.
You need to pay the treatment expenses to the hospital. During discharge, collect all the necessary documents, invoices, medical reports, and discharge certificates from the hospital.
Send the completed claim form (available on Max Bupa's website) along with the required documents to Max Bupa.
Max Bupa Health Insurance will review the documents and settle the claim (if approved) by reimbursing you for the amount.