Energy - An Exclusive Plan for your Diabetes
Nowadays having a sedentary lifestyle is a major concern for your health that leads to various diseases such as Diabetes, High Blood Pressure and more. But this shouldn't stop you from living your life. Along with following a healthy lifestyle, having health insurance that fits your requirement is a plus point for an active lifestyle.
HDFC ERGO Energy Health Insurance Plan helps you in reducing the medical expense burden raised due to some common and critical diseases of various kinds. This insurance plan is specially designed for people with diabetes & hypertension and offers you to live successfully and peacefully despite having such illnesses.
Let us now explain this plan in detail for better understanding.
Eligibility:
| | |
| --- | --- |
| Type Of Disease | Type 1 and 2 Diabetes or Pre-Diabetes (Impaired Fasting Glucose/ Impaired Glucose Tolerance) or Hypertension. |
| Entry Age | 18-65 years |
| Minimum Sum Insured | Rs.2 lakhs |
| Maximum Sum Insured | Rs.50 lakhs |
| Who Can Apply | An individual with any of the aforesaid diseases. |
Coverage of HDFC ERGO Energy Health Insurance:
This dedicated plan covers most of the expenses that may arise due to diabetes and hypertension. Have a look at the below table for the details.
Parameters
Coverage
Day Care Treatment
Yes, up to 182 Days
Waiting Period
No (for diabetes and hypertension)
In-Patient Hospitalization
Yes
Pre-Hospitalization Coverage
30 days
Post-Hospitalization Coverage
60 days
Emergency Ambulance Coverage
Yes
Organ donor expenses
Yes
Wellness Program
1. Two complete medical check ups administered during the policy year.
2. A personalized wellness web portal.
3. Personalized expert health coach.
4. Monthly newsletters to share important information on healthcare and management.
Reward Points
1. Renewal premium discounts of up to 25% for managing health conditions.
2. Reimbursement up to 25% of renewal premium against your medical expenses (like consultation charges, diagnostic expenses, medicines and drugs, and other miscellaneous charges not included under any medical insurance).
What are the features and benefits of HDFC ERGO Energy Health Insurance?
The plan offers several benefits that are listed below-
Comprehensive Coverage

This plan offers the complete coverage of all hospitalisation charges from day one arising out of diabetes and hypertension with no waiting period.

Pre and Post-Hospitalization

Your expenses for diagnosis, investigation, and even post-hospitalization expenses are covered. All your pre-hospitalization expenses up to 30 days (before admission) and post-discharge expenses (till 60 days) are included.

Emergency Road Ambulance

If an emergency arises and you need to hurry to the hospital, your ambulance costs are compensated up to Rs.2000 per hospitalization.

Lifelong Renewability

Once you get connected with HDFC ERGO Energy Health Insurance Plan, there is no looking back. It can continue lifetime on break-free renewals.

Organ Donor Expenses

The plan covers the medical and surgical expenses of the organ donor at the time of a major organ transplant.

Tax Saving

It offers tax benefits up to Rs.75,000 for the premiums paid under Section 80D of the Income Tax Act, 1961.

Personalized Health Guide

Under this plan, you can also get a personalized trained health coach to help you with proper guidance, instructions, reminder, and designing a nutrition and fitness plan especially for you.

Wellness Portal

With this plan, you can avail a personalized wellness web portal to track and store all your medical records. It helps you monitor your health conditions along with the facility to purchase health products at special offers.

Easy Access to Valuable Information

After purchasing this plan, you can get easy access to the helpline number to answer all the queries, along with the monthly newsletters to provide you important information regarding health care and management.

HbA1C Benefit

Your costs of HbA1C tests are covered up to Rs.750 per policy year. Two complete medical check-ups (known as wellness tests) are also compensated up to Rs.2000 for Gold Plan on a cashless claim.
Sample Rates of Premium
Let's compare the sample rates of premiums paid by an individual at different ages and the sum insured (SI). We have prepared a graph for a better understanding. You can choose your plan wisely on the basis of premiums. As you can see, premiums are increasing with an increase in the age. The premium also depends on certain factors such as health conditions, existing illnesses, etc.
| | | | | |
| --- | --- | --- | --- | --- |
| Age (Male) | SI - 5 Lakhs | SI - 10 Lakhs | SI - 20 Lakhs | SI - 50 Lakhs |
| 30 | 12558 | 20036 | 26328 | 34405 |
| 40 | 13845 | 23836 | 31819 | 42065 |
| 50 | 18056 | 30569 | 41568 | 55639 |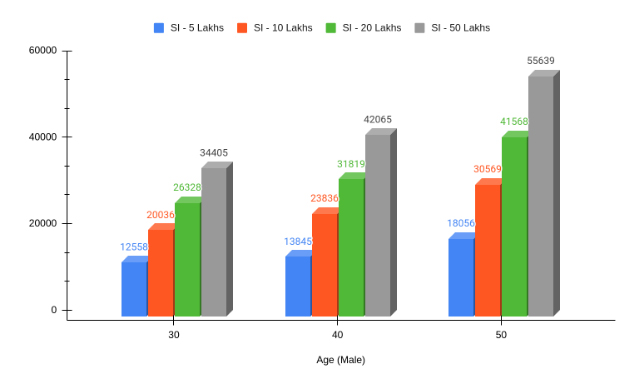 What are the exclusions of HDFC ERGO Energy Health Insurance?
The major exclusions are as follows-
Any pre-existing condition (other than diabetes or hypertension) will be covered after a waiting period of 2 years.
Expenses arise due to HIV or AIDS and related diseases.
External congenital diseases, cosmetic surgery, and weight control treatments.
Hospitalization due to war or nuclear, chemical, or biological weapon and radiation of any kind.
Pregnancy or maternity-related expenses.
Self-inflicted injuries.
Expenses due to external aids, dental treatment, and appliances.
2 years waiting period for specific diseases like cataracts, joint replacement surgeries, hernia, surgery of hydrocele, etc.
Non-medical expenses.
Problems arise from taking any intoxicating substances.
How to buy HDFC ERGO Energy Health Insurance?
Follow the below-mentioned steps to buy this plan easily and smoothly.
Visit the official website of HDFC ERGO and click on 'Health Insurance'.
Scroll down and search for 'Energy Health Plan'. Click on 'Buy Now'.
Enter the required details and click on 'Calculate Premium'.
Check the premium details and click on 'Buy Now.
Fill in the mandatory fields and pay the premium online.
The policy document will be shared on your registered email id.
If you are not comfortable buying online, you can buy this plan from the nearest branch of HDFC ERGO.
In case you don't get a suitable response from HDFC, you can also buy this plan from PolicyX.com. Here is the process for the same.
Scroll to the top of this page and find 'Get Quotes from Top Insurers'.
Fill in the details and click on 'Continue'.
Enter further details and tap on 'Proceed'.
Out of all the quotes, choose the 'Energy Health' plan, and check its premium details.
Pay the premium and the policy will be sent to your registered email id.
Documents Required to submit with the Proposal form
Identity Proof
Proof of Residence
Proof of age
Copy of Renewal notice (if your existing policy has expired and you want to renew it)
What is the claim procedure of HDFC ERGO Energy Health Insurance?
The claim process can be of two types - 1. Cashless claim and 2. Reimbursement claim. Both claim processes are discussed here with the proper steps. Have a look.
Cashless Claim
Hospitalization

You have to get admitted to one of the authorized network hospitals of HDFC ERGO.

Provide proper documents to the hospital

Show your health card, valid photo ID, and other documents (if required) to the hospital.

Preauthorization

The hospital will send the cashless request to HDFC ERGO and coordinate with the company for the pre-authorization form.

Scrutiny

HDFC ERGO will do its investigation on the received documents and reflect on the claim stating its final stand.

Status update

You will be notified through SMS or e-mail on your registered mobile number or email-ID about each stage of the claim.

Authorization and approval

On approval, you can take the treatment, and the bills will be settled by HDFC ERGO. Any inadmissible expenses, copayments, and deductions will have to be paid by you.
Reimbursement Claim
Hospitalization

You can get admitted to any hospital according to your convenience. The amount will be settled directly by you, not the hospital.

Claim Registration

After discharge, download the claim form from HDFC's official website. To fasten the claim procedure quicker, it is advisable to submit the soft copies of your bills and documents on the claim registration module. Once you share the required documents, the team will initiate the processing of your claim.

Else, you may send soft copies of your claim documents along with the claim form to healthclaims[at]hdfcergo[dot]com.

Approval of Claim

HDFC ERGO will review and scrutinize all the documents. If additional documents are required, you will be informed by the insurance company. After you meet their satisfaction level, the claim will be settled by the company.

Status Update

You will be kept notified through SMS or mail on your registered mobile number or email-ID about each stage of the claim.

Claim Settlement

After the completion of the procedure, the claim amount will be transferred through NEFT.
Note: On receipt of complete documents, the claim would be processed within 7 days from the time the last document is received.
Required Documents:
To file your claim and for approval, you need the following documents.
Duly filled and signed claim form.
Original discharge summary.
Original final bill with detailed breakup payment receipt and original pharmacy invoices supported by prescriptions.
Original investigation reports (eg. blood reports, X-Ray, etc).
Implant sticker/invoice, if used (eg. for a stent in angioplasty, lens cataract, etc.).
Past treatment documents (if any).
In cases of accident, Medico-Legal Certificate (MLC) or FIR.
NEFT details for payment: Cancelled cheque in the name of the proposer or passbook copy attested by the bank.
For all claims amounting to 1 lakh and above: KYC form along with a photocopy of any one KYC document (eg. Aadhar card, passport, driving license, voter ID, etc.).
Other relevant documents requested by the company.
Note: For safety, it would be advisable to keep the documents both in original form and in photocopied form.