HDFC Ergo iCan Cancer Insurance Plan
The expenses incurred to treat cancer can range easily from Rs 20 lakhs to Rs 50 lakhs or sometimes more than that. To manage all your financial burdens related to cancer treatment, HDFC Ergo Health insurance has introduced iCan Cancer Insurance Plan.
The New iCan Cancer Insurance Plan never lets the insured give up. iCan is a lifelong bag of goodies that will help the insured in fighting with cancer more easily by providing all the basic and advanced facilities required for the treatment of the disease. This plan offers the option of a high sum Insured at affordable premiums. iCan Cancer insurance plan specially for women is available in the form of individual health insurance plans and family floater plans.
There are two variants of the iCan Cancer Insurance Plan:
iCan Essential
iCan Enhance
Key Features of HDFC Ergo General iCan Cancer Insurance
Know your policy!!!! What does this mean? This means that you should buy a health insurance plan that you are aware of. Always get familiar with the salient features by reading policy documents/brochures thoroughly to avoid the selection of a wrong plan. Let's discuss the key features of iCan Cancer Insurance Plan that will help you in making the correct selection-
Long-term coverage

iCan Plan offers lifelong coverage for individuals going through cancer treatment irrespective of the health status or claims of an insurer.

Pre and Post Hospitalization

This plan covers the expenses incurred in the 30 days before the date of getting admitted to the hospital whereas post-hospitalization includes the expenses incurred after 60 days the policyholder is discharged from the hospital.

No medical check

iCan offers no medical check-up for sum insured up to Rs. 20 lakhs and age up to 55 years.

Cashless facility

Get the cashless facility for the treatment of cancer at 4000+ network hospitals. Moreover, the reimbursement process of treatment costs is smooth and hassle-free.

Follow-up care

It includes the coverage of medical examination while undergoing cancer treatment, but to a specific limit after the discontinuation of the treatment. This is done on the basis of a referral from a medical practitioner for at least 6 months with a report saying 'No' evidence found related to the disease.
We at PolicyX.com have tried to sum up all the key features in the table. It is suggested to go through the table for a better understanding.
Criteria
iCan Essential
iCan Enhance
Sum Insured Options
5, 10, 15, 20, 25, 50 (Rs. In Lakhs)
5, 10, 15, 20, 25, 50 (Rs. In Lakhs)
Second Opinion
Covered
Covered
CritiCare Benefit: On diagnosis of cancer, of specified severity
Not available
60% of the sum insured as lump sum payment, over and above the base sum insured.
MyCare Benefit Covers in-patient, outpatient & daycare costs for

Conventional treatment, such as chemotherapy, radiotherapy, oncosurgery
Advanced treatment such as targeted therapy, proton therapy, and immunotherapy

Up to sum insured
Up to sum insured
FamilyCare Benefit: On Diagnosis of Stage IV cancer/ recurrence of cancer
Not available
100% of the sum insured as lump sum payment, over and above the base sum insured.
FamilyCare Benefit: On Diagnosis of Stage IV cancer/ recurrence of cancer
Not available
100% of the sum insured as lump sum payment, over and above the base sum insured.
Emergency Ambulance
Rs 2000 is provided to the insured per hospitalization
The insured is provided with Rs.2000 per hospitalization
Follow-up Care Post Treatment
An amount of Rs. 3000 is provided twice a year for follow-up care.
Rs. 3000 is provided under this.
Payout Basis
Cashless and reimbursement
Two lump sum payouts along with cashless and reimbursement
Waiting Period
120 days of a waiting period is applicable
120 days of a waiting period is applicable
**Last Updated on 18-03-2021
Eligibility and Other Restrictions
There are few eligibility criteria that are required to be met by an individual who is availing this plan,
| | |
| --- | --- |
| Criteria | Details |
| Minimum Entry Age To Buy iCan Cancer Policy | 5 Years |
| Maximum Entry Age To Buy iCan Cancer Policy | 65 Years |
| Family Care Benefits | 18 years and above |
| CritiCare Benefits | All who are 18 years and above in age |
**Last Updated on 18-03-2021
Why Should I Choose the iCan Cancer Health Insurance?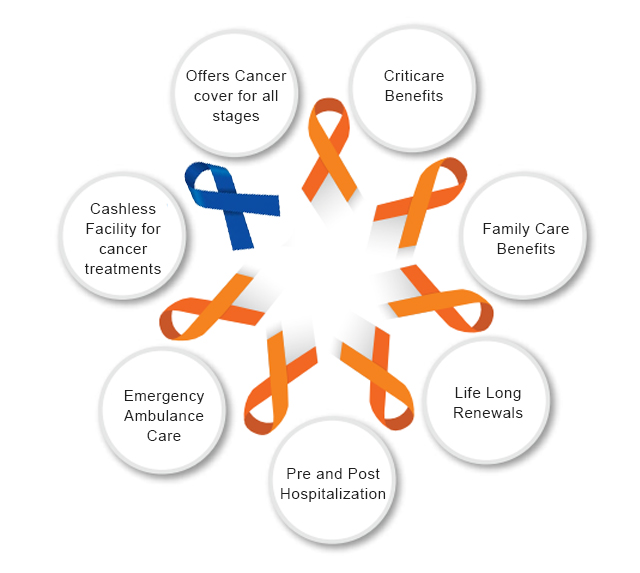 What are the Benefits of iCan Cancer Insurance Plan?
Here are the following benefits of iCan Cancer Insurance Plan that will help you in choosing a plan,
Lifelong Coverage for Cancer Treatment

There are high chances of recurrence of cancer in the first five years after the treatment. The plan does not stop giving coverage to its insured for a lifetime irrespective of medical state and age.

This is more beneficial in the case of cancer insurance for women because with the increase in age the probability of occurrence of cancer increases in females. Cases of breast cancer, ovarian cancer, etc have been found in females as their age increases.

CritiCare Benefit

In case the insured is diagnosed with cancer then s/he gets a 60% lump sum payout of the sum insured. This is also applicable to cancer insurance for women.

This means if the insured sum is chosen is Rs. 20 lakhs then, in this case, the insured gets Rs. 12 lakhs as a lump sum and still the insured can use the base 20 lakhs, to meet the treatment expenses.

FamilyCare Benefit

There are cancer plans for the family also. On diagnosis of stage IV cancer or recurrence of cancer, a 100% lump sum payment of the sum insured is provided to the policyholder.

So, in case the insured has a cover of Rs. 20 lakhs, s/he will get a lump sum amount of 20 lakhs, and still, the policyholder is eligible to have the base 20 lakhs to cover the treatment expenses.

Second Opinion

iCan cancer insurance provides coverage for a second opinion from a specialist in certain cases depending upon the criticality of the cancer phase for women and individual/ family floaters.

Cost-Effective Protection

The treatment cost of cancer might range between Rs. 20 lakhs to Rs. 50 lakhs and regular health insurance with such a high sum insured can result in a rise in the premium amount. But in the case of HDFC ERGO iCan Cancer insurance plan, the insured sum is provided at a lower premium comparatively.

Tax Benefits

Get the Income-tax benefits U/S 80(D) of the Income Tax Act, 1961.
Two Add-on MyCare Benefit Covers
Here are mentioned the two MyCare benefit cover in details, that an insured can get under HDFC ERGO iCan Cancer Insurance Policy:
Standard Plan

The plan covers expenses for hospitalization (Daycare and Inpatient) and outpatient treatment taken for cancer.

List of conventional treatment that gets coverage are:

1. Chemotherapy

2. Radiotherapy

3. Organ transplantation, as part of cancer transplantation

4. Surgeries for excision of cancerous tissue or removal of organs/ tissue (Onco-surgery)

All the pre-hospitalization medical expenses incurred within 30 days before the hospitalization date get the coverage.
Under post-hospitalization expenses, all the costing for treatment after the discharge from the hospitals gets the coverage.
There is an ambulance coverage of Rs. 2000 per hospitalization in the case of an emergency.
The follow-up care post gets coverage of Rs. 3000 twice a year.

Advanced Plan

Other than the base cover following are mentioned things get coverage under the advanced plan:

Personalized and targeted therapy.
Immunotherapy including immunology agents e.g. Interferon, TNF, etc.
Proton Beam Therapy
Stem cell transplantation
Hormonal therapy or endocrine manipulation
iCan Cancer Insurance Sample Premiums
A premium table is given for the enhanced plan and standard plans. The table mentioned the premium to be paid by male insured separately under an individual plan.
Annual premium Table - iCan Enhanced (Non -smoker)
| | | | | |
| --- | --- | --- | --- | --- |
| Age (Male) | SI - 5 Lakhs | SI - 10 Lakhs | SI - 20 Lakhs | SI - 50 Lakhs |
| 20 | 1079 | 1193 | 1418 | 2471 |
| 30 | 1155 | 1328 | 1742 | 3395 |
| 40 | 1303 | 1764 | 2984 | 5986 |
| 50 | 2800 | 4570 | 7724 | 15614 |
**Last Updated on 18-03-2021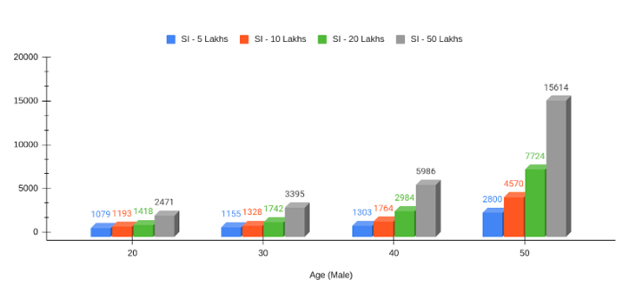 Annual premium Table - iCan Essential (Non -smoker)
| | | | | |
| --- | --- | --- | --- | --- |
| Age (Male) | SI - 5 Lakhs | SI - 10 Lakhs | SI - 20 Lakhs | SI - 50 Lakhs |
| 20 | 976 | 1001 | 1075 | 1613 |
| 30 | 1016 | 1062 | 1246 | 2093 |
| 40 | 1071 | 1302 | 2025 | 3400 |
| 50 | 2176 | 3329 | 5503 | 8240 |
**Last Updated on 18-03-2021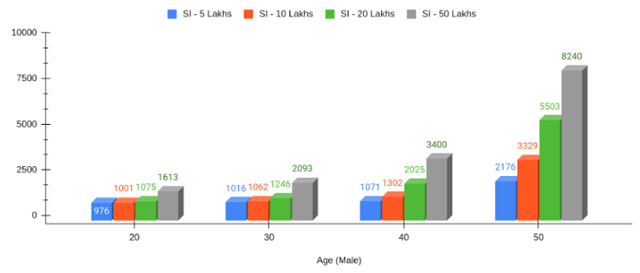 With the help of this table, you will get an idea about the premium which is required to be paid by an individual(non smoker). Go through the table and choose your plan wisely.
As we have discussed above, the premiums paid by non smoker individuals under iCan Enhanced and Essential Cancer Insurance Plans. Now, you are definitely going to think what if I smoke? So we are providing a table of premiums paid by smoker and non-smoker.
The table mentioned the premium to be paid by an individual (male) at different ages for a sum insured Rs. 5 lakhs separately under an individual plan. Graph drawn here shows premium paid by smoker Vs Non-Smoker.
Annual Premium Rates for iCan Enhanced Plan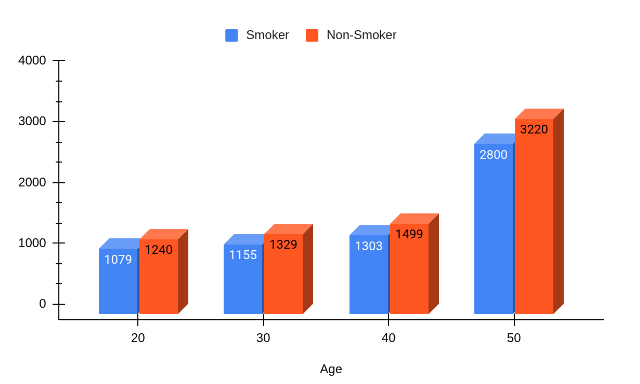 | | | |
| --- | --- | --- |
| Age | Smoker | Non-Smoker |
| 20 | 1079 | 1240 |
| 30 | 1155 | 1329 |
| 40 | 1303 | 1499 |
| 50 | 2800 | 3220 |
**Last Updated on 18-03-2021
As you can see on the graph, the premium for non- smokers is lower than smokers. The reason behind this is the low expectancy ratio of Smokers as they are more susceptible to chronic illnesses such as bronchitis, lung cancer, and other associated heart problems. Because of this, they may have a shorter life expectancy than non-smokers.
**Policy T&Cs and Premium Rates are subject to change.
What is the Claim process for iCan cancer insurance plan?
The insurance company should be informed about the planned hospitalization at the time of filing a claim. In case of cashless claim service, the insurer should be intimated at least 48 hours prior to the hospitalization. If there is a case of emergency hospitalization, then the company can be informed within 24 hours after the treatment procedures or the hospitalization.
Documents required at the time of filing a claim,
Duly filled claim form
Original medical bills and payment receipts
Summary of discharge along with all the original report
Medical certificate certifying by the medical practitioner who was treating the cancer patient.
Complete list of medical services
All the prescription related to treatment
What is not covered under the iCan Cancer Insurance Plan?
In case your treatment falls on the exclusion list then the claim might get rejected. So, here is a list of exclusions under iCan Cancer Insurance Policy and iCan Cancer Insurance Plan for women:
Non-allopathic treatment
Any treatment other than cancer
Congenital external diseases, defects, and anomalies
Pre-existing condition for cancer for which the insured has existing signs & symptoms, and/or was diagnosed, and/or received consultation, investigation, treatment, or admission anytime prior to the date on which policy was issued.
Prosthetic and other devices which are self-detachable, removable without surgery involving anesthesia.
"AIDs" and other infections with HIV including but not limited to conditions related to or arising out of HIV/AIDs such as ARC, Lymphomas in the brain, Kaposi's sarcoma, tuberculosis.
Treatment availed outside India or at a healthcare facility that is not a hospital.
HDFC ERGO iCan Cancer Insurance Plan Review
The plan is highly recommended for the individuals looking for cancer cover. The plan has procedures for cancer insurance that can be availed at affordable premium rates. This is a quite simple and flexible plan that fulfills the policyholder's essential needs with various benefits. Both smoker and non-smoker insured have given positive feedback for HDFC ERGO General iCan Cancer insurance policy. The policy has received positive feedback from its insured and is worth buying.