Health Wallet Family Floater- A plan for today and tomorrow
Multiple digits of medical expenses and constantly increasing costs of health insurance premiums with the age factor are a few concerns for everyone. Are you finding a plan that suits your requirements? What if you get a plan that pays for its renewals in a few years? Well, Health Wallet family floater is a fully loaded plan with benefits and exactly like a full bag of goodies.
HDFC ERGO Health Wallet insurance plan reduces the burden of the soaring medical costs. It is a flexible plan that provides you with comprehensive protection from paying for the inpatient & outpatient expenses and saves you from future financial worries.
Let's explore this plan in detail.
Eligibility
Prosper
Adult
Children
Minimum Entry Age
18 years
91 days
Maximum Entry Age
65 years
25 years
Sum Insured
Rs. 3 Lakhs to Rs 50 Lakhs
Policy Tenure
1/2/3 years
**Last Updated on 18-03-2021
Features of Health Wallet Family Floater
The Health Wallet Family Floater plan offers amazing benefits and availing of this plan is a delight for everyone. Let's explore them out,
This plan offers good options of the sum insured i.e., from Rs. 3 lakhs to Rs. 50 lakhs.
Because of the multiplier benefit of this plan, the sum assured keeps rising after the renewal process, in case there are no claims registered in the last years.
Apart from the multiplier benefit, it also offers reserve benefit, critical advantage, restore benefit, and health check-up that makes this plan an ideal one for the health purpose.
The portability option helps individuals to transfer their availed benefits from other health insurance plans (from different companies) to the Health wallet family floater.
The initial waiting period of this plan is of 30 days and also provides the exclusion of 2 years for diseases such as joint and hip replacement.
Coverage of Health Wallet Family Floater
The plan offers complete coverage to you and your family members at the time of medical emergencies. Let's take a look at it:
| | |
| --- | --- |
| Parameters | Coverage |
| Day Care Treatments | Yes |
| Pre Hospitalization Expenses | Covered, up to 60 days |
| Post-Hospitalization Expenses | Covered, up to 90 days |
| Ambulance Cover | Yes (up to Rs. 2000) |
| Domiciliary Treatment Expenses | Yes |
| Pre-Medical Health Check-up | Depends on the age and basic sum insured. |
| Ayush Treatment Expenses | Available |
| Worldwide Emergency | 50% of sum insured up Rs.20 lakhs |
| Renewability | Lifetime |
| Maternity Expenses | No, except ectopic pregnancy |
| Organ Donor Expenses | Yes |
**Last Updated on 18-03-2021
What are the benefits of the Health Wallet Family Floater Plan?
The plan delivers a long list of benefits to its customers. Let's take a look at its most significant ones.
Restore Benefit

It automatically restores the sum insured in case the base sum insured and multiplier benefit (if any) is exhausted during the policy tenure. The restored SI is equal to 100% of the base SI.

Multiplier Benefit

Under this, the basic sum insured will increase by 50% for a claim-free year (at the time of renewal) and will double for the 2nd claim-free year.

Preventive Health Checkup

The plan offers preventive health check-ups (at renewal) to keep track of your health insurance. The eligibility for a health check-up is based on the reserve benefit sum insured.

Reserve Benefit

It helps you cover your present and grows continuously to cover your healthcare costs in the old age. Any unused amount is carried forward to the next year and you can earn a 6% bonus on it at the time of renewal.

Ambulance Cover

Ambulance expenses incurred for the transportation of the insured to a hospital for emergency treatment is covered (up to Rs. 2000 per hospitalization).

Inpatient Treatments

If the insured is admitted to the hospital for more than 24 hours for treatment, the policy will pay for his/her medical expenses. The expenses covered under inpatient treatment are

Room rent,
Boarding expenses,
Nursing,
Intensive care unit,
Medical Practitioner(s),
Anesthesia, blood, oxygen, operation theatre charges, surgical appliances,
Medicines, drugs, and consumables,
Diagnostic procedures

Enhancement of Sum Insured

One can enhance his/her sum insured under the Health Wallet plan. In case of enhancement with one grid up, there is no requirement of medicals. However, for more than one grid up, policyholders may have to undergo medical tests. This enhancement is only possible at the time of renewals.

Pre & Post Hospitalization Coverage

The plan offers coverage for pre & post-hospitalization expenses for consultations, investigations, and medicines incurred up to 60 & 90 days respectively.

Worldwide Emergency

Expenses incurred against the treatment of illnesses or conditions while traveling abroad are taken care of by the plan (50% of sum insured up Rs.20 lakhs).

Recovery Benefit

In case your hospital stay stretches beyond 10 continuous days, the plan will offer Rs.10,000 as a lump sum amount.

Tax Benefit

The premium amount paid under this plan qualifies for a tax benefit under Section 80D of the Income Tax Act, 1961.

Deductible Option

The plan allows policyholders to avail of deductibles, which permits them to look after their medical expenses up to the pre-decided deductible amount.

AYUSH Expenses

It includes all treatment expenses incurred under Ayurveda, Unani, Sidha, and Homeopathy in AYUSH Hospital according to the plan's terms and conditions.

Waiting Period

There is a waiting period of 30 days, starting from the date of plan purchase. For specific diseases like Hernia, Cataract, Joint replacement, and Hysterectomy, the period stretches to 2 years. Finally, all pre-existing conditions are covered after 3 years.
Premium Sample Rates
This table illustrates the premium paid by a family at the different sum insured options assuming the ages for 1 year : Self- 30 years, Spouse - 28 years, Children - 10 years and 5 years
| | |
| --- | --- |
| Sum Insured (in lakhs) | Premiums (in Rs) |
| 5 | 25042 |
| 10 | 35398 |
| 15 | 39690 |
| 20 | 48778 |
| 25 | 56212 |
| 50 | 72312 |
**Last Updated on 18-03-2021
Go through the graph carefully for a quick understanding of premiums,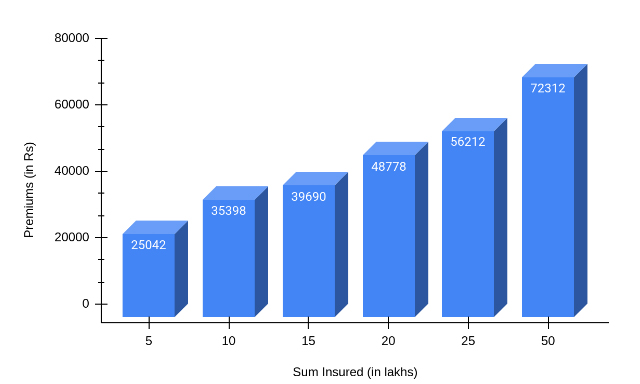 What's not covered under Health Wallet Family Floater Plan?
Some of the policy exclusions are listed below:
External congenital diseases.
Maternity expenses (except ectopic pregnancy).
Adventure sport injuries.
Abuse of intoxicant or hallucinogenic substances like drugs and alcohol.
Hospitalization due to war or an act of war.
Dental treatment and surgery unless needing hospitalization.
Plastic surgery or cosmetic surgery unless necessary as a part of medical treatment.
Vaccination (except for post-animal bite treatment).
How to buy HDFC ERGO Health Wallet Plan?
Following the PolicyX.com HDFC Ergo- Health Wallet family floater plan, if you are planning to buy this plan for you and your family, you can do it on the company's website or PolicyX.com. For the smooth and easy processing of the plan, you are required to follow the below-listed steps to buy the plan conveniently.
PolicyX.com
Scroll up to the top of this page and fill in the details in the 'Calculate HDFC ERGO Health Insurance Premium' form.
The next page will show all the available plans. Choose the best HDFC ERGO health plan and pay the premium.
Your policy document will be shared at your registered email address.
Company's Website
Visit the official website of HDFC ERGO and click on 'Health Insurance'.
Scroll down and find 'Health Wallet Insurance'. Click on 'Buy Now.
Enter the requested details and click on 'Calculate Premium'.
Check and pay the premium online.
Once the payment is received, the policy document will be mailed to your registered email address.
You can also buy this plan by visiting the nearest branch of the company
Documents required to HDFC Ergo Health Wallet Family Floater?
KYC Documents
1 Passport size photograph
Photo Identity Proof and Age Proof
Medical records
Medical check-up (if required)
Family medical history and all the current medical records
Application form
Proof of Income that includes the salary slips, Form 16, Employer's certificate etc,.
What is the claim process of the HDFC ERGO Health Wallet Plan?
There are two ways to file a claim for the HDFC ERGO Health Wallet plan. Let's discuss both in detail:
Cashless Claim Settlement Process
To avail the cashless facility, the policyholder has to visit the network hospital of HDFC ERGO and follow the steps:
Reach the insurance desk of the hospital and show your health card and identity proof.
Download and fill the pre-authorization form from the company's website, and submit it along with other documents.
Then the hospital will share the details with HDFC ERGO.
The company will verify all the details and documents from their end and convey their decision to you and the hospital.
On successful verification and acceptance of the claim, you can enjoy a cashless treatment facility. HDFC ERGO will look after the treatment expenses.
Reimbursement Claim Settlement Process
If you can't visit the network hospital, you can apply for a reimbursement claim. Follow the below steps:
Get your treatment done in any non-network hospital and pay all the bills.
After your discharge, file a claim for reimbursement.
Submit all the required documents and bills.
The company will verify all the information and if approved, will process the claim, and you will receive the amount in your registered bank account.
Documents required while filing the claim process
Duly filled and signed claim application form
Medical bills (original) along with the prescriptions
A medical certificate signed by a medical practitioner.
Treatment diagnosis (if required)
Claim settlement letter
Summary of discharge
KYC documents such as identity proof and address
Copy of FIR in case of accident cases