Optima Restore Health Insurance
Medical emergencies can hit you anytime, leaving you stressed financially. Moreover, when it comes to your family, you are required to have the right type of health cover for your family members' happiness and well-being. Individual health insurance plans cover the insured against various diseases/illnesses and accidental hospitalization. But it is surely a challenge to answer a very common question: how to choose the right type of policy amongst the abundance of insurance services and products available in the market? HDFC Ergo offers Optima Restore Health Insurance Plan that is worth having to secure your future from the financial burden caused due to medical emergencies as this plan protects you and your family against financial losses, thus gives you a healthy and secure life.
Optima Restore Individual is the most reliable form of health plan that gives you restoration benefit when your sum insured gets consumed fully or partly. Along with financial protection from major and minor illness, Optima Restore Individual provides health rewards for maintaining sound health throughout the policy tenure. Features like stay active benefit and multiplier benefit makes Optima Restore health plan distinguishable from all the other health insurances.
Note - Formerly HDFC Ergo General Insurance was called Apollo Munich Health Insurance.
Key Features of HDFC Ergo Health Optima Restore Plan
Nowadays, health insurance has become a necessity for every individual and their families. But most of us are not fully aware of the key features of our policy. We should buy a buy a health insurance plan after checking all the features and the coverage. A selection of a plan that does not suit your requirements will cost you more. So It is always advisable to go through the policy documents carefully or read the below points to avoid the wrong selection. Optima Restore plan has attractive features and serves your needs. The most common question that always pops in the head of customers is on what basis do we select an Optima Restore Plan? What are the highlights of this plan? For your smooth and quick understanding, we at PolicyX.com tried to highlight important features of the Optima Restore Plan. Let's discuss the salient features of this plan that will help you to be financially stable and secure.
Sum Insured
This plan offers different sets of sum insured options such as 3 lakh, 5 lakh, 10 lakh, 15 lakh, 20 lakh, 25 lakh, and 50 lakh.
It offers automatic restoration of basic sum assured in case the cover is exhausted at no additional cost in a policy year.
Renewability
Lifetime
Copay and Sub-limits
No Copay. No sub-limits on room and location for taking treatment at any network hospitals
Cashless facility
It provides access to cashless facilities for more than 10,000 medical specialists and over 4500 network hospitals in more than 800 cities where the insured person need not to pay a single penny from his pocket in case of hospitalization or surgery.
Individual and Family
This plan is available in both options: Individual and Family Floater.
Pre Policy Checkup
Required for 46 years and above/ taking 15 lakh or more as the sum insured
Tax Benefits
Tax deduction benefit while filing income tax on the annual salary under section 80 D of Income Tax Act due to the premium paid
Claim Settlement
98% claim settlement ratio with regard to proper representation of documents.
Free Look period
15 days given to review the policy's terms and conditions
Portability
Available (transfer all your previous policy's accrued benefits to new optima restore individual)
Discounts
It offers a discount on premium for adding more than two members and also for a longer tenure of the policy.
Waiting period of Optima Restore Health Insurance Plan
Waiting Periods
Few ailments/illnesses are covered after 24 months of issuing the policy.
If the pre-existed illnesses are accepted at the time of policy application, then it will be covered after the 36 months of continual renewals.
In the first 30 days from date of issuing the policy, only accidental hospitalizations are admissible.
**Last Updated on 18-03-2021
Benefits of HDFC Ergo Optima Restore Health Insurance Plan
We have already discussed above, why should you choose HDFC Ergo as your insurer over other companies. With the given details on PolicyX.com HDFC Ergo page, if you have decided to go with this insurance company then Optima Restore Insurance Plan, the topmost selling product, offers several below listed benefits to help you become financially sound and healthy. Let's explore them out

Daycare Treatments
The Plan offers the coverage of expenses for all day-care procedures instead of a minimum 24 hours of hospitalization. The list of the treatments available such as radiation, chemotherapy, cataract, dialysis, and so on, can be found mentioned on the Policy Documents and also on the company's website.

No Claim Benefits
This is an amazing benefit that can be a delight for a policyholder. You will be eligible for a 50% cumulative bonus for every claim-free year. This bonus is provided for the next year of the policy up to a maximum of 100% of the sum insured.

Restore Benefits
Get the restore benefit that automatically adds 100 % of the sum insured if in case you have exhausted or utilized your sum insured in a policy year.

Daily Hospital Cash Benefits
If you are afraid to get hospitalized because of medical expenses and hospital bills, No need to worry. Optima restore offers a daily cash allowance for up to Rs. 1000 for a maximum of 6 days.

Medical Check-up
The plan offers you a complimentary health/medical check-up at the interval of two years of the policy up to a maximum of Rs 10,000 based on the sum insured.
Eligibility and Other Restrictions
| | | |
| --- | --- | --- |
| Eligibility | Optima Restore Individual | Optima Restore Family |
| Policy Term | 1, 2 years | 1, 2 years |
| Minimum Entry Age (Adult) | 18 | 18 |
| Maximum Entry Age (Adult) | 65 | 65 |
| Minimum Entry Age (Child) | 91 days | 91 days |
| Maximum Entry Age (Child) | 25 | 25 |
| Maximum Age for Renewal | Lifelong | Lifelong |
**Last Updated on 18-03-2021
Optima Restore Coverage Provided
Optima Restore Health Insurance Plan comes with several benefits ensuring your medical needs are met, in case of health emergencies. Let's take a look at it :
Coverage Provided
Amount of sum insured
3 lakhs
5 lakhs
10 lakhs
15 lakhs
20/25/50 lakhs
Inpatient treatment
Covered maximum up to the amount of sum insured
Pre hospitalization
Covered maximum up to 60 days
Post hospitalization
Covered maximum up to 180 days
Daycare treatments
>All day care procedures covered
Organ Donor
Covered up to sum insured
Ambulance
Up to Rs. 2000/ Hospitalization
Domiciliary Treatment
Covered maximum up to sum insured
Restore Benefit
Equivalent to 100% of the basic sum insured.
Health check-up
Not covered
Up to Rs. 1500 once in every 2 years of the policy
Up to Rs. 2000 once in every year of the policy
Up to Rs 4000 once in every year of policy
Up to Rs. 5000 once in every year of the policy
Daily cash allowance for selecting shared accommodation
Rs. 800/day
Maximum up to Rs. 4,800
E-opinion in terms of critical illness
Get one opinion for 1 year of the policy
Pre-existing illnesses
Covered after a waiting period of 36 months
Critical advantage Rider
Offers critical advantage rider where the base sum insured is Rs. 10 lakh and more
Multiplier benefit
A minimum bonus addition of 50% to the sum insured on one claim-free year and a maximum of 100%. The bonus received may subject to a reduction of 50%, if any claim is made in the succeeding year. While the basic sum insured will remain untouched.
**Last Updated on 18-03-2021
Additional Coverage
Critical Advantage Rider - By choosing this additional cover, the insured can enjoy a never-ending list of benefits attached. This add-on gives you a treatment facility at the network hospitals present globally. In addition to this, it also gives coverage for transportation expenses of the insured and the attending member, accommodation expenses, post-hospitalization, and second opinion expenses. The illnesses covered under this rider are-
Cancer
Heart Valve Replacement/repair
Aorta Graft Surgery
Bone Marrow Transplant
Live Donor Organ Transplant
Neurosurgery
Pulmonary Artery
Coronary Artery by-pass Surgery
Benefits on Renewal
Stay Active Benefit - Optima Restore health plan enables the insured to gather health rewards in the form of discounts. The simple requirement to avail this benefit is to walk as much as possible to gain a healthy body in complementary to 8% discount on the premium paid on every renewal.
Preventive Health check-up - This benefit will permit you to keep an eye on the health record with the help of health check-ups. If the amount of sum insured is Rs. 5 lakhs, then you can avail this facility only once every two years. However, if the sum insured is Rs. 10 lakhs or more, then the check-up limit is once every year.
Multiplier Benefit - Let's take an example of Sheela who took Optima Restore individual plan for Rs 5 lakhs wherein the first year she didn't apply for any claim. Consequently, the insurance provider increased her basic sum insured of Rs 5 lakhs by 50% i.e. Rs. 7.5 lakhs. Consequently, the sum insured amount will be Rs. 7.5 lakhs while the premium paid will be on the 5 lakh sum insured in the second year.
Optima Restore Individual Vs Family Floater
Optima Restore plan is designed for individuals and families. Optima Restore plan is available in two forms: Optima Restore Individual and Optima Restore Family. The plan offers wider coverage without any restrictions. The Family Floater plan comes out with 360-degree protection over ensuring financial security during health emergencies and hospitalization for all the family members under a single plan. But what do you think? Which is a good choice- A family floater plan or an individual plan? Optima restore offers equal benefits to individuals and family members. Let's compare them on the basis of their premium rates. The premium may change with regards to medical conditions like pre-existing illness, smoking or drinking habits, and other illnesses. In the graph given below, it is assumed that the individual has no smoking habits and no pre-existing illness.
Sample Rates of Premium of Optima Restore Individual Plan
This table illustrates the premium payable by individuals under Optima Restore Individual health insurance at different ages and sum insured values.
| | | | |
| --- | --- | --- | --- |
| Age /Sum Insured | 5lakh | 10 lakh | 15 lakh |
| 30 | 8852 | 11575 | 13873 |
| 40 | 10017 | 13360 | 16013 |
| 50 | 14652 | 19877 | 23824 |
**Last Updated on 18-03-2021
Premium Paid on the various sums insured (5 lakhs, 10 lakhs, 15 lakhs) by an Individual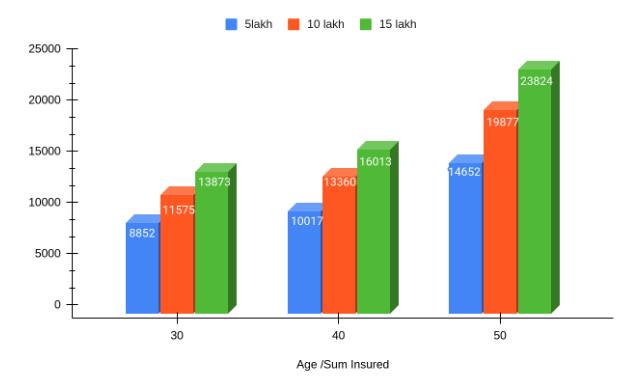 Sample Rates of Premium of Optima Restore Family Plan
This table illustrates the premium payable in 1 and 2 years by a family under Optima Restore Family Health Insurance Plans at different sums insured assuming the family members' age: Self - 30 years, Spouse- 28 years, Children - 10 & 5 years.
| | | | |
| --- | --- | --- | --- |
| Sum Insured | 5 lakh | 10 lakh | 15 lakh |
| Premium (1 year) | 18261 | 22847 | 27384 |
| Premium (2 years) | 33782 | 42268 | 50661 |
**Last Updated on 18-03-2021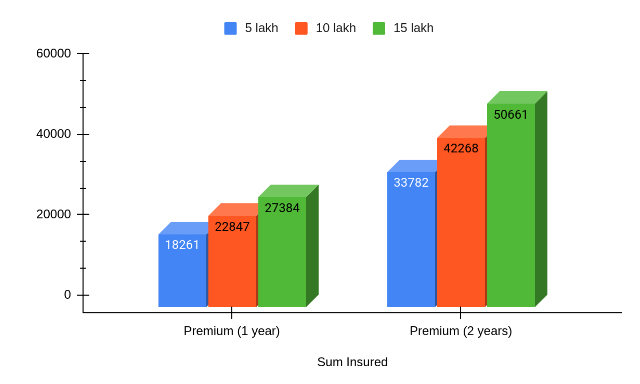 Let's first understand how the individual and family health plan works? The individual plan has to be bought separately in the name of each individual i.e. spouse, parents, children, etc. The premium will be based upon each individual's age and their selected respective sum insured.
Optima Restore also offers a 10% discount on the total premium if more than 1 member of the family is insured. Whereas in a family floater, more than one family member can be covered under the same plan. For example, if you want to cover your children, then they can be covered together and only a single premium is required to be paid. So, rather than buying, Rs. 2 lakh individual health plan for each member of a family of four members, a family floater plan is beneficial of Rs. 8 lakh where each person covered under it can avail benefits up to 8 lakh in comparison to Rs. 2 lakh in the former example.
Different in Premium Prices - For example, in an Optima Restore individual health insurance plan having the age of 30 years for a sum insured of Rs. 5 lakh would have an annual premium of about Rs. 29,271, after a 10% discount on the total premium. An annual premium for a family floater plan would cost Rs.18,261, which is approximately 30% less on the same sum insured. In a family floater plan, the age of the parents does not matter but the age of a child does matter.
It is advisable to have a family floater plan if you have young kids in your family. As we have discussed, Optima Restore Family Insurance Plan offers better cover for a lower cost than a number of individual plans. Most of the families, reported no major history of chronic illnesses, consider family floater as the best option. But in case, you have a medical history
in your family or if one of the family members has an adverse medical condition, then buying an Optima Restore individual health cover will be considered as a best option for a long financial run.
In the Optima Restore floater plan, there is an option of Add on cover. With the sum insured amount of Rs. 10 lakh, you can select your plan coverage against the critical illness (listed ones) for you. HDFC Ergo has a large network of hospitals offering cashless hospitalization facilities. The detailed list of Network hospitals are available at PolicyX.com on the basis of companies and the States. The treatment can be availed for major ailments/illnesses in the network hospitals where an amount of the lump sum is provided at the time of illness is detected.
Waiting Periods of HDFC Ergo: Optima Restore Plan
Few ailments/illnesses are covered after 24 months of issuing the policy.
If the pre-existed illnesses are accepted at the time of policy application, then it will be covered after the 36 months of continual renewals.
In the first 30 days from the date of issuing the policy, only accidental hospitalizations are admissible.
What are the Exclusions under HDFC Ergo: Optima Restore Plan
Injuries due to war, nuclear and chemical weapons, radioactivities, criminal act, suicide, adventure sports, participation in military or naval force.
Treatment of obesity, dental problems, mental disorder, genetic disorders, abnormalities, congenital illness.
Treatment of infertility, birth control, vicarious pregnancy, circumcision
Cosmetic or plastic surgery, burns, correction of refractive error
HIV/AIDS, sterility or illness due to excessive incorporation of hallucinogenic substances(alcohol or drugs).
Non-Allopathic treatment or Ayush treatment
What is the Optima Restore Renewal Process?
Optima Restore provides an online lifelong renewal facility. When you opt to continue with your existing policy, then the process of renewal helps. As per the plan, the policy is required to be renewed every year, via offline or online mediums.
Note- If the renewal date is missed, a grace period of 30 days is provided.
Here are the following steps required to renew your policy online.
1
Visit Company's website
Visit the official website of your insurance company and click for the renewal process.
2
Fill up form
Carefully fill in all the details related to policy on the respective field at the time of renewing your policy.
3
Pay online
After filling in all the required details, calculate the premiums online and pay using credit/debit card/net banking or other payment methods.
4
Confirmation mail
The insurer will send you the instant acknowledgment and policy documents from the registered mail Id.
What is the Claim process of HDFC Ergo: Optima Restore Plan?
Most of us go for a company that provides a quick and hassle-free claim process. So, in order to ensure a smooth process, you should approach in the right direction. The claim process of Optima Restore is of two ways:
Cashless Claim
Network hospitals provide a cashless facility where you can avail of treatment without paying a single penny. But if you require the claim process to be hassle-free and quick, it is required to follow few steps:
Claim information to the insurer - The claim process is divided into planned and emergency hospitalization on the basis of which the insurer compensates the amount incurred on medical expenses towards cashless and reimbursement processes. The first thing that you are required to do is to inform the insurer while filling the requirement application, a cashless or a reimbursement process. Planned hospitalization requires 2 days prior information whereas the emergency hospitalization requires 24 hours of prior intimation. They are known to provide a great service to their customers so you can register a claim on a customer care number or you can contact them via mail.
What information you are required to provide at the time of claim registration?
You are required to submit following information at the time of claim registration,
Number of policy
Contact information
Name of the policyholder
Illness or injury (if having)
Details regarding the incident
Date and time of occurrence
After all this, if the insurance company accepts your application then it informs the hospital authority. And you can avail treatment without paying any cost to the hospital.
Reimbursement Claim
In case you are availing the treatment from a non-network hospital but want to register a claim for the expenses incurred in the hospital. The treatment can be availed from any hospital you are comfortable with and pay the bills initially.
Then, you are required to follow these steps,
You can register a claim by filling the application and submitting the required documents.
The insurer starts processing the claim within 30 days once they receive all the documents required. In case of any sort of mismatching or disagreements, it will be informed to the company within 7 days.
After the approval regarding all the documents, the amount will be transferred to the bank account that is registered with the account number.
Documents Required for claim process
You are required to submit the following documents for a quick and smooth claim process,
Claim application form (duly filled)
A copy of Police FIR in case accidental claim
KYC document of the policyholder
Doctor's report specifying the nature of illness along with the signature
Medical bills (original)
Pre authorisation letter for cashless claim process
First report of investigation
Discharge documents
Review of HDFC Ergo: Optima Restore Health Insurance Plan
As per our discussion, Optima Restore Health Insurance is considered for those who are looking for different sum insured options that cover individuals and families, reinstatement of sum insured if it gets utilized during the policy year. This is the best health plan along with other important features such as a no-claim bonus, a large number of network hospitals offering cashless treatment, and no limits on room category.