In case of death of the insured during the policy's tenure, the return of premium/s paid excluding taxes, extra premium, and rider premium, if any, without interest shall be payable.
2. On death during the policy term (after the commencement of risk):
In case of death during the policy tenure provided all due premiums have been paid Death Benefit, defined as the sum of "Sum Assured on Death" and vested Simple Reversionary Bonuses and Final Additional Bonus, if any, shall be payable. Under the same, the sum assured on death is defined as Higher of 10 times of annualized premium or Absolute amount Assured to be paid on Death i.e. 125% Sum Assured.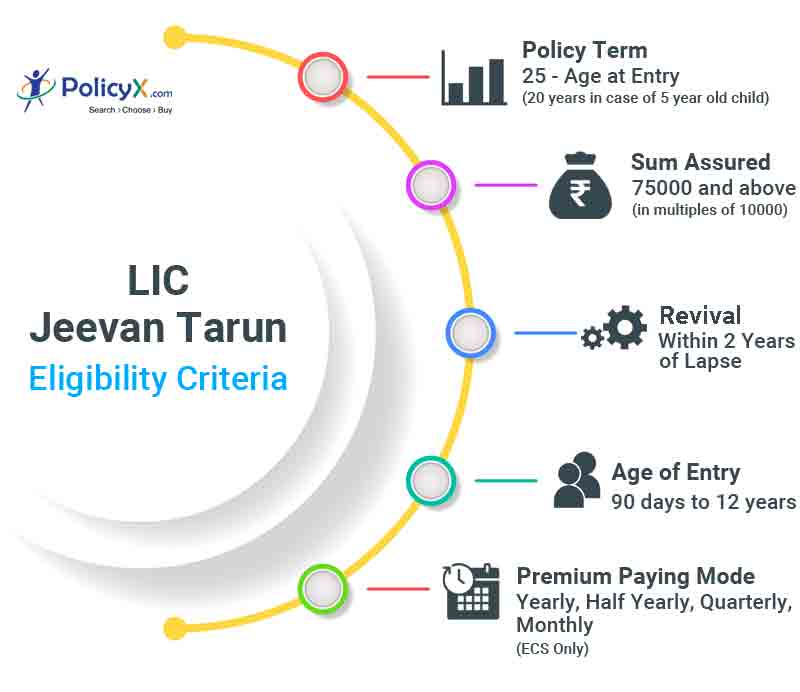 In this plan, the death benefit will not be less than 105% of the total premiums paid as on date of death.
The premiums will be free of taxes, extra premium and rider premium if any.
3. Survival Benefit
This benefit will take if the insured person survives till the maturity. Under the same, a fixed sum assured will be payable every year coinciding with or immediately following the completion of 20 years of age and for the next four years of the policy. These fixed percentages will depend upon the chosen option at the proposal stage and for several Options, the percentages are as given below:
Policy Anniversary coinciding/ following completion of ages
Percentage of Sum Assured to be paid as Survival Benefit
Option 1
Option 2
Option 3
Option 4
20 to 24 years
Nil
5% each year
10% each year
15% each year
The insured has to choose for any one of the options above at the proposal stage only.
4. Maturity Benefit
In the case where the insured surviving the stipulated date of maturity, a fixed percentage of the Sum Assured will be payable at maturity for inforce maturing policies. The fixed percentage under different Options is as below:
| | | | | |
| --- | --- | --- | --- | --- |
| Maturity Age | Option 1 | Option 2 | Option 3 | Option 4 |
| 25 year | 100% | 75% | 50% | 25% |
Moreover, vested Simple Reversionary Bonuses and Final Additional Bonus, if any, shall also be payable.
5. Participation in Profits
The policy shall participate in profits of the Corporation and shall be entitled to receive Simple Reversionary Bonuses declared as per the experience of the Corporation, provided the policy is inforce.