ManipalCigna ProHealth Insurance
ManipalCigna ProHealth Insurance is a comprehensive health insurance plan that protects you and your family in the time of medical emergencies. The plan comes loaded with basic covers, value-added covers, and optional covers.
The plan offers 5 variants that allow the policyholder to choose as per their needs and requirements. The variants available are:
ProHealth Protect
ProHealth Accumulate
ProHealth Plus
ProHealth Preferred, and
ProHealth Premier
Read along to explore more about the plan:
Eligibility Criteria of ManipalCigna ProHealth Insurance:
Minimum Entry Age
Child - 91 days, Adult - 18 years
Maximum Entry Age
No limit
Sum Assured
Rs. 2.5 Lakhs-1 Crore
Policy Tenure
1, 2 & 3 years
Relationship Covered
Individual Plan: Self, spouse, children, parents, siblings, parents-in-law, grandparents, and grandchildren, son-in-law and daughter-in-law, uncle, aunt, nephew, and niece.
Floater Plan: Self, spouse, children, and parents. A floater cover can insure a maximum of 2 adults and 3 children under a single policy:
**Last Updated on August, 2021
Key Features of ManipalCigna ProHealth Insurance
The plan is an ideal health plan if you are looking for 360 protection in case of a medical emergency. The plan comes with basic covers, value-added covers, and optional covers. Have a look at them:
Basic Coverage
In-patient Hospitalization

The insurer will provide compensation for all the expenses related to hospitalization that was incurred by the insured at the time of illness, accident, or any injuries. All the expenses related to ICU charges, pharmaceuticals, diagnostic process, fees of medical practitioner fee, nursing fee, operation theatre expense, etc will be given due coverage.

Pre-hospitalization

The insured will get a reimbursed amount of expenses incurred 60 days before hospitalization which mainly include charges of medicines, drugs, medical tests, doctor consultation, physician, etc.

Post-hospitalization

All the expenses incurred within the 90 days after getting discharged or relief from the hospital will be reimbursed by the insurer on submitting a claim.

Road Ambulance

When the insured is medically unfit and needs immediate transfer to the hospital then this emergency ambulance service can be availed up to Rs 3000 per hospitalization.

Domiciliary Hospitalisation

The insurer will also pay for the expenses when the treatment of the illness or any disease is taken at home due to the critical condition of the insured or the non-availability of the accommodation. The diseases treated should last for 3 days and the treatment is taken under the advice of an expert doctor.

Day Care Treatments

Some of the illnesses get treated within 24 hours of a day on the advice of a doctor and expenses are paid by the insurer. Prohealth insurance includes more than 500 daycare procedures as listed in the policy.

Organ Donor Expense

This will cover the in-patient hospitalization expenses towards organ transplantation. The donor treatment for the extraction of the organ will be covered up to a percentage of the sum insured.

Maternity Expenses

The expenses of deliveries took upon by the insured are covered by the insurer after a waiting period of 48 months. Insured can avail this coverage up to a maximum of 2 deliveries.

New Born Baby Expense

It covers the reasonable expenses devoted to the treatment of newborn babies up to 90 days after the delivery.
Vaccination for the First Year
The vaccinations were taken for the newly born baby during the first year of childbirth. Vaccines for Hepatitis B, Measles, chickenpox, diphtheria, tetanus are essential for a baby to lead a healthy life.
Worldwide Emergency Cover

In-patient treatment of any illness that happened on a foreign land away from Indian boundaries also gets coverage.

Reload of Sum Insured

When the insured confronts the total exhaustion of the sum insured in previous claims, then he is left with an option to refill the sum insured. The refill option is applicable for one time during the tenure of the policy.

Health Maintenance Benefit

Under this, all necessary medical expenses can be covered which becomes inevitable by the insured. It will cover medical tests, preventative tests, drugs, prosthetics, dental treatments, medicines, etc.

Health Checkups

The insured will be given the ease of medical check-ups for certain illnesses. The health check-up is applicable on every renewal of the policy, in the case of Prohealth Plus, Preferred, and Premier plan. While in Protect plan, the health check-ups are available once in every 3rd year of the policy.
Value Added Covers
Cumulative Bonus:

To avail of cumulative benefits, renewal has to be applied within the grace period. The bonus will accumulate a maximum of up to 200% of the Sum Insured. The bonus is not for maternity, newborn baby, first-year vaccination, and worldwide emergency.

Health Rewards

ManipalCigna has launched its online wellness programs to facilitate the insured in evaluating his/her health conditions and assist in improving degraded health. Insured can secure reward points equal to 1% of the premium deposited for years by seeking interest in online programs

Health Check-ups

The plan offers a complete Health Check-up facility at the network providers irrespective of the claim status.

Expert Opinion on Critical illness

The insured can avail the facility of procuring a second opinion from a chain of network medical practitioners if the insured is detected with any of the listed critical illnesses.
Optional Covers
Reduction in the Maternity Waiting Period

The time limit of waiting can be minimized from 48 months to 24 months if the insured has chosen this add-on cover.

Deductible

The option of deductibles is only available under Protect and Plus plans of Prohealth. The insured can select the number of deductibles (can be 1L, 2L, or 3L) on the sum insured. The deductible sum will be used for the aggregate claims made in each policy year.

Voluntary Co-Pay

The insurer will pay 10/20% of the amount to settle admissible claims, irrespective of the age and number of claims applied by an insured person. The rest of the amount has to be paid out by the insured.

Cumulative Bonus Booster

The insured can receive a 25% increase in the amount of sum insured for every claim-free year and if the renewal of policy is done without any delay. The maximum limit of increase is 200%.

Hospital Daily Cash Benefit

With this cover, one can avail of a fixed daily cash benefit after completing 24 hours of hospitalization and will help you to take care of the miscellaneous expenses.

Waiver of Mandatory Co-pay

One has the option to remove the mandatory co-pay applicable for persons aged 65 years and above.
Sample Premium Illustration Of ManipalCigna ProHealth Insurance
For a better understanding of how much premium one needs to pay under different plan variants and different sum insured options, we have created a sample illustration of the same. In the below graph we're representing the premium that has to be paid by a male aged 30 years for four different types of the cover amount i.e. 5.5 lakh, 7.5 lakh, 30 lakh, 1 crore. Have a look at it:
Sum Insured Options
Plan Variants
ProHealth Protect
ProHealth Plus
ProHealth Accumulate
ProHealth Preferred
ProHealth Premier
5.5 Lakhs
12,929
16,939
19,456
NA
NA
7.5 Lakhs
15,398
19,334
22,251
NA
NA
30 Lakhs
22,015
29,563
28,295
48,462
NA
1 Crore
NA
NA
NA
NA
68,458
**Last Updated on August, 2021
What is Covered Under ManipalCigna Pro Health Insurance Plan?
Parameters
ProHealth Protect
ProHealth Plus
ProHealth Preferred
ProHealth Premier
ProHealth Accumulate
Sum Insured
2.5, 3.5, 4.5, 5.5, 7.5, 10 15, 20, 25, 30, 50
4.5, 5.5, 7.5, 10 15, 20, 25, 30, 50
15, 30, 50
100
5.5, 7.5, 10 15, 20, 25, 30, 50
In-patient Hospitalization
Covered up to single private room facility
Any hospital room except Suite
Covered up to single private room facility
Pre-Hospitalization
60 Days
Post Hospitalization
Up to 90 Days
Up to 180 Days
Up to 90 Days
Ambulance Cover
Upto Rs. 2000 per event
Up to Rs. 3000 per event
Actual Expenses per event
Upto Rs. 2000 per event
Donor Expenses
Covered
Worldwide Emergency Cover
Covered up to the sum insured, one in a policy year
Restoration of Sum Insured
Multiple restorations are available for unrelated illness/injury
AYUSH Coverage
Covered
Health Maintenance Benefit
Up to Rs 500
Up to Rs 2000
Up to Rs. 15,000
5,000, 10,000, 15,000 & 20,000
Maternity Expenses
x
Rs. 15,000 for normal delivery,
Rs. 25,000 for c-section
Rs. 50,000 for normal delivery,
Rs. 1 Lakhs for c-section
Rs. 1 Lakhs for normal delivery,
Rs. 2 Lakhs for c-section
x
New Born Baby Expenses
x
Covered with Maternity Expenses
x
First Year Vaccinations
x
Covered over & above with Maternity Expenses
x
Cumulative Bonus
Guaranteed: 25%
Max: 200%
Guaranteed: 10%
Max: 200%
Guranteed: 5%
Max: 200%
Hospital Daily Cash
Rs 1,000
Rs 2,000
Rs. 3,000
Rs. 1,000
Waiting Periods
First, 30 days waiting period is applicable for all illnesses other than accidents.
24 months waiting period applies to specific ailments.
Pre-existing diseases: 24 months for Preferred & Premier plans; 36 months for Accumulate & Plus plans & 48 months for Protect plan.
First, 90 days waiting period and 30 days survival period apply to the Critical Illness Add-on Cover (if opted).
**Last Updated on August, 2021
What is Not Covered Under ManipalCigna Pro Health Insurance Plan?
Dental treatment
Circumcision
Sterility and Infertility
Routine medical check-up and diagnostic tests
Breach of law
Expenses related to any unproven treatment
Aliments arising out of alcohol and drug abuse
Cosmetic surgery except for reconstructive surgery for burns and accidents
How To Buy ManipalCigna Prohealth Plan?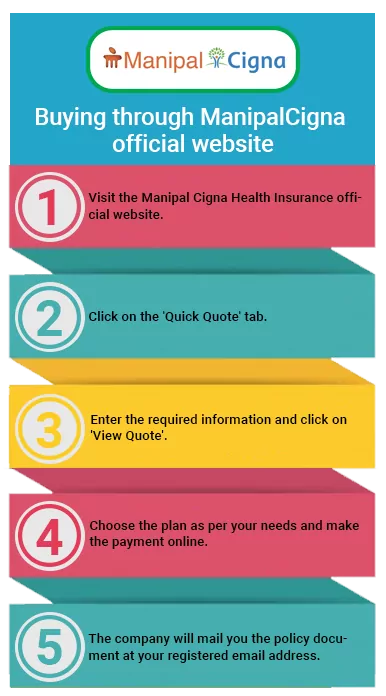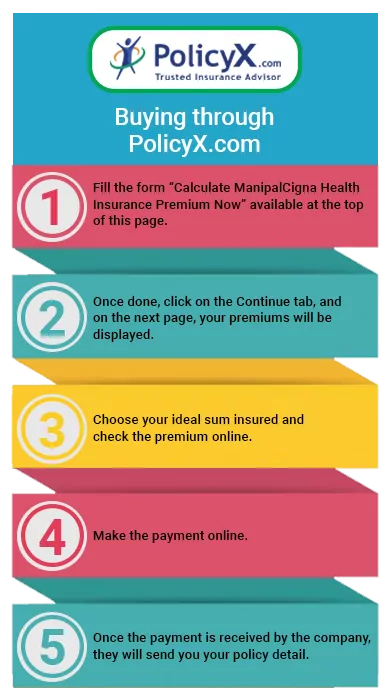 How Can I Renew My ManipalCigna Prohealth Plan Online?
Let's discuss the renewal process of Manipal Cigna Health Insurance. Follow the below steps to renew your policy easily:
Visit the official website of Manipal Cigna Health Insurance and click on the 'Renew' option.
Enter your policy number and click 'Proceed' Fill in other information, if prompted.
You will get the renewal premium amount.
Click on the 'Pay now' option to make the online payment.
On successful payment, you will receive a policy transaction number. A new policy kit will be emailed to you within 48 hours.
How To File A Claim For ManipalCigna Prohealth Plan?
Cashless Process
Inform the company about planned (48 hours prior) or unplanned (within 24 hours) hospitalization.
Provide the health card and ID proof at the network hospital.
Then, the network hospital will send the pre-authorization form and medical records to ManipalCigna, which will verify all the details.
During discharge, the network hospital will send the discharge summary to the company authorizing the amount.
Once everything is sorted, ManipalCigna will make the payment to the network hospital.
Reimbursement Process
Intimate the company about the hospitalization. Get the treatment done and pay the expenses.
During discharge, collect all the necessary documents such as original hospital bills, receipts, discharge summary, investigation reports, pharmacy bills, and submit them to ManipalCigna with the duly filled claim form.
ManipalCigna will assess the documents.
If the claim is approved, the amount will be transferred to your registered bank account.
Find Out What Customers Are Saying
(Showing latest 5 reviews only)
October 6, 2021
Vishal Malhotra
Jaipur
September 8, 2021
Sumit Samota
Pune
September 8, 2021
Karam Wahi
Bhopal
August 6, 2021
Avinash Sachdeva
Coimbatore
May 7, 2021
Vivaan Kumar Sanghwi
Bengaluru
Last updated on August, 2021