ManipalCigna Super Top-up
Have you ever thought about what you will do if your health plan gets exhausted? How will you afford the expenses if any member of your family gets severely ill, and your health plan is unable to cover the entire expenses?
In such a case, Super Top- Up plans are of help.
Manipal Cigna Super Top-Up plan offers an added boost to your basic health plan that keeps you covered above and beyond your health plan. To offer the maximum benefit to the policyholder, the plan comes with two variants that are: Super Top-up Plus and Super Top-up Select.
Let's explore more about the plan:
Eligibility Criteria of ManipalCigna Super Top-up
Minimum Entry Age
Child - 91 days, Adult - 18 years
Maximum Entry Age
Child: 23 years (family floater policy)
Adult: No limit
Sum Insured
Rs. 1 Lakhs to Rs. 30 Lakhs
Policy Period
1, 2 and 3 years
Relationships Covered
Individual Policy: Self, spouse, children, parents, siblings, parents-in-law, grandparents, grandchildren, son-in-law, daughter-in-law, uncle, aunt, nephew and niece
Family Floater: Self, spouse, children up to the age of 23 years or parents (a maximum of 2 adults and 3 children can be covered under a single policy)
**Last Updated on August, 2021
Key Features of ManipalCigna Super Top-up
There are a number of plans available in the market but what plan to choose is a big question for every individual thinking of opting health insurance. One should always be aware of the key features of the policy. Let's understand the key features of ManipalCigna Super Top Up in detail.
Guaranteed Cumulative Bonus

The plan offers guaranteed additional Sum Insured as a Cumulative Bonus at the time of renewal, irrespective of claim in the expiring policy, maximum up to 50% of Sum Insured.

Optional Covers

The plan offers 3 optional covers that allow the customers to customize their plan as per their needs and requirements. The available optional covers are:

Guaranteed Continuity on Deductible:
With this cover, a policyholder has an option to opt for a separate base policy with guaranteed continuity on waiting periods. This cover is available at the time of purchase and for insured aged 54 years or below.
Reduction in Pre-existing Disease Waiting Period:
One has the option to reduce Pre-existing disease (PED) waiting period to 24 months at the time of inception of the policy and shall be applied to all insured persons covered under this policy.
Critical Illness Add on Cover:
If opted, the plan will pay a lump sum benefit up to your opted Sum Insured if the policyholder is diagnosed with any of the covered 11 critical illnesses.

Discounts

The plan offers several discounts to the policyholder such as a Family Discount where one can avail 10% discount for covering 2 and more family members under the same individual policy, a Long-term Discount of 7.5% for opting for 2 years of policy and 10% for opting 3 years single policy term, and Online Renewal Discount of 3% p.a. on the premium at the time of renewal only if the premium is received through NACH or Standing Instruction (where payment is made either by direct debit from the bank account or credit card.)

Lifetime Renewability

The plan comes with the benefit of lifetime renewability.

Tax Benefit

One can avail of tax benefits under Sec 80D of Income Tax Act 1961.
Sample Illustration Of ManipalCigna Super Top-up
To understand how much premium is payable under this super top-up plan for the Individual plan, let's take the instance of a male aged 30 years with an existing cover of 10 lakh INR. In the below graph we're representing the premium has to be paid by him for three different types of the top-up amount i.e. 10 lakh, 20 lakh, 30 lakh.
Graph Illustrating the Premium Amount Paid Under ManipalCigna Super Top-Up Plan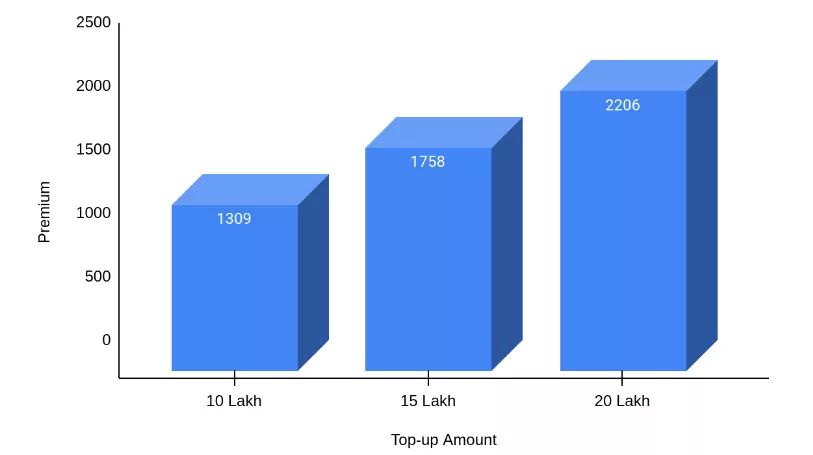 What Is Covered Under ManipalCigna Super Top-Up Plan?
Parameters
In-patient Hospitalization Expenses
Covered
Day Care Treatment
Covered
Pre - hospitalization
Covered, up to 60 days
Post - hospitalization
Covered, up to 90 days
Road Ambulance Cover
Available, Actual expenses per hospitalization even
Donor Expenses
Covered, up to the sum insured
Guaranteed Cumulative Bonus
Available. 5% of SI per year maximum up to 50% of Sum Insured
Optional Covers
Guaranteed continuity on deductible
Available
Reduction of PED waiting period
Available
Add-On Cover
Critical Illness Cover
Available
Waiting Period
First 24 months from the Policy start date for Specific illnesses
First 30 days from the Policy start date, for all illnesses except Accidents.
48 months waiting period will be applicable for any Pre-existing disease

**Last Updated on August, 2021
What Is Not Covered Under ManipalCigna Super Top-Up Plan?
Investigation & Evaluation
Hazardous or Adventure sports
Cosmetic or Plastic Surgery
Treatment for Alcoholism, drug or substance abuse or any addictive condition and consequences thereof.
Obesity/ Weight Control
Change-of-Gender treatments
Dietary supplements and substances that can be purchased without prescription
Treatments received in health hydros, nature cure clinics, spas or similar establishments
Breach of law
How To Buy ManipalCigna Super Top-Up Plan?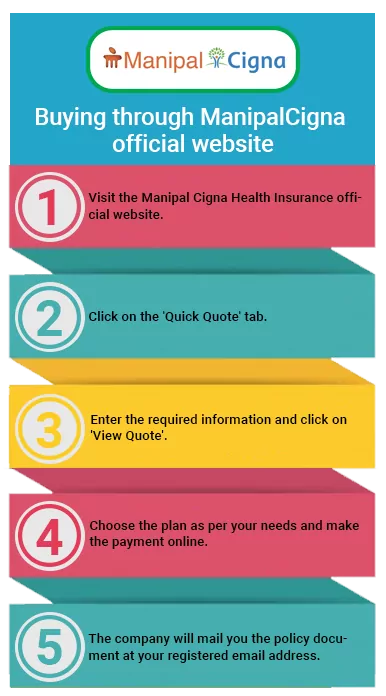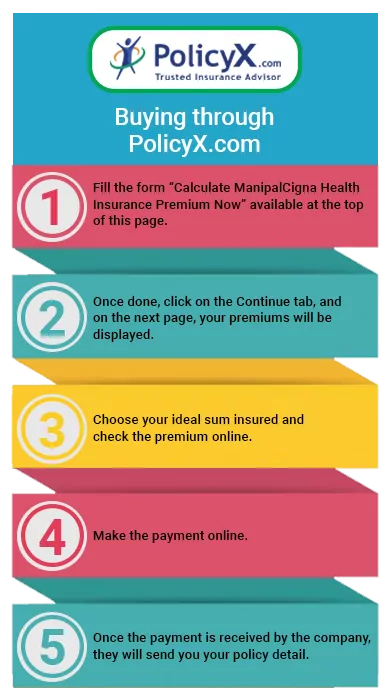 How Can I Renew My ManipalCigna Super Top-Up Plan Online?
Let's discuss the renewal process of Manipal Cigna Health Insurance. Follow the below steps to renew your policy easily:
Visit the official website of Manipal Cigna Health Insurance and click on the 'Renew' option.
Enter your policy number and click 'Proceed' Fill in other information, if prompted.
You will get the renewal premium amount.
Click on the 'Pay now' option to make the online payment.
On successful payment, you will receive a policy transaction number. A new policy kit will be emailed to you within 48 hours.
How To File A Claim For ManipalCigna Super Top-Up Plan?
Cashless Process
Inform the company about planned (48 hours prior) or unplanned (within 24 hours) hospitalization.
Provide the health card and ID proof at the network hospital.
Then, the network hospital will send the pre-authorization form and medical records to ManipalCigna, which will verify all the details.
During discharge, the network hospital will send the discharge summary to the company authorizing the amount.
Once everything is sorted, ManipalCigna will make the payment to the network hospital.
Reimbursement Process
Intimate the company about the hospitalization. Get the treatment done and pay the expenses.
During discharge, collect all the necessary documents such as original hospital bills, receipts, discharge summary, investigation reports, pharmacy bills, and submit them to ManipalCigna with the duly filled claim form.
ManipalCigna will assess the documents.
If the claim is approved, the amount will be transferred to your registered bank account.
Find Out What Customers Are Saying
(Showing latest 5 reviews only)
November 22, 2021
Ramesh Kumar
Hyderabad
October 28, 2021
Ravi Rajora
Delhi
October 26, 2021
deepankar singh
Chandigarh
October 6, 2021
Vishal Malhotra
Jaipur
September 8, 2021
Sumit Samota
Pune
Last updated on August, 2021