Manipal Cigna LifeTime Health
Manipal Cigna LifeTime Health Insurance is a health plan that prioritizes your healthcare needs and looks after them. The plan offers comprehensive coverage up to Rs. 3 crores each, for coverages in India and abroad. To let you avail yourself the most from your health insurance plan, the plan offers 2 variants, and let them choose from LifeTime Health India Plan & LifeTime Global Plan.
The plan covers you at every stage of life for a lifetime. With a wide range of benefits and coverage, the plan is an ideal choice to cover yourself and your family members.
Read along to explore more about this plan:
Eligibility Criteria of Manipal Cigna LifeTime Health
Minimum Entry Age
Child - 91 days, Adult - 18 years
Maximum Entry Age
Child - 25 years (in a family floater policy), Adult - 65 years
Sum Insured
Rs. 50 Lakhs to Rs. 3 Crore
Policy Tenure
1, 2 & 3 years
Relationships Covered
Individual Plan: An Individual plan can be bought for self, lawfully wedded spouse, children, parents, siblings, the parent in-laws, grandparents and grandchildren, son-in-law and daughter-in-law, uncle, aunt, nephew, and niece
Floater Plan: A floater plan can cover self, lawfully wedded spouse, children up to the age of 25 years, parents, and parent in-laws. A floater cover can cover a maximum of 2 adults and 3 children under a single policy. Combinations allowed under 2 Adults are Self & Spouse or Father & Mother or Father-in-law & Mother-in-law.
**Last Updated on 06-05-2021
What Are The Key Features of Manipal Cigna LifeTime Health?
Hospitalization Expenses

The plan looks after the hospitalization expenses of the insured in case of hospitalization more than 24 consecutive hours arising from a disease/ illness or injury.

AYUSH

The plan covers the expenses incurred during the in-patient hospitalization for AYUSH, for an illness or injury that occurs during the policy year.

Adult Health Checkup

One may avail a comprehensive health check-up at any of the company's network hospitals if the Insured Person is of age 18 years or above at the start of the policy year.

Robotic and CyberKnife Surgery

The plan covers the expenses incurred towards Robotic or Cyberknife Surgery of the insured person subject to the illness/ injury being covered under 'Hospitalisation Expenses'.

Modern Advancement Treatments

The listed modern and Advanced Treatments are covered by the plan, subject to illness/ injury being covered under Hospitalisation Expenses.

Restoration of Sum insured

In case your coverage is exhausted due to the claims made, then in such cases, the plan will provide for a 100% restoration of the sum insured for any number of times in a policy year for an unrelated illness or injury.

Premium Waiver Benefit

If the insured suffers from Permanent Partial Disablement, Permanent Total Disablement, death due to an injury caused by an accident, or he/she is diagnosed with a listed Critical Illness mentioned in the policy, then the plan will pay the next Renewal Premium of the Policy for next 1 year.

Once the claim is accepted and paid, the cover will terminate automatically.

Coverage Outside India

The plan offers coverage across the globe in case the insured suffers from any illness or injury. The plan offers:

Global Hospitalization for Major Illness
Global Pre - hospitalization
Global Post - hospitalization
Global Ambulance Cover
Medical Repatriation
Repatriation of Mortal Remains
Global Travel Vaccination
Global Robotic and CyberKnife Surgery
Global Modern and Advanced Treatments

Optional Packages

The plan comes with three optional covers that are:

Refer to the below table to understand what is covered under these optional covers:

Health+
Women+
Global+
Air Ambulance Cover
Medical Devices and Non - Medical Items
Domestic Second Opinion
Bariatric Surgery Cover
Convalescence Benefit
Major Illness Hospi Cash
Chemotherapy and Radiotherapy Cash
Accidental Hospi Cash
Domestic Concierge Services
Tele - Consultations
Breast Cancer Screening
Cervical Cancer Screening
Cervical Cancer Vaccination
Ovarian Cancer Screening
Osteoporosis Screening
Gynecological Consultation
Psychiatric and Psychological Consultations
Global Hospi Cash
Global Convalescence Benefit
Global Out Patient Expenses
Global Chemotherapy and Radiotherapy Cash
Travel Expenses Benefit
Global Second Opinion

**Last Updated on 06-05-2021

Add-On Cover for Critical Illness

One can avail an add-on cover that will cover the expenses if the insured is diagnosed with 11 listed Critical Illnesses Available on payment of additional premium.
Sample Premium Illustration of Manipal Cigna LifeTime Health:
To understand how the premium payable under both the variants is different, refer to the below graph, which shows how the premium for the Indian Plan and Global Plan is different under different sum insured options:
Premium Payable Under ManipalCigna LifeTime Health Indian Plan vs Global Plan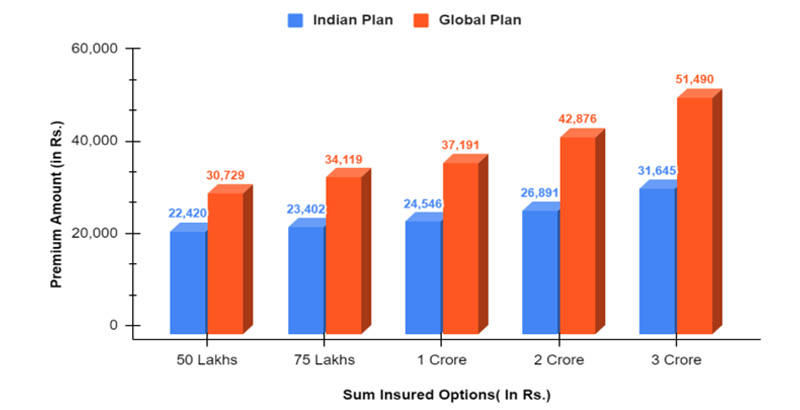 Also, as discussed above, the plan offers three optional covers that let the policyholder choose as per their needs and requirements. Let us find how the optional covers affect the premium amount for the sum insured of Rs. 50 Lakhs:
Sample Illustration of the Premium Payable With Different Optional Covers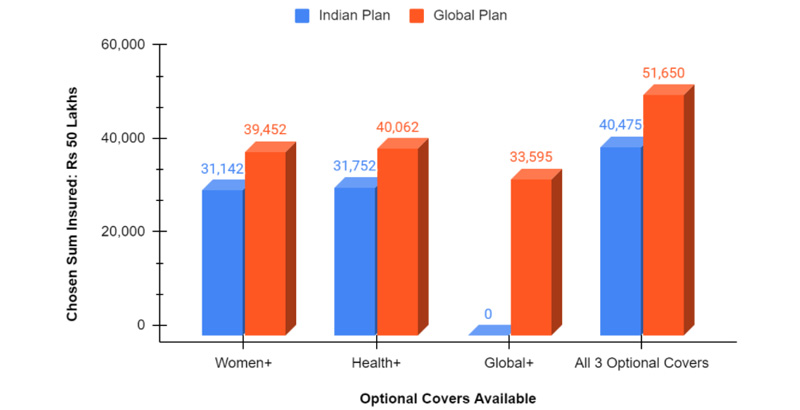 Coverage Table of Manipal Cigna LifeTime Health
Parameters
Indian Plan
Global Plan
Hospitalization Expenses
Available
Available
Day Care Treatment
Available
Available
Pre - hospitalization
Covered, up to 60 days
Post - hospitalization
Covered, up to 180 days
Road Ambulance Cover
Available
Available
Donor Expenses
Available
Available
Domiciliary Expenses
Available
Available
Robotic and CyberKnife Surgery
Available
Available
Modern and Advanced Treatments
Available
Available
HIV/AIDS and STD Cover
Available
Available
Mental Care Cover
Available
Available
Global Hospitalization for Major Illness
Not Available
Available
Global Pre - hospitalization
Not Available
Available
Global Post - hospitalization
Not Available
Available
Global Ambulance Cover
Not Available
Available
Medical Repatriation
Not Available
Available
Repatriation of Mortal Remains
Not Available
Available
Global Travel Vaccination
Not Available
Available
Global Robotic and CyberKnife Surgery
Not Available
Available
Global Modern and Advanced Treatments
Not Available
Available
Optional Covers
Health+
Available
Available
Women+
Available
Available
Global+
Not Available
Available
Add-On Cover
Critical Illness Cover
Available
Available
Waiting Period
First 30 days waiting period is applicable for all illnesses other than accidents.
24 months waiting period is applicable to specific ailments.
Pre-existing diseases will not be covered for 24 months
A 90 day waiting period and 30 day survival period is applicable to Critical Illness Add-on cover (if opted
**Last Updated on 06-05-2021
What Is Not Covered Under Manipal Cigna LifeTime Health
Investigation & Evaluation
Rest Cure, rehabilitation, and respite care
Obesity/ Weight Control
Change-of-Gender treatments
Cosmetic or Plastic Surgery
Hazardous or Adventure sports
Find Out What Customers Are Saying
(Showing latest 5 reviews only)
May 7, 2021
Vivaan Kumar Sanghwi
Bengaluru
May 7, 2021
Vidya Bansal
Kanpur
May 7, 2021
rahul yadav
Delhi
May 8, 2018
Suresh
Ahmedabad
May 7, 2021
Sunil Saraf
Pune
Last updated on 06-05-2021