The costs of quality health care are touching skies, across the world. India is no exception. The privatization of this sector has brought in several advantages and people can expect great services.
At the same time, one has to expect hefty bills. Naturally, no one wants to compromise when it comes to health. So, is there a solution to this issue? On one side, hospitalization of a few days can wipe out all your savings accumulated over the years. On the other side, you do not want to take a chance with you or your loved ones' health. There is a way out!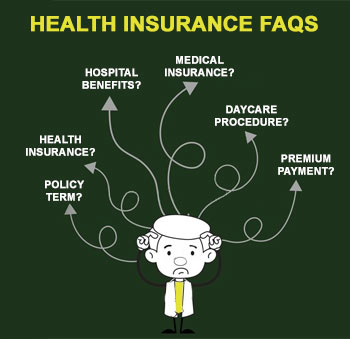 Health insurance is the panacea for all your concerns. You can cover yourself and your loved ones against health-related risks. Thankfully, with the reforms in the insurance sector in India, the cost of getting health insurance is going down to a great extent. Still, there are many questions that linger in the minds of people. Here, in this article, we will shed some light on some of the frequently asked questions.
Do I need to inform on being tested positive for a disease?
This is not required unless you start treatment. There is no condition to inform the insurance service provider of being detected for a disease. They come into picture when you are hospitalized and started with the treatment.
However, you can inform the company if your policy also covers pathological tests and Out Patient Department (OPD) related expenses such as doctor's consultation fee. In this case, you must give a heads-up to your insurance company.
Can one person be covered under more than one group health insurance plan?
Yes, it is very much possible. Supposing you are covered under a group health insurance policy offered by your employer as well as an employer of your wife. In this case, you and your wife can avail of the benefits of both the policies separately.
For example, if you incur an expenditure of Rs 4 lakh in treating a disease, then you can claim Rs 2 lakh from one insurer and the rest from the other. The same condition applies to your wife also.
Do health insurers also provide No Claim Bonus like motor insurance providers?
Yes, there are such provisions in place. If you do not raise any claim during the year, the company would certainly reward you with No Claim Bonus (NCB). The percentage of NCB differs from company to company as per their terms and conditions. Some companies may offer you a lesser amount of premium in the next year, while some may provide you more amount of coverage in the same amount of premium.
For instance: You have a policy of Rs 5 lakh but you do not raise any claim during the policy period of two years. In this case, supposing your insurer provides you NCB of 25 percent, then your coverage amount may be increased to Rs 6.25 lakh on the same amount of premium you paid previously. This way, companies can provide you an incentive of not raising a claim and sticking to the same company for a long period.
I am a Non-Resident Indian (NRI). Can I take a health insurance plan in India?
Yes, why not. There is no restriction. You can always buy a health insurance plan in India and avail of all the due benefits. However, you have to be in India for treatment. You cannot raise claims in foreign countries. They won't recognize it.
In order to get the treatment, you have to avail of services from the network hospitals, the company has tie-up with.
I could not inform my health insurance company about a sudden hospitalization within the specified time. They have rejected the claim. What can I do?
An insurance company has the right to reject the claim if you do not inform them well within the specified time limit. At the same time, your case can still be considered if you can prove that you had valid reasons and circumstances due to which you could not inform them.
The Insurance Regulatory and Development Authority of India (IRDAI), in the year 2012, had issued a circular to all insurance companies to act with compassion in cases where the policyholder has genuine reasons for the delay.
So, these were some of the frequently asked questions by people who wish to buy or practice their rights to leverage their health insurance plans. To keep you well-informed, we will be coming up with more such articles in the coming times.