Most of us would have had an experience where we have suddenly got to hear about a family member, friend or colleague who is healthy, fit and active of being diagnosed with a critical ailment.
Gloom descends on us as we think of how life has changed suddenly for that person and his family. The fact that someone who is outwardly healthy can become victim to a serious illness is difficult to fathom.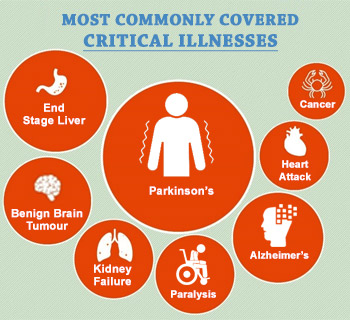 However, unlike the olden days, when such news spelled imminent doom, the medical advancements the modern world has seen can cure and control many a disease. However, these come at a neat cost which many of us may not be able to afford.
Critical ailments like cancer, heart diseases, brain stroke, etc can strike suddenly and leave behind a trail of physical, emotional and financial trauma. We usually plan for future goals such as children's education, marriage, retirement, etc but how many of us would keep aside or create a kitty for funding treatments and hospitalizations. As a result, when major ailments strike, we are forced to dip into the savings created for other purposes jeopardizing our other goals. The crowdfunding requests that we usually see on social media are mostly cases where families have exhausted all their savings, taken debts and yet not been able to acquire the entire funds needed to save their loved one from the clutches of a critical disease.
A chart appearing in Economic Times dates May 29, 2017, is reproduced below to highlight the kind of finances required to treat various critical ailments.
We need to ask ourselves whether we can assume the financial burden should we or our family member be diagnosed with a critical disease. These are very unsavory thoughts but nevertheless something that needs to be thought of and planned for in advance. Also, diseases such as Blood Pressure, Cardiac issues, and Diabetes are on the rise in India and more and more people are getting diagnosed with these diseases at very early ages thanks to the fast, stressful and sedentary lifestyle that many of us follow. As responsible adults, we need to plan for this contingency today. And how do we do that? Probably the answer lies in buying critical illness/ailment insurance cover.
What is Critical Illness Insurance?
Critical illness insurance is referred to as a defined benefit plan which provides a lump sum amount (sum assured) if the life insured is diagnosed with any of the diseases covered under the plan or for certain surgeries, transplants, and procedures. The plan ends once the sum assured has been paid out.
Features of Critical Illness Insurance
This plan aims at providing survival benefit and hence most insurers have an in-built survival clause. The survival clause usually states that the sum assured can be claimed only if the life insured survives a period of 30 days (varies among companies) after the covered ailment is diagnosed. If these criteria are met, the sum assured is paid by the insurance company and the plan ceases.
Unlike a health insurance policy which is an indemnity policy and reimburses only to the extent of expenses incurred, a Critical Illness cover pays a fixed amount (sum assured) irrespective of the actual expenses borne for treatment. The life insured can use this lump sum amount for any purpose as he so wishes. It could be used for household expenses, recuperation expenses, treatment expenses, etc.
Once the sum assured is paid out, the critical illness coverage/policy comes to an end.
What is the Waiting Period?
Most insurers have a waiting period of 90 days from the start of the policy i.e. critical illnesses that are diagnosed within 90 days of policy issuance are not covered.
For pre-existing ailments, most insurers have a waiting period of 48 continuous months from policy issuance.
Most Commonly Covered Critical Illnesses
The commonly covered critical illnesses are as under. This is an indicative list and not exhaustive.
Cancer
Heart Attack
Cardiac diseases
Multiple sclerosis
Stroke
Major organ transplantation
Coronary artery bypass surgery
Aorta graft surgery
Kidney failure
Heart valve replacement
Paralysis
Parkinson's disease
Alzheimer's disease
Benign Brain Tumour
End-stage liver diseases
Most insurers cover 8 to 20 critical illnesses and even more. Apollo Munich's Optima Vital Plan covers 37 diseases including loss of speech, blindness, motor neuron disease, etc. Max Bupa's Criticare plan covers 20 critical diseases.
Why Supplementing Your Health Insurance Policy With Critical Illness Cover Is Needed?
The average health insurance cover in India is for Rs 2 lakhs. With rising medical inflation, this amount is inadequate for treating critical diseases. Further, health insurance policies come with various conditions such as sub-limits for certain procedures, tests, doctor's fees, exclusions, etc which may increase the amount you need to pay from your own pocket. Critical illness insurance does away with the handicaps of a base health insurance cover to a large extent and hence is a good option to financially deal with critical diseases.
Who Should Buy Critical Illness Insurance?
Insurance experts suggest that those who are approaching age 40, those in highly stressful and demanding professions, those with a family history of cancer and hereditary diseases should definitely consider a critical illness cover. Buying early helps as health risks are less and so will be the premium. Also, it is best to consider a plan which has low waiting periods, covers a good number of diseases and where the renewability age is high or lifelong.
The below table depicts for a Male, the annual premium for a critical illness insurance cover (20 diseases) for a sum assured of Rs 10 lakhs at various ages:
| | |
| --- | --- |
| Age | Annual Premium |
| 45 | Rs 8527/- |
| 40 | Rs 5503/- |
| 35 | Rs 3243/- |
How Can One Avail of Critical Illness Cover?
Critical illness insurance cover usually comes in two variants. You can opt for a critical illness rider with your life insurance policy/health insurance policy. Alternatively, you can buy a standalone critical illness plan. To help you make a judicious decision on which one to choose, given below are the differences between the two:
| | | |
| --- | --- | --- |
| Parameters | Critical illness rider | Standalone critical illness policy |
| Sum Assured | The rider sum assured has to be the same or less than that of the sum assured of the base plan. | You have the flexibility to choose a sum assured of your choice. Thus this works best for people who are looking for higher insurance cover on account of hereditary factors, exposure to pollutants, lifestyle, etc. |
| Renewal due date | As the renewal due date is the same as the base policy it is much easier and hassle-free to manage and the risk of captions is also hence lower. | The due date will differ from the due dates of health and life insurance policies. Managing multiple due dates can be an issue. |
| Premium amount | Being a rider and not a standalone plan, the premium is lesser than the base plan to which it is attached and most importantly remains constant throughout the term of the policy. | The plan needs to be renewed every 2-5 years (as per plan features). The premiums may rise on renewal due to increased age and health issues. |
| Policy term | The rider coverage term cannot be beyond that of the base plan to which it is attached. So you can be without cover during higher ages when chances of acquiring diseases are more. Also, if you surrender the base plan due to any reason such as unsatisfactory service, dismal returns, etc, the rider will also cease to exist. | You can choose a term of your choice and there no dependencies as in case of a rider. Some companies have an upper age limit of 50-60 years for coverage whereas some companies provide lifelong renewal options. |
| No. of diseases covered | The number of ailments covered is less than a standalone plan. 8-10 diseases covered (varies among companies) | This provided a comprehensive cover as 10-37 diseases (varies among companies) are covered. |
Conclusion:
A healthy lifestyle combined with good eating habits and regular exercise can help keep many diseases at bay. However, certain diseases can still crop up. This is where a Critical Illness cover can prove helpful. By providing the monetary arsenal, it helps you focus entirely on fighting the disease. At least you are spared the financial trauma if not the physical and mental one. Also, factor in medical inflation while choosing the sum assured.