For a primary bread earner, the family's well being is his first concern. (S)he does everything to fulfill his/her family's needs and keep them safe. (S)he runs all day and night behind his/her job just to keep all dependents happy.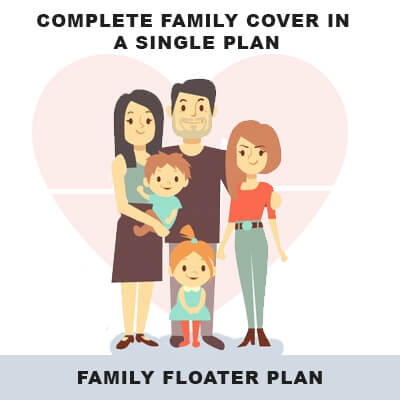 Anyway, any smart and wise individual would also want to secure his/her family's future keeping in mind various factors like a sudden death or an unexpected major illness, or unforeseen unemployment in the family. And having insurance in hand is one of the smartest things to have while battling such situations. At times when the family has insurance in hand to take care of situations like this, the living standards of the family can be easily maintained for a while before the affected get back on their legs. An insurance plan covers all unexpected medical expenses and provides a financial backup to the insured as and when needed.
As they say, little knowledge is a dangerous thing, and so is very common if we talk about the insurance sector. We agree that understanding insurance thoroughly, might be difficult, but once you do that, it makes life and your financial stability way easy and systematic. And one of the most confusing to understand amongst others is the difference between a family floater insurance plan and family health insurance. But it is important to know that there is a lot of difference between the two.
Based on their needs, an individual can buy the best policy that they think will suit them, and even customize any policy. As all insurance providers have a lot of policy options in the market. Making life easier, online portals are the most convenient options available. By putting out all the options on a single page and enable customers to choose the best plan from the comfort of their own premises without any confusion caused by a third person like the insurance company or a broker, they are the best.
Family Floater Plan
A health insurance plan that extends the coverage to the entire family rather than just an individual is called a family floater plan. In simple words, a floater brings all the members of the family under an umbrella cover. Every family member gets benefits under a larger common pool, under a floater plan. It seems only wiser to get a family floater in case of a regular married guy with two kids, with a sum insured of Rs 4,00,000 rather than taking four individual health plans for four family members separately.
Family Health Insurance Policy
The Family Health Plan includes one insurance policy for each member of the family, contrary to the floater plan. But, these are bought together and may have the same sum assured. For instance. let's say the sum assured is Rs 3 lakh, for each policy. In this case, the total sum assured for all four policies would amount to Rs 12 lakh. It is akin to buying four separate 'Individual' plans together.
To cover for unexpected medical expenses arising out of hospitalization of the policyholder or any of their family members in case of a family floater plan, health insurance is the safest option. An unexpected illness can arise anytime and the reason may be anything like sudden major illnesses, an accident, or a pre-existing illness. The cover for a consultation fee, pre-hospitalisation and post hospitalization charges, surgery costs, medicinal costs, organ transplant cost, daily hospital cash benefits, in case of unemployment due to prolonged sickness, domiciliary hospitalization costs, out-patient benefits, etc are included in hospitalization expenses under a health insurance cover. A mediclaim pays out only to cover expenses that arise due to hospitalization whereas, health insurance offers comprehensive coverage. A health insurance policy offers to avail coverage for an individual and for a family of up to 4 or 5. 
Despite the fact that more and more individuals are showing interest in health insurance, they don't have a good enough idea of what plan to buy in order to meet their needs. Usually, the middlemen or brokers who try to sell off a not-so-good insurance plan with a higher premium to hit their sales targets easily are the reason for such confusion. So, to fight with such confusion, the insurance companies have come up with a tool called the insurance premium calculator to help individuals come down at a premium rate just by entering their details and insurance requirements. The answer is a premium calculator, that is a must for choosing family health insurance because it is quite obvious that a policyholder wants to pay the right premium according to his/her needs when it comes to the welfare of his/her family. Royal Sundaram and HDFC ERGO health insurance are few of the insurance companies have a 24-hour online customer service call center to cater to the needs of their customers. Any applicant can call them and clarify your doubts regarding the premium or about the coverage offered by the policy.
Difference Between Family Health Insurance & Family Floater Plan
As discussed above as well, a health insurance policy is an effective plan that offers needful financial cover to your family members to deal with any medical emergency easily. With the same, your family would not have to worry about the cost of the treatment or its related expenses as per the plan. Moreover, the best thing about a family health cover is that it covers all members of the family under the same sum insured. The family who chose separate covers for the individual member would pay a higher insurance premium than the one who took a floater plan. This is for sure that a family can get better benefits and waivers with family health insurance than someone who had opted for individual insurance plans to cover all the members of their family. 
Meanwhile, one can avail of the cashless benefit in any of the hospitals covered by the insurance provider's cashless hospital network, under the former insurance plan. This is because this policy enables the insured to get hospitalized for the treatment of any covered ailment without worrying about the expense out of their own pocket. The settlement of the hospital bills and medical receipts are also been taken care of by the insurer. Additionally, the premium paid by the insured for this policy is tax exempted under section 80(d) of the Income Tax Act, 1961. 
Basically, a family health insurance plan is one that might come at a higher premium as it covers the entire family, not an individual. Normally, a health insurance policy covers insured, their spouse, children and even parents as well. A few plans also offer cover to in-laws and siblings as well. However, the same varies from plan to plan and insurer to insurer and add ons include. Adding a family member later is quite easier.
Those families who carry a fixed budget can take advantage of a mediclaim policy for a family. When it comes to the premium payable separately for an individual health insurance plan, the cumulative premium for the family floater is lesser.
However, there is also a drawback in the family floater plan, that is the premium is calculated on the basis of the age of the senior family member. Moreover, generally, insurance companies allow to renew the plan up to a certain age. In such cases, people might have to look for individual health insurance plans. A Few insurance companies that include Bharti AXA health insurance and HDFC ERGO health insurance will offer a list of services included in their different policies and the list is available on their online portal through. Hence, the best way to go about this would be to take a family floater plan for the person buying the policy and his/her immediate family members. Just in case the applicant thinks that (s)he might be prone to multiple situations covered by a floater plan, it's wise to go for a separate cover for himself/herself and take a family floater plan for the spouse and children. Also, having an individual cover for your parents and grandparents would also be a sure-shot way of securing everyone near and dear.
Key Factors to Consider While Choosing Between The Two
Insured Amount: The insured amount is one of the most important factors to consider in case of selecting the best suitable insurance policy. Similarly, the sum assured by the insurance policy makes the key difference between the family health insurance plan and the family floater insurance plan. To understand it better let us continue with the above instance if anybody buys the Family Health Insurance policy that assures a sum of Rs 2 lakh, then each member of his/her family would be entitled to be reimbursed a maximum amount of Rs 2 lakh if the need arises.
Risk Factors: As we all know, the premium of any type of policy is decided after taking into consideration the amount of risk involved. Depending on the risk factors, the amount of premium will be lower or higher. Hence, in case of a family floater plan, the premium would be calculated after taking into consideration the risk of the entire family. On the other hand, in the case of a family health insurance policy, the risk is calculated separately for each policy of each individual member. In other words, we can say that under a family floater plan, the insurance company takes into account the entire family's risk together, whereas, in the case of family health insurance policy, each member's risk is accounted for separately.
Premium Calculation: The reason why the quantum of premium payments may differ for the two plans is the difference in risk factors. Under a family floater plan, the premium is invariably dependent on the member with the highest risk. Therefore, the premium for a young family with no high-risk individuals will be less as compared to a family that comprises one or more older people with higher risks involved. This is the reason why it is difficult to say which plan would be cheaper or costlier. However, if there are no high-risk individuals in the family. And in cases like this, one can even opt for a higher cumulative coverage without any significant difference in the premium payment.
So, it is suggested that while it makes sense to buy Family Floater plan for a young family, it may be better to buy a family health insurance plan for a family with senior citizens as they are considered high-risk individuals and would have a significant impact on the total premium in a family floater plan.
So, it is suggested that while it makes sense to buy Family Floater plan for a young family, it may be better to buy a family health insurance plan for a family with senior citizens as they are considered high-risk individuals and would have a significant impact on the total premium in a family floater plan.
Senior Citizens: If the applicant has a family member over 60 years of age, a family floater plan can turn out to be costlier. The reason being it is costlier for senior citizens. And the reason for the premiums being pushed is that they are considered high-risk individuals. In cases like this, considering an individual health plan for senior citizens and a family floater plan for the other members of your family would be worthwhile. 
Coverage: We have to agree that the key reason to buy a health insurance policy is to ensure that there is no financial burden on the family in case of any kind of medical emergencies. Therefore, it is very important to make sure that the policyholder has sufficient cover for the entire family. The policyholder can get sufficient coverage for each member of the family, with a family health insurance plan. As under the plan each individual is eligible for his/her own amount of insurance coverage. In cases where several members in the family face critical health issues, treatments for which are costly, this comes handy. For instance, there is a great chance that a family floater plan would not be enough in a case where two or more members of the same family met with an accident. 
How to Choose the Best Health Plan 
After all, it is a question of higher insurance coverage versus lower premium payment at the end of the day. So, let us understand this better by discussing the previous example once again. Lest say the premium for a family floater plan with a sum assured of Rs 3 lakh comes to around Rs 9,500 for a young family of four. Similarly, on the other side, the premium payment for a family health insurance plan comes to Rs 11,500 for the same family. In the last-mentioned case, the policyholder gets coverage of Rs 3 lakh each, which is total coverage of Rs 12 lakh for the entire family. So, if the policyholder feels that every member needs enough coverage, then opt for a family health insurance plan, even though the premium amount is slightly higher. Other than this, it may be easier on the pocket to go for the family floater. However, the policyholder can even ramp up his/her family floater coverage to Rs 4 lakh by paying a premium of Rs 10,500.
Conclusion
By all means, we can conclude that ultimately, making a choice between the two largely depends upon opting for a higher sum assured or settling in for a lower premium. If we talk in a broader sense, a family floater plan is cheaper and more suitable for a young family as the policyholder can get cover for the entire family at a lower cost. Similarly, buying a family health insurance is more suitable for a family involving more high- risk individuals to have sufficient cover in case of emergencies, albeit, for a higher premium. For purchasing the best suitable plan for one and his/her family, (s)he needs to consider both young and older family members. It is advised to follow the points mentioned above before wisely choosing a health insurance policy. We PolicyX, wish our readers good luck for choosing the best suitable health insurance plan for them and their beloved family. 
Related Articles:- Individual Health Insurance vs Family Floater Health Insurance