According to a recent study in the insurance sector, 70 percent of Indians are yet to opt for any sort of insurance cover protecting them against hospitalization expenses, despite growing inflation rates clubbed with an upsurge in healthcare costs.
It is disheartening to know that in a developing country like India, there are still people who are ignorant about the need to plan for a suitable arrangement to tackle any financial emergencies arising from an accident or sudden illness.
What Do We Mean By Mediclaim Policy?
Mediclaim insurance policy is one of the best and easiest ways of getting ready for medical emergencies and secure your savings.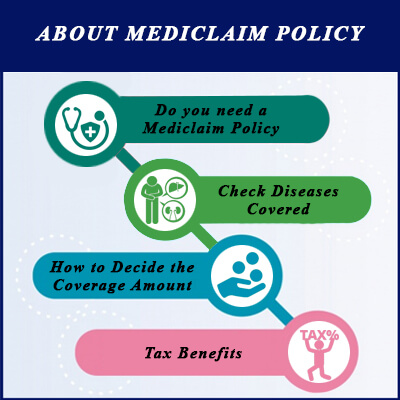 It normally designed to take care of all medical expenses associated with hospitalization on illness or accident or even for any surgery required. On having mediclaim insurance, the insured doesn't have to pay for the treatment. The insurance company will pay or clear bills using a cashless treatment facility or you can also go for the reimbursement process.
Mediclaim insurance policies also reimburse the policy holder's expenses on providing associated proofs that include medical bills, etc. Apart from this, it also makes you eligible for an entirely cashless hospitalization where a TPA might act as an intermediary between the insurance company and the hospital. One can claim his/her insurance with the insurer to check his/her eligibility, while (s)he focuses on your medication and recovery. So, it is important to invest in a mediclaim policy to safeguard your financial well-being.
Why Mediclaim Policy?
A mediclaim policy acts as a savior in the case when the policyholder is hospitalized due to an accident or any ailment. It also covers the policyholder for nursing, lodging and treatment costs up to the coverage amount that (s)he chooses while buying the policy. Related to the reason or ailment you were hospitalized for, most mediclaim policies also cover the treatment sought before and after hospitalization. However, the frame depends upon the insurance company and normally ranges from 30 to 60 days before hospitalization and between 60 and 120 days after hospitalization.
Due to the rise in inflation rates, it becomes easy to understand the importance of having a mediclaim policy. With the change in lifestyle habits, health issues become the core reason for investing in a mediclaim policy to be prepared against unwanted medical emergencies. A mediclaim insurance policy offers a lump sum health cover in the hour of need. In India, mediclaim policies are available for specific tenure as well. These policies can be easily renewed to get amazing benefits.
If we talk about it in simple terms, the mediclaim policy comes to rescue a person in case (s)he is hospitalized due to an accident or any ailment. It covers one for nursing, lodging and treatment costs up to the coverage amount (s)he chooses while buying the policy. Most mediclaim policies also cover the treatment sought before and after hospitalization related to the reason/ailment s/he is hospitalized for. This time frame depends on the insurers and typically ranges between 30 days before and 60-120 days after hospitalization.
Reasons a Mediclaim Policy is Good For
Here PolicyX has penned down some of the salient features and benefits of a mediclaim policy:
Best suitable for individuals between the age of 91 days to 65 years.
Flexible in opting for the policy for either for self or the entire family or the dependents.
It covers pre-existing medical conditions after a waiting period of 2- 4 years.
Affordable premiums along with higher coverage
It offers the benefit of a high sum insured of as much as Rs. 50 lakhs and even more.
The policy can be ported to the different insurers at the time of renewal.
It offers the most reasonable yet adequate medical assistance.
Gives the policyholder and his/her family a complete health cover, proving to be an effective protection option
The policy includes cashless hospitalization to ensure that you don't have any out-of-pocket medical expenses
Easy to buy and understand as it can be purchased online.
Enables one to avail tax deductions on premiums paid under Section 80(d) of the Income Tax Act, 1961
It can be renewed annually. Some insurers offer longer duration policies with renewals due every 2 or 3 years.
Types of Mediclaim Policies
Here are the types of mediclaim policies can be broadly classified
Individual Mediclaim Plan
An individual mediclaim policy offers coverage to only the policyholder. Only one person can avail of the medical insurance benefit against the premium paid.
Family Floater Plan
This plan offers financial cover for your entire family that covers them against hospitalization, medical expenses, and other health-related expenditures.
Senior Citizen Mediclaim Policy
Senior citizen mediclaim policies are designed to cover the hospitalization expenses incurred on the elderly people who have crossed the age of 60 years.
Critical Illness Mediclaim
Hospitalization expenses incurred on critical illness are quite exorbitant. This type of mediclaim policy covers critical illnesses like kidney failure, cancer, etc.  
Difference Between a Mediclaim Policy and Health Insurance Policy
Here are the differences between health insurance and mediclaim policy:
Type of Cover
The health insurance policies not only cover the hospitalization expenses but also include pre and post-hospitalization expenses. We can call the health insurance policies comprehensive. But, if we talk about mediclaim policies cover hospitalization expenses towards an accident or certain critical illnesses on certain terms and conditions, as specified in the policy document of insurance companies.
Critical Illness Benefits
The health insurance plans provide covers on critical illnesses on more than 30 plus diseases, as specified in their policy documents. Some of the critical illnesses usually covered are:
Cancer
Stroke
First heart attack
Aorta graft surgery
Bypass surgery
Primary pulmonary arterial hypertension
Kidney failure
Major organ transplant
Multiple sclerosis
Paralysis
Whereas, mediclaim policies do not cover critical illness and other hospitalization expenses. Also, the types of critical illness that will be covered solely depend on the discretion of your insurance company.
Compare and Buy Mediclaim Policies Online
Because the family floater plan covers hospital expenditures for all your family members who have been included in the policy document, so it is highly recommended by experts in the field. The plan includes dependants like spouses, parents, and children. It is different from an individual mediclaim plan as for it every family member would require you to pay a premium for each one of them separately. Opposed to this, a Family Floater will cover your entire family on the payment of one premium, proving to be a reasonable yet effective investment.
Moreover, one needs to keep in mind that a mediclaim cannot be considered to be an effective substitute for a health insurance policy. This is because a mediclaim reimburses hospital and other related expenditures. So, it is best to look for a health plan that offers the right combination of features and benefits, along with simplified claim settlement and cost-effective premium payments.
How The Medical Policy's Premiums Are Determined
While determining the premiums for the mediclaim policy, Insurance companies consider a lot of factors. Some of them are age, the sum insured, geographical location, any pre-existing medical condition, number of members to be insured, the extent of coverage, etc. Although the guidelines are set by IRDAI, health insurance companies take the final decision regarding premium calculation based on the policy holder's needs and requirements.  The more comprehensive your requirements are, the higher will be the premiums to be shelled out.
What Does a Mediclaim Policy Cover?
The parameters of cover by a mediclaim may vary depending on the insurance company. Here is the list of few common benefits covered by mediclaim policies:
Hospital-Related Expenses - Expenses incurred at the time of hospitalization like medicines, oxygen, blood, OT charges, medical tests and diagnosis, chemotherapy, radiotherapy, organ transplantation, etc.
Expenses Incurred by Hospital Accommodation - Expenditures incurred at ICUs are either addressed through cashless hospitalization feature or are reimbursed by the company.
Day-Care Hospitalization - Expenditures towards tech-driven medical treatments that do not involve 24-hour hospitalization.
Pre and Post-Hospitalization Expenses - Expenses incurred for up to 30-60 days before and till 60-120 days after hospitalization. It may also include medical assistance for emergency services like ambulance, etc.
Medical Experts Charges - The expenses in the form of fees for medical professionals involved during hospitalization like a doctor, nurse, etc. are also provided by mediclaim policies.
What a Mediclaim Doesn't Cover
While mediclaim insurance covers most of the expenses of hospitalization and related costs, certain exclusions are not covered in the policy. The list of what's not covered forms an integral part of the policy document and should be referred for more exhaustive information. Here are a few of the aspects that are not covered in most mediclaim policies:
Non-medical expenses, such as administrative charges, service charges, toiletries, diapers, syringes, etc
Diseases/ailments contracted within a specific time from the policy purchase
Dental treatment except in case of an accident
Sexually transmitted diseases and HIV
Cosmetic surgery, circumcision and plastic surgery
All kinds of vaccinations
Medical conditions as a result of addiction to alcohol, smoking, drug abuse, etc.
Health conditions out of the war, nuclear weapons, etc.
Things to Know While Buying a Mediclaim Policy
Indeed investing in mediclaim is one of the best decisions one can take. But one should consider all the factors involved and accordingly choose the right policy. Here are some of the aspects on which it is needed to keep an eye on before purchasing the policy: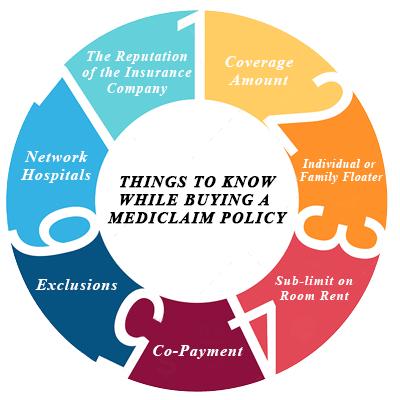 The Insured Sum or Coverage Amount
At the time of choosing the sum insured or the coverage amount, it's always advised by the experts to consider factors like rising healthcare costs, rate of inflation, etc. to choose the right amount. It is worth considering that if a policyholder is living in one of the metro cities, his/her cost of hospitalization will be higher compared to rural areas. Similarly, if (s)he is opting for the coverage of her/her dependants too, (s)he might want to consider higher sum insured.
Individual or Family Floater
The choice between an individual mediclaim plan and a family floater plan depends upon the applicant. If the applicant is unmarried and looking to cover only for himself then (s)he can opt for the individual policy. Moreover, if the applicant chooses to cover his/her entire family including his/her parents when selecting a family floater plan is the ideal choice.
Sub-limit on Room Rent
With a room rent sub-limit, most mediclaim plans are tailor-made. Depending on the insurance companies, these limits might vary. To understand it better, let's take it with an example. Mr. Sharma bought a plan that had room rent sub-limit as one percent of the sum insured. He had chosen the coverage for Rs 2 lakh. That means, every time Sharma wants to claim hospitalization on his mediclaim, the insurance company will compensate his expenses limited to the room rent of one percent of his sum insured i.e. Rs 2,000 per day. The entire calculation of his claim disbursement will be carried out as per his room rent limit even if he opts for a room higher than the limit of Rs 2,000. Therefore, it's wise to choose the policy with proper room rent limits to avoid any rude shocks during claim settlement.
Co-Payment
Many mediclaim policies by the insurers are in-built with a co-payment clause. In simple words, a co-payment is a percentage amount that the policyholder needs to bear when the claim is raised before the insurance company settles the rest. These co-payments can range anywhere between 10 percent and 30 percent depending on the insurance company. For example: If one has opted for a mediclaim with 20 percent co-payment, whenever (s)he will raise a claim, (s)he will have to bear the first 20 percent of the total claim amount and the rest will be compensated by the insurance company as per the terms and conditions of the policy. Some insurance companies also offer to cover the risks related to pre-existing diseases with higher co-payments.
Exclusions
We have to agree that every mediclaim policy is designed to cover your medical risks. But, there are certain exclusions as well that are either not covered or covered after a specific term. Conditions arising out of a suicide attempt, HIV, STD, congenital diseases, addiction to alcohol or drugs, etc. are not covered by any policy whereas expenses related to maternity, hysterectomy, gall bladder surgeries, kidney stones removal, etc. are covered after a specific waiting period. Nearly most insurers cover the risks related to any pre-existing diseases only after three-four years. Details of these exclusions are mentioned in the policy your purchase wordings of the plan and one should go through the same before finalizing to buy.
Network Hospitals
The convenience of a cashless settlement of hospitalization expenses is one of the biggest benefits of opting for a mediclaim policy. All insurance companies tie up with network hospitals, and when the policyholder seeks hospitalization in any of these hospitals, (s)he is entitled to a cashless treatment if the hospitalization/treatment is within the scope of coverage. This feature comes out as a great financial relief at most crucial times. Therefore it is suggested to be aware of the hospitals in the nearby area that is in tie-up with the insurance company you wish to buy the plan from.
The Reputation of the Insurance Company
It is always a smart decision to check the credibility and market standing of the insurance company one wishes to buy the mediclaim from.  Along with this, a study of the claim settlement ratio of the company and other details will prove to be cherry on the cake while purchasing the mediclaim policy.
Why Buy a Mediclaim Policy?
The rise in hospitalization and related healthcare costs are touching the sky, and it is affecting the pocket of a mediocre. And it proves to be even more challenging when the expenses arising from unforeseen circumstances like hospitalization due to accidents and critical illnesses. Enabling individuals to be prepared for all eventualities, Mediclaim policies serve as financial security. After getting to know about the extensive range of benefits that one reaps on these policies as compared to the reasonable premium payments, mediclaim policies come out as one of the smartest investment options. The peace of mind that it offers makes it worth it, as it is the additional benefit it provides along with the financial cushion that it guarantees.
Any person who is not able to afford those skyrocketing hospitalization and related healthcare costs should invest in good mediclaim insurance. Keeping in mind the premiums one pays each year, the benefits (s)he reaps are much valuable. Along with a financial cushion to reckon, the peace of mind it offers makes it worth it.
Documents Required Purchasing a Mediclaim Policy
KYC - Proof of ID and address
Age proof
Medical check-up/report if required
Passport-sized photograph(s)
The Process to Claim on a Mediclaim Policy?
The process of a mediclaim policy is quite streamlined and quick, owing to the integration of advanced technology. The claim settlement process follows either of these two methods – cash reimbursement or cashless claims, here's it is explained by PolicyX
Reimbursement
This is a process that is usually followed if one opts for the reimbursement option during claim settlement:
The policyholder should have to inform the insurance company in the event of hospitalization in one of their network hospitals, as mentioned in their policy document.
Insurance companies need to follow specific terms and conditions while reimbursement of hospital claims.
The companies would not approve of your request for claim settlement until the medical situation is aligned to these terms and conditions.
The applicant has to closely monitor and keep a tab on the hospital and other related medical expenses incurred, on which (s)he is eligible for claiming reimbursements.
The applicant has to initiate a separate claim settlement process in case a new health concern arises.
(S)he has to take care to ensure that the claim (s)he has filled is with accurate details, without suppression or misrepresentation of facts or not
The applicant will have to present the relevant medical reports and bills to support his/her claims, without which the claim will not be approved.
Once the insurer has scrutinized the form and all the proofs of expenses are submitted by the applicant, the claim will be reimbursed, if approved. This process usually takes around 15 to 25 business days.
There may be instances when insurance companies refuse to honor claims without a sound explanation. Ask for the reason and a detailed clarification for your claim getting disapproved, so that the applicant is convinced of it. Otherwise, (s)he can escalate the issue at a consumer form or even proceed with legal action.
Cashless Facilities
Cashless claims: To initiate this process, the applicant will have to fill up the Preauthorization Request Form and submit it to his/her insurance company through the network hospital.
Cashless planned hospitalization: If the hospitalization is pre-planned, the applicant must submit the completed Preauthorization Request Form at least 72 hours before your hospitalization. This enables the insurer to ensure a seamless and hassle-free claim settlement.
Cashless emergency hospitalization: In case of an emergency hospitalization arising due to an accident or critical illness, the policyholders usually expected to present his/her mediclaim ID at the network hospital to enable admission to the hospital. Post that, (s)he needs to submit the completed Preauthorization Request Form within four hours to initiate the claim settlement process. This implies that the policyholder must keep his/her mediclaim ID handy with him/her always.
Documents Required Making a Claim
Claim form/pre-authorization request form
Attending physician's statement
Attested copies of all medical records
NEFT mandate form
Documents required for a death claim
Original policy documents
Original/attested copy of death certificate issued by the local municipal authority
Death claim application form (Form A)
NEFT mandate form attested by bank authorities along with a canceled cheque or bank account passbook
Nominee's photo identity proof such as a copy of Passport, PAN card, Voter identity card, Aadhar (UID) card, etc.
Documents required for medical natural death
Attending physician's statement (Form 'C')
Medical records (admission notes, discharge/death summary, test reports, etc.)
Documents required for accidental unnatural death
Copy of the First Information Report (FIR) or Panchanama/Police complaint
Copy of Post Mortem Report (PMR)/Autopsy and Viscera report
Copy of the Final Police Investigation report (FPIR)/Charge sheet
How Does a Mediclaim Policy Work?
One can avail of the cashless benefits of a mediclaim policy only in the network of hospitals that are mentioned in his/her policy document. Going through a check of the network hospitals in the policy document and go through the websites of the insurance company and its network of hospitals, before making a final choice. This small effort generally reduces the scope for claim rejections later.
Any hospital other than the network hospital enlisted in the policy document by an insurer may not allow utilizing the cashless benefit. Therefore, before one claims his/her mediclaim policy, it is a must to ensure the expenses have been incurred in a hospital or chain of the hospital that is a part of the network of the insurance company.
If any policyholder gets admitted in a hospital that is not a part of the network of hospitals of his/her insurance company or an unrecognized hospital may reduce his/her chances of being eligible for claiming his/her settlement on hospital and other related expenses, but does not completely disqualify him/her from it. (S)he may not be able to able avail cashless facilities, but (s)he might be eligible for reimbursements from his/her insurance company. Meanwhile, the policyholder also has to be consistent with the premium payments on his/her mediclaim policy, keep the policy active and strictly follow the terms and conditions to avoid claim rejections.
Once the policyholder initiates a claim settlement on hospitalization, his/her insurer has to approve his/her request for cashless hospitalization. This process is referred to as authorization. It can take up to 24-72 hours by the insurance company to verify and approve the claim. Also, in a few cases, it requires pre-authorisation before the policyholder gets hospitalized due to medical conditions and health concerns like surgeries. However, for emergency hospitalizations, prior authorization is not needed and would not get your claim rejected.
The Checklist Before Buying a Mediclaim Policy
Here are things to keep an eye on while buying an effective mediclaim plan that meets the unique needs of every applicant:
The insured Sum, Features, and Benefits of Policy  - It is always advised to choose a sum insured that takes care of the growing inflation in the medical sector and at the same time is economical and within budget. Among the few top features of an ideal plan, coverage for a vast number of illnesses, procedures, etc. are must-have. Also, the policy should be free of room rent limits, co-payments, and sub-limits. Lifetime renewals are also must to have because it is the old age when health insurance is needed the most. The waiting period for the coverage of any pre-existing illnesses is also important, as the lower the waiting period, the better it is. One must read the exclusions carefully so that (s)he does not get a rude shock in the time of need.
Incurred Claim Ratio - The percentage of total claims made that were approved by an insurance company is what incurred claim ratio refers to. Factors like the age of the business portfolio, business mix, etc are the points that determine this ratio. It becomes difficult for buyers of mediclaim policies to understand how this ratio is finalized, as this data and figures are not directly divulged to customers. According to the experts of the field, the incurred claim ratio for group mediclaim policies is higher than individual policies. An incurred claim ratio of at least 85 percent is considered to be an indicator of an effective mediclaim policy.
The total settled by an insurance company as compared to the premium that it had collected in a particular year is called as incurred claim ratio. The latest 'Handbook of Indian Insurance Statistics' to can help any person to become aware of the currently incurred claim ratio of insurers, so that (s)he can make a well-informed decision.
The Network of Hospitals - It is always suggested that to ensure the mediclaim enlists a few hospitals that anybody usually visits, are accessible to him/her, have the standard medical facilities, etc. For instance, if one is opting to prefer cashless payments over reimbursements, (s)he should ensure that the selected mediclaim includes some network hospitalization that will offer the same facility in the event of hospitalization.
Conclusion
By all means, we can conclude that a mediclaim insurance policy is one of the most economical ways to a standstill at the time of medical emergencies and protecting your savings. So, we suggest you go through the market we'll talk about and take suggestions from experts and survey the market well before going with any mediclaim policy. So that one can enjoy the maximum benefit out of it and the bills are taken care of through either cashless treatment facility or reimbursement mode offered by the insurance company.