There are two things that worry someone post-retirement- health and money. Senior citizens are the most vulnerable members of the society in terms of health and technological comprehension, and hence need solid guidance to understand why choosing the best investment option can help them manage their hard-earned money.
Depending upon the individual's needs, the investment can be done in terms of monthly returns and growth options. With this in mind, we now discuss some best investment options for retirees from both of these categories.
Investment Options With Regular Returns
1. Post Office Monthly Income Scheme (POMIS)
One of the safest options that you need post-retirement is an investment option backed by the government. Post Office Monthly Income Scheme is one of the best options for senior citizens and retirees. On the investment of a lump sum amount, it offers a fixed monthly income with high returns. It is suited for retirees as they are in a position to invest their hard-earned lump sum amount in a risk-free scheme backed by the government. Let's understand the features of this scheme.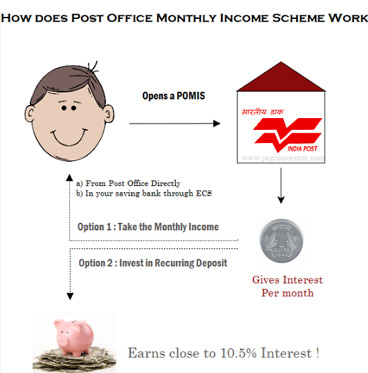 Eligibility

Resident of India of or above 10 years of age

Interest Rate (as of 1st April 2020)

6.6% p.a. (payable monthly)

Minimum Amount

Rs. 1,500

Maximum Amount

Single Account Holder: Rs. 4.5 Lacs

Joint Account Holder: Rs. 9 Lacs

Maturity Period

5 years
Other ways in which the POMIS is advantageous for retirees:
Rather than withdrawing the monthly income, the retirees can also let the amount accumulate and withdraw it at once in a lump sum.
Individuals can also link their POMIS account with their Recurring Deposits and Mutual Funds to reinvest the amount and earn more.
The POMIS scheme is flexible and portable, as account holders can transfer their accounts to other post offices and even convert their single account to a joint account and vice versa.
2. Senior Citizens Savings Scheme (SCSS)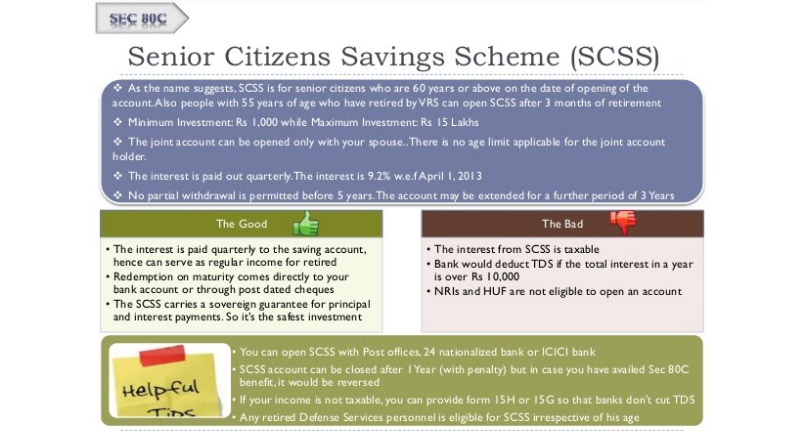 The Senior Citizens Savings Scheme is another initiative by the government to help senior citizens above the age of 60. It was launched in 2004 to help the senior population manage their finances. Due to its government backing, it's risk-free and will keep the older section of the society free from any potential capital loss. Following are the features of the scheme:
| | |
| --- | --- |
| Eligibility | Indian residents on and above the age of 60, and residents between the age of 55 to 59 who have availed VRS. |
| Interest Rates (as of April 2020) | 7.4% p.a |
| Minimum deposit | Rs. 1,000 |
| Maximum Deposit | Rs. 15 Lacs |
| Maturity Period | 5 years |
The SCSS is also beneficial in other ways: 
The investment under this scheme is tax-deductible for up to Rs. 1.5 lacs p.a.
During emergencies, the scheme allows for premature withdrawals.
Senior citizens can avail of this scheme through Post offices or through designated banks across the country.
Read: 5 Best Investment Options for Salaried People in 2020
3. Pradhan Mantri Vaya Vandana Yojana (PMVVY)
The Pradhan Mantri Vaya Vandana Yojana is a pension scheme offered by the LIC, which is designed for senior citizens who get a guaranteed pension for 10 years. At the same time, the PMVVY also offers a death benefit by offering the purchase price to the nominee. The scheme which was slated to end on 31st March 2020 has now been extended to 31st March 2023 by the Indian Ministry of Finance, thus providing more opportunities for the senior members to opt-in for the scheme. The features of the scheme are as follows:
| | |
| --- | --- |
| Eligibility | Indian residents of and above the age of 60 |
| Interest Rate (for 2020-21) | 7.4% p.a. |
| Maximum Investment | Rs. 15 Lacs |
| Policy term | 10 years |
Some additional features of the PMVVY are:
Senior citizens have the flexibility to decide the pension amount and the investment amount in terms of whether they want it monthly, quarterly, half-yearly, or annually.
The pension doesn't change as the age progresses and if both the spouses are above 60, both can individually invest in this scheme and earn the risk-free pension amount. 
Investment options with wealth creation/growth opportunities
4. Mutual Funds
While the period of retirement should be without worries, an investment into a strong equity-backed mutual fund should not be thrown out of the window. Mutual Funds are subject to market risks, however, it has been proven that equities provide higher returns than other securities, even with inflation.
The whole idea of investing in mutual funds after retirement is to ensure stable returns without much ado. Hence, financial planners recommend investing monthly income plans (MIP's) with a certain chunk into large-cap funds, so that returns are secured and risk is eradicated. At the same time, many mutual funds provide retirement plans, and a lot of mutual funds are also eligible for tax benefits.
Senior citizens can also opt for debt funds as they are more liquid in nature and focus on fixed-income investments. Long-term debt options can offer higher returns than other instruments and thus can be a low-risk investment.
5. Tax-Free Bonds
Tax-Free Bonds are regularly issued by the government as an initiative to help certain projects by government organizations like the Indian Railways, NHAI, NTPC, Housing & Development Corporation, etc. These investments are tax-free and protected by the government, thus leaving no aspect of risk in the transaction. The only drawback would be the waiting period which may go up to 15 years.
Depending on the project and the economy, the interest may be between 7-7.5%, and the maturity period will vary according to the completion period of the entire project. The best feature of this option is that while these bonds have lower interest rates, the tax-free nature makes it an attractive investment option.
Conclusion
All the investment options that we discussed above are designed to help individuals get a sizable return on their investment post-retirement. The last thing that our older investors will get is financial worries, as each scheme has been carefully designed to make it risk-free. At the same time, the government is also doing its best to provide these schemes digitally, so that these products can be availed even during the health crisis like COVID-19. With the digital transformation happening in the country, the retirees have a good choice to include the best products into their investment portfolio.