Someone very rightly said, "Raising a child is no child's play". Probably they were referring to the rising costs of education. Do you know, in 2017 IITs increased their undergraduate education fees from Rs 90,000/- p.a. to Rs 2,00,000/- p.a.
Similarly, for the class of 2018, the fee for the flagship two-year diploma program of IIM-Ahmedabad was Rs 19.5 lakh. This is 400% more than what the B-school charged in 2007. If the fees of the management course continue to rise by 20% every year, it would touch Rs 95 lakh by 2025.
Also, these are the costs that you pay on getting admission to the desired vocation/stream. But to get admission for these coveted seats, the coaching begins much in advance. Parents these days are sending their kids for engineering and medical entrance coaching from age 13-14 itself to give them the extra edge needed to fight the intense competition. Coaching classes charge around Rs 80,000-1,00,000/- per year. Interestingly, sometimes the cost of coaching exceeds the fees of the actual course.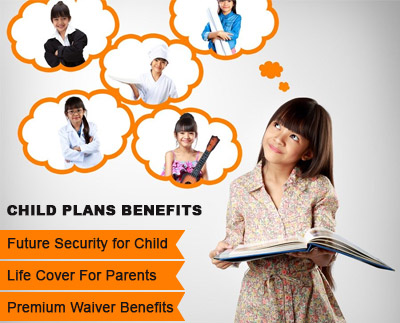 As parents, we seek the best for our children and do not wish to see their dreams get derailed in any way. However, we need to be realistic and realize that fulfilling the dreams and aspirations of our child can be a very expensive affair.
As per the data compiled by the Indian Banks' Association (IBA), the total outstanding education loan at the end of fiscal 2016-17 was Rs 67,678.5 crore. Though these figures are holistic, they may also indicate that most parents have not planned early for their child's education and found themselves short of savings in the face of rising inflation leading to the decision to take a loan.
So, the key lies in planning from the earliest to make your child's dream into a reality, preferably from the child's infancy. And how can we do this? Probably a child plan may be the answer.
What Is a Child Plan?
A child plan is a life insurance cum investment plan which helps a parent to specifically plan and earmark funds for his child's future be it higher education, setting up own business or marriage expenses. A child plan comes in two variants i.e a traditional life insurance plan or a ULIP.
Traditional plans also offer terminal, interim and reversionary bonuses (varies from company to company and product specifications) which can help you accumulate a tidy sum for your child's future. The Long-term capital gains tax on equity investments made through mutual funds or directly have made ULIPs attractive for long term wealth generation. ULIPs also allows you to choose and switch between investment funds as per your risk profile and market conditions.
What Are The Salient Features of a Child Plan?
Flexibility to choose policy term and payment period per your goals.
Facility to avail periodic payments at pre-defined intervals to meet the various milestones in the child's life such as higher education fees, hostel fees, coaching class fees, etc.
Most plans offer an in-built waiver of premium (WOP) option whereby in case of death of the life insured parent during the policy tenure, all future premiums are waived off (the premiums are paid by the insurance company) and the policy continues as per the original terms and conditions. All benefits are paid as and when they fall due. In short, WOP ensures that even in the absence of the breadwinner parent, the child's future is not compromised due to a shortage of funds.
Payment of a lump sum amount or the sum assured in case of death of the life insured parent during the policy tenure.
The premium paid for a child plan is eligible for tax deduction under Section 80C, while any income from the plan is tax-free under Section 10 (10D) (as per current tax rules). 
Let's understand with an illustration:
Dr. Rajeev Sharma is a 35-year old general surgeon. He wants his daughter Riya who is 3 years old to follow in his footsteps. Hence, he has bought a traditional child insurance plan for a tenure of 15 years with a premium payment period as 10 years and a sum assured on the maturity of Rs 5 lakhs.
The plan has an in-built WOP option and he has chosen to receive policy payouts (15% of the sum assured guaranteed at maturity) every year from Riya's attaining age of 13 so that she can go for the best in class coaching needed to crack the medical entrance. These payouts will continue till Riya attains18 years of age and are ready to get into medical college.
At the maturity of the policy, Rajeev will get the balance payout (40% of the sum assured plus guaranteed additions plus bonuses) which he can use to pay the college fees.
However, at the age of 40, Dr. Rajeev died in a road accident. As per the terms of the policy, Dr. Rajeev's family was paid a lump sum death benefit immediately. The WOP option came into effect and future premiums were waived off. The payouts planned by Dr. Rajeev at periodic intervals were paid as and when due and his dream for his child continued uninterrupted even in his absence.
A tabular representation of this is as under:
Policy starts – 1st year

Annual premium Rs 78,720/- paid by Dr. Rajeev

2nd year

Annual premium Rs 78,720/- paid by Dr. Rajeev

3rd year

Annual premium Rs 78,720/- paid by Dr. Rajeev

4th year

Annual premium Rs 78,720/- paid by Dr. Rajeev

5TH year

Annual premium Rs 78,720/- paid by Dr. Rajeev

Dr. Rajeev dies in a road accident. The insurance company pays a lump sum guaranteed death benefit of Rs 7,87,200/- to the family immediately.




| | |
| --- | --- |
| From 6th year onwards | All future premiums waived off (Rs 3,93,600/- worth premiums waived off) |
| 10th year | 15% of sum assured i.e Rs 75,000/- paid as per option is chosen by Rajeev. Riya is 13 now and this can be used to fund the cost of coaching needed to crack the entrance exams. |
| 11th year | 15% of sum assured paid – Rs 75,000/- |
| 12th year | 15% of sum assured paid – Rs 75,000/- |
| 13th year | 15% of sum assured paid – Rs 75,000/- |
| 14th year | 15% of sum assured paid – Rs 75,000/- |
| 15th year | Payout at maturity – 40% of sum assured (Rs 2,75,000/-) + bonuses |
How A Child Plan Scores Over a Mutual Fund?
You will be wondering why not just invest in a mutual fund for the child's future. After all, isn't this what most financial experts suggest. We all have read about how mutual funds are the vehicles for growth and investments and insurance policies for Life insurance coverage and nothing else.
However, in the following ways a child plan is superior to a mutual fund:
Waiver of premium: The gamechanger in a child plan is the waiver of premium feature which does not exist in mutual funds. Future premiums are waived off and the policy continues uninterrupted. The benefits are delivered to the child during maturity or during critical milestones as opted for while buying the policy. Thus, with a child's plan, the parent can secure his child's future irrespective of whether he/she is present or not.
Death Benefit: In case of death of the life insured parent, the sum assured is immediately paid off and the policy continues. This lump sum amount can be used by the family to meet their emergency expenses or any other need while the policy continues unaffected. In case of a mutual fund, on the death of the breadwinning the parent, the SIPs may not be continued and the child's future may get jeopardized. The accumulated corpus may be withdrawn by the family and used for any purpose or short-term goals and not kept exclusively for the child's future.
Market volatility: It is a fact that many mutual fund investors especially first-timers are not comfortable with market ups and downs. Many investors get unnerved when the markets turn volatile and may redeem their investments or stop further investments/SIPs in mutual funds thereby denting the chances of creating an attractive corpus for their child's future. Child plans being insurance plans have lock-in periods which minimize the risk of premature withdrawals and help in disciplined and regular savings for the child's future.
Conclusion
Today's kids know from an early age what they want to do or become thanks to the exposure to the internet and other social media. As parents, we must help them realize their potential to the fullest by mentoring them and also planning for the monetary resources needed to achieve their goals. For the monetary part, a child plan may be the answer that you are seeking. Do plan for your child's future today, someone has rightly said, 'A good plan today is better than a perfect plan tomorrow.