Creating financial security is the foremost goal that each of us needs to have during these difficult times. Unfortunate events are on the rise, and we need a cover that protects us at every stage of our life.
Whether we have recently graduated, newly married, or a young parent, we all need to structure our finances to include a term insurance policy that not only provides financial stability, but covers us and our loved ones from diseases, accidents, and other unforeseen events.
We are all living in an age of the great paradigm shift, where generating wealth out of insurance plans is becoming the new normal. The best way to generate financial returns is to combine a term insurance policy with a ULIP plan. Let us first understand what ULIP is and how it helps us. 
How ULIP's Benefit You?
Although term insurance does provide the requisite financial cover that we need, we do have better alternative ways to gain returns from the money we have paid for the insurance cover. This is accomplished through Unit Linked Insurance Plans (ULIP) that offers a combination of investment and insurance. As tax planners, we need to ensure that we invest in well-planning investment options to ensure that a major part of our salary goes into investment. As a single integrated plan, you get to reap the benefits of investing in capital markets that generate handsome returns over a period of time, albeit the risk factors.
To give the needed boost to your goal-based financial planning, we recommend that you combine the benefits of term insurance and a ULIP. What benefits can you accrue from such a combo plan?
ULIP + Term Plan Combo Benefits
Term Plans give you adequate risk cover with no returns, while a ULIP does give you adequate returns, but the risk cover may not suffice for the future needs of your family. The highlight of a Term + ULIP combo plan is that it provides the following three benefits in one integrated plan:
Adequate Risk Cover
Good Returns
Tax Savings
Let's understand each benefit in detail.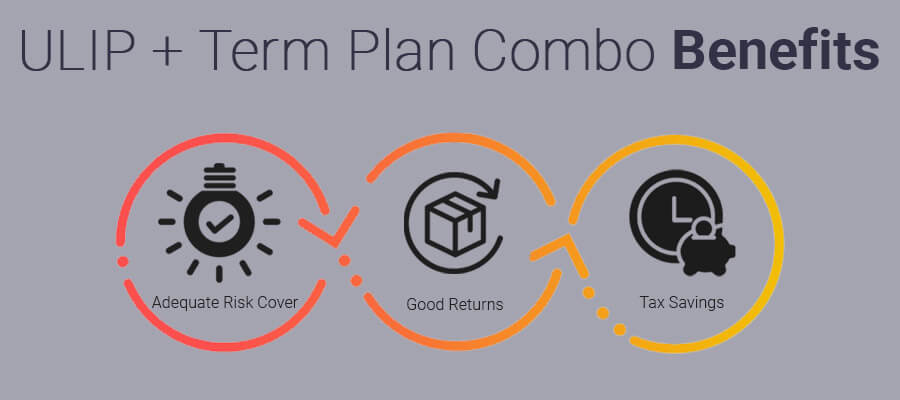 Adequate Risk Cover
Term Insurance plans have the uniqueness of being the simplest form of pure insurance where you get the best cover at affordable premiums. As pure protection plans, their premiums are much lower than traditional life insurance plans, and hence having a term plan in the combo provides the best risk cover out there in the market.
Good Returns
While the term plan plays its part in the combo, the ULIP plan helps in taking care of the returns factor. Since a risk cover is provided by investing an amount in the term plan, the rest of the premium can be invested in various fund options available in the market. For e.g. the insurer will choose the best investment strategy and park the funds in the well-performing money market, equity-oriented, or debt funds. Since your premiums are invested in market-linked funds for a longer period of time, you get to earn good potential returns, including the possibility of a windfall on your investment.
Another aspect of this combo is that depending upon your needs and the market performance, you can switch between investment funds. As an investor, you even get the option to invest in high, medium, and low-risk investments, thus letting you decide your potential returns. In the case of better investment opportunities, you also have the flexibility of increasing your investment portfolio by doing additional top-ups. You are not exposed to the risks associated with the stock market, as a dedicated fund manager will work with your portfolio to ensure that you get the highest returns.
Tax Savings
Under Section 80C of the Income Tax Act, 1961, you are eligible to get tax benefits on the premiums that you pay for your term plan and ULIP combo. With ULIPs, under Section 80C, you get tax benefits on the premium that is paid, and under Section 10 (10D), you get a benefit of a tax-free maturity amount. Additionally, according to the 2018 Union Government directives, ULIP's have been exempted from the Long Term Capital Gains (LTCG) Tax too.
Illustration
Let's understand the benefits of the combo plan using an illustration.
Mr. Suresh, a 30-year-old strategic investor, has decided to invest an amount of Rs. 1,50,000 into a term plus ULIP combo plan for a period of 20 years. He decides on a combo plan where Rs. 18,000 is invested yearly as a premium for a term plan and the remaining Rs. 1,32,000 is parked in a ULIP plan.
Under the term plan, an annual premium of Rs. 18,000 will give Suresh and his family a risk cover of Rs. 2 crores. At the same time, the annual investment of Rs. 1,32,000 in the ULIP will give an inflation-free return of more than Rs. 51,00,000 at the assumed rate of 6% for 20 years. As we discussed, the benefits will be higher if the investment fund performs well. All the more, with the premiums paid, Suresh also gets to save Rs. 45,000 annually as tax benefits.
To sum up, these are the cumulative benefits for Suresh:
| | | |
| --- | --- | --- |
| CATEGORY | TOTAL INVESTMENT (20 years) | BENEFITS |
| Term Insurance | Rs. 3,60,000 | 2 Crore Risk Cover* |
| ULIP | Rs. 26,40,000 | Rs. 51 Lakhs* |
| Tax Savings | - | Rs. 9 Lakhs |
*Approximate values
As we discussed, a term + ULIP combo helps mitigate losses arising out of unfortunate events and generates long term wealth for the strategic investor. Policyx.com will be happy to provide you with a strategic term + ULIP combo that provides the necessary financial safety and security that you and your family need during these perilous times.