Are you looking at putting in your hard-earned money in an investment plan but still confused about which one to buy? Are you aware of all the investment options that are currently available in the market?
Usually, when an investment is done for more than 5-6 years or even more than 10-15 years,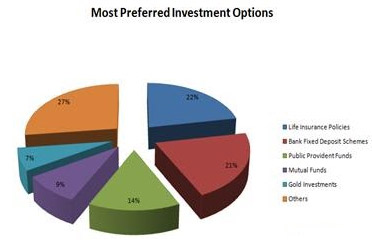 it is called a long term investment. Whereas short-term investments are used to protect capital, they provide a low return, but access to the capital is easy. Short-term investments usually have a life of three years.
Investing refers to committing money to a financial asset that includes stock, bonds, mutual funds or endeavor with a hope that it will repay a sum of money that would be greater than what you can earn with any other option. Let us take an example to understand it properly.
For example: If you have saved Rs. 2000 and want to invest the same for a better income, before making an investment you have to select an investment option; you can invest it in the bank that will provide some interest on it or invest it in your friend's rental-property business for a share of profit and you can also invest it by purchasing the stock of a publicly traded corporation. In each of the scenarios, you would be expecting to gain a profit.
When a person starts saving money for his/her child's education expenses, marriage, etc. that comes under long term investment. One can select from a broad range of such investment options as per the risk-bearing ability.
Being a long term investor has its pros and cons, as these types of investments need strong commitment and patience as well. Before you select a long term investment option, you should always set aside a definite amount for some urgent crisis that may bring any type of financial problem.
Investing is just a way to secure the future. Someone has wisely said "Investment is an act of investing money to earn the profit. It is the first step towards the future security of your money."
Important: ULIP vs Mutual Funds – Which is Best For You
Why Do You Need To Invest?
A question that arises quite frequently is why do people invest? Maybe it is required for financial security. Then the other question that arises is; what is the best way to get complete financial security? According to several experts in the field, the best answer to this question is to have financial stability in the future and that can be done only when a person saves and invests for a long period.
Typically, people think that for gaining more money, they need to work more. But what will you do with the money if you do not get sufficient time to enjoy the same. You can't work every minute just to earn more, but you can do the same by choosing the right investment option that will maximize the earning potential.
If you have invested your money wisely and properly, then it will help you in the future. Most of the time, people think of investment but they do not put the same into action. Nowadays, every person must plan to invest or try to keep some money aside for a secure future. We all know that the future is uncertain and it is necessary to invest some money wisely that will help in avoiding the financial crises in the future easily. It will help you in securing your future properly. Apart from securing your future, it also controls the spending pattern.
There are several short terms and long term investment options available in the market such as mutual funds, PPF, bonds stocks and much more. You can choose the desired one that suits your requirements easily. When you hear about the investment the first two things that come to your mind are the risks and returns. This is because the whole concept of investment depends on them.
In today's world, there are a few people who take investment as gambling, but these two terms have a lot of differences between them.
Gambling is putting your amount at risk by betting on a doubtful outcome. This game is all about hope that you might win the money. But investing is not like this. There is indeed a risk in investment options as well, but there is a security of getting a particular amount of money after the prescribed period.
Types of Investments
Let's take a look at some of the most popular forms of investment options in India that you can choose from as and when you plan to invest.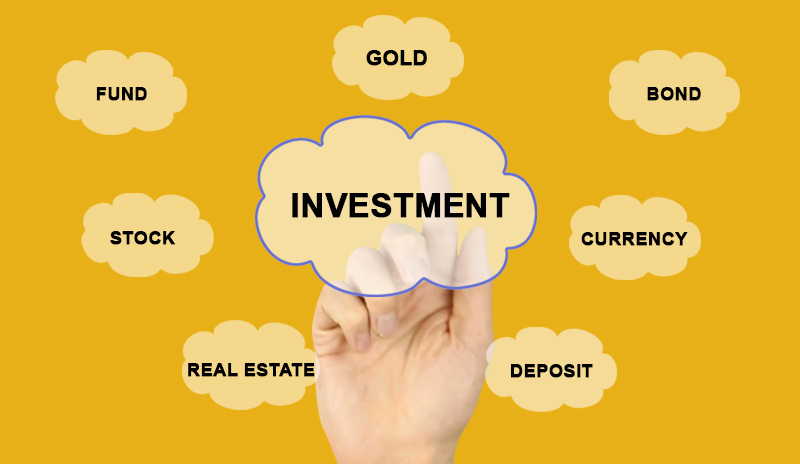 Mutual Funds: It is a form of managed investment fund wherein the money is pulled from the investors to purchase the securities.
PPF: Public Provident Fund (PPF) scheme is a well-known long term investment option that is backed by the government of India which provides safety with smart interest rates and returns that are fully exempted from Tax. Under this, you can invest a minimum of 500 to a maximum of Rs. 1,50,000 in one fiscal year and can get several facilities.
Stock Market: It is one of the places where several people trade globally and earn a lot of return on their investment. Under this, it is essential to know about the concept of the stock market such and bull and bear for a wise investment. It also includes the equity market and the nifty market. However, it is extremely volatile.
Bonds: One of the best ways to earn huge interest on your investment. It is upon the contract that how much interest you will get and the period as well. Under bonds, a holder lends a definite amount to the borrower for a fixed period. After completion of the given time phase, the borrower will return your money and interest as well. It is one of the best long-term financial tools.
Real Estate: You can also invest your hard-earned money in the real estate and deal with the housing and commercial property. It is one of the most popular ways to earn huge interest on the principal amount.
Nowadays, several financial plans, funds are available in the market that provides multiple options for investment but it is important to select the options wisely.
Also Read: What is Service Tax And Why You Should Care About It?
5 Best Investment Options In India
Among all the investment options that are available in the market, we have picked up the 5 best options for you that will assist you in choosing the appropriate plan for yourself.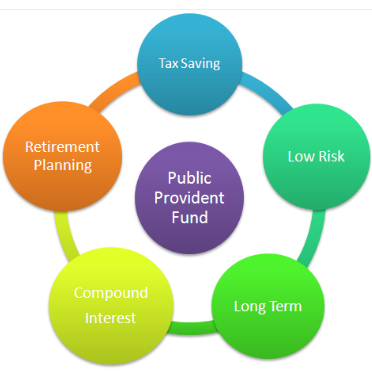 1. Public Provident Fund (PPF)
Well, if you own a small business or belong to the salaried class you should not waste your time in any other investment option. You should consider the PPF as your first choice. Usually, the public provident fund provides around 99% security being operated by the government. The major benefits that you will get on investing in PPF are:
You can start investing from Rs.500 that is the minimum investment in PPF and a maximum investment of Rs.1, 50,000.
The interest that you will get under this investment option will be tax-free.
Provides the best interest among other options, that is 8.7% p.a in 2014
It is free from loan sharks, creditors, and court attachments.
2. National Savings Certificate (NSC)
NSC or National Savings Certificate is one of the most popular choices among rural Indians. Under this investment option, the minimum investment is Rs. 100 and a person has to select a period of 5 or 10-year period. The current interest rate that this insurance plan offers is 8.5% for 5 years and 8.8% for 10 years. As per section 80TTA, the tax benefits of interest are removed from NSC. That's why PPF is slightly better than the NSC.
3. Money Market Funds
Money Market Funds are short-term investment options. These funds are also very popularly known as the Liquid funds. As the name suggests, liquidity is the main motto. As compared to a savings account, this form of investment offers slightly better returns. The returns range from 5.5 to 9% based on the period and risk category. Normally, the liquid funds are safe investment options as they invest in fixed income securities. It is one of the largest parts of the mutual fund industry. In India, there are several options to invest in money market funds.
4. ELSS Plans(Equity Linked Saving Schemes)
This investment option belongs to the mutual funds class. Under this, you will be liable to receive tax benefits. Most Indians are not aware of this effective investment option. It is one of the simplest products to get exposure to tax benefits under Sec 80C and equity as well. There is comparatively lesser risk in ELSS. It has only a 3-year lock-in period which is shorter as compared to other 80C investments. In the last 5 years, ELSS funds have an average of 18% p.a. returns. The DTC draft has a plan to take away ELSS from the 80C bracket.
5. Direct Equity/Stock Investments
If you do not like to invest your hard-earned money in mutual funds, then you must consider direct equity. Under this, you can directly purchase the stock of companies with a hope that it will do well in the future. If you choose the appropriate equity stocks, then the chances of higher returns are great. Most of the billionaires in today's world preferred to purchase stocks or invest in real estate for good returns. If you want to become rich, then you should add high-quality stocks and real estate in your investment portfolio. You don't need to rely on Indian equity only as under this you can purchase shares in the US and other countries as well.
Apart from these investment options, there are many more options where you can invest easily such as real estate, corporate deposits, gold/commodity investments, FDs, Ulips and many more that can provide good returns on your investment. So choose your investment option smartly to gain more in the future.