Insurance is the demand of the day. In this uncertain life and an unhealthy lifestyle, every individual must have life insurance. This shield acts as a support system and provides mental satisfaction to the policyholder for the beneficiary.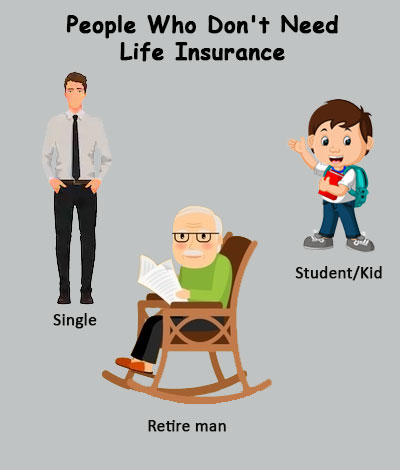 But, exceptions are always there and here we have got three of the exceptions who do not need to have life insurance. Before that let me tell you about life insurance.
What Is Life Insurance?
Life insurance pays out an amount of money either on death or on survival subjected to the terms and conditions and type of the policy one has bought. Life insurance policy is necessary as it provides coverage and after death benefits to the people left behind. Life insurance is beneficial to the "left behind family". 
So, here are the three exceptions with justified reasoning for your better understanding of why these three don't need life insurance and you can also check if you fall into that category:
1. Life Insurance For Single Person
A person who is single and has no dependencies is free not to buy a life insurance policy. The life insurance policy is beneficial to the left behinds and a person without parents, wife, and children will not be able to utilize them.
A single person is a free and independent being and he does not require to take the stress of premium payments. But exceptions are always there in case s/he changes her/his mind. Here are a few of them:
Exception
Plans under life insurance plans like endowment plan and money back plan can prove beneficial as it is functioning both in case of survival and death.
In case the person is planning to get married and have a family.
Or a person plans to adopt a child and make him the beneficiary/nominee.
2. Life Insurance For Retired Men
The premiums of life insurance are higher at a later age. So, it is not at all reasonable to pay large premiums when a person is retired. And in case s/he is about to get retirement then the heavy premiums can be a burden to her/him.
Moreover, in old age the health issues are frequent and it takes lots of money to get oneself treated in the present metropolitan world. So, it is better not to invest in a life insurance policy at a later age.
The last phase of life is to remember the passed on sweet memories of life and cherish the beauty of family. Stay stress-free and enjoy the children's company.
Types Of Insurance You Need In Your 20s, 30s, And 40s
3. Life Insurance For Student/Children
The students and children are the most protected being of the family and its not logical to get their life insured. If we consider in general, hardly any life-threatening thing can happen to children or college going students as Parents Are Shield To Kids And College-Going Children
In the worst-case diseases can attack them as they are free and open to nature while they are playing. In such a situation health insurance is the best option. If the child is limited from playing with the threat of life then the growth of the child will be obstructed.
Conclusion
There are numerous unfold surprises in life and it can be positive as well as negative. One should be prepared for all types of challenges that are to come in life and insurance helps us in doing so. But if the insurance is not advantageous for the person then it is useless to spend money on that and take the stress of paying the premiums timely.
Term Insurance: Online vs. Offline