Generation X also called millennials (born between 1981-1996) are often confused about how to spend their excess Income. They are either busy partying, traveling or investing in a start-up with their hard-earned money.
With huge risk appetite, they often land up in some financial issues which they later repent. One of the basic investments that they often neglect is buying a good term plan. At times they may not be aware of the fact that if they invest at this age they may get the lowest cost of the premium. As compared to the investment amount, the risk covered is exponential.
Investment plans like term cover the entire risk of the life of the policyholder. In the case of the death of the insured, his beneficiary gets the entire claim. In most of the cases, the nominee of the policyholder is their spouse or close family member. The benefits of policyholder survival can also be availed in some specific plans.
Financial Risks of Millennials
Lack of Financial Planning
Millennials are most careless in planning their finances. Because of this lack of planning they get into financial crises often. This happens mainly because this generation is in the habit of spending more and saving less. This kind of casual behavior may prove out to be quiet risky.
No Savings
Every individual must save at least 10-20% of their Income for managing any future urgencies. Often the need for saving is understood when people face a crisis. It's always better to invest young to manage any kind of risk.
Taking unsuitable plans
People tend to take unsuitable policies because of a lack of awareness of the right ones. They must always try to make an informed decision. It can be possible by acquiring knowledge of all the policies.
Wastage of Money
The worst case is when people are not aware of what to do with their money. Their hard-earned money either lie lazily in the banks or get wasted elsewhere. A right investment strategy can always come to their rescue. This habit is more common in the millennials.
Why Should You Choose Term Plan?
Life cover
The best advantage of the term plan is it covers the risk of life. You can always secure your family with this plan. In case something happens to you, your beneficiary gets the amount according to the sum insured.
Rider Benefits
Along with the investment in the term plans, there are lots of additional riders that can be taken. These riders cover risk besides death. Some of them are related to accidental disability or critical illnesses. By paying just a nominal amount we can cover more risk through these riders.
Higher Return on Investment
The term Insurance plan offers a much more Sum Insured amount than the Investment. Sum Insured is the amount that a claimant gets at the time of the death of the policyholder. With the minimal investment of just 10-20% of their salary, they can get 25-30% of the coverage.
Buying Flexibility
Term plans can be easily brought through online marketplaces. With the ease of online payments, the policy can be received within a few minutes. There are many channels of buying on online platforms. Most preferred out of all is the online comparison sites often referred to as web aggregators.
Minimum Investment
Term Investment is the lowest investment, to begin with. You can start at as low as Rs.10 per day. Younger you are lower you need to pay. This is a basic investment that is available at a very low cost.
Benefits of Investing Young
The best usage where your funds can be used is in Investment that can cover life risks with the best sum insured amount. Term plans are usually the best platform anyone can invest in. It starts with low investment but can give high coverage. There are many added advantages an individual may get while investing in such plans, few of them are as follows.
Low Cost of The Premium
Younger you invest, lesser is the cost of the premium. This is because young people have a high life expectancy. They got a low risk of life, because of this there cost of the premium is less. Within the age gap of millennials also the amount of premium differs, as can be seen from the case below.
Case Study: Four friends, all millennials with the age of 25 years, 30 years, 32 years & 37 years plans to buy the insurance cover with the sum insured of Rs. 50 lacs. They all are non-smokers but the amount of premium they end up paying differs because of the difference in their age. Their amount of premium with one of the leading insurance firms is demonstrated in the table and chart below.
| | | |
| --- | --- | --- |
| Sno | Age of person | Monthly Amount of premium |
| 1. | 25 years | Rs. 435 |
| 2. | 30 years | Rs. 474 |
| 3. | 32 years | Rs. 537 |
| 4. | 37 years | Rs. 657 |
Illustration: Age vs. Amount of Premium- Comparison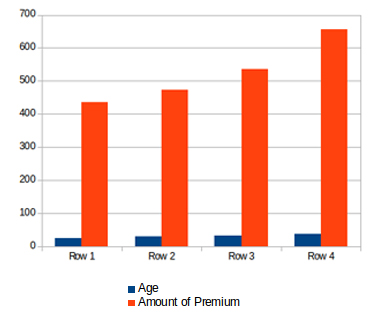 Higher Policy Tenure
All the policies terminate after a certain age irrespective of when you start. The tenure of policy varies between 60 to 75 years. Someone starting any policy at the age of 25 years, can continue policy until 35 years, as it expires as someone turns 60. During this period if any eventuality like death or accident happens can be covered easily. People with higher age will have less tenure for policy.
Better Sum Insured
If you start young you can also try to get the best coverage. The amount of premium will also be relatively less.
Tax Savings
According to section 80 c & d, the amount invested in term plans can be saved from taxes. By such investments, we are not only saving the taxes but utilizing this amount for our betterment.
Leading Insurance Companies & Plans
| | | |
| --- | --- | --- |
| Sno | Term Insurance Player | Plans |
| 1. | ICICI Prudential Life Insurance | |
| 2. | SBI Life Term Insurance | |
| 3. | PNB Metlife | Mera Term plan |
| 4. | Aditya Birla Capital | Digishield plan |
| 5. | Max Life Insurance | Term Plan |
| 6. | Bharti Axa Life | Online Protect |
| 7. | HDFC Life | |
| 8. | LIC | |
| 9. | Aegon Religare | iterm |
| 10. | Tata Sampoorna | iRaksha |
How To Choose The Best Plan for Yourself?
Checking Premium Through Online Calculators: The best way to choose a good plan is by visiting any of the online comparison sites. They got efficient online calculators using specialized algorithms that can provide the desired quote. It can be easily used by entering a few details. Some of the details it needs are.
Your Age
Smoking Habits
Your City
Gender
After entering all these details you can easily get quotes from all the leading players. You can choose the plan as per your suitability.
Comparative Analysis: These policies can be easily compared online by checking all their features. Comparison helps in taking an informed decision.
Setting up The Financial Goals: Once we are clear about our financial goals its easier to choose the investment plan . We can select the policy that meets our financial needs.
Choosing The Policy Term: Policy term varies from 5 to 40 years. We can choose the plan as per our requirements. Some Insurance policies provide lesser policy terms, some higher. We can choose a plan that suits us.
Selecting The Suitable Plan: You can always select the plans as per your specific needs. All the leading players got more than one plan to choose from. The plan is designed as per our specific needs and requirements.
The flexibility of Payments: We can also select the policy that provides maximum flexibility in the payments. Many policies provide the ease of payment in months, quarters, bi-annually and annually. We can choose the term insurance players that offer maximum flexibility. It can help you pay the premium as per your convenience.
If you are millennium and planning to invest this is the right time.