Rajesh had recently embarked on his dream entrepreneurial venture. He had pooled in all his savings and taken a few loans from family and friends for his business. He was happy with the way the venture was shaping up and was working hard to establish his business.
However, tragedy struck and Rajesh met an untimely demise in an accident. His family comprising of aged parents, wife and two kids aged six and four were grief-stricken and inconsolable.
Coming to terms with their new reality, the family took stock of their finances to find a couple of lakhs in a fixed deposit, some money in PPF and two traditional Life Insurance policies with a cumulative sum assured of rupees twenty lakhs. They stared at a bleak future with loans to pay off, aged parents needing medical attention and young kids whose future appeared to be in peril.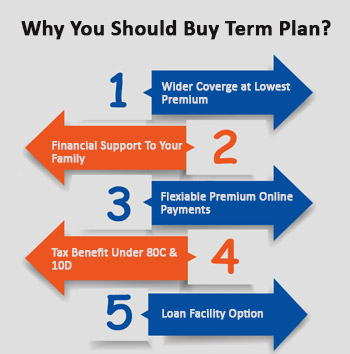 Rajesh was a loving family man who wanted to give his family the best. However, he went wrong in not planning for his family's financial security should he not be around to protect them. The saddest part is that he could have easily secured their future by buying a term life insurance plan. Rajesh's is not an isolated case. Most of us confuse insurance and savings and end up buying products that tilt more towards the savings aspect and offer inadequate insurance coverage.
As per a survey published in ET Wealth (Feb 25-Mar 3, 2019), only 47% of the survey respondents were aware of term plans and only 21% had purchased one. It further stated that Bengaluru and Pune, which have a high % of millennials and educated professionals were among the lowest scorers.
Thus, the time is now ripe to gather information about a term plan and more importantly buy one:
What Is A Term Plan?
This is the simplest and purest form of life insurance. It provides high life insurance coverage at very low premium rates. In case of death of the life insured during the plan tenure, the sum assured (coverage amount) is paid to the nominee. If the life insured survives the plan tenure, the plan ceases and no amount is payable. There is no surrender benefit and maturity benefit. It is a no-frills product, easy to understand and offers only insurance cover. There is no investment or savings option linked to this.
The table below depicts the life insurance premium for 1 crore online term plan cover for a non-smoker male in different age bands.
| | | | | |
| --- | --- | --- | --- | --- |
| Age of the buyer | 25 years | 35 years | 45 years | 55 years |
| Tenure of plan | 40 years | 30 years | 20 years | 10 years |
| Annual premium | Rs 7,670/- | Rs 11,564/- | Rs 19,824/- | Rs 34,810/- |
| Monthly premium | Rs 675/- | Rs 1,018/- | Rs 1,745/- | Rs 3,063/- |
You can see how a 25-year old non-smoker male can get a cover of Rs 1 crore for as low as Rs 675/- monthly. Also, another advantage that a term plan offers is that it follows the concept of level premium meaning that the premium amount remains constant throughout the tenure of the policy and does not increase with age (except for GST changes and in case the policy lapses, during revival process, premiums may be hiked due to adverse health issues, etc).
Buying at a lower age offers you the benefit of lower premiums throughout the tenure. You can see in the table that when the term plan is purchased at age 25, the annual premium is Rs 7,670/- for a tenure of 40 years whereas when it is bought at age 55, the annual premium gets pumped up to Rs 34,810/- for a tenure of 10 years!
Points To Keep in Mind While Buying a Term Plan
Sufficient Insurance Coverage: Only buying a term plan is not enough. The sum assured should factor in the outstanding liabilities, inflation and future goals of the family. The thumb rule is to opt for a cover which is 10 times your annual income. Choosing a lower coverage amount to reduce premiums may result in you being underinsured and defeats the purpose of insurance.
Tenure of The Plan: The purpose of term insurance is to make good the financial loss incurred by the loved ones in case the breadwinner dies during the earning years. Hence, please make sure you choose a plan that covers you for your entire working life. If you simply opt for 15-20 years without considering your retirement age, you may find yourself in a situation where your policy has ceased in your 50s when you need it the most. At this advanced age, buying another plan may be very expensive due to the high age and also consider that your application for insurance can get declined in case you are suffering from some ailments.
Provide Accurate Details: An insurance contract is based on the principle of utmost good faith. The insurance policy is issued to you based on the responses provided by you in the application form. So the onus is on you to provide information that is accurate and to the best of your knowledge. Some of the questions may seem trivial to you and you may be tempted to say a yes or no without much thought. Here, please note that the response to every question is important for the insurer to determine the level of risk and the terms on which life insurance can be given to you.
For eg: A question related to your occupation helps the company to determine whether you are involved in a profession that has a high amount of risk. Working in an oil rig, as a train motorman etc are viewed as high-risk activities and high premium rates may apply for such applicants.
Incorrect information or deliberate misrepresentation/concealment of material facts etc can later return to haunt your nominee as the insurance company has a right to reject claims for policies that have been issued based on false/inaccurate information.
As per the prevailing law, for an early claim (early claim refers to a claim within three years of policy issuance or revival, whichever is later), if the insurance company is suspicious and can prove that the policy was issued based on false/inaccurate information or non-disclosure of material facts, then the claim request can be rejected.
Claim settlement ratio of the insurer: It is not wise to use lower premiums as a benchmark to choose an insurance company. A company that scores highly in terms of customer service and has a healthy record in terms of claim settlement should be considered. After all, what is the use of paying a couple of thousands less as premium in case the company has a poor claim settlement ratio and you are not sure whether your nominee will get the claim amount when you are gone? The website of the insurance regulator, IRDAI provides the claim settlement statistics of various life insurance companies. Do check the claim settlement ratio before choosing a life insurance company.
Conclusion
A term plan should be an important part of your financial planning process. Do not delay the decision to buy one in case you have dependents. Also, just like you review your other financial instruments regularly, you need to review the adequacy of your term plan cover from time to time especially during critical milestones such as marriage, the birth of the child, etc and enhance the coverage.