Optima Restore Individual Plan
Optima Restore Individual is the most suitable form of health plan that gives you restoration benefit when your sum insured get consumed fully or partly. Optima Restore not only gives you financial protection from minor to major illness but also provide you with health rewards for maintaining sound health throughout the policy tenure. With features like stay active benefit and multiplier benefit, makes Optima Restore health plan distinguishable from all the other health insurances.
Features of the Policy
| | |
| --- | --- |
| Sum Insured | Rs 3/ 5/ 10/ 15/ 20/ 25/ 50 lakhs |
| Age limit | 18 to 65 years for adults and 91 days to 25 years for dependent children |
| Lifelong Renewability | Lifetime |
| Tenure of the Policy | One/ Two years |
| Pre Policy Check-up | Required for 46 years and above/ taking 15 lakh or more as the sum insured |
| Sub-limits | No sub-limits on room and location for taking treatment at any network hospitals |
| Tax Benefits | Tax deduction while filing income tax on the annual salary under section 80 D of Income Tax Act due to the premium paid |
| Claim Settlement | 98% claim settlement ratio with regard to proper representation of documents. |
| Free Look Period | 15 days given to review the policy's terms and conditions |
| Portability | Available (transfer all your previous policy's accrued benefits to new optima restore individual) |
Optima Restore Individual Coverage Provided
Coverage Provided
Amount of Sum Insured
3 lakhs
5 lakhs
10 lakhs
15 lakhs
20/25/50 lakhs
In-Patient Treatment
Covered up to the amount of sum insured
Pre-Hospitalization
Up to 60 days
Post-Hospitalization
Up to 180 days
Domiciliary Hospitalisation
Covered up to the amount of sum insured
Day Care Procedure
140+ daycare treatments
Cashless treatment
Available at network hospitals
Ambulance Cover
Provided up to Rs 2000 per Hospitalisation for all types of sum insured
Room Rent
No Sub Limit
E-opinion on the investigation of critical illness
Can avail One time in a policy period
Air Ambulance
Not Covered
Not Covered
Minimum of 2.5 lakhs per Hospitalisation and the maximum should not exceed the amount of sum insured in a policy year.
Daily Cash limit on selecting shared rooms
Rs 800 per day and maximum up to Rs 4,800
Rs 1000 per day and maximum up to Rs 6,000
Pre-existing diseases
Covered after a waiting period of 36 months
Restoration of sum insured
100% reload of sum insured on complete or partial consumption due to claims.
Health check-up
Not Covered
Up to Rs 1500 once in every 2 years of the policy
Up to Rs 2000 once in every year of the policy
Up to Rs 4000 once in every year of the policy
Up to Rs 5000 once in every year of the policy
Multiplier Benefit
A minimum bonus addition of 50% to the sum insured on one claim free year and a maximum of 100%. The bonus received may subject to a reduction of 50%, if any claim is made in the succeeding year. While the basic sum insured will remain untouched.
Critical Advantage Rider
Not provided
Provided
Additional Coverage
Critical Advantage Rider
By choosing this additional cover, the insured can enjoy never-ending benefits attached. This cover gives you a treatment facility at network hospital present globally. In addition, it also gives coverage transportation expenses of insured and the attending member, accommodation expenses, post-hospitalization, and second opinion expenses. The illnesses covered under this rider are-
Cancer
Heart Valve Replacement/repair
Aorta Graft Surgery
Bone Marrow Transplant
Live Donor Organ Transplant
Neurosurgery
Pulmonary Artery
Coronary Artery by-pass Surgery
Benefits on Renewal
Stay Active Benefit - Optim Restore health plan enables the insured to gather health rewards in the shape of discounts. The simple requirement to avail this benefit is to walk as far as possible to gain a healthy body in complimentary to 8% discount on the premium paid on every renewal.
Preventive Health check-up - This benefit will permit you to keep an eye on the health record with the help of health check-ups. If the amount of sum insured is 5 lakhs, then you can avail this facility only once in every two years. However, if the sum insured is 10 lakhs or more, then the check-up limit is once every year.
Multiplier Benefit - Lets takes an example of Sheela who took Optima Restore individual plan for Rs 5 lakhs wherein the first year she didn't apply for any claim. Consequently, the insurance provider increased her basic sum insured of Rs 5 lakhs by 50% i.e. 7.5 lakhs. In the second year, the sum insured amount will be 7.5 lakhs while the premium paid will be on 5 lakh sum insured.
Exclusions
Injuries due to war, nuclear and chemical weapons, radioactivities, criminal act, suicide, adventure sports, participation in military or naval force.
Treatment of obesity, dental problems, mental disorder, genetic disorders, abnormalities, congenital illness.
Treatment of infertility, birth control, vicarious pregnancy, circumcision
Cosmetic or plastic surgery, burns, correction of refractive error
HIV/AIDS, sterility or illness due to excessive incorporation of hallucinogenic substance(alcohol or drugs).
Non-Allopathic treatment or Ayush treatment
Illustration of the Plan
Here is the presentation of premium paid annually based on the age and sum insured value of the policyholder. The premium may change with regard to any medical conditions like pre-existing illness, smoking or drinking habits, and other illnesses. In the graph given below, it is assumed that the individual has no smoking habits and no pre-existing disease.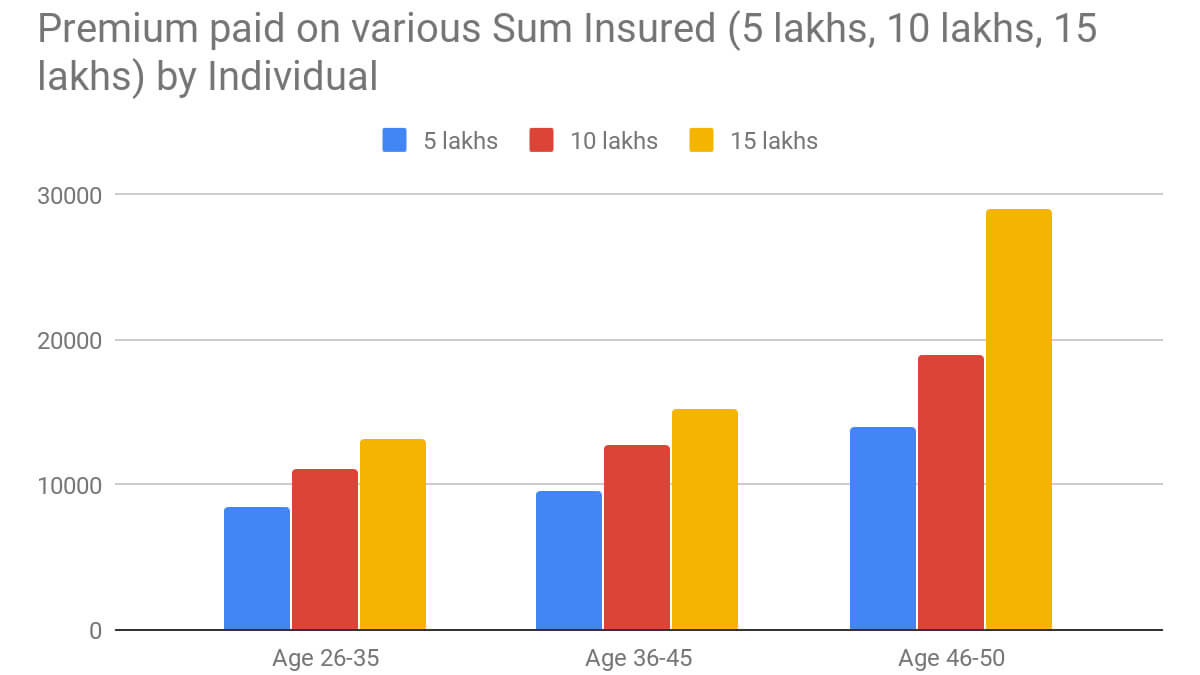 About The Company
HDFC Ergo Health was formed with joint cooperation between two health leaders HDFC Ltd. and Munich Health. They conglomerated to bestow unprecedented health insurance services to individuals and their family.
HDFC ERGO Health Insurance (formerly known as Apollo Munich Health Insurance) keeps on launching new plans into the health insurance market like Optima Restore, Optima Vital, Easy health, Health Wallet etc.
The company also deals in travel insurance and individual personal Accident.