The medical expenses are extraordinarily high in India and a comprehensive insurance policy is the best way to tackle the problem of rising prices. As a result of the assorted means of advertising, you're currently quite aware of the numerous health insurers in operation in India.
 However, your mind gets clouded with confusion once you encounter a variety of insurance policies. To assist you in choosing one, here are some straightforward steps to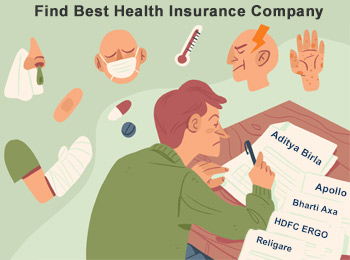 assist you in opting for the correct insurance set up.
1. Company
In India, over 25 health insurance companies provide insurance plans. All these companies aren't equal in terms of services offered to policyholders. So, you must take the time to look through the different insurance companies on various parameters like company background, claim settlement ratio and claim method before jumping on a health policy hurriedly. It is invariably better to pick a supplier that operates solely in insurance space like Star Health, Religare and Apollo Munich.
2. Type of Policy
While shopping for a health cover you've got to pick the correct category. The choice of the correct type of health policy depends mostly on your legal status. Just in case you're single, personal health policy can fulfill your desires. If you are married and have children, your best bet could be a family floater health insurance policy that offers coverage to your spouse, youngsters and yourself. Just in case you are craving for a health plan for your folks who are over sixty years, you must ideally opt for elderly insurance set up.
Sum insured quantity ought to be determined by the town of residence of the policyholders and the chosen health set up. If you live in Tier-1 cities like Delhi, Mumbai, Madras to name a few, the insurance would be costlier as compared to tier-II cities. Hence you should go for cover accordingly.
3. Premium
Your focus should be to go for the most affordable health policy with the least amount of unessential features. You would not like to pay extra premiums for features that are of no use to you but at the same time you would not like to miss out on features that you know are an essential part of a policy. Therefore, a health insurance policy within the mid-range with wide coverage ought to be the best.
4. A network of Cashless Hospital
You've got to have a detailed eye on the hospital network of all the important insurance providers to find the best out of them with the most number of hospitals with a cashless facility. Owing to fund crunch, one might not be able to avail of top-class medical services. The cashless facility saves one from the pain of collating and submitting all the documents and follow up for compensation.
5. Sub-Limit
Usually, sub-limits are applied on doctor's fees, room rent, etc. If you avail of health policy with the sub-limit clause that says that per day room rent limit should not exceed 1-1.5 of the sum assured, it means that for a policy sum assured of Rs. 2lakh amount, room rent cannot exceed Rs.2000 per day. If it does then the difference you will have to pay from your own pocket. Hence, you must do some analysis and check out health plans with no sub-limit clause.
6. Co-Payment
Some insurance policies in India compel policyholders to pay a proportion of the doctor's bill. The proportion is applied for specific health set up and is pre-defined in the policy document. You must try and choose a health policy without the co-payment option so that you are not compelled to pay something at the time of claim settlement.
7. Renewal Age
Most policies come with a renewal age of up to seventy and eighty years. However, the possibility of falling sick will increase in older age. Since medical prices are higher for older individuals it's necessary to own a health cover that is having a feature of life long renewal.
8. Coverage of Pre and Post-Hospitalization Expenses
Different health plans offer different criteria for covering pre and post-hospitalization expenses. Most health insurance plans provide coverage for pre-hospitalization expenses for sixty days and post-hospitalization expenses for ninety days. Your focus should be on finding a health set up with most coverage for pre and post-hospitalization expenses.
9. Check Caps on Treatments
Apart from the sub-limits for specific medical expenses, insurance plans conjointly impose restrictions on days. In straightforward words, certain expenses like hospitalization, childcare treatments, etc are activated only after a pre-defined time period. Hence it makes sense to go for policies with the least amount of waiting period for these requirements.
10. No Claim Bonus
Most health insurers in India provide no claim bonus if you renew the policy with the same insurer while not going for any claim within the previous policy year. The benefit is transferred in the form of an increase in coverage amount for the next year of the policy.
 It is advisable to visit an online insurance web aggregator that offers free health insurance quotes and allows you to compare health plans from different best insurance companies to get the best one out of all.