According to a few studies done in the past, the medical inflation in India is around 17 percent annually, much above the general inflation level.
The huge strides taken in the field of medicine have made it possible to cure and control many diseases but for access to the latest technologies, one must pay a steep price.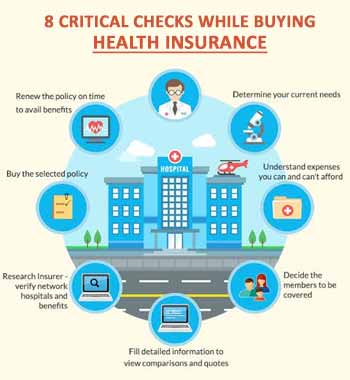 This is where a health insurance policy can be helpful.
However, many of us keep on postponing the buying process, probably because there are so many products in the market that, choosing the best suitable product becomes an overwhelming task especially when you are not sure of what features to look for in a product.
Many of us also buy health insurance for tax benefits without giving a thought on whether the chosen plan covers us optimally. Let us discuss below the important features/checks to look out for while buying health insurance.
Before moving on to the checklist, it is important that we are convinced that we need to have a separate health insurance cover even if we are covered by our employers. Many of us may feel why to spend unnecessarily when an employer given insurance cover is already in place. If you think so, please ponder over the following points.
Reasons to Buy Health Insurance Even When Employer's Insurance Cover is Present
Employer's cover is a perk: The insurance cover provided by your employer is a perk given to you and they can withdraw/alter the terms of it anytime without any legal consequences whatsoever.
Co-pay: In order to prevent indiscriminate and frivolous use, most employers today have introduced a co-pay option for group health insurance. Co-pay refers to paying a certain % of the bill by the insured.
Insufficient coverage: Sum assured or coverage offered by group health coverage is usually around 1 lakh - 3 lakhs. With double-digit medical inflation, this amount may not be sufficient to pay for critical diseases, certain procedures such as chemotherapy, angiography, angioplasty, major surgeries, etc.
Job Status: The group cover lasts till you are in the job. In recent times, we have seen many new items of sudden job losses due to company closure, downsizing, etc. Thus it is prudent, to plan for such eventualities by not relying on your employer's health cover. A sudden job loss puts one in a financial dilemma and a health crisis at such a time can be a serious blow if you don't have your own health policy. Also, budding entrepreneurs, do buy your health insurance cover before embarking on your entrepreneurial venture.
Post-retirement: On retirement, be prepared to foot all medical expenses from your pocket. At this juncture, buying health insurance may be very costly due to your advanced age. Also, many of us may be suffering from some ailment by retirement. The pre-existing ailment clause will kick in and you will not be able to use the policy optimally in the initial years. You may even be denied cover in case of adverse health.
Trust the above points impress upon you, the need to have your own health insurance cover. In fact, buying a health cover for yourself and your family is actually one of the first steps in financial planning.
To Buy Individual or Family Floater Plan?
You can buy a health plan as an individual cover where a single person is covered. Alternatively, a family floater plan can be chosen where the entire plan is covered under the policy. The sum assured can be used for the benefit of one or more family members. Family floater plans are ideal in case you have dependents. Dependant parents and in-laws can also be covered under the floater policy (as per company and plan specifications).
Though this may appear to be a very convenient option, please be informed that the premium for floater policies is arrived considering the age of the oldest member. So including old parents and in-laws in the same floater policy as self, spouse and children can significantly push up the premium. The solution is to buy a separate plan for elderly parents/in-laws. In Fact, there are various senior citizen plans which cater to the needs of this segment.
Now, let's move to the important checks to be made while buying a health policy:
Buy adequate cover – The sum assured chosen should be well thought over considering your family history of illnesses and also your residential city. For people living in metropolitan cities, the sum assured should be at least Rs 10 lakh given the high cost of living in these cities. Medical treatment is very high in metro cities as compared to the smaller towns. For people living in tier 2 and tier 3 cities, the sum assured insured should be at least Rs 4-5 lakh.
Waiting Period: It is the period from policy issuance during which you cannot claim any benefit from the insurer for conditions/procedures/diseases which fall under the waiting period criteria. The various types of waiting periods are:

Initial waiting period: Most plans have 30-90 days waiting for the period from policy issuance during which you cannot claim hospitalization expenses or other benefits payable under the policy. However, accidents are an exception to this rule and are covered from the inception of the policy.
Pre-existing ailment waiting Period: Any ailment (eg: Diabetes, Blood Pressure, etc) which exists at the time of policy issuance is referred to as a pre-existing ailment. All insurance companies have a waiting period for pre-existing ailments. It is usually 48 months of continuous coverage. During the waiting period, no coverage is extended for the pre-existing ailment(s). Once the waiting period is over, the coverage begins for these ailments. This also brings focus to an important aspect i.e to buy health insurance when you are young and healthy and free of ailments. You are exempted from the waiting period for pre-existing ailments and in case you get diagnosed with a specific ailment for the first time after policy issuance, you are covered for the same from day one.
Buying health insurance early also helps you accumulate no claim bonuses which increases your total sum assured amount as the chances of a claim in early life are much lesser.
Disease-Specific waiting period: Certain conditions like cataract, hernia, tonsillitis, piles, knee replacement, hysterectomy, etc are covered only after a specific waiting period of 12-24 months. The list of such diseases is clearly mentioned in the policy brochures and contracts.
Pregnancy - Pregnancy-related expenses are usually covered after a waiting period of 36-48 months though very few insurers cover pregnancy.
It is best to consider plans which have lower waiting periods and this should be an important factor as you compare various plans.

No-claim Bonus: To prevent policyholders from making frivolous and petty claims, insurers have come up with the concept of a No-claim bonus. Under this, for every claim-free year a certain percentage of your initial sum assured is added to your policy up to a specified limit (varies across companies).Illustration:
Murli has a health insurance policy for Rs 2 lakh. The insurer offers a 5% no-claim bonus for every claim-free year with a maximum limit set at 50% of the initial sum assured.
The total sum assured available at the end of every claim-free year is as under:
Sum assured at the end of 1st claim free year = Rs 2 lakh 10 thousand
Sum assured at the end of 2nd claim-free years = Rs 2 lakh 20 thousand
Sum assured at the end of 3rd claim-free years = Rs 2 lakh 30 thousand
Thus, the maximum sum assured can go up to Rs 3 lakh (2 lakh + 50% of 2 lakh).
Restoration of Sum Assured: As per this feature, in case the entire sum assured is exhausted in a policy year, and you fall ill with another illness the entire sum assured is restored for you to use at no extra cost. 
Similarly, in a family floater policy, should a family member use up the entire sum assured and another member falls ill during the same policy year, the sum assured is restored for usage at no extra cost. Illustration: Sanjay has a family floater policy of Rs 3 lakhs. His wife meets with a major accident and the entire sum assured is used in her hospitalization. In the same policy year, Sanjay's daughter is diagnosed with Dengue and is hospitalized. As per the restoration feature, the sum assured of Rs 3 lakh is restored at no extra cost and can be used for her hospitalization.
Pre and Post Hospitalization Coverage: Many health plans today provide coverage for pre and post-hospitalization expenses.Pre-hospitalization Expenses: Except for accidents, hospitalization for a medical condition does not usually happen all of a sudden. We experience some symptoms, visit a doctor(s), undergo various investigative tests, etc which results in a diagnosis and depending on the condition the doctor may recommend hospitalization. The pre-hospitalization expenses usually include the following:

Doctors fees
Medicines
X-rays, scans, medical tests, etc

Many health plans cover pre-hospitalization expenses up to 30 - 90 days prior to the date of hospitalization.

Post-hospitalization Expenses: After discharge from the hospital, during the recovery period, there are various expenses one incurs to ensure a complete recovery. These typically include the following:

Medicines
Medical tests, scans, X-rays
Doctor's fees
Physiotherapy or other therapies related to the condition

Post-hospitalization expenses are usually covered for a period of 60-180 days post-hospitalization.

Not Reading the Fine Print – Though the sum assured is the maximum amount one can claim under the policy, it is wrong to assume that this is the case always. In order to prevent misuse insurance companies lay down various conditions such as:

Co-pay – A pre-defined percentage of the claim amount has to be paid by the insured and the balance by the insurance company. Not all plans have a co-pay feature, this is a criterion you need to check while buying health insurance. The premium for co-pay policies may be lesser than those without co-pay. Though it is tempting to avail lower premium rates by opting for co-pay, do keep in mind that for critical ailments, expenses can run high and a co-pay policy may see you paying a considerable amount from your own pocket.

Room Rent Limit – This is a very important clause but not well- known among policyholders. Many plans come with a room rent limit (per day basis). It could be a fixed amount or a percentage of the sum assured, say 1% of the sum assured.

For eg: Rajeev has a health plan which has a room limit of Rs 3000/- per day and sum assured of Rs 3 lakhs. What this means is that in case of hospitalization the insurance company will pay room rent only to this extent, in case you have been admitted to a room with higher rent, the excess amount will have to be borne by you. Fair enough, you would say. However, do you know that even the other charges will be borne by the company in the same proportion as the room rent?
Rajeev has an emergency hospitalization in a very renowned hospital. He is admitted to a room that charges a daily rent of Rs 6000/-. Here the break-up of expenses to be borne by Rajesh and by the insurance company is shown in the table below:
Final bill
What insurance company will bear
Explanation
No. of days of hospital stay
6 days
Room charges
6*6000=36,000/-
6*3000=18,000/-
As claimable room rent as per policy is Rs 3000/- per day so same paid and not the amount in excess to that. The claimable amount is 50% of actuals.
Surgery charges
Rs 30,000/-
Rs 15,000/-
As per policy terms, paid in proportion to the room rent applicable. i.e 50%
Doctor visits and follow-ups
Rs 6000/-
Rs 3,000/-
As per policy terms, paid in proportion to the room rent applicable. i.e 50%
Lab tests
Rs 8,000/-
Rs 4000/-
As per policy terms, paid in proportion to the room rent applicable. i.e 50%
Medicines
Rs 10,000/-
Rs 10,000/-
MRP product, so no deduction applicable
Total
Rs 90,000/-
Rs 50,000/-
So, Rajeev ended up paying (90,000 – 50,000) i.e. Rs 40,000/- from his own pocket. His policy's sum assured was Rs 3 lakhs and the hospital bills were well within the sum assured limit. However, he had not paid much attention to the room rent clause and hence paid a tidy sum from his pocket. It is important to note that most charges are tied up to the room rent and this clause should be thoroughly verified while buying a health plan.
Industry experts suggest that it is wise to choose a plan which does not have a room rent limit. The premium for such plans will be higher than ones with room rent limits though the premium payable for this will be higher than one with rent limits or to go with a policy that provides a higher rent limit.
Sub-limits – Sub-limits are the limits imposed by the insurance company on specific treatments, doctor's fees, pre-planned surgeries such as hernia, cataract, hysterectomy, knee ligament reconstruction, plastic surgery, etc. The details of diseases/conditions where sub-limits apply are mentioned in the policy brochures and policy document. If one is undergoing treatment/surgery for a condition for which a sub-limit applies, then the insurance company will pay only up to the sub-limit level irrespective of the amount of sum assured.

Cashless Network – This is an important feature as you can avail of the treatment without the hassles of arranging funds. Do check whether the reputed hospitals in your city and the ones where you are most likely to seek treatment in case of a health scare are a part of the insurance company's network. Cashless facility is available only in the network hospitals.
If you are treated in a non-network hospital you will have to pay the hospital bills and then claim from the TPA (third party administrator) by submitting the discharge summary, all medical bills, doctors' prescriptions, reports, etc.
Insurer's Claim Settlement Ratio – It is not about how fancy the products offered by the company are, what matters is how the company has fared in claim settlement. These statistics are available on the insurance regulator, IRDAI's website.
A claim related statistic shared in Economic Times Wealth (March 18-24, 2019) is reproduced below:
How Much of The Premium is Paid Out in Claims? 
The ideal incurred claims ratio is 75-85%. A low ratio does not bode well for policyholders and a high ratio of 100% or more shows that the insurer has had to pay out the entire premium (or more) that is collected.
Conclusion:
A carefully chosen health insurance plan can help us deal with any health emergencies without denting our savings. Only running after lower premiums will result in not getting many benefits and thus prove ineffective. Trust the points highlighted above can help you review various health insurance plans and choose the best suitable plan. Putting in some effort in checking the plan features, sub-limits, room rent clauses, etc can save us from being getting caught unawares later on.