Cancer! The word that upsets a life and that of loved ones. It is a life-threatening disease in which the uncontrolled growth of abnormal cells takes place anywhere in the body. There are over 200 types of cancer.
The most common type of cancer found in men and women are lung cancer and breast cancer, respectively. It is a worrying fact that the prevalence and incidence of cancer are on the rise.
National Cancer Registry Programme has recorded statistics of over 3.9 million cases in the year 2017 in India. This figure goes on increasing in the upcoming years. Cancer care is quite a costly affair, whether it's the diagnosis, radiation therapy, chemotherapy, proton therapy, or surgery. The high costs for the treatment of this disease draining out the sufferer and his/her family end up financially.
We know how stressful it is to be diagnosed with cancer but let us tell you, it's not the end of the world, there's always hope. Owing to high-quality health care, the survival rate in cancer patients has gone up. If insured under the right health plan, a cancer patient can set off on his way to recovery and expect to live a healthy life again. Health insurance companies provide coverage for cancer through this critical illness covers and cancer-specific insurance covers.
Importance and Perks of Cancer Insurance Plan
Financial Security and Extensive Coverage: Offers a comprehensive insurance cover related to cancer.
Waiver of Premium (WoP) Benefit: Offers waiver of premium benefit for a specific period, e.g., 3-5 years or entire policy duration and an increase in sum assured as a plan option.
Lump-Sum Payment: One of the most significant benefits is that the insurance coverage continues even after the diagnosis of an early stage of the disease.
Tax Benefits: Also offer tax benefits under section 80D of the Income Tax Act.
Best Critical Illness Covers for Cancer
The advantage of critical illness insurance plans is that they cover a host of other illnesses along with cancer. These plans offer a range of coverage that may vary from one insurer to another. More than 30 critical illnesses, including cancer, stroke, Parkinson's disease, etc. are covered by some of the companies in the market. You must consider opting for a critical illness cover along with a regular medical insurance plan if you have a family history of cancer and ensure that you are financially secured against the threat of cancer.
| | | | | |
| --- | --- | --- | --- | --- |
| Plan Name | No. Of Illness Covered | Sum Insured | Minimum and Maximum Entry Age | Survival Period |
| Apollo Optima Vital | 37 | Rs.1 lakh to Rs.50 lakh | 18 years and 65 years | 30 days |
| Religare Assure | 20 | Rs.5 lakh to Rs.1 crore | 18 years and 65 years | Zero days |
| Max Bupa Criticare | 20 | Rs.3 lakh to Rs.2 crore | 18 years and 65 years | 30 days |
| SBI Critical Illness | 13 | Rs.2 lakh to Rs.50 lakh | 18 years and 65 years | 28 days |
| Star Criticare Plus | 9 | Rs.2 lakh to Rs.10 lakh | 18 years and 65 years | Zero days |
Critical illness cover can be bought as a supplement with the life insurance or health insurance plan. This is because, if any symptom related to cancer occurs within 90 days of initiation of the policy, it will lead to the termination of the cover. Critical illness cover will not pay any claim even if you are diagnosed after this waiting period until the cancer is in the advanced stage (critical illness does not cover cancer which is still at its early stage).
Best Cancer-Specific Health Insurance Covers
A critical illness cover fails to meet the specific insurance needs of cancer patients. In such a situation, if you feel that cancer is the only major threat to you or your family, you can buy cancer insurance plans. These plans are to meet the specific needs of a cancer patient. Not many insurers are there in the list of offering the cover to the needed, but there are a few options available as follows:
| | | | | |
| --- | --- | --- | --- | --- |
| PLAN NAME | POLICY TERM | SUM INSURED | MINIMUM AND MAXIMUM ENTRY AGE | PREMIUM PAYMENT FREQUENCY |
| ICICI Prudential Cancer Protect | 10 years | Rs.5 lakh to Rs.25 lakh | 20 years and 60 years; renewable up to 70 years | Monthly or half-yearly |
| HDFC Life Cancer Care | 10 to 20 years | Rs.10 lakh to Rs.40 lakh | 18 years and 65 years | Monthly, quarterly, half-yearly or annually |
| National Insurance with CPAA Cancer Insurance Policy | 1 year | Rs.30,000 to Rs.5 lakh | Based on the discretion of the company | Monthly or annually |
| National Insurance with ICS Cancer Insurance Policy | 1 year | Rs.50,000 to Rs.2 lakh | Up to 70 years | Monthly or annually |
| Aegon Life iCancer Insurance | Minimum 5 years; Maximum 70 years minus entry age | Rs.10 lakh to Rs.50 lakh | 18 years and 65 years | Monthly or annually |
| Future Generali Cancer Protect | 10 to 20 year (major lives) 10 years (minor lives) | Rs.10 lakh to Rs.40 lakh (major lives) Rs.10 lakh (minor lives) | 18 years and 65 years (major lives) 1 year and 17 years (minor lives) | Monthly or Annually (Regular premium); One Time Lump Sum (Single Premium) |
| DHFL Pramerica Cancer Shield Plan | 40 years | 50 Lakh | 1 -65 years | Monthly and Annually |
| Religare Super Mediclaim Plan | No Age Bar | 2 Crore | 5 to 50 Years | Monthly or Annually |
| Max Bupa Health Assurance Critical Illness Insurance Policy | 1 year and 2 years | 3-10 lakh | 18-65 years | Monthly or annually |
| Max Life Cancer Insurance Plan | 10-40 years | 10-50 lakh | 25-65 years | Monthly, half-yearly, quarterly or annually |
| Bharti AXA Smart Health Critical Illness Insurance Plan | 18-75 years | 2 - 60 lakh | 18-55 years | Monthly or annually |
| Birla Sun Life Insurance Cancer Shield Plan | 5-20 years | 10-50 lakh | 18-65 years | Monthly, half-yearly, quarterly or annually |
STAR CANCER CARE GOLD (PILOT PRODUCT)
First-ever health insurance product for persons diagnosed with Cancer.
First-ever Pilot product in the Health Insurance industry- A limited period offer.
Sum Insured Rs.3 lakhs and Rs.5 lakhs.
Entry Age: 5 months to 65 years.
Lump-sum cover of 50% of the Sum Insured- For recurrence, metastasis, and/or a second malignancy unrelated to first cancer.
Regular indemnity health cover for accidents & illness other than Cancer.
No pre-acceptance medical tests.
Premium paid is eligible for rebate under Section 80D of the Income Tax Act, 1961.
Points to Remember Before Buying Cancer Insurance Plan
It is always advisable to do some investigation before taking a cancer insurance plan. To opt for a specific cancer insurance plan and before making a decision, consider the following things: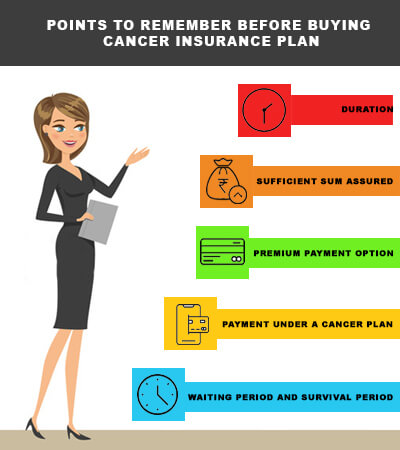 Sufficient Sum Assured - Treatment and care for cancer take a lot of time, and the medical expenses go on increasing by 15% every year. That is why it is necessary to go for a plan with a high sum assured. During the time of crisis, it will help to supply adequate funds.
Payment Under a Cancer Plan - A satisfying cancer plan should cover all stages of cancer. Payment of 30% on early-stage and remaining 70% on major stage or the entire on major stage whichever is earlier should be included in that particular plan.
Premium Payment Option - Options may vary from one insurer to another. Make sure to get various options like on an annual, bi-annual, quarterly or monthly basis.
Waiting Period and Survival Period - Check the amount of time to wait before the policy starts coverage; waiting period and survival period i.e., the amount of time after cancer diagnosis the insured has to be alive to claim benefits of the policy.
Additional Policy Benefits - Some of the add-on benefits play a vital role to heave a sigh of relief at hard times during a medical emergency.  Waiver of premium or regular income for a fixed period serves as an aid for the policyholder.
Duration - To get protected with the policy for a longer time, choose a plan which has a long term duration.
Best Health Insurance Plans for Cancer Patients
Star Health and Allied Insurance introduced a cancer insurance policy that can be taken even after the diagnosis of cancer. This cover was introduced by the company in October 2017. This cover is named 'Star Cancer Care Gold', and it is available in flexible terms based on the requirements of customers. Some of the key highlights of this cancer insurance policy can be listed as follows:
It is available in two different sums insured options-Rs.3 lakh and Rs.5 lakh.
People between the age of 5 months and 65 years who were diagnosed with Stage 1 or Stage 2 cancer can avail of this policy cover.
There is no pre-examination medical checkup required for this policy.
Customers must submit their existing medical records, including treatment procedures while buying this policy.
This policy is mainly used to cover instances of second cancer, recurrence, and the spread of cancer (metastasis).
Half of the sum insured amount will be paid as a lump sum upon the first diagnosis of any of the above-mentioned eventualities. The remaining half will be used to cover other medical expenses, similar to regular health insurance.
The premium amount for this policy cover varies based on the age and sum insured amount chosen.
Conclusion
Remember that usually, cancer insurance plans do not offer coverage for skin cancer and cancer that might be caused due to sexually transmitted infections, congenital any pre-existing diseases, and nuclear, biological or chemical contamination. But, cancer insurance is the most secure option to make sure that you are covered financially while facing such a critical condition. Besides, industry experts also suggest that it makes sense to opt for a cancer-specific plan in case you think that you might fall prey to this deadly disease due to environmental reasons or if this disease is genetic.
FAQ's
1. Can I get the benefit amount in installments?
Yes, a few insurance companies offer income benefits under cancer insurance plans. A certain percentage of the sum insured amount is provided to the insured person to help him manage his/her expenses while he/she is undergoing the treatment for cancer.
2. Are there any exclusions under cancer insurance plans?
Yes, cancer insurance policies have certain exclusions such as skin cancer, cancer caused by STDs, radiation, radioactive substances, HIV/AIDS, congenital diseases, etc. The exclusions differ from insurer to insurer. The policyholder should read the policy document carefully to take note of such exclusions.
4. What types of cancer are covered under the policy?
The coverage offered by cancer insurance plans depends on the plan one purchases and the insurance company that offers the plan. However, insurance companies mostly offer coverage for breast cancer, bone cancer, lung cancer, ovarian cancer, cervical cancer, prostate cancer, among others.
5. Is there a waiting period under cancer plans?
Yes, cancer insurance plans usually have a waiting period like most insurance plans. The policyholder can register a claim under the policy only after completion of the waiting period.
6. When is the premium waiver benefit offered?
Insurance companies understand that treating cancer can turn out to be expensive and hence, not only provide lump-sum benefits but also waive all future premiums so that the insured person need not worry about paying the premiums.