Aren't you satisfied with your current health insurance policy? You can switch to a new service provider. This is possible with the help of the Health Insurance Portability. Henceforth, you get to customize your policy as per your requirements.
Our life usually revolves around health and overall well being. This is one of the prime reasons why the demand for health insurance providers has increased in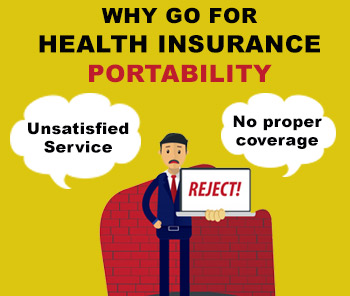 the past few years. But often policyholders are not happy and satisfied with the services provided. Thus, they want to switch to other insurance policies and are unable to do so because of the high amount of investment. This is where the Health Insurance Portability comes in.
What Do You Know About Health Insurance Portability concept?
This is a scheme where the health insurance policyholders have the option of transferring their current health insurance policy to another provider. This happens usually when your current provider is unable to cater to your demands. Hence, you are not happy and satisfied. It is the accessibility of the portability that doesn't allow the companies to take the demands of the customers for granted. The customers get the complete freedom to switch over to a better policy provider.
When Should You Consider a Switch?
It is no doubt a confusing decision to undertake, in terms of the portability of the medical insurance from one service provider to another. But when you consider the following aspects or factors, portability can be a simple affair.
Unsatisfied service
When your current health insurance provider doesn't live up to your expectations and fails to deliver the highest quality of services, you must consider for a switch. There is absolutely no point on to hold to the provider that is no good to you.
Inefficient claim settlement
In case the service provider has a history of slow claim settlements, you should not waste any more time, to make a switch to another provider that has a good reputation of catering to all the settlements quickly.
No proper coverage
There is every possibility that your present provider doesn't provide sufficient coverage for any particular health issue that concerns you. It is better to move to a better provider that covers all your specific needs.
Better offering by other policy providers
It is high time to port to another company that offers the same services as your current provider, but at a cheaper price.
Hidden costs
If your health insurance policy provider is not transparent and has hidden clauses, it is a matter of grave concern. Hence, you should go to another company.
Switching to a specialized organization
If you desire a more specific health insurance coverage, you can switch from a generalized service provider to a specific one. It might be more suited as per your requirements.
Relocating to a different place
You might have to relocate to a new city and you would like to enjoy the same benefits and services of the health insurance policy. But, the provider may not be able to provide you with efficient services or doesn't have good access, you need to switch to a provider who has a good reputation in the area.
Advantages of the Health Insurance Portability
Better service
As a policyholder, you get the option to choose a service provider that has a reputation in the market for providing the highest standards of services to the customers in focus.
Better claim settlement
When the claim settlement of your current service provider is very slow and inefficient, you can make a switch and go for a provider that offers better claim settlement every time.
No hidden costs and conditions
With the aid of the Health Insurance Portability, you get the chance of porting to a service provider that believes in transparency without any hidden conditions and charges.
Continued benefits from previous policies
The best part about the Health Insurance Portability is that you can continue to enjoy all the benefits from the previous policy even after you make a switch.
Lower premium policies
Since the competition is so fierce, you can move to a service provider that offers all the services and benefits of a health insurance policy, but at a much lower price rate. Thus, by switching you have to pay lower premiums.
Possibility of customization
The portability in the medical policies enables you to modify or customize the insurance as per your present health conditions. You can also include an additional cover or add a nominee. You get ample of choices.
Insurance of the new principal sum amount
When there is policy portability, the present insured amount of sum gets added up to the bonus that has been accumulated over the period and thereby there is a new insured sum. During the switch, the No Claim Bonus also gets included.
No strict time-bound
When you opt for portability, you don't need to be concerned about any time bound issues.
These are some of the pros, that have favored the concept of the Health Insurance Portability in the majority of the nations across the globe.
Are There Any Cons of The Portability?
Everything comes with cons and the same is the case with the Health Insurance Portability. Let us have a look at them.
In case, currently, you have a group insurance policy and you desire to switch to an individual policy, you might be at a loss. There is a possibility that you will not get all the benefits that were included in your group policy.
As a policyholder, you won't be allowed to port to a completely different policy. The limitation is switching to only a similar type of policy.
When you want to include an additional benefit in your new policy, it might mean that you have to pay higher premiums.
The portability of the policy is allowed only when the policy is due for renewal. The submission of the application for the new policy must be at least 45 days before the renewal date.
Despite all the cons, the advantages of the Health Insurance Portability surpass all the negative points and are preferred by the health insurance policyholders everywhere.