Health insurance plan is a basic necessity these days. The amount of premium that we need to pay to buy is less than the cost of any treatment. Before buying a health insurance policy we must know the features of different plans. A quick comparison can be done on online comparison sites.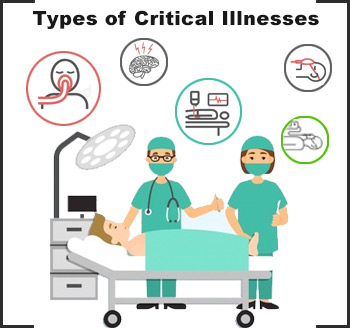 Web aggregator can assist in familiarizing not only with various types of health plans but their cost as well. Once we are aware of these plans it becomes very easy to select the plan that we need. One of the important aspects that we must check before buying any health insurance plan is what all critical illnesses they cover.
Critical illness is a deadly disease that can not only paralyze our life but ultimately lead to death. Besides the possibility of life risk, another concern is the huge cost it needs for its treatment. If any of these illnesses are not covered by health insurance plans than it can bring a huge financial crisis. Before checking their coverage we must know what are the different kinds of critical illnesses. Many health insurance plans cover most of these critical illnesses also called the terminal illness.
Types of Critical Illnesses
There are many kinds of critical illnesses that Aymen must know before buying any health insurance plan. These deadly diseases if not cured on time can lead to major health hazards. At times it may be the reason for the demise of the person. Some of these critical illnesses are listed and explained below.
| | |
| --- | --- |
| Sno. | Critical Illnesses |
| 1. | Apallic Syndrome |
| 2. | Major Head Trauma |
| 3. | Alzheimer |
| 4. | Parkinson's Disease |
| 5. | Multiple Sclerosis |
| 6. | Critical Stage of Cancer |
| 7. | Coma |
| 8. | Diabetes |
| 9. | Chronic Liver Disease |
| 10. | CHD |
| 11. | Aphasia |
| 12. | Bacterial meningitis |
| 13. | Medullary Cystic Disease |
| 14. | thoracic aneurysm |
| 15. | Permanent Paralysis of Limbs |
| 16. | Deafness |
| 17. | Poliomyelitis |
| 18. | Muscular Dystrophy |
| 19. | HIV |
| 20. | Aplastic Anaemia |
It's a neurological disease, the major symptom of this disease in brainstem intact and necrosis of the brain cortex. This ailment can be covered once confirmed by the neurologist for over a month.
Head trauma can be getting affected by the disease that leads to brain injury. One such disease is the concussion. It shows many repeated temporary symptoms. If it's not treated in time can affect a person's life.
Alzheimer's is a kind of memory loss called dementia. It causes several mental and physical disorders. Ultimately it affects the mental and social functioning of an individual.
This disease is caused by the absence of dopamine. The initial stages of this illness may be marked by depression and other cognitive disorders. The patience of Parkinson can survive with a timely treatment of the same.
Multiple Sclerosis is a disease that affects the brain and spinal cord. The patient suffering from this disease find it difficult to align their brain with other body parts.
<spanWith advanced medical sciences diseases like cancer can be treated. If it's diagnosed at an early stage it can be 100% cured.
Coma is the state when a patient goes into an unconscious state for a long duration. If the person doesn't come in the senses after some time that he may be declared as medically dead.
Diabetes is caused due to an increase in the glucose level in the body. It needs timely medications. If diabetes is not treated well it can affect all the parts of the body.
Chronic liver diseases are the ailment that lasts for a period of more than 6 months. Liver pathologies that worsen this illness are chronic hepatitis, liver cirrhosis, hepatocellular carcinoma.
CHD is coronary heart disease that is caused because of accumulation of plaque, waxy substance in the coronary arteries.
This disease is caused due to brain damage when a person loses the ability to speak.
Bacterial meningitis is a deadly disease caused due to infection in the brain. If not treated on time it can cause life risk to the person.
Medullary Cystic disease can lead to kidney failure, ultimately terminate the life of the person.
It is also called an Aortic Aneurysm, originates from the major blood vessel. The aorta that is the largest artery in the body is affected by this critical illness. It supplies blood throughout the body. If untreated for long can prove to be fatal to an individual.
Permanent Paralysis of Limbs
The patient affected by this disease is always bedridden. They are not able to conduct daily mundane activities.
Deafness can be partial or permanent hearing loss. If not treated on time can cause other mental problems that can be dangerous for life.
It is an infectious disease caused by a virus called Poliovirus. If not addressed in time it can damage the entire nervous system.
This disease affects the muscular system of the body. It's a kind of genetic disease that can affect body strength and lead to many other severe issues if not taken care on time.
HIV also called a human immunodeficiency virus that can turn into AIDS. With proper medication, a person suffering from HIV can lead a normal life. Its treatment comes with a cost. Health Insurance plan can help in managing all the expenses.
Aplastic anemia is the stage when the body stops generating enough cells. These may affect the immune system and invite many other deadly diseases.
How Health Insurance can Fight with These Deadly Diseases?
Most of the health insurance plans cover many critical illnesses. We can always check the number of critical illnesses covered by them. We can take the plan that covers the illnesses that we may be prone to or otherwise. These health insurance players design their products so that the policyholders can enjoy maximum benefits and stay safe. Some of the known health Insurance plans with the number of critical illnesses they have covered are as follows.
| | | |
| --- | --- | --- |
| S.no. | Health Insurance Players | Number of Critical Illnesses |
| 1. | Apollo Munich | 37 |
| 2. | ICICI health insurance | 34 |
| 3. | Max Bupa | 20 |
| 4. | Religare health | 20 |
| 5. | HDFC Ergo | 15 |
| 6. | SBI Health Insurance | 13 |
| 7. | Tata AIG | 11 |
With the coverage of deadly illnesses by health insurance, life becomes easy. Cure and recovery become faster and simpler as well. The major concerns of people affected by such ailments are how to manage the expenses. The cost incurred in this illness is huge as it needs specialized treatment. Besides the money that we have to spend, it also requires special care. Diagnosis at an early stage also turns out to be helpful. These health insurance companies help in the early identification of disease. Early diagnosis can assist in stimulating the treatment.
Beyond money, these health insurance plans also act as a support system. They keep on publishing online journals that can assist us in staying aware of many ailments that can likely occur. Health plans can also prevent the occurrence of many diseases. If we take timely treatments we can save ourselves from many diseases.
People have a myth that they have to incur huge money on these health plans. Fact is not buying health insurance is acting as "Pennywise & pound foolish". Most of the health insurance plans are available at a very less cost. The benefits that we get out of them is 5 to 10 times more than what we invest. There are many other advantages of buying health plans as well. They facilitate with free medical checkups, that can assist in the early diagnosis of any diseases. By buying a suitable Health Insurance plan we can not only save ourselves from any financial crisis but can save our lives as well.