Because of our whimsical lifestyle, there has been a surge in health-related disorders in recent times. Not only there is an increase but it is seen that these diseases appear to be quite complex in recent times. 
Therefore, it is always advisable to opt for the best health insurance plan beforehand to avoid future disparity. It is a sort of medical policy that provides financial aid during medical emergencies through the payment of the bills.
It ends up with a tie between you and the insurance company. In this regard, the insurance company is liable to pay for your medical costs. So if health insurance is not purchased more smartly, it might lead to adverse situations in the near future. 
Although there are various exclusions which will differ from person to another, there is certain Exclusion in health insurance policy that you should get familiar with.
Pre-Existing Medical Conditions
If you are suffering from any medical disorder, then it is quintessential to declare the same to the insurance agent while you buy medical insurance.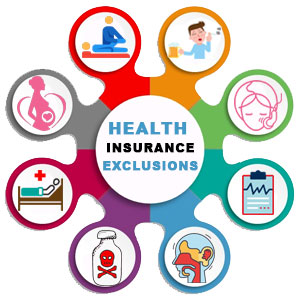 The majority of the pre-existing conditions will get you covered within a stipulated lock-in period. The lock-in period will vary from 2-4 years based on the purchase date.
The period also depends on the risk if the insurer guarantees to cover this. Therefore, pre-existing ailments like cataract, arthritis, chronic problems, joint pain, etc don't come under the purview of health insurance.
Pregnancy
Costs such as vaccination, pregnancy, childbirth, don't come under the policy. The Waiting Period for Pregnancy varies between 1 to 2 years. Surely, you can avail those medical facilities if you are planning for a child after the waiting period.
Likewise, the cost of infertility and abortion doesn't come under Exclusions in health insurance policy.
Must Read: How To File A Complaint Against Health Insurance Claim?
Alternative Therapies
The majority of the insurance does not deal with medical coverage for the implementation of alternative therapies to prevent several health issues. Naturally, it comes under the umbrella of Exclusion in health insurance policy.
This is owing to the fact that identifying the exact cause of such medical disorder is quite difficult since those treatments are unregulated. In treatment which includes Ayurvedic, Urani, Naturopathy there is huge ambiguity in costs.
Health insurance will not provide benefits which include neuropathy, magnetic therapy and many more. 
Lifestyle Related Problems
A disease which takes place due to the erratic lifestyle does not come under the health insurance unless the insured pays a high amount. Certain examples include lung disease, cirrhosis of the liver, etc. These diseases arise due to the high consumption of alcohol and smoking.
Cosmetic Treatments
People from various sections of the society take the help of cosmic treatments to bolster their appearance without knowing that it will not come under Exclusion in the health insurance policy. 
However, those operations such as plastic surgery which arises due to accidental hazard should come under the scheme. Also, dental treatments are not included since it is related to cosmetic therapy.
Also Read: A Smoker Too Can Buy A Health Insurance
Diagnostic Costs
The daily laboratory tests or imaging which are conducted on a daily basis appear to be too expensive. However, it is not included in the health policy. If the test comes with a positive outcome that demands hospitalization the insurer will take care of the costs.
Dental Care, Hearing, and Vision
Since dental and vision treatment doesn't necessitate hospitalization, so it is not included under health care policy. However, if the situation arises when it requires hospitalization, it will get you covered. As a result, you have to check this with your insurance company. But these medical benefits will be included under surplus benefits which come under the health insurance plan.
Injuries Because of Suicide Attempt
Those injuries which take place because of suicide are not included under the health insurance scheme. A policyholder doesn't come under if he harms himself deliberately.
Permanent Exclusions
Injuries that take place due to HIV, congenital problems, etc come under permanent exclusion. As a result, we advise you to read the print before you sign up for the new health plan. Apart from this, you can contact your insurer and ask him about the related queries.
Exclusions are those services that are not included under the health insurance scheme. This simply signifies that one has to pay for his treatment. Therefore, to save your money from such, you have to read the terms and conditions before going ahead.
Other Exclusions Which Prevents Medical Coverage
War Injuries
These injuries take place due to any war or any event. So these don't come under the purview of the health insurance policy.
Self Inflicted Injuries
This covers various medical ailments which include a suicide attempt, or anorexia. The exclusion is less likely to consider but if this can be justified that the insured is suffering from acute mental trauma which leads to suicide then this can be considered.
Important: How To Plan Your Health Insurance Cover?
Portability
If the policyholder opts for any health insurance policy, then he/she must abide by the following rules
The concerned person under whom the policy is to be made under the similar individual indemnity insurance policy coming from any non-insurance company which comes under IRDA.
Amount of money opted for such a policy should be equal or greater than the amount insured of the expiring health policy. 
Treatment of any sort of chronic illness or anomalies pertaining to the birth defects.
Whether Standardisation of Exclusion Help The Customers?
One of the major issues that are lodged by the health insurance company is related to exclusions which come under an insurance contract. Since with the progress of time, products are introduced the exclusion list is also increasing at a rapid rate. 
Various products are there which holds various exclusions. The same exclusion will imply different things such as distress or distrust. The claims which are denied or the unwanted deduction of money in terms of customer's point of view generally covers those treatments which require proper investigations. 
However, at times customers, as well as doctors and hospitals, resort to making duplication of documents to find a way through. So, it is essential to rationalize the exclusions, make appropriate wordings and make wider opportunity for exclusions. 
Standardization can be a good move to avoid such discrepancy. Interpretation along with the comparison of such exclusions makes the workflow very seamless. The exclusions which are adopted nowadays uses too many medical jargons which will make the customers perplexed. This might reduce the chance of buying that insurance.
Therefore, the policies should be mentioned in the document in a lucid language so that the customer can understand it easily.
Important: How To Choose The Best Cancer Insurance Plan In India?
How Private Health Insurance is Correct For You?
Health insurance is an important mechanism majority of the consumers in India look for while opting for a medical policy. There are several medical companies available in India if you are interested in taking help from such policies. 
Buying a viable health insurance policy is quintessential since it is about your medical expenses. Mostly, because medical treatment in private hospitals is very costly. Hospitalization can create a major problem and can take away all your savings if the appropriate policy is not adopted. But you can overcome this grave issue by paying a small premium which might reduce your pain during emergency hours.
However, some financial planners will help you with the private coverage, it comes with certain drawbacks that should be taken into account while buying such plans. So in the next section, we will delineate the pros and cons of Exclusion in health insurance policy.
Advantages of Exclusion in Health Insurance Policy
The most obvious advantage is that will prevent any sort of fraudulent activities and most of it includes the case of suicides. So in order to avoid such problems exclusion is there in health insurance schemes. This will reduce such fraudulent activities and wastage of money.
Important: Pros and Cons of Health Insurance Portability
Disadvantage of Exclusion in Health Insurance Scheme
The biggest disadvantage lies in the maternity plan. Doctor regular visits for mandatory health checkups and diagnostic tests are not included under the health benefit scheme. 
The expenses of medicine or tonic are excluded until and unless it comes under the scheme. If the pregnancy is terminated within 12 weeks after conceiving, then it is not accounted for medical benefit. Also, medical expenses of ectopic pregnancy don't come under the health benefit scheme. 
If there is in vitro fertilization for test-tube babies, that cost is not included under the health insurance policy. If the age of the person who is eligible for a maternity benefit plan is more than 45 years, then it is not included under the health insurance policy.
The benefits have certain restrictions for normal and cesarean deliveries. If the expense is above the limit, then the surplus expenses must be paid by you.
What is Not Covered Under Health Insurance Policy?
In the majority of the cases when claims are rejected and customers are not satisfied, it can take place since the company rejects on the basis of certain protocols. But the disappointment is quite evident from the faces of customers because there is a huge misunderstanding between what is covered or what is not.
There are various clauses for waiting period concept or exclusion of chronic diseases which are not considered for such claims. But the customer doesn't understand this and thinks that the company will pay their bills. 
What You Should Know About Health Insurance Portability?
Final Remark
Health insurance is meant for saving your unusual costs incurred during medical emergencies. So it is not considered as a reactive financial product.
Taking up a health insurance plan ensures that you are secured from future problems and not dealing with present medical issues or past records. Therefore, when you are healthy then you should make the health policy for your future. However, most of the people purchase the policy when the disease is diagnosed, and so health insurance policy will not be of much help in this regard.
So this article will make you understand the exclusions involved in such a health insurance scheme. This is what we have mentioned about the Exclusion in health insurance policy in this write-up. Now read this article thoroughly before you buy any such medical policy for your future. If you like this content, provide your valuable feedback in the comment box.