Who doesn't like to explore a better option for everything and have an option to switch everything when they get a better option. The same applies to insurance policies. I guess everybody wants to opt for a better deal whenever they get it.
About the health insurance policy, as it is the most useful insurance policy among others. There can be several reasons for switching from one insurance policy to another, but the good news is there is an option to pursue the same. The term is called portability.
For instance, somebody was left outside the office, waiting for the app-booked cab. And after a 25 minutes wait, (s)he was cheesed off enough to want to order from another app. One can call it fickle-mindedness, but it was just plain bad service lacking accountability!
Similarly, if somebody has been stuck with a health insurer, wanting to change to another for whatever maybe his/her reasons, bad service, lack of options in the current one, strict and non-flexible guidelines, one should feel better to know that (s)he is not at the wit's end of his/her last straw.
The Meaning of Portability in a Health Insurance Policy
If we talk about the literal meaning of portability, it is something that allows the policyholder to switch between insurers without having to worry about losing benefit like no-claim-bonus or sit out a waiting period that (s)he may have already completed with his/her previous insurer. Health insurance is most important because regulations allow portability only for health policies by non-life insurers. This feature allows the policyholder to move to an individual policy or a family floater, if (s)he's been covered under a group policy until now and decide to change jobs.
Things to Remember Before Opting Portability
This is a proven and most common thing that health insurance is a long term decision. So, a decision that is as calculative as choosing the right policy and then switching to a different insurer comes with a few important points that need to be taken care of. Here is a list of those points penned down by PolicyX: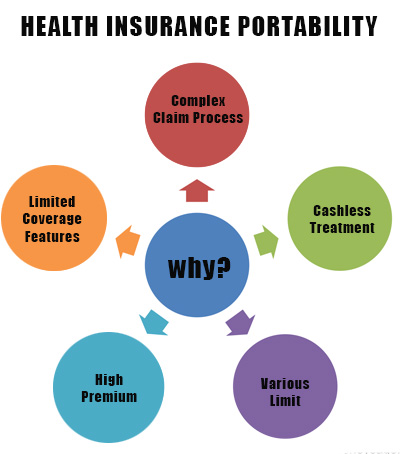 A Notice Period of 45 Days: The application for portability should be made 45 days before your existing policy expires. The policyholder should know that portability is not guaranteed.
The acceptance period of the new insurer: When to go for health insurance portability also a matter that the insurer has to deal with. After all, it's not all rules for the policyholder only; it applies to the insurer too. Within 15 days of receipt of the proposal, the new insurer is expected to respond to a portability request.  The policyholder is due to renew the old policy, in case of a delay in the processing of the proposal and the policyholder is due to renew the old policy, then the onus lies on the new insurer to request his/her current insurance company to provide him/her insurance for a short period of up to 30 days from the due date. The premium paid by the policyholder to the existing insurer for this short period will be calculated on a pro-rata basis.
Underwriting Process: The new insurer may accept the applicant's proposal only if it is in line with their underwriting norms. If (s)he has a clean slate for pre-existing illnesses and has maintained a claim-free policy, the company would love him/her for it and charge the nominal premium. But in the event of any of these two, they could charge an additional premium. Or they could go one step ahead on the nasty scale and refuse you a policy altogether if you do not fall under their underwriting guidelines. Though one can always go back to his/her old insurer in the mid-way process of porting, as we've always emphasized, don't allow premiums to be the sole reason to choose the right health decision.
Waiting Period Clause: As it is the most beneficial feature of policy portability, this clause allows the policyholder to switch over to the new insurer without having to wait out entire waiting periods all over again. For instance, suppose in someone's current policy, (s)he has a waiting period of 2 years for diabetes or hernia or kidney stones and (s)have completed one year already. The new insurer, on the condition of proposal acceptance, will expect him/her to wait out only the remaining one year and not the entire period. If for the mentioned or other specific ailments, the new insurer has a three-year waiting period, then the policyholder might be expected to wait out 2 years. On a different note, if you've completed the four years of waiting with the current insurer for the pre-existing ailments, then (s)he'd be covered immediately by the new insurance folks without having to wait any longer.
The Continuity of the Policy: In case there is a break in the policy, it will be denied. This means it is important that the policyholder port his/her policy before the existing one expires. Additionally, one could earn brownie points with the insurer (s)he is applying to by being prudent and maintaining a clean record of all documents like renewal notices and policy certificates which certifies your continuity of coverage.
Medical History of the Applicant: The new insurer can reject the applicant's portability request if (s)he has a pre-existing disease or a health problem that requires frequent hospital visits. Usually, insurers ask applicants to undergo medical tests if their age is above 45 years. If medical reports show such conditions as diabetes and high blood pressure, the new insurer can reject the application. Those with a history of heart problems or renal failure, where recurrent costs are high, also seem to fall in this group.
Increase in Sum Insured: At the time of portability, applying for a very high increase in sum insured can alarm your new insurer. Generally, people look to raise their cover when they have claimed in the past. As a result, the new insurer might mean that the applicant may file for bigger claims in the next one or two years. Additionally, for an increase in the sum insured, the entire waiting period has to be served. For instance, let's say, someone, have been continuously renewing his/her health insurance policy, originally of the sum insured Rs 4 lakh, for the last three years. Now, at Rs 5 lakh, (s)he wants to port it to another insurer. In this case, the portable sum insured will be only Rs 4 lakh, whereas the total available sum insured will be Rs 5 lakh. Further, if (s)he is hospitalized for pre-existing illness during the waiting period of the new policy, (s)he'll be entitled to coverage up to Rs 4 lakh only. The additional Rs 1 lakh will be available after you've spent the waiting period with the new insurer.
Read This -  Long Term Health Insurance & Its Benefits
Age of the Applicant: Most insurers are reluctant to approve portability applications of senior citizens, as health deteriorates with age. Further, insurers who do accept, tend to charge high loading costs along with a co-payment clause.
The Choice of Premium: Because of the low premiums, most of the people wish to port the policy. But, to fulfill this need, many a time, insurers reduce the coverage. As a result, in the long run, the policyholder ends up paying more to cover his/her needs. So, before jumping the ship, check the premium vis-à-vis coverage.
Technical Snags: Filling the portability application with wrong or incorrect information and non-availability of previous policy documents are some of the issues that can lead to rejection of the applicant's portability application. According to IRDAI guidelines, a portability request should be made at least 45 days before the date of renewal of the current policy. If there is a delay, the new insurer can refuse to accept your application. Therefore, you must initiate the process well in advance, say about 90 days to be on the safer side.
Benefits of Porting a Health Insurance Policy
Continuity is one of the primary benefits of porting health insurance plans. This means that a policyholder can switch between insurers without having to give up on the financial benefits accumulated on the previous health insurance plan. For example, if the waiting period for a certain disease is three years under the old policy, and a waiting period of two years is already completed for the same disease under the old plan, then for the new policy, the policyholder will be given the advantage of serving only a year's waiting period after porting his/her health insurance plan. Since waiting periods are minimized or completely waived off for new insurers, their liability also starts earlier than usual.
Usually, health insurance companies are open to offering this benefit to young policyholders than senior citizens. Health plans for senior citizens may not offer this benefit. However, the policyholders who suffer from chronic illness or have undergone major hospitalization have a lesser chance of availing the portability option.
Reasons to Consider Porting Health Insurance Policy
To continue with the features and benefits of the existing health plan that the policyholder wants to keep, give up on the benefits that do not serve his/her purpose anymore, and opt for features that will be more suitable for your changing needs.
Features and benefits offered in the existing policy can be modified to suit changing requirements due to increasing age by adding a new nominee, opting for additional benefits, etc. Moreover, portability offers policyholders the flexibility to customize their health insurance plans as per their unique needs.
An immediate increase in premiums is one of the factors for which health insurance policyholders should opt for porting to another policy. With an increase in the age of the policyholder, there is usually a hike in the premiums. However, a sharp hike is the reason enough for you to switch to another plan.
In case, a policyholder has experienced a slow and hassled claim settlement process with the existing insurer, it is advisable that (s)he opts for portability to an insurance company with a better claim settlement process and incurred claim settlement ratio. This ratio implies that they have a high chance of the claims getting settled quickly and in a hassle-free manner, in case such a situation arises. This would serve the purpose of investing in a health plan.
Payments during hospitalization have become way more easy and hassle-free then it used to be, because of cashless hospitalization. So, if the existing insurer does not offer the same benefit, it is time to make a switch. Most modern insurance companies have a list of network hospitals that are authorized to offer cashless benefits to policyholders. Select an insurance company that does not only offer cashless facilities but has an extensive list of network hospitals – preferably the ones that are easily accessible to you or those that you visit.
What Can Be Lost in Portability
This is worth mentioning that there is no standardization of policy wordings in the industry. If someone is holding Rs 1 lakh policy and the new insurer you are shifting to doesn't offer coverage below Rs 2 lakhs, then you could end up paying a higher premium.
Also, the policyholder will not lose out on the accumulated no-claim-bonus. He may be able to carry out his/her NCB to the new policy, but his/her premium will be calculated on the enhanced cover. For instance, if someone has been paying a premium of Rs1000 for a one lakh cover. And, because (s)he hasn't made any claims, NCB enhanced his/her sum assured to Rs 1.3 lakhs for the same premium of Rs1000. However, when one switches his/her insurer, the coverage will be calculated at 1.3 lakhs and you may have to pay up a higher premium that may be Rs1300 as your premium, thus losing out on the discounted premium.
Process of a Port Health Insurance Policy
If we talk about the process to port a health insurance policy, we can say that a person can only apply for portability when his/her existing policy is due for renewal. When the insurance company receives an application from a policyholder seeking portability, it will provide the latter with a proposal form, a portability form, and details of various products offered by it. The insurance company will obtain the medical records and claim history from the existing insurer, once after it receives the filled-in forms. The existing insurer must furnish the details within seven working days through a common data-sharing portal developed by IRDA. Once the new insurer obtains all the details, it will have to decide to underwrite the policy within 15 days. If it fails to do so, it will be bound to accept the application.
You Can Read This - What is Loading in Health Insurance Policies?
How to Port Health Insurance
There are six simple steps to port a health insurance policy:
Step 1: As mentioned earlier, the applicant needs to apply to the new insurer 45 days before the existing policy runs out.
Step 2: On receiving the application, the new insurer will expect the applicant to fill out his/her portability and proposal forms. Fill 'em right up! And submit!
Step 3: The new insurer will have to check the details filled by the applicant like medical and claim history, with the existing policy's insurer and they would do it within seven days.
Step 4: After this, the insurance company will now pass on the required information through IRDA's portal in the format prescribed by the regulator for shifting the policy.
Step 5: When the new insurer receives the required information, they will frame the proposal under their underwriting norms.
Step 6: The new insurer will process and give the applicant their proposal in 15 days. But if this is not done within these 15 days, despite receiving all the required information, they will be bound to accept the policy-porting.
The Insurer's Rights:
Although the IRDA has empowered all policyholders with the right of portability, it has also given insurers the right to reject any port-in requests. All requests for portability are treated as new and are subject to scrutiny by the underwriter. The underwriter assesses the risk exposure to determine the premium that needs to be charged. The insurer can reject the proposal if it's deemed unfavorable. In that case, the policyholder will have no other option but to continue with the existing insurance provider.
When to Consider Porting Health Insurance Policy
There might be people who are unsatisfied with their current insurer and that's prompting them to look at other options. But before making a call, one has to make sure that (s)he considers all aspects such as sub-limits, no-claim-bonuses, ease of claims procedure, etc. Young people are unlikely to have made many claims and can switch easily as they would come under the non-medical category. Their policy would be ported immediately.
Even if someone is over 45 years with a clean medical history, it's advisable by the experts of the field to get a thorough medical test done before applying to port a health insurance policy. This happens because if an abnormality is detected, the applicant could stick to their old policy instead of having to face rejection or an increased premium with the new insurer. And since the applicant has already completed any or all of your mandatory waiting period, you can just take additional cover for any ailments that have come up – you're assured of getting claims from your old insurer who is aware of your health history.
If You Summarize
By all means, we can conclude that the portability of your health insurance is an add-on benefit feature that makes you not regret your current policy if the policyholder is unhappy with it. |(S)he can choose and opt for the policy of his/her choice. However, the terms and conditions of the policy will differ from insurer to insurer. The policyholder will have to weigh in those factors before making the switch. People in the 'high-risk' category may also end up paying more premiums during the process. Also, if under the previous policy, the pre-existing condition was excluded from coverage for two years, and the exclusion period for the same condition under the new insurer is three years, then the policyholder will have to undergo one-year waiting period. People usually purchase health insurance policies when they are younger. It's easier and hassle-free because even health insurance companies prefer covering the young and healthy. Therefore, portability will be difficult later in life since a new insurer will not be willing to risk covering an elderly citizen. We suggest you read well if you want to port your existing policy.