Neeraj and Ayan, good friends and employees of an IT major were part of a financial planning survey conducted in their office. During the survey, Neeraj shared that he owns two traditional life insurance policies and a ULIP with a cumulative sum assured of Rs 40 lakhs.
Like many of us, he had mixed up his family's financial protection and investment needs leaving them highly vulnerable financially should he not be around to take care of their needs. On the other hand, Ayan had been smart enough to keep his life insurance and investment needs separate. For life insurance, he had a big term insurance policy of Rs 1 crore. For the investment portion, he had a ULIP, PPF and a mix of debt and equity mutual funds.
Ayan was confident of being lauded by the surveyor for his financial prudence. After questioning both regarding their future goals and current liabilities, the surveyor concluded that both were under-insured. It is a no-brainer that Neeraj was under-insured but Ayan? After all, he had a term policy of Rs 1 crore. How could he be underinsured?
Read on to unravel this puzzle. To understand the logic behind the surveyor's observations, we need to revisit the meaning of the term life insurance.
What is Life Insurance?
Life insurance aims to financially protect the dependents in case of the untimely death of the breadwinner. The objective is to provide an amount that will enable the dependents live a similar quality of life that they would have led and meet various goals (children's higher education, marriage, spouse's old age needs, discharging outstanding liabilities, etc) as would have been the case if the breadwinner was surviving and earning. This kind of replication is possible only if the life insurance coverage amount (sum assured) has been chosen carefully considering the various liabilities and goals.
The easiest and simplest way to do this is by keeping life insurance (protection) and savings/investment needs separate. Most of us make folly of choosing bundled life insurance products i.e plans providing insurance and savings under a single umbrella. Such plans work best from long-term savings perspective but usually offer inadequate insurance coverage.
So, most financial experts suggest that for pure insurance needs it is best to choose a term plan. A term plan provides high insurance coverage at very low premium rates. However, only buying a term plan will not suffice, what matters is choosing the right sum assured amount else you run the risk of being underinsured.
Also Read:- Assignment vs Nomination in Life Insurance
What is Underinsurance?
Buying a life insurance cover which is not able to financially secure your family's future needs is being underinsured. It is like providing for only a portion of their needs and defeats the purpose of Life Insurance.
Reasons why people buy insurance plans which provide insufficient insurance coverage:
Life insurance sales see a massive surge in the last quarter of the financial year as people tend to buy policies for tax benefits. Hurried decisions are taken, the coverage amount is the last thing that we may think of. We just look at the premium amount that is required for tax purposes and accordingly the coverage amount is arrived at (the sum assured is largely dependent on the premium amount).
Not being aware of term plans or not being comfortable with the idea of not receiving any amount if the life insured survives the tenure of the policy, some people may choose ULIPs or endowment plans for big coverage amounts thereby pushing up the premium significantly. This makes it difficult to pay the premium year on year. They may just stop paying premiums after a few years or make the policy paid-up which reduces the sum insured amount.
Insurance advisors would have a tendency to suggest products that offer lucrative commissions. As pure term plans offer lesser incentives than endowment plans, ULIPs, etc they may push these products which offer inadequate insurance coverage to the novice buyer.
Thanks to the reach of the internet and awareness campaigns by media and life insurance companies, more people are buying life insurance to safeguard their family's future. However, unfortunately, many people do not realize in their life that they are underinsured. It is often the loved ones who realize this belatedly as they struggle with their various needs and liabilities when the breadwinner/life insured is no longer around. Hence, we need to review today whether we are adequately insured or not. This leads us to the critical question of what is the right insurance coverage amount.
What Is The Right Life Insurance Coverage Amount?
There are various methods used for calculation:
One method is to choose an amount that is 8-10 times your annual income. Another approach is to base the sum assured on your life stage. For eg: If you are less than 40 years of age, you should purchase a term plan with a life cover of approximately 20 times your annual income, if in your 40s then consider a cover 10-20 times and those in their 50s should opt for a life cover of 5-10 times the annual income. An expense-based approach suggests that your life cover be 10-15 times the amount of your dependents' annual expenses.
You may also like:- Life Insurance Riders - An Add on to Life Insurance
However, these approaches do not consider your current liabilities, investments, and future goals. Every individual's needs, family circumstances, number of dependents, life stage, liabilities, etc are unique. As such just choosing an amount that looks big enough or just because your friend/relative has the chosen that amount without doing the math behind it may leave your dependents in a financial crunch.
Points To Be Considered When Calculating Your Coverage Amount
If one has a home loan, then on his untimely demise, the entire outstanding amount will need to be paid in one shot to the lending institution. Going back to Ayan's example, though he has a cover of Rs 1 crore, he also has an outstanding home loan of Rs 65 lakhs. In case he meets with an eventuality as on date, after the loan is paid off, his family will be left with only Rs 35 lakhs for their needs. This should be an eye-opener for all of us who are servicing a home loan.
Further, inflation needs to be factored in while arriving at the life cover. Yes,

Rs 1 crore is a lot of money as on date. You may believe that this is more than sufficient to take care of your family's needs. As of today, it may surely be good. But, assuming a constant rate of inflation of 7%, after 15 years the value of Rs 1 crore would come down to Rs 36.24 lakh. If the inflation rate were to increase to 10% or more in these years, the value would go down further.

The insurance should also provide for crucial financial goals, such as a child's higher education, marriage and spouse's retirement/old age needs.
Just as we periodically review the performance of our mutual funds and stocks and take corrective action if required, a similar review of life insurance coverage needs to be done, especially during critical milestones such as marriage, childbirth, etc which increase our financial responsibilities so that the cover is in sync with our dependents' requirements. Many insurance plans today have an in-built feature that allows us to enhance our sum assured at periodic intervals, saving us the trouble of hunting for a new policy altogether. This feature can also be useful to deal with inflationary trends.
Life Insurance Article:- Whole Life Insurance: Everything You Need to Know
The table provided below (taken from ET wealth dated July 23, 2018) presents a cohesive way to arrive at an optimum life insurance coverage amount. Also, there are various online calculators for this purpose, however, please do keep in mind the points discussed above.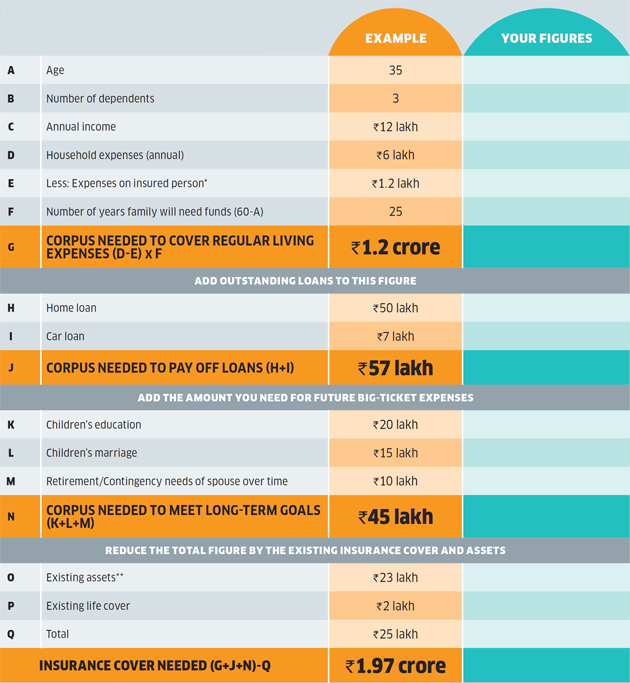 *Policyholder's personal expenses are assumed to be 20% of the household expenses and are to be deducted
**Does not include the place of residence as it cannot be liquidated to meet the family's needs 
Conclusion
Our responsibility is not to just to buy life insurance. It is to buy adequate and sufficient life insurance coverage. Only then can our family members meet the various goals and live comfortably in our absence.
Related Articles:- Unit Linked Insurance Plans (ULIPs): Here's All You Need To Know
- 18 Life Insurance Terminologies a Policyholder Should Know