Old age is inescapable. People are often late in planning their retirement and take wrong decisions. One should be prepared with certain saving and insurance plans which can make your old age certainly happier and comfortable.
Here is a note of certain mistakes that generally people commit while planning their old age. The below-mentioned chart of mistakes will help you remind of things that you should do. It will be helpful in planning your retirement without committing any mistakes.
Mistakes Done By People Before Planning Retirement
1. Planning Late
Stuck in the responsibilities of family and children people keep delaying the planing.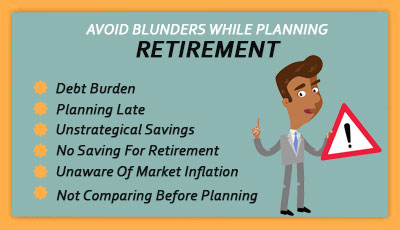 Most people start thinking of retirement savings in their 40s or 50s. It is already too late. In mid of all the hustle and bustle of life one is not able to think about the self.  So, it is better to start planning your retirement early.
2. Unaware Of Market Inflation
Ignorance about market inflation can prove very expensive. Prices are increasing every year and if you do not plan accordingly then it will be very difficult to manage things in the coming future. Non-seriousness in life never pays you good. Saving at an early age is beneficial for a later period in life.
3. Not Understanding The Key Terms
Very few have an idea of all the key terms used in an insurance company. So, gain knowledge about key terms like lock-in period, risk level, expected return, etc and you can invest in better plans.
4. Living An Overluxurious Life In Ignorance
Being spendthrift can again land you in financial crisis after a time period. Spending too much money cuts down on your savings. When you are spending a lot then planning retirement becomes challenging. Instead of wasting money on unnecessary things it would be better to have an insurance plan that works out in the long run. 
Read:- Best Retirement Plans by HDFC Life Insurance
5. No Smart Decisions Regarding Government And Private Schemes
One should always be aware of all the private and government policies and schemes being launched in the market. If one knows about the schemes launched in the market then s/he can invest in one of the finest schemes which provide you with a better rate of interest on the policies.
6. Loan On Retirement Account
A step to in-cash the retirement account or taking a loan on a retirement account is not justified.  This step is often taken by people thinking that old age is yet to come which is wrong. You should avoid it at all costs.
7. Not Comparing Before Planning
Several comparison tools are available online which can help you make better decisions. There are several insurance companies and unending schemes launched by them but which one is best can only be checked on comparison tools. Better think and make your old age comfortable. Opt for the best retirement plan.
8. No Saving For Retirement
People show dependency over PPF and insurance for old age but these two are not enough to bear all your expenses of old age. If you are not saving for your retirement then you are in a big problem. 
9. Unstrategical Savings
You are saving for your old age but not with a plan then that saving is not going to work in the future. Because you may not save regularly, but if you have a plan, then you sincerely deposit an amount in the same within the assigned time period. Small investments add on to make a big amount.
Read:- Best Pension Plans by SBI of India
10. Debt Burden
Clarify all your debts earlier because this has an adverse effect on the retirement plan. All the loans and debts should be cleared earlier. So that no danger hovers over your retirement plan to pay away from the debts. In the initial phase of life, you are free to work hard and take debt but you should clear them beforehand.
11. Debt Investment At Younger Age
If you have an excess of money then instead of lending someone it would be better to invest in a retirement plan. This will safeguard your future and old age.
12. No Health Coverage
It is very essential to have health coverage and especially against critical illness. Old age is uncertain and if you have a health coverage plan then things can go smooth. You should always be ready for emergencies.
13. Investing In Number Of Policies 
Selective investment which meets all your requirements is always the best option. This will pay you in need. So, analyze your requirements and then invest accordingly. Thorough research on different insurance plans can also give you better output.
14. Being Unpractical And Underestimating Medical Cost
Having misinterpretation can create problems for you in your old age. People having a perception of working until the age of 70 years do not seem practical. After the age of 60 years, life is challenging with body sufferings. Realistic thoughts and correct medical cost estimation will give you an apt idea of investment. How much should be invested in order to get a better return that can fulfill all the basic needs after retirement should be the main concern?
Conclusion
One should not face any problem in old age. Your hard work should be paid off. So, the mistakes mentioned are to kept in mind while planning retirement. Keep reviewing your retirement plan in case it needs any changes for your betterment in comfort. The sudden change in life can be very challenging for us. So, it is very essential to have a backup plan for the future to make things easier and PolicyX is always there for assistance in case of any help. Our customer care service is customer-friendly and can reach out to your queries on a single ring.