The progressive trade policies established and implemented by the consecutive Government in India has resulted in better foreign investment. The Indian Government has been very liberal towards the sustainable growth of India's economy along with the healthy integration with the world economy.
The direct investment by a firm or an individual of a country into production or industry of another country is subjected to a few legal policies which are termed as Foreign Investment Policies. The investment can be either in the form of purchasing a firm in another country or enlarging an existing business in another country.  The foreign investment includes both an investment to any foreign industry and an investment by any foreign industry in India. The foreign investment in the country has bestowed many great career opportunities which involves employment and continuous evolution of the country. The responsibility of governing foreign investment policies is entitled to the FDI (Foreign Direct Investment) and Foreign Exchange Management Act, 1999.
The Foreign Institutional Investors and Non-Residents Indians (NRIs) have been allowed by the Government to invest in the Insurance sector following an automatic route within the 26 percent cap on FDI (Foreign Direct Investment). It has been previously said by a senior official at DIPP (Department of Industrial Policy and Promotion) that in the third-party administrators, insurance and insurance brokers, the Foreign Investments are already allowed. But now it has been officially redefined by the FDI policy to attract more investors.
Importance of Foreign Investment Policies
The characterization of most of the LDCs is done by a lack of resources which are essential for the economic development of the country. The shortage of resources directly indicates the dearth of savings where the resources can either be domestic or foreign. According to the well-known economists, the scarcity of domestic resources is termed as 'Saving Gap' and lack of foreign resources is termed as 'Scarcity of Foreign Exchange'. In a normal language, such a lack of foreign exchange is called 'Trade Gap'. Both, the savings gap and trade gap can only be bridged by the foreign capital investment.
It allows a country to invest in other sectors more than it can save domestically. We can say that the resource limitation that obstructs the way of development of LDCs can be removed to a great extent if foreign investment is invited. Also, foreign investment fills up the 'technological gap' of the developing countries. The more rapid progress can be brought to poor countries when they get Technological assistance from the developed countries. Which ensures the requirement of foreign investment in the country. Foreign investment brings competition in the country's market and also brings the latest technology and faster skill accession to facilitate domestic labor. It acts as a platform to pave the way for strong export growth for global production chains.
If summarize, the foreign capital profits  the Indian industries along with the Indian public by presenting great possibilities for technological up-gradation, introduction to global managerial skills and practices optimal utilisation of both human natural and physical resources, creating Indian industry internationally competitive, facilitating different countries with export markets, providing backward and forward linkages and access to international quality goods and services.
Government Policies Towards Foreign Investment in India
Post-independence, the Government of India was interested in foreign investment but was having a doubtful and frightened attitude towards it. The indifference of GOI towards foreign capital was shown in the Industrial policy of 1948. The policy implied that the Government of India stands firm by the moderate Indianisation of foreign industries, which resulted in less foreign investment in India.
Afterward, for ensuring the flow of foreign capital in India the GOI had to assure the foreign investors in given three aspects.
No prejudice in between Indian and foreign agreements
Facilitating the foreign investors for the settlement of profits and repatriation of capital
Required compensation should be paid to the investors in case of nationalization of foreign agreement
The Indian Government kept on liberalizing foreign investment policies since the start of 1956 to attract considerable foreign capital. The permission for the investment in the country is granted to the wholly-owned subsidiaries of foreign firms which was subjected to the agreement to export 100 p.c.or more of their output.
The revised foreign investment policies of Government bestowed foreign investors with huge concessions and relaxations. Earlier, foreign investment was only allowed in certain sectors of basic importance to the country. The revised Industrial Policy declared various modifications concerned with foreign capital. The Indian Government has established the following policies regarding foreign in the country.
The industries which are allowed to invest in the country following an automatic approval route have been expanded by the Ministry of industry.
The maximum limit of the rate of foreign capital in India has been increased to 74 percent which was only 51 percent earlier. Also, this has been raised to 100 percent in some cases.
There will be no prior clearance needed from the RBI to the Indian companies. RBI will only interfere in the inward settlement of foreign exchange or for granting of shares to the foreign investors.
An amendment has been made by the Government in the exchange control regulations.
A ban has been detached from the use of foreign brand names and trademarks.
The Government has reduced the rate of corporate tax down to 55 percent from 65 percent for foreign companies in the annual budget of 1994-95.
The long term capital profit rate for foreign companies has been reduced down to 20 percent.
The export profit and earning of both foreign and Indian industries are exempted from the corporate income tax.
In the strategic sectors like roads, ports, tunnels, highways, and harbors, 100 percent inflow of investment is permitted subject to the condition that the overall investment limit should be up to 1500 crore.
It is not required to take permission from the foreign promotion board for any increase within the prescribed limit.
Foreign capital is allowed in the single brand product retailing, gambling and betting, lottery and atomic energy but not in retail trading.
Foreign investment in the sectors like insurance, defense production, petroleum refining in the PSUs, print and electronic media is permitted up to 26 percent.
100 percent investment rate is allowed in the sectors which are eligible for the automatic approval route.
An expanse of Foreign Investment Policies in India
It is noticeable that the foreign investment in the private sectors and foreign capital are invading in India on a notable scale as a replacement of declined foreign aid. The foreign investment has increased to $3,358 in 2005 from the $97 in 1990-91. The rate of portfolio investment has also been increased from $6 to $2,760. The overall foreign investment inflow in India has been increased from $103 to $5,099 from 1990 to 91 and 2000-01. Although, these are only approval statistics and the actual foreign investment figures are markedly low.
According to a report of the steering group on foreign investment policies in India, the following changes were proposed.
Changes proposed in Sectoral Limits on FDI

 

Sector

Equity Limits

(percent)

Entry Route

Change in Conditions

 
 

Existing

Proposed  

Existing  

Proposed  

 

1

Manufacturing

 
 
 
 
 

1.1

Drugs (recombinant DNA)

100

100

FIPB

Automatic

 

1.2

Petroleum,

Refining-PSUs

26

100  

FIPB

Automatic

 

1.3

Oil marketing

74

100  

FIPB

Automatic

 

1.4

SSI  

24

49

FIPB

Automatic

Export 50 per cent ->0 per cent  

 
 
 
 
 
 
 

2

Mining & Quarrying

 
 
 
 
 

2.1

Diamond, Precious Stones

74  

100

Automatic

Automatic

 

2.2

Petro Explore: Small Field, bid

100

No change

FIPB  

Automatic

 

2.3

Petro Explore: Un incorp JV

60

100

FIPB

Automatic

 

2.4

Petro Explore: Incorp JV

51

100  

FIPB

Automatic

 

2.5

Coal & Lignite

50

100

Automatic

Automatic

 
 

Power User

100

 

FIPB

Automatic

 
 

Other User

74

 

FIPB  

Automatic

 

2.6

Coal Washery

50

100

Automatic

Automatic

 
 
 

100

 

FIPB

Automatic

 
 
 
 
 
 
 
 

3

Infrastructure Services

 
 
 
 
 

3.1

Airports

74

100  

Automatic

Automatic

 
 
 

100

 

FIPB

Automatic

 

3.2

Civil Aviation

40

49

FIPB

Automatic

Incld Foreign Airlines

3.3

Telecom

 
 
 
 
 

3.3.1

Basic & Mobile

49

74

FIPB

No change

 

3.3.2

Total Bandwidth

74

100

FIPB

Automatic

 

3.3.3

Gateway

74

100

FIPB

Automatic

 

3.4

Pipeline: Oil & Gas

51

100

FIPB

Automatic

 
 
 
 
 
 
 
 

4

Financial Services

 
 
 
 
 

4.1

Banking (private)

49

100

Automatic

No change

 

4.2

Insurance

26

49

Automatic

No change

 

4.3

Investing Companies

49

100

FIPB

Automatic

 
 
 
 
 
 
 
 

5

Knowledge Services

 
 
 
 
 

5.1

Information Tech

 
 
 
 
 

5.1.1

ISP (Internet Service Provider)

100

No change

FIPB

Automatic

 

5.1.2

Email, Voicemail

100

No

change

FIPB

Automatic

 

5.1.3

Radio Paging

74

100

FIPB

Automatic

 

5.2

Broadcasting - DTH, KU

20

49

FIPB

No change

Remove sub-limits (FDI, FII)

5.2.1

Up Linking

49

No change

FIPB

No change

 
 
 
 
 
 
 
 

6

Other Services

 
 
 
 
 

6.1

Advertising

74

100

Automatic

No change

 

6.2

Trading (Export, SSI.)

51

100

Automatic

FIPB

 

6.3

Courier Service

100

No change

FIPB

Automatic

 
 
 
 
 
 
 
 

7

Currently Banned Sectors

 
 
 
 
 

7.1

Plantations (other)

0

49

 

FIPB

 

7.2

Real Estate

 
 
 
 
 

7.2.1

Complexes (all Categories)

0

100

 

Automatic

 

7.2.2

Individual House/Building/Shed

0

100

 

FIPB

 
Market Perspective of Foreign Investment in India
When we talk about India's economic condition, India stands at the 5th place in terms of its economy in the world and the 3rd place in terms of GDP rate in Asia. India is counted in the few markets in the world that provides a remarkably high probability of growth and earning in effectively all the sectors of the economy. The greatly skilled human-resources plays an important role in ensuring a good profit and return to the foreign industries on their investment in India. A prior judgment about the opportunities and the limitations for investing in the Indian market would be beneficial for foreign investors.
Investors need to have a properly designed investment plan which is designed based on extensive research. The foreign investors must keep in mind that if they are planning for a short term investment then it will not result in any significant profit. However, the long term returns will be guaranteed fruitful to an investor who has researched the market properly before making any investment. If an investor gives all these factors a required consideration, there will be no fret about the result and outcome of their investment.
Types of Foreign Investment in India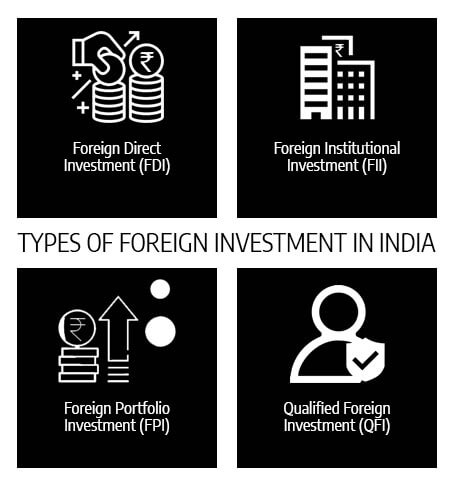 Any investment made by any foreign industry in India in the form of any property or funding is foreign investment. The foreign investment can be done by foreign corporates, foreign nationals, and NRIs. Foreign investment can be categorized into the following forms. 
Foreign Direct Investment (FDI)
When an investment is made by a foreign company or individual involving either of the given ways then it is called foreign direct investment (FDI): 
To establish a new business industry in the country which is known as green-field FDI.
Procuring business assets, or investing in an already existing Indian industry which is known as brown-field FDI.
The main aspect of FDI which makes it different from the other types of foreign investment is that it is a long term investment and includes a strong control over the company policies and company decisions. Further, the FDI is of two types which are:
Inward FDI - When an overseas company invests in India.
Outward FDI - When an Indian company or individuals invest in foreign companies.
If a foreign investor procures more than 10 percent of shares of any Indian company then it will be considered as FDI according to the Companies Act, 2013. The logic of the rule is that the higher value of owned shares will consequence in considerable control over the decision making of the company. 
Foreign Institutional Investment (FII)
When an investment is made by a foreign institutional investor in the shares of an Indian industry or the bonds offered by an Indian industry is termed as FII. For example, we can say that if a foreign investor owns shares in the reliance industry it will be considered as FII. The institutional investors like Investment companies or Insurance funds are eligible to directly invest in the stock market of India subject to the condition of getting a license from SEBI. 
Although, to invest in the Indian market a foreign investor has to be registered as a sub-account of an FII and then the FII will be responsible for buying shares/bonds from the Indian market on investor's behalf. A foreign investor can be registered as a sub-account of an FII in India only if he is wealthy enough to have a minimum of $50 million property or is a high net worth individual (HNIs). The foreign institutional investors are eligible to get back their money from the Indian stock market/bond anytime that is why FIIs are termed as 'Hot Money'. 
Foreign Portfolio Investment (FPI)
An investment made by a foreign organization and NRIs in the secure sectors of the Indian market like shares, Government bonds, corporate bonds, convertible securities, infrastructure securities, etc is Foreign Portfolio Investment (FPI). FPI is flexible in terms of entry and exit from the market.
Qualified Foreign Investment (QFI)
It is a known fact that foreign entities are not allowed to directly invest in the Indian market without being registered as a sub-account with an FII. QFI has been introduced as a substitute to the FII in the year of 2002. According to QFI, a qualified foreign investor can directly invest in the Indian market without sub-account. 
But, it is important to unlock a DMAT account and Trade account with an agent of depository in India. There are few rules regarding QFI which are:
An individual, group or an association can be considered in QFI
The QFI should be a foreign citizen which is amenable with the standards of Financial Action Task Force (FATF)
The QFI needs to be a signatory to the International Organization of Securities Commission's Multilateral Memorandum of Understanding (MMOU)
Automatic Approval Procedure of Foreign Investment in India
35 high priority sectors are mentioned in the Annexure III in the statement of the New Industrial Policy are only eligible for the automatic approval facility for foreign investment in India. It is only valid for the foreign investment of up to 51 percent of foreign share value. According to the revised foreign direct investment policy, more than 3 sectors of the mining industry can get automatic approval for half of the value of foreign investment. Thirteen more categories are added to the list of industries that are applicable for automatic approval of the foreign investment. These export units need to work according to the export-import policy of India and get registered under the Ministry of Commerce.
Conclusion
The market potential for foreign investment is huge. Although, the foreign investment in India is subjected to some drawbacks as well. Foreign investors must ensure proper knowledge about the Indian market to deal with market anomalies and difficulties. Administrative hassles, infrastructural scarcities, power shortage, and political obscurity are a few major factors for creating drawbacks in foreign investment. Investing in the foreign market is not that scary as it presumed by many investors. When the Government has set a target of getting $10 billion of investment inflows in the country, it can only attain the one-third of the target. There are some limitations which are prevailing the inflow of foreign investment in India as the foreign investment in India is less than a tenth of the foreign investment inflow in China. India has failed to use the advantages of FDI even after its liberal foreign investment policies.
The gaping of the approved and the actual inflow of foreign investment in the Indian market is being increased over time. Out of 100  percent, only 35 percent of FDI is invested in the market and the remaining 65 percent is only on the paper. The reason for these gaping between the actual inflow of investment and on paper investment is the obstructions and limitations in the implementation of foreign investment framework.