As we busily go through life and its various commitments, we need to also give a thought to a future where we are no longer working having retired. When there is a regular stream of income coming month on month it is easy to gratify our material needs, live life on our terms and maintain a high standard of living.
"Like it, Buy it" is the mantra that many of us follow and this works well till the moolah keeps on coming. But what happens when this regular flow of income stops on retirement. In fact, during retirement, our need for funds for genuine purposes goes up such as treatment for ailments, doctor consultations, new ailments rearing their ugly heads, etc. At this crucial juncture, if a regular income is not available, it can leave one in dire straits.
A regular income post-retirement helps one live with dignity without depending on children and other near ones for the necessities. The golden years can truly be golden only when you can live on your terms without depending on others for financial assistance.
This is why pension planning is very important during our working years. There are various products suited for this purpose such as PPF, mutual funds, etc. However, most of these investments' handover a lumpsum amount on maturity which then needs to be carefully managed by the individual to meet his lifelong needs. This is where NPS or a pension fund scores as they have a concept of annuity whereby a regular pension is made available to the individual for life. Let us look at both these options broadly.
What is National Pension Scheme (NPS)?
National Pension Scheme (NPS) was introduced by the Government of India in the year 2004 as a pension scheme for government employees. Later on, it was extended to members of the general public in the year 2009. The purpose of NPS is to develop a disciplined and regular habit of savings so that one can create a corpus which can be used to fund the needs arising in the post-retirement days.
To meet this objective, regular contributions need to be made during the active working years to accumulate a corpus. When one retires, the corpus thus generated is used to buy an annuity. An annuity refers to a series of payments which are made at regular intervals. One is not required to buy an annuity from the entire accumulated corpus. A portion of the annuity can be withdrawn and the balance needs to be mandatorily be used to buy an annuity.
Also Read: - Saving Schemes in India
What Are The Various Contribution Options Available Under NPS?
The various options are as under:
Tier 1 – In this one is required to make contributions regularly (min Rs 6000/- annually, no maximum limit) for accumulating a retirement corpus. When one attains the age of 60 (there is an option to further extend the regular contributions to the age of 70), the entire corpus is used to purchase an annuity. To provide flexibility and liquidity, an option has been given to withdraw a part of the corpus i.e 60% can be withdrawn (as per current rules) and the remaining 40% has to be used to buy an annuity. The annuity can be purchased from any of the approved annuity service providers. Here it may also be noted that during the period when regular contributions are being made and a corpus is being built, one cannot freely dip into the corpus as and when needed. Limits on withdrawals have been placed and only in some exceptional or specific situations can one withdraw from the corpus.
Tier 2 – This option is similar to a voluntary savings scheme. You can also withdraw from the corpus as and when required. However, to open a Tier 2 NPS account, you need to own a tier-I NPS account.
What Is How Contribution Made By The NPS Holder Is Managed?
This is a long-term product for post-retirement usage and subscribers are given the option of investing in a host of debt and equity funds as per their risk appetite. By offering the subscribes the option to invest in equity which the potential to earn higher returns (also risk is much higher than debt funds), NPS scores over the Public Provident Fund (PPF). In PPF, investors cannot choose where their contributions need to be invested. Also, NPS provides market-linked returns whereas the government determines the interest in case of PPF.
Who Can Opt For NPS?
Any citizen of India (resident as well as non-resident) who is in the age group of 18-60 can opt for NPS. You need to submit the application form along with all documents mentioned in the form. This is a good product for those employed in the private sector and those who are self-employed as it helps to save regularly to generate a retirement kitty. With annuity payouts, one can have a regular income even during the retirement years.
How To Opt For NPS?
Online registration is possible by following the e-NPS process. Oe can also apply offline by contacting any of the Points of Presence (POPs) appointed for this purpose. Currently, all the major commercial banks, brokers and Stock Holding Corporation Ltd. are authorized to act as PoPs.
Who Are The Fund Managers For NPS?
The pension fund managers (PFM) are:
HDFC Pension Fund
ICICI Prudential Pension Fund
Reliance Capital Pension Fund
Birla Sun Life Pension Management Ltd.
SBI Pension Funds
Kotak Pension Fund
LIC Pension Fund
UTI Retirement Solutions
What Are The Pension Plans of Insurance Companies?
Life insurance companies offer pension plans as a part of their product offerings. These pension plans do not offer any life insurance coverage. The objective of pension plans is to provide a guaranteed income either for life or for a pre-defined period. These plans are designed to protect an individual against the risk that he may outlive his savings. Instead, the insurance company bears this risk on behalf of the individual.
By IRDAI guidelines, the pension plans have to provide capital protection. Partial withdrawals from the pension fund corpus are not allowed making it highly illiquid. Further, the policyholders are required to buy an annuity from the same life insurance company. Thus, even in case of dissatisfactory services, one is compelled to continue with the same company.
Pension plans offer two types of annuities, immediate annuity, and deferred annuity.
Immediate annuity – With a lumpsum amount, one can buy an immediate annuity. You are not required to make regular premium payments for availing this type of annuity. You can deposit the lump sum amount with the insurance company who in turn makes regular guaranteed payouts which can start on an immediate basis. This option is best for people who are about to retire and would like to get a regular monthly income.
Deferred annuity – In this type of annuity, you need to build a corpus over a while by way of regular premium payments. At the end of the pension plan tenure, the accumulated corpus is used to purchase an annuity from the same insurance company. 1/3rd of the corpus can be commuted or withdrawn. For the balance amount, you need to necessarily purchase an annuity. The commuted lump sum amount is tax-free. However, the annuity income is taxable. This option is best for people whose retirement is 10-15 years away and wants to generate a retirement kitty which can provide regular income post-retirement.
So, NPS or a pension plan, which one should you opt for. Let us benchmark these two instruments on some key parameters to understand which is better.
Pension Plan VS NPS
Cost: Cost is a major point of distinction between these two options. The investment management fee in NPS is only 0.01% whereas the same is 1.35% for pension plans. Further, the charges on a pension plan (premium allocation, policy administration, etc) are recurring. In pension plans, the distribution charges are 7.5% of the premium in the first year and 2% subsequently. In NPS the distribution fee is capped at 0.25% of the contribution up to a maximum of Rs 25,000/-.
Minimum Contribution: The minimum annual contribution for NPS is much lower as compared to pension plans. The minimum amount to pay towards NPS is Rs 6,000/- annually whereas it is between Rs 18,000 and Rs 24,000 in case of pension plans.
Penalty for Non-Payment: In case the minimum annual contribution is not made under NPS the account becomes dormant and there is a penalty of Rs 100/- only. The account can be re-activated anytime by paying the penalty for the dormant period. In stark contrast, if the premium for a pension plan is not paid on the due date or within the grace period, the policy lapses. The policy can be revived only on payment of all pending premiums within the revival period.
Partial Withdrawals: Pension funds generally discourage withdrawals to ensure that the end objective doesn't get derailed. NPS doesn't allow you to withdraw all your contributions before turning 60 years of age. In case you do so, it allows you to take only 10% as lumpsum and annuities 90% of the corpus.
However partial withdrawals from NPS account are permitted. After staying invested for three years, one can withdraw 25% of the corpus to meet any emergencies such as treatment of a critical ailment, children's education, buying house, etc. Up to three withdrawals are permitted during the entire tenure.
Pension plans do not offer partial withdrawal facility making it highly inflexible and illiquid.
Maturity: On maturity, in case of NPS, one can withdraw up to 60% of the corpus and for balance, 40% annuity needs to be purchased. Pension plans allow to withdraw only 1/3rd or 33.33% of the corpus and for balance, 66% annuity needs to be purchased.
Mode of investment: NPS offers customers a choice of funds with varying debt-equity ratio to suit their risk sensibilities. One can invest up to 75% in equity. The unit-linked pension plans do not offer pure equity funds as they need to provide a capital guarantee which would be difficult to fulfill in case equity funds are offered. This, in turn, prevents policyholders from deriving benefits of long-term equity investments.
Taxation: As per existing tax rules, contributions made towards NPS re eligible for tax exemptions under Section 80C, Section 80CCC and Section 80CCD (1) of the Income Tax Act. From 2016, an additional tax benefit of Rs 50,000 under Section 80CCD(1b) is provided for NPS. This is over the Rs 1.5 lakh exemption of Section 80C.
In December 2018, the government took another step to make NPS more tax-friendly by allowing a complete tax exemption on the 60% corpus that an investor can withdraw on maturity. Earlier only 40% of the withdrawn amount was tax-free and the remaining 20% was taxed. 
The premiums paid towards pension plans qualify for tax deduction under section 80C of the income tax act. The 1/3rd amount which can be withdrawn at maturity is also tax-free.
Illustration
The table below depicts the appreciation one can derive from NPS and pension plans: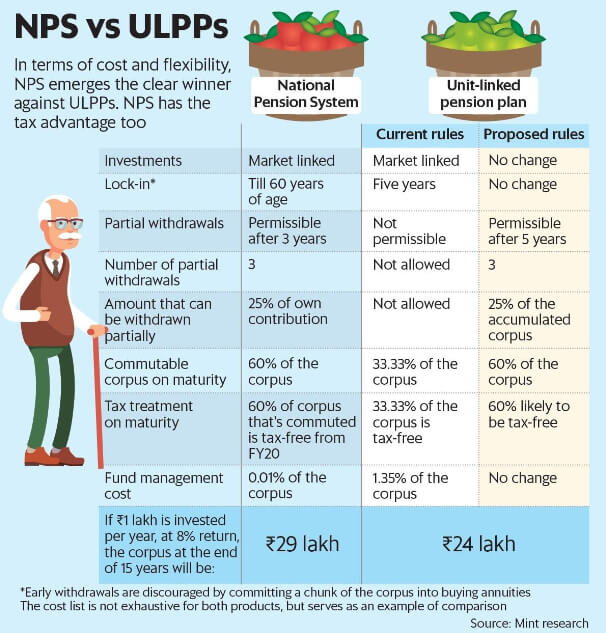 Conclusion
In the current format, NPS appears to score over pension plans due to low costs and choice of investment funds. However, IRDAI (insurance regulator) has proposed to bring about some radical changes in the pension plans and if the same is implemented, pension plans will have a level playing field against NPS and can compete directly with NPS.