Unit Linked Insurance Plan (ULIP) gives individuals the advantages of both insurance plans and investments under a single incorporated plan. The primary advantage this provides is the management convenience of not needing to execute the two dealings independently.
In the past few years, Unit-linked insurance plan guidelines (Ulips) have become popular. Yes, it provides an excellent chance to create a reasoned investment along with the advantage of tax exceptions. However, it is necessary to have a look at a few issues to avoid discontentment later.
Selecting the right ULIP according to your economic abilities and upcoming needs is essential to maximize returns. In today's world where there are several insurance plans and products available to pick from, it's crucial to pick the appropriate item that best suits your requirements. Below are some suggestions that you need to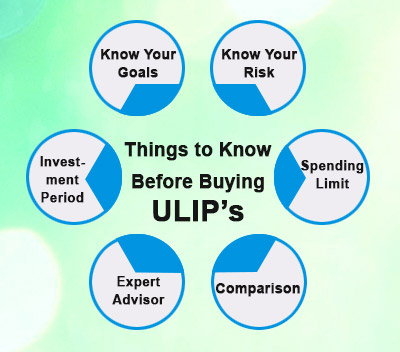 consider when selecting a ULIP.
1. Know The Item And Your Goals
Do a lot of research before you opt for a ULIP. Understand the concept of ULIP so that you know what you are investing in and do not repent later. Many times the traders are not fully conscious of the plan they choose, that's mainly because of bad business practice by agents. Being conscious of the item will ensure that that you do not face distressing situations later on. Find out your purpose of purchasing an insurance plan. Is the plan being purchased for retirement planning or building your child's future? Ensure that your answer to this question is a sensible and well thought one and not just 'save tax' trick.
2. Know Your Risk Appetite And What The ULIP Offers
Market risks on a ULIP's underlying investment strategies are the same as that of common funds or direct investment strategies in stocks / fixed-income investments. This investment threat of the profile is carried entirely by the insured individual and will need to be supervised actively. Thus, you should determine your risk appetite, economic responsibilities and funding need before selecting the appropriate plan.
3. Spending Limit And Investment Period
Understanding the objective and threat factor is not just enough to pick a ULIP. You also need to know how much you are willing to spend. This will ensure that that the choice taken is sensible and the plan charges don't leave you in sadness.
4. Knowledgeable Insurance Plan Advisor
Choose an agent who is not just familiar with the insurance sector but knowledge and impartial also. Know their areas of expertise. Do not think twice to ask for the sources of the clients they have maintained. It's great to have a reference examination done as it makes easy for you to take the next step.
5. Comparison
Last but not least. With several guidelines available in the marketplace, you need to know how to pick the best option. Compare guidelines offered by various companies, including their contract terms, premium quotes, limitations and advantages to ensure that you get the best ULIP policy.