SIP or systematic investment plans are just a way to save money in a disciplined manner. The saving is done into mutual fund schemes. The investment that you need to make towards a SIP plan has to be done in regular periods. You can start with as low as Rs. 500 and you can choose to invest money into the plan in timelines of days, weeks, months or also years.
Those investors who are not able to make a regular investor and are not disciplined, for them this SIP plan is a good alternative. SIP is like a recurring deposit scheme where you put small amounts of money in equal intervals into your mutual fund scheme. This small investment can give you good returns in the future if they perform well.
Important: Types of Investment in India
Benefits Of Investing In An SIP Plan
The other benefit of investing in SIP is that when you invest in the mutual fund yourself, you will have to dedicate a lot of time to pick up the best stocks to invest in. You will need to read about the stock, do adequate research and then plan the entry and the exit time accordingly. Someone who is not aware of the financial market or does not have enough time to analyze the market can still save in the stock market through the mutual fund route.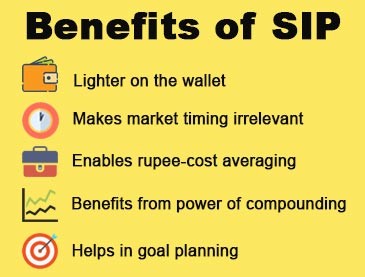 And since you do not invest a lump sum in a particular time but spread your investment, the SIP plan lets you average out the investment. So today when you invest in a SIP mutual plan the market may be at its peak, a few months later the market may just be consolidating, and then later the market may be at its low. The SIP plan thus lets you average out the investment, and this helps to increase the return over time.
You can invest in the SIP mutual funds online. Many websites give well-researched advice on the top mutual funds to invest in. It can be a little confusing with so many SIP plans in the market. However, you can look at the past performance that can let you know if the SIP plan is a good fund and if you should invest in it.
SIP – A Smart Way To Save
Systematic investment in mutual funds is a great way to turn the savings into a great investment vehicle. It is however important that you do enough research to be able to make a good SIP portfolio.
The first thing is to decide upon how you would like your fund to allocate the asset. By asset allocation, means that you need to decide on how much money goes into a particular type of mutual fund each month. It can get complicated so to keep matters simple you can classify the mutual funds into large-cap, small-cap, and debt funds.
As a basic rule, you can look to invest 50% of your capital into large-cap mutual funds, 30% into small or mid-cap funds and the remaining can be invested into debt funds. To have a stable return, you should ensure that your SIP has a debt component in it. You could invest even as low as 25% into debt funds in your monthly investment portfolio.
The second thing to ponder upon is the number of schemes that you want in your mutual fund portfolio. The portfolio should at least have three schemes in it. It should however not be more than 7 to 8 schemes at a single time. If you have more than eight schemes at a single time then tracking all of them can become a real problem. Ideally, a portfolio with a scheme that invests into equity and a single debt scheme should be good enough.
The most important point is to decide on what schemes you want to invest in. Once you are sure about the types of funds and schemes that you are looking for and how many of each would you like to invest in. Choosing a particular fund can become very simple. Many search websites give you a list of the top-rated funds. Ensure that the funds that you choose do not just give high returns but give consistent returns.
Also Read: Top 5 Investment Options In India
Top Mutual Funds
The top 5 rated mutual funds are:
Tata Equity Direct Plan – this is a diversified equity fund and is a part of the Tata family business.
Mirae Asset Emerging Direct Fund into Blue-chip Stocks – this is a five-star fund
Canara Robeco Emerging Equities Fund-Direct Plan – this is also a five star rated fund scheme
CPSE Exchange Traded Fund – this invests in large-cap equity funds and belongs to the Reliance mutual fund group
JM Multi-Strategy Fund-Direct Plan – the fund belongs to the JM Financial Mutual Fund family and invests into large-cap companies
With a SIP scheme, you can invest small amounts of money at regular intervals. This makes it a much-planned way of investing your money, and it inculcates the habit of saving regularly. The funds invest in stocks and debt funds and let you build a diversified portfolio. It also helps you generate wealth. It is important to realize that investing small amounts of money regularly can let you build a corpus.
The Indian equity market is bullish, and it is thus important that you be smart to maximize your wealth. Investing in equity-related funds lets you participate in the market movement. And when you invest through the schemes it lets you invest money without you having to spend time analyzing the various stocks that are traded in the stock market. Your fund is also managed by a fund manager who is an expert and who understands the market. He can make an informed decision on when to invest in the market, whether to let the stocks stay or to pull them out.
Your money is thus managed by a professional, and thus through SIP Investment plans, you can take advantage of the market movement.