In India, an active investor can get plenty of investment options to deploy his money and earn returns after a time. Moreover, investments are like a reserve of profits and savings through which monetary value can be increased over a period of time.
To make an investment worthwhile, a person must do intensive research moving forwards to invest the money. Also, the investor should analyze his budget, financial requirements and other similar aspects applicable to an investment in India.
If a person is living in India and desire to invest his money, then there are plenty of investment options for consideration. 
Public Provident Fund (PPF)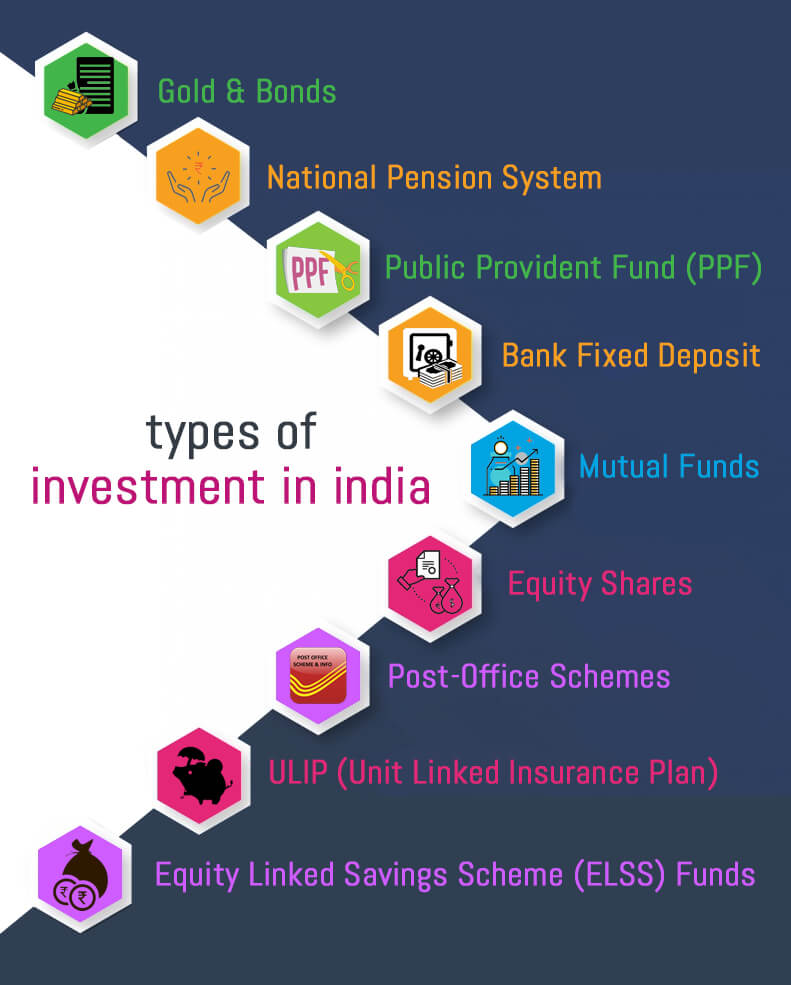 The provident fund is the best source to save money for future contingencies and also a tax saving investment tool. PPF is under the control of the Indian Government and is open for Indian Citizens holding a legal identity. A PPF account can be opened with Rs 500 minimum and a maximum of Rs 1.5 lakhs per financial year. The amount can either be deposited in a lump sum or in installments of 12 months.
PPF offers plenty of benefits for the welfare of people which are disclosed below-
Rate of Interest: The factor that governs PPF is the rate of interest offered by the government of India. The current rate is 8% which is quite higher as compared to saving account in a bank.
Term of the Scheme: The term of the PPF is 15 years and the subscriber can extend the period of a scheme by submitting an application. The subscriber need not pay any additional amount for stretching the time period.
Loan Facility: The facility of loan can be availed after the completion of the 3rd financial year and till the 6th financial year. A rate of interest will be charged from the PPF account holder.
Tax-Free Investment: Investment in PPF is under tax exemptions and the PPF account holder can earn tax benefits up to 1.5 lakhs per financial year under Section 80C of the Income Tax Act.
Helps during medical emergencies/ education: The PPF Scheme permits the account holder to withdraw money from PPF account if any kind of medical emergencies or child's higher education. This process is also called as premature closure of PPF account and becomes applicable only on fulfillment of 5 years of tenure. 
Bank Fixed Deposit
These are the most secure form of investment that guarantees a return on the arrival of maturity period. A person investing in Fixed Deposit are assured to receive amount deposited plus the interest applied over it for 5/ 10 years. In India, almost every private and nationalized bank offer this facility like SBI, PNB, ICICI, HDFC,  The main factors to decide which company fixed deposit are best to buy are-
Rate of Interest: The interest primary thing to consider before going to invest your money in a fixed deposit of a bank. Fixed Deposits that give higher returns interest on the deposited money should be preferred. The company charges a penalty for premature withdrawal. The rate of interest that a person can get is between 4 to 7.5 percent as per the rules of a particular bank. However, they possess low liquidity as cash once deposited can be withdrawn after completion of maturity period. A person can withdraw the cash before the maturity date but the company charges a penalty for premature withdrawal.
Term of the Fixed Deposit: In India, a minimum period of fixed deposit is equal to 7 days and the maximum term is 10 years. An investor can choose either 7 days/ 15 days/ 45 days/ 1.5 years/ 5 years or 10 years according to their needs.
Facility of payment: Many of the banks gives the facility of Flexi/ Sweep in Fd where the interest earned over a period of time is directly transferred to Savings Bank Account or through cheque or can be withdrawn through ATM.
Loan Facility: One can also avail loan facility from the fixed deposit up to 80% to 90% of the amount of FD.
Also Read - Best LIC plans to invest
Mutual Funds
Mutual funds are a professional guided investment where the investor can get skilled assistance from a professional who possesses the knowledge of investment. It is the long term investment where a pool of money collected is created in stocks, bonds, money market instruments, and other assets.
The investor should keep in mind the following factors before stepping own to invest in a mutual fund
Performance of the portfolio consisting of money/ funds
Performance of the Mutual Fund Company whether it is offering timely returns on the investment.
Annual Fee/ commission for availing professional guidance service
Expense Ratio that includes management fee and its administrative costs
Front End Load is also known as sales charge/ commission
An investor can choose Mutual Funds according to their financial requirements. There 5 types of mutual funds-
Equity funds: The investment is made in equity shares/ stocks. The investor will get dividends if the performance of stocks gets better. The equity funds offer a range of stocks such as income funds (which hold stocks that pay large dividends), value stocks, large-cap stocks, mid-cap stocks, small-cap stocks, or combinations.
Fixed Income funds: These funds offer a fixed amount of income or return and mainly include government bonds, investment-grade corporate bonds, and high-yield corporate bonds. The frequency of risk is generally higher in corporate bonds as compared to other funds.
Index Funds: The index funds will depend on the S & P Composite Index and will fluctuate according to the motion of index. If it goes up the funds will go up and vice-a-versa. The fund manager will manage the benchmark index by picking the stock actively. This mutual fund is ideal for investors who doesn't want to take higher risk and incur money over expense ratio.
Balanced Funds: An amalgamation of stock, bond and fixed income that uses the technique of first dividing the money into bonds and stocks. Thus, lessening the amount of risk through accurate distribution. The balanced funds are made with the purpose of generating regular income or the investment
Benefits:
The expense ratio is relatively low
Low risk and perfect for conservative investors whose risk holding capacity is very low
Meets the income generation needs of investors to accomplish present requirements
Capacity to combat and dominate the inflation 
Specialty Funds: The reason behind getting the name of specialty fund is because these funds invest in a particular industry or sector or company. The performance mainly depends upon the function of the company in which the investment is done. Due to investment in one industry, there is no space for diversification where the investor can lower the rate of risk. However, if the sector or industry start booming, the funds invested in that industry also start earning greater returns. For example- funds invested in finance industry/ health sector/ mining sector/ travel industry are termed as specialty funds.
Equity Shares
By investing in equity shares the shareholder will get regular dividends as well as voting rights in the decision and meetings of the various shareholders in a particular company. The risk level is much higher in equity shares which compensates the shareholders with higher dividends/ profits.
There is no fixed rate of dividend and it may vary according to the surplus funds available with the company. A shareholder can influence the decision of the management of the company and are the owners.
In addition to the annual dividends, the shareholder will also get enhancement in the investment.
National Pension System
This gives you advantages at the time of retirement when your source of income gets blocked due to age advancement. In this, the investor is required to contribute some amount which will be invested in equity, bonds, government securities, and alternative investment.
Formation: It was formed and under full administration of Pension Fund Regulatory and Development Authority (PFRDA) and is applicable to the citizen of India.
Eligibility Criteria: Any investor between 18 years to 65 years is eligible to take this kind of investment.
Tax Exemptions: NPS is partially under tax exemption where the 60% is under tax exemption and 40% investment is taxable. The maximum tax benefits allowed is Rs 1.5 lakhs per year with respect to section 80C of the Income Tax Act
Number of Pension Fund Managers: In India, there are a total of 9 pensions fund manager through which investment in National Pension Scheme can be done. In India, SBI is the largest operating fund manager whereas there are other private sector fund managers that offer the same service with multiple benefits. Some of them are-

SBI Pension Funds
LIC Pension Fund
UTI Retirement Solutions
HDFC Pension Fund
ICICI Prudential Pension Fund
Kotak Pension Fund
Reliance Capital Pension Fund
Birla Sun Life Pension Management Ltd.
The NPS offers two choices namely, Auto choice and Active choice.
Auto Choice: This option will invest your money in different assets with regard to the age.
Active Choice: This option will ask you to decide the ratio of funds which is to be invested in different assets.
Gold
The traditional source of investment that is followed by the older generation in past years and which is still a lucrative source to get rich returns. Gold Investment is versatile of all the investment whose value will never degrade in future time.
The government has launched some new schemes to boost gold investment in India such as
Gold deposit scheme: This is a physical investment in gold where any fluctuations in the economy will impact the value of gold. This kind of investment is usually practiced in every Indian home where women used to buy gold jewelry/ bars and keep it under their custody. However, there is always a risk of theft and burglary in storing the physical form of gold.
Gold ETF: The Investor in Gold ETF is not involved in buying a physical form of gold but purchases the value of gold by opening a DEMAT Account
Gold Funds: This investment is majorly for companies who have a higher amount of funds. Generally, this option is preferred by mining industries where there is no need to open a Demat Account. Plus, there is no fear of theft/ burglary and investor is independent of market fluctuations.
Post-Office Schemes
By buying the post office scheme an investor can earn tax-free interest up to Rs 10,000 per year. Any person living in India can invest in POS by contributing a minimum of Rs 50 to 200 to open the account. It is a small saving scheme that is designed for small investors who have a low budget and low-risk bearing capacity.
A maximum of 7.7% of interest rate is awarded under the Post Office Monthly Income Scheme and 7.3% under Post Office Recurring Deposit Scheme.
ULIP (Unit Linked Insurance Plan)
ULIPs perform dual functions i.e. provide life insurance and invest in various stocks, bonds or mutual funds. ULIPs gives freedom to investors to evaluate the investment portfolios managed by the company and hold the right to switch between funds it is not performing well.
Who can invest in ULIPs?
Investors who want to safeguard their investment for the long term and comfortable to take low to high risk between the period.
How does it work?
The premium which is paid by the policyholder to the company will be invested in different funds as selected by the policyholder. The charges of allocation, managing funds and policy governing are deducted from the premium received.
Equity Linked Savings Scheme (ELSS) Funds
These are the best kind of investment if you are seeking for higher rates of interest with a lesser amount of risk. It carries a lock-in period of 3 years and the investor can enjoy the advantage of higher liquidity among other investment options.
The maximum value of return can be extracted from ELSS is 15% to 18% and the investors will receive tax benefits under section 80C of the Income Tax Act.
Bonds
Bonds are usually fixed investment and are usually made available to investors by the company who need money to carry on business operations like starting a new project, refinance existing debts.
The bondholder will get interested/ coupon rate which is paid by the borrower/ issuer of bond for the funds provided on loan.
Bonds are generally preferred by companies, municipalities, corporations, states, and supreme governments who have huge projects that demand an enormous amount of funds.