Service Tax is an indirect tax that a provider of service collects from the recipient of service and pays to the government. The ultimate burden of service tax like any other indirect tax is borne by the consumer. Service means all kind of intangible offerings provided to the service recipient which includes software development, hotel services, car repair, restaurant services, consulting services to name a few.
After getting a brief introduction, let us discuss service tax in detail.
Service tax is a tax imposed by the Central Government of India on services rendered or agreed to be delivered, except for services covered by the negative list and collected by the person liable to pay service tax. The person responsible for paying service tax may be a service provider or service recipient or any other person liable for such payment. It is an indirect tax in which the service provider collects from the service recipient and pays the same to India's government.
Few services were exempted from service tax in the public interest through Mega Exemption Notification 25/2012-ST as revised to date and few services were charged service tax at a lower rate as amended to time according to Notification No. 26/2012-ST. The service tax rate is raised to the consolidated rate from 1 June 2016 at 14 percent + 0.5 percent + 0.5 percent = 15 percent of the value of the services offered or to be delivered. The tax rate is consolidated as education cessation and secondary higher education cessation. It has been notified by the government with 2 percent of "Swach Bharat Cess(0.50 percent)."
From 15 November 2015, after the introduction of Swachh Bharat Cess, the effective rate of service tax including Swachh Bharat Cess was 14.5 percent. Swachh Bharat Cess and Krishi Kalyan Cess have also been levied on all services in respect of which Service Tax is, and therefore the Service Tax (including Swachh Bharat Cess and Krishi Kalyan Cess) applied after 1 June 2016 is 15 %. The Finance Minister raised the service tax rate from 12.36 percent to 14 percent during the 2015 budget, which was broadly applicable from June 1, 2015. Besides, an additional Swachh Bharat Cess is added at a rate of 0.5 percent from 15 November 2015, leaving the service tax at 14.5 percent.
The applicable service tax from 1 June 2016 is "15 percent" after the new proposal introduced during the 2016 Union Budget.
History of Service Tax
Dr. Raja Chelliah Committee recommended service tax be introduced in Tax Reforms. Service tax was first levied at a flat rate of five percent from 1 July 1994 to 13 May 2003, at a rate of eight percent flat with effect from 10th September 2004 with 1 plus a 2 percent education cessation on services provided by service providers. Finance Act, 2006 w.e.f 18th April 2006 increased the rate of service tax to 12 percent. The Finance Act, 2007 enforced a new one percent cessation of secondary and higher education on the service tax with effect from 11th May 2007, increasing the total cess of education to 3 percent and a total levy of 12.36 percent.
Since its inception in 1994, income from service tax to India's government has shown a steady rise. Since 1994–95, the tax collections have grown substantially, i.e. from about 410 crores (US$ 57 million) in 1994–95 to about 132,518 crores (US$ 18 billion) in 2012–13. It also increased the total number of taxable services from 3 in 1994 to 119 in 2012. Though, the concept of service tax has been changed from a' Selected Service Approach' to a' Negative List regime' after 1 July 2012. This altered the service tax system from tax on certain selected services to tax being levied on any service other than the services mentioned explicitly in the Negative list.
Service Tax Rate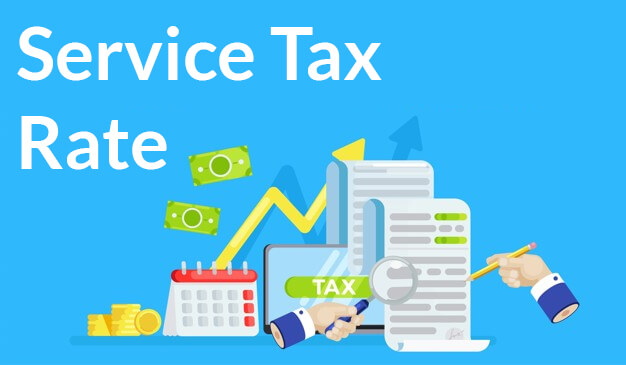 The service tax that started at a nominal of 5% was 15% in 2015. The new Swachh Bharat Cess was also added to the Service Tax at 0.5 percent for transactions that occurred on or after 1 June 2015 and then for transactions that occurred on or after 15 November 2015. Consequently, with effect from 15 Nov 2015, the effective rate was 14.5 percent. This tax was 15% for transactions that took place on or after 1 June 2016. The Union budget, 2016 of India proposed a 0.5 percent cessation of all taxable services, known as the Krishi Kalyan Cess, effective 1 June 2016.  
Krishi Kalyan Cess
With the implementation of Krishi Kalyan Cess at 0.5 percent with effect from June 1, 2016, the effective service tax rate eventually rose to 15 percent. The rate was previously increased to 14 percent (including  Education Cess and Secondary and Higher Education Cess) from 12.36 percent w.e.f June 1, 2015, and Swachh Bharat Cess at 0.5 percent on the value of all taxable services imposed w.e.f on November 1, 2015. From 1 June, Krishi Kalyan Cess announced during the 2016–17 Budget, became applicable. In addition to the Service Tax and Swachh Bharat Cess, a tax of 0.5% would be levied.
The service tax rate was 14.5 percent by 31 May 2016. With the implementation of Krishi Kalyan, the service tax rose to 15 %. While Swachh Bharat Cess was levied to drive cleanliness in India, the new cessation was levied to fund and promote initiatives to improve agricultural growth.
Taxable Territory
Except for Jammu & Kashmir, India as a whole is considered a taxable territory. It also includes territorial waters (air, water, and seabed), exclusive economic areas, maritime areas, and continental shelves.
Governing Authority
Service tax is regarded as a self-assessed tax. The Central Board of Excise and Customs (CBEC) is still considered to be the governing body for the taxation of services. It sets out all the service tax assessment procedures in India. CBEC is responsible for the penalties for non-payment and interest charged for delayed payments.
Relevant Sections in Service Tax
Almost all the sections and rules in Service Tax are relevant. Although if you understand the three sections described below, you are halfway through the service tax. They are:
SECTION 66D

SECTION 66C

SECTION 66E

Under Sec 66D, there is a comprehensive list of all the services on which tax is not collected. The list on which service tax liability does not arise is called Negative List.

The negative list includes nineteen services.

Identifying the place of service as the tax is levied on services rendered in the taxable territory is very important. This section sets out the rules for determining the place of provision to avoid ambiguity.

There are some Declared Services under service tax act which are not service but deemed to be served. Section 66E provides a list of multiple declared services on which service tax liability arises.

There are nine services under this section.
Point of Taxation
The Point of Taxation Rules, 2011 aims to simplify the determination of the point at which service tax is payable in India. Under these rules, it will be payable on the date the earliest of:
Invoice date of the service provided;
                            Or
The date of completion of the service to be provided;
                            Or
The date of receipt of payment for the service.
Due Date for Filing of Returns
The service tax returns are filed for a half-year period ending in September and March, respectively, by 25 October and 25 April. The monthly or quarterly due date for service tax deposit depends on the type of the service provider, irrespective of semi-annual returns. The chart below clarifies the time of payment of service tax for various entities.
| | | | |
| --- | --- | --- | --- |
| Type of Person | Time of Payment | Due Date |   |
|   |   | For Online Payment | For Offline Payment |
| Individual or Partner Firms | Quarterly | 6th day of the subsequent quarter | 5th day of the following quarter |
| Others | Monthly | 6th day of the next month | 5th day of the subsequent month |
*Note: Service Tax Payment for the month/quarter ending in March is 31st MARCH.
What is Small Scale Exemption and Who Can Avail The Exemption?
When the service provider, provides service of less than ten lakh rupees, he/she can avail for small scale exemption waving all other benefits that are available to the regular service provider.
Service tax is only liable for payment if the total value of the service provided during the financial year is higher than the total 10 lakh. If the value of the services provided during a previous fiscal year is less than 10 lakh, this exemption will only apply in the current financial year. It is optional on the service provider if he/she wants or does not want to use this exemption.
Declared Services
Service tax laws encountered a radical shift in 2012 when taxation shifts from a positive service list to a negative service list. At that time, the Government of India introduced another theory of declared service through Section 66E of the Finance Act, 1994. Declared service is the law's deemed fiction. It provides arbitrary power for lawmakers to report any activity as a service.
Section 65B(22) defines the service declared as any activity under section 66E performed by an individual for consideration by another person and proclaimed as such. Besides, the service definition under section 65B(44) also covers explicitly the service declared under the service definition. Also, this section is one of the crucial portions of the 1994 Finance Act. Any service shown in this section will be liable for direct service tax.
Negative List
Budget 2012 revised the service tax provisions by introducing a new service tax system in India. In the new order, all services are subject to taxation except for those listed in the negative list. Previously, the service tax levy was based on a positive list — specified 119 taxable services. Under clause (34) of section 65B of the Finance Act, 1994, the term ' negative list ' refers to the services listed in section 66D.
**Negative List means the services that are listed in Section 66D of Service Tax Act.
Composite Services and Tax Rate under CS
Let us take an example.
You visit a hotel. You book your room in the hotel. Now when you visit a hotel, you are just not consuming delicious food provided by the hotel. Instead along with this, you are also using their rooms, lawn area, free wifi, laundry, room cleaning services so on and so forth. In this case, it is hard to split the bills between two indirect taxations, i.e. VAT and Service Tax.
Technically the food consumed by you is cooked by a chef and served by a waiter. Such services include both Goods and Service Tax and are cumulatively called Composite Service.  The government has offered a reduction on composite services in which service tax applies only to a portion of the bill and not to the whole amount.
 When to Obtain Registration for Service Tax?
According to Service Tax Law, registration is mandatorily required for the following categories of persons:-
Every person is liable to pay service tax under Reverse Charge.
An input service distributor.
Every taxable service provider whose aggregate value of the chargeable service in a financial year exceeds 10 lakhs.
Every person mentioned above must be registered under the Service Tax Law within 30 days from the start date of such service or business.
Whereas in the case of service providers whose aggregate value of taxable service in a financial year has not exceeded 9 lakhs, they do not need to obtain registration, wherein the case of registration, they are only liable to pay service tax if the value of taxable services exceeds 10 lakhs rupees.