Aviva Dhan Samruddhi
Aviva Dhan Samruddhi plan is an investment plan that specifically designed to help you meet your long term and short-term needs. If you are planning to purchase this plan, you will get various benefits such as a rebate for high value, cashback, maturity benefit, and liquidity. The unique thing about this plan is - not only gives a good amount of money for future financial personal needs but also gives the periodical money back during your ongoing policy term so that you will never feel any financial shortage for your future financial goals.
Overview Of The Company
Aviva Life Insurance Company India Limited is one of the trusted, reliable and reputed life insurance companies in India. For the past several years, this company has served 31 million customers across a global level over 16 different nations with 118 branches. This company is one of the best world leaders for the insurance sector industry. It offers various insurance plans and products as per the respected individual requirement such as rural plans, child plans, protection plans, saving plans, retirement plans, etc.
The Eligibility Measures For Aviva Dhan Samruddhi Plan
The following specification is only for that person who is a resident of India.
| | | |
| --- | --- | --- |
| Age Type | Minimum Years | Maximum Years |
| Entry | 13 | 55 |
| Maturity | 23 | 70 |
This policy term and sum assured:
The Term of Policy in Years
Minimum Sum Assured in Rs.
Maximum Sum Assured in Rs.
10
400,000
5 Crore
15
265,000
20
265,000
Minimum and Maximum Premium With Terms
Minimum Premium
Terms
Modes
Monthly
Quarterly
Half-Yearly
Yearly
10
3,109
9,248
18,231
35,692
15
1,707
5,078
10,011
19,599
20
1,492
4,438
8,750
17,130
Maximum Premium
Terms
Modes
Monthly
Quarterly
Half-Yearly
Yearly
10
4,13,943
12,31,373
24,27,577
47,52,500
15
3,59,375
10,69,047
21,07,651
41,26,000
20
3,14,083
9,34,315
18,41,945
36,06,000
Working Structure of Aviva Dhan Samruddhi Plan
Let's check out how this plan works:
The respected policyholder needs to choose the policy tenure, the frequency for the amount to pay & the sum assured as per the insured's age, etc.
The premium needs to be paid by the policyholder for a minimum of 10 years.
As per the plan, you will purchase the respected % which will get added to your plan.
If the event of death occurred, the respected death benefits will be paid.
On the maturity of the respected plan, the maturity benefits will be handed over but the survival benefit will be paid after 5 years.
Why Should You Buy Aviva Dhan Samruddhi Plan?
Tax Benefits: You will be able to exempt tax for section 80C (up to a limit of Rs.1,50,000) and for the survival benefit, it would be for section 10 (10D) under the income tax Act.
Loan: In this particular plan, loans are not available.
Bonus: In this particular plan, the bonus is not declared.
Guaranteed Additions: If you pay regular premiums as per the terms and conditions at the time of purchase, you will get guaranteed additions on every respective year till the end of the term. Let's see below the applicable rates:
| | |
| --- | --- |
| Policy Tenure in Years | Annual Premium Guaranteed Additions in % |
| 10 | 7 |
| 15 | 8 |
| 20 | 9 |
Benefits for Survival: Except for the maturity of this plan, survival will get 152% of the annual premium paid at the end of every 5 years respectively as per the money-back plan.
Death Benefits: In the event of death occurred of policyholder, these plans have several benefits such as:
They will get 105% of all total premium paid till death.
They will receive 10 times annual premium plus the sum of assured and guaranteed additions until the date of death.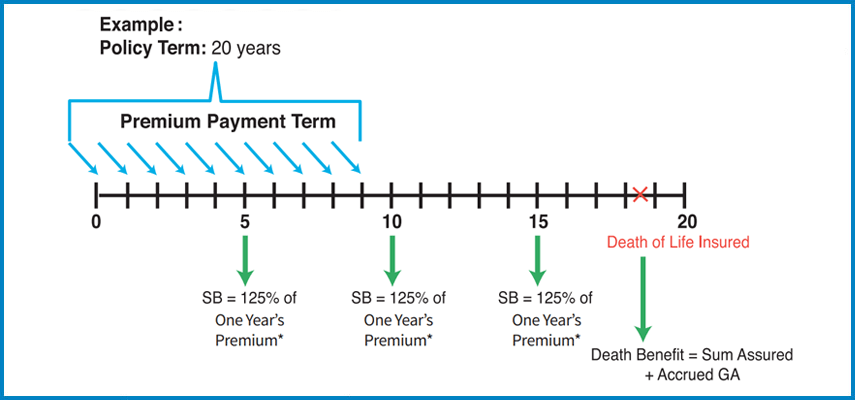 Benefits on Maturity: If you settle all your due premiums, you can avail maturity benefits with sum assured and guaranteed additions (till maturity), minus survival benefits (already paid).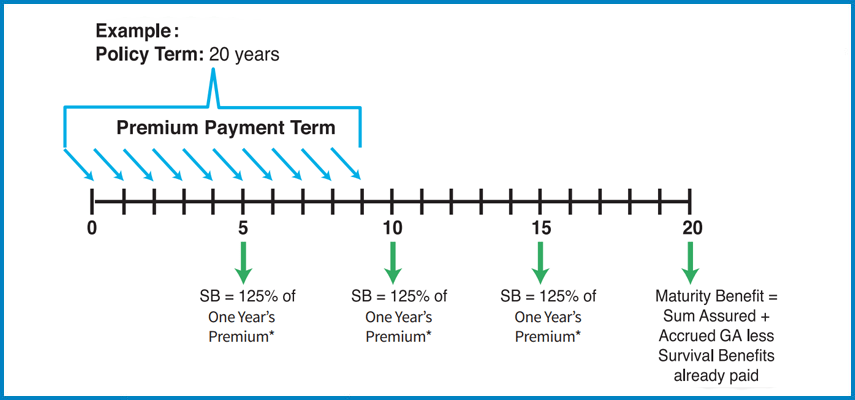 Other Additional Benefits of Aviva Dhan Samruddhi Plan
A free look period: This is also called the cooling-off period. It is only for 15 days. In this period, the policyholder can review the policy's terms and conditions and if he/she finds any unsatisfactory things, they are allowed to cancel it within this period and whatever the money is paid they will get refunded.
A grace period: This period is provided to settle your dues. For yearly and quarterly modes of premium, the grace period is of 30 days and for monthly mode of the premium, it is only 15 days. If you still fail to pay, the required action will be taken as per the terms and conditions of your respected plan.
Riders: For this particular plan, no riders are available.
Exclusions
If the insured committed suicide within the 1st year of policy purchase, 80% of the paid premium will be handed over but no death benefit will be given.
If the insured committed suicide within the 1st year of policy renewal, 80% of the paid premium till death/acquired surrender value will be given (only if the policy is active).
Note: The insured can surrender the policy only after paying 2 years' premium.
Aviva Dhan Samruddhi Plan Review
Aviva Dhan Samruddhi will guide you to build up your savings & meet your goals. You can easily place your faith in this plan. You will not be disappointed.