Hospital Cash Insurance
Daily Hospital Cash provides a certain amount of money for each day during the hospitalization. The amount paid is fixed at the moment of purchase and does not change.
For Instance - If you are hospitalized and have a plan that pays Hospital Daily Cash of 1,000 INR each day of hospitalization, it makes no difference whether you spend INR 1200 or INR 800 on other medical expenditures. The Insurer will pay a fixed benefit amount of INR 1000 for each day of your admission to the hospital.
Even if per day hospitalization expenses are lesser than Hospital cash, the Insurer would still pay the fixed amount of money, without any kind of questions or restrictions.
Availability under Health Plan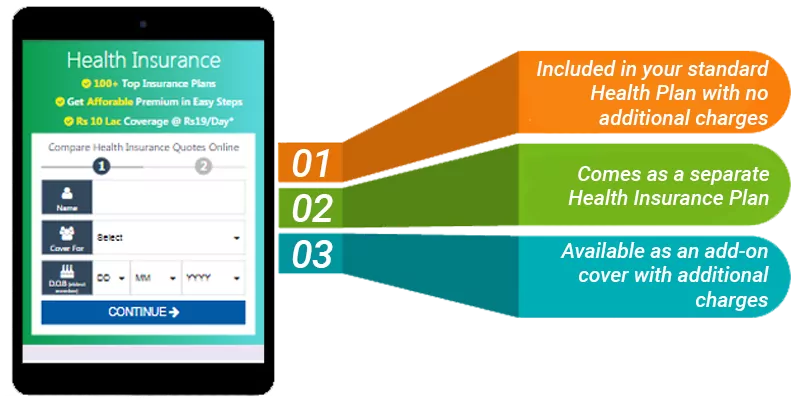 Are There Any Conditions in The Plan?
Hospital Daily Cash also comes as a separate Health Insurance Plan. Here are some conditions under such plans:
Waiting Period clause for a shorter period of time than usual
Hospitalization must last at least 24 hours
Daycare Treatment is not covered
Maximum limit on the number of hospitalization days for which the allowance is payable in a year is 30, 60, or 90 days
Features of Hospital Daily Cash Policy
1
Daily Cash Option
250 INR to 8,000 INR
2
Policy Tenure
1 to 3 years
3
Max. Benefit Period
15/30/60/90/180 days per Year
4
PED Waiting Period
24 months to 48 months
Health Insurance Companies
Benefits of Hospital Daily Cash
Hospital Daily Cash offers various benefits such as:
Coverage for Inadmissible/ Uncovered Expenses
During hospitalization, Insurers do not cover certain expenses which are coined as Inadmissible Expenses, for example- expenses incurred on Diagnostic tests, Surgical Accessories, or costs of the patient's attendant.
Irrespective of these inclusions & exclusions, the Insurance Company pays Hospital Daily Cash to the policyholder. It can be used to cover hospitalization costs as well as other Incidental expenses such as traveling costs, household bills, food expenses, and the cost of attendant's transportation. You can utilize the money to cover the costs which are otherwise not covered under a standard Health Plan.
Coverage for Attendant's Expenses
Usually, there is an attendant (family member, relative, spouse, etc) who takes care of the patient. Miscellaneous/ Incidental expenses like transportation cost, food expenses of the attendant, etc also financially burden the pockets. With the help of the Hospital Daily Cash amount, the policyholder & family have the liberty to spend the money wherever it is required.
All in all, Hospital cash helps to pay for incidental expenses which are incurred during the treatment.
Avail No Claim Bonus
The Hospital Daily Cash amount can be utilized to pay small hospital bills for minor ailments or procedures.
For example, Mr. Rajesh was admitted in the hospital for 2-3 days for a minor illness, for which, the hospital bill was not so huge. He paid the bill with his Hospital Daily Cash amount rather than filing a claim underHealth Insurance.
Hospital Daily Cash assists you in paying off your medical expenses, prevents filing a claim under your Health Insurance Policy and allows you to preserveNo-Claim Bonus.
Convalescence Benefit
If you are hospitalized for a minimum of 10 consecutive days due to an injury or illness, a Sum Amount is paid once during each policy year. This amount varies from Insurer to Insurer.
For instance - You are hospitalized for a few weeks and you won't be able to work during that time, which could result in a loss of income. The Convalescence Benefit partially compensates for this loss of income by providing a lump-sum payment.
Major Exclusions in Hospital Daily Cash
Any claim caused by, based on, arising out of or attributable to any of the following:
Eyesight due to refractive error
Dental Treatment
Maternity Treatment
Change of Gender
Self Injury or Suicide attempt
Hazardous or Adventurous Sports
Gestational Surrogacy
Sleep disorder, Parkinson and Alzheimer
Nuclear, chemical, or biological attacks or weapons
Treatment of Alcoholism & Drugs
Claim Process
Only Reimbursement option is available for filing a claim under Daily Hospital Cash. Reimbursement means payment at a later stage. Primarily, you have to pay the hospital bills on your own and get them reimbursed/ settled later from the Health Insurance Company.
Below are the steps that you have to follow to file a claim for your Reimbursement:
Claim Intimation
Notify the company in writing within 48 hours after hospitalization in the case of an emergency, and 48 hours before hospitalization in the case of planned hospitalization.
Document Submission
Provide the necessary documents within 15 to 30 days of discharge from the hospital, one who is filing the claim must provide the necessary documents to the company.
Other Documents
One who is claiming on your behalf must notify the company in writing and submit a copy of the post-mortem report (if any) within 30 days of death.
Required Documents
Following documents are required forClaim Settlement Process:
Claim form signed by the Insured
Copy of the Discharge Summary or Discharge Certificate
Copy of Hospital Bills
A copy of your ID card (Aadhaar Card, PAN Card, or any other government photo ID).